Hello dear friends, I hope that you are doing well. I wanted to pop in before Christmas to share the beautiful work of textile and embroidery artist Emma Cassi whom I've known for over a decade – her home was in my second book, "Decorate Workshop". (You may recall when I wrote about her here.) I'm delighted to share today what she's up to with her beautiful work which ranges from exquisite wall hangings to delicate "spiral" baskets. Emma is someone I admire greatly, and to whom I find so much creative inspiration.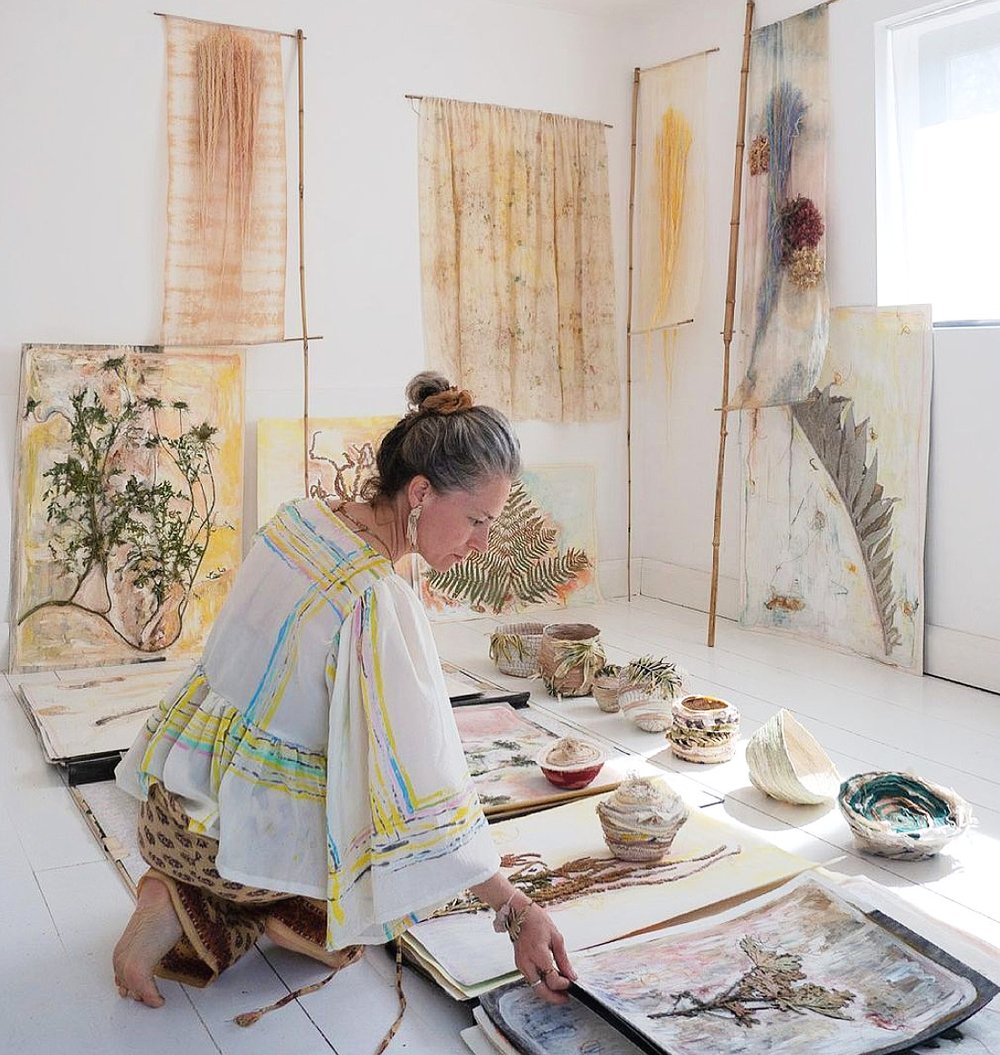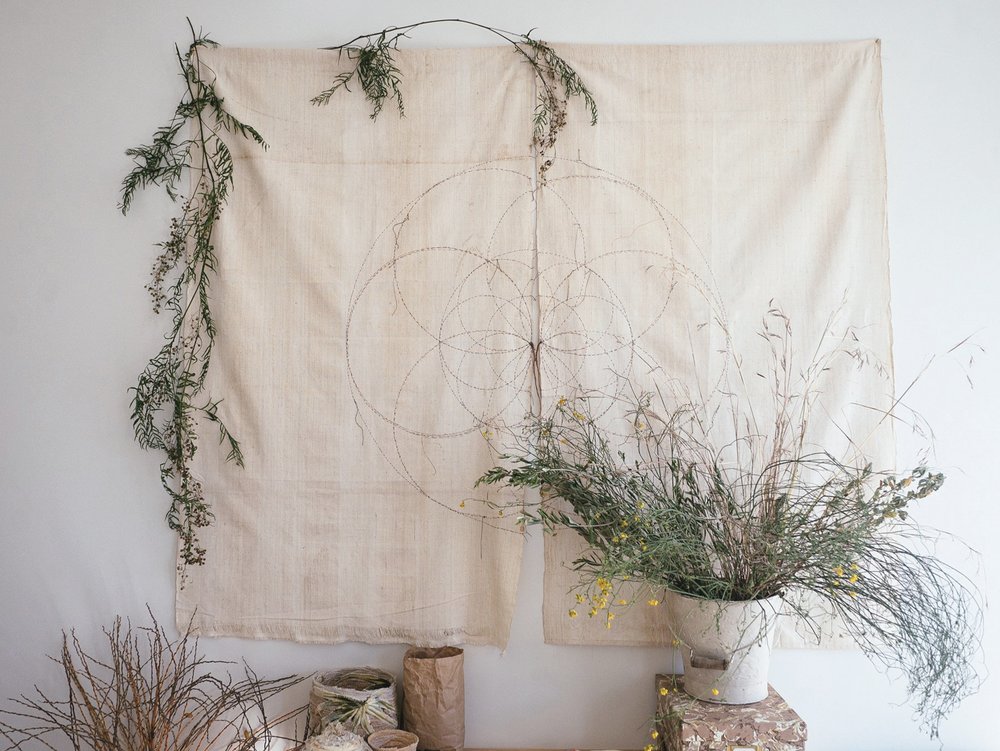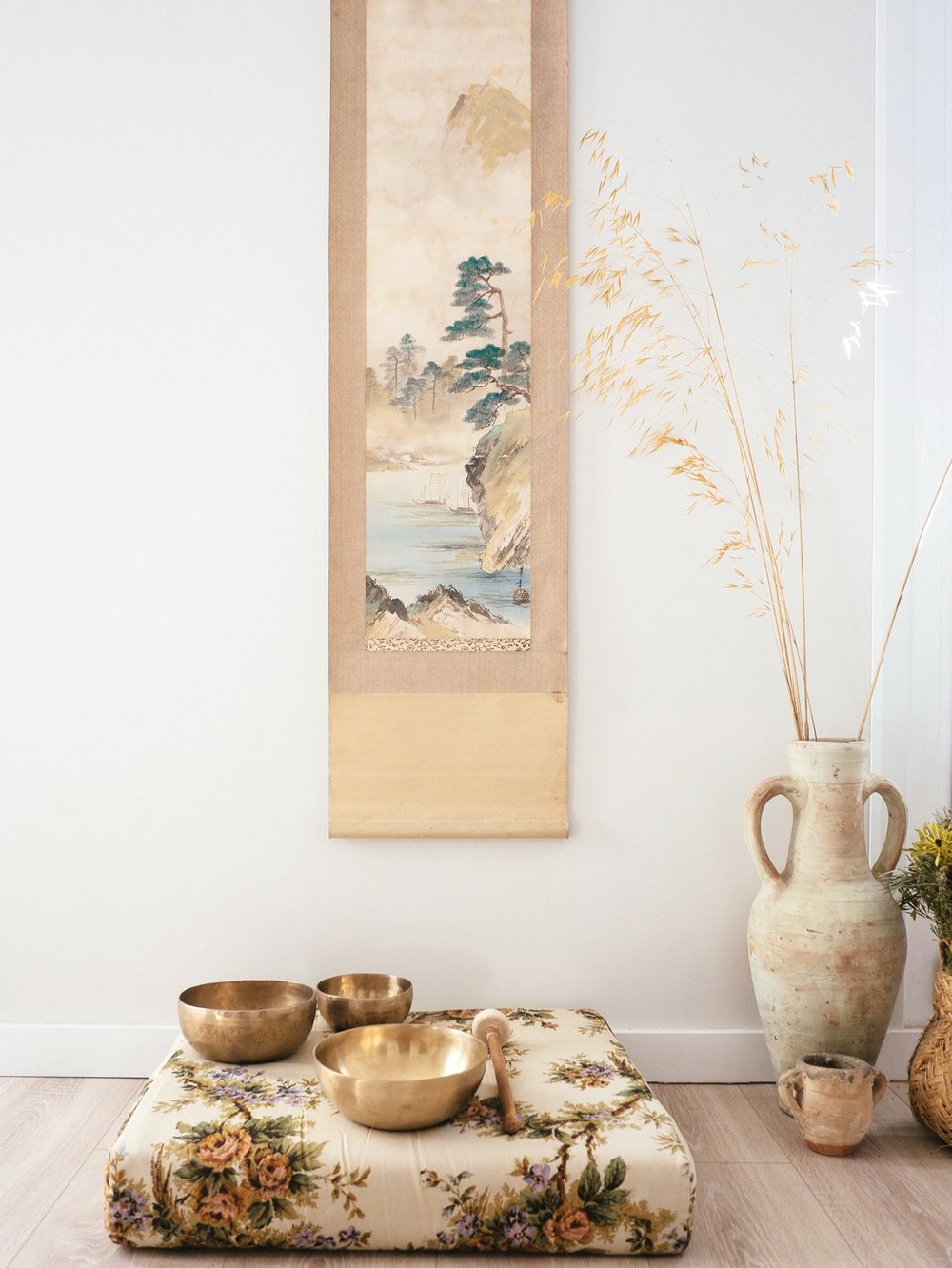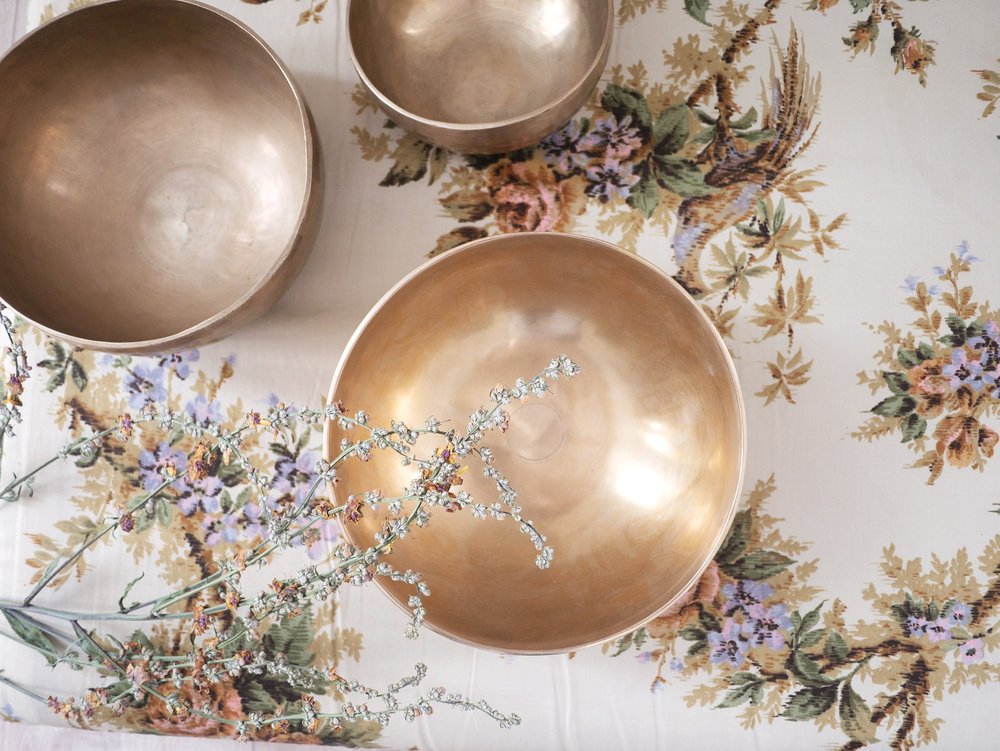 Emma enjoys expressing her creativity across several themes and practices. She was a jewelry designer for HP France in Japan and Anthropologie in the USA and UK, and has worked with Designers Guild in London. She was also an interior stylist for many years. She experiments with mainly fiber art these days through embroidery, weaving, latch hook, natural dyes, flowers and paper. Her love for traditional crafts encouraged her to then learn pottery. Emma knows no boundaries when it comes to her creativity – she uses whatever she can to express herself and share her views of the moment.
Emma once focused primarily on embroidered jewelry but she then suffered from RSI (Repetitive Strain Injury) and so was forced to reexamine her work.When she and her family relocated from London to the countryside, she wanted to be in the garden and because the nature around Windsor was so beautiful, she lost her interest in making jewelry. "I also took courses in anatomy and physiology to get my massage therapy diploma in order to further explore in Herbalism and Aromatherapy." She also started working with silk that she then hand-dyed with plants and powders that she made, and later the silk was embroidered, "Little by little, I started to draw again and reconnect with my artistic side which I felt I had lost by always using the same medium. I create more instinctively now."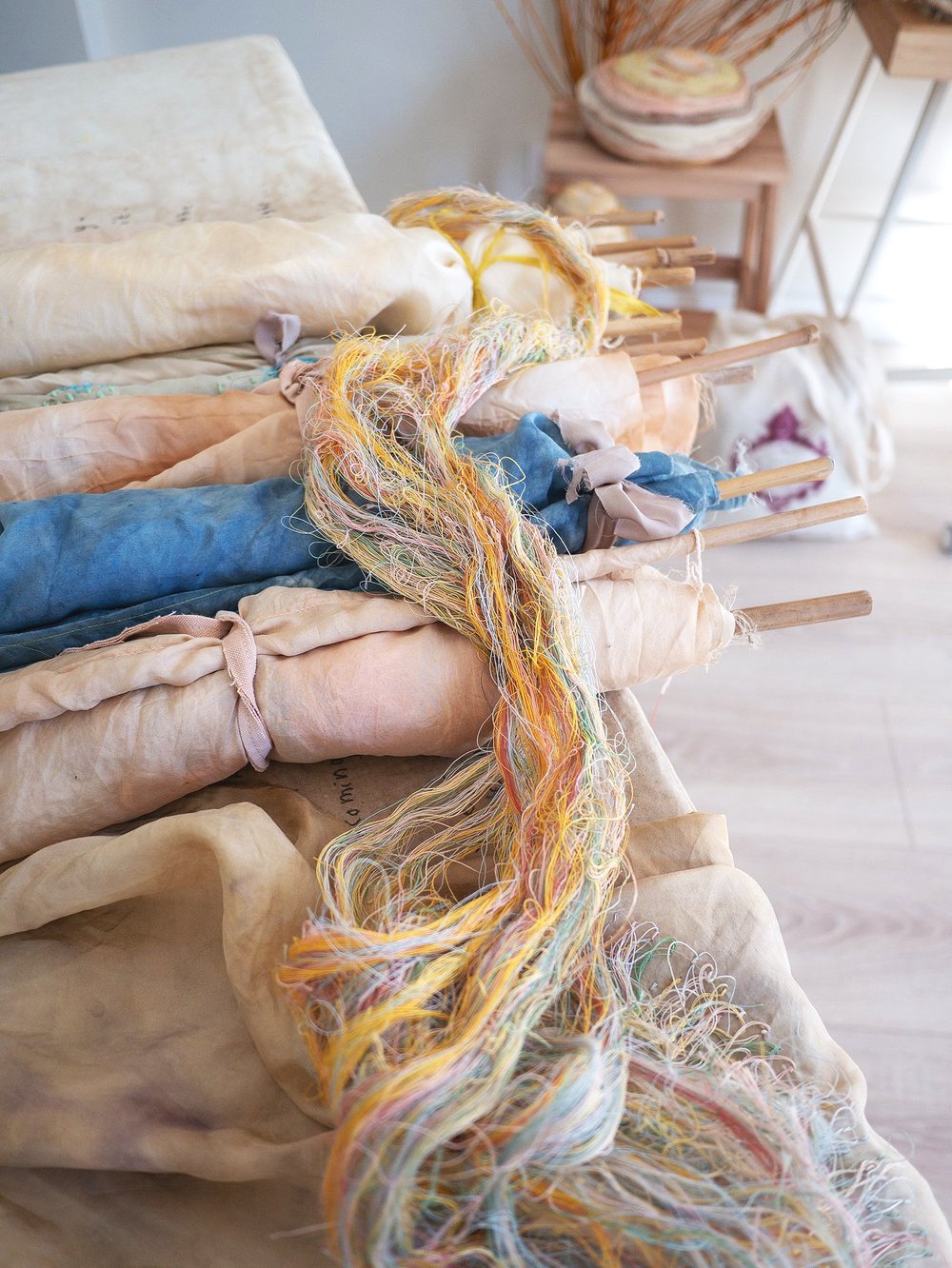 One collection of hers that I'd like to share is her baskets called the "Spiral Collection". She was inspired by the meaning behind the spiral itself, "The Spiral, which is the oldest symbol known to be used in spiritual practices, reflects the universal pattern of growth and evolution. It represents the goddess, the womb, fertility and life force energy. Reflected in the natural world, the Spiral is found in human physiology, plants, minerals, animals, energy patterns, weather, growth and death. The Spiral is a sacred symbol that reminds us of our evolving journey in life. When used as a personal talisman, it helps consciousness to accept the turnings and changes of life as it evolves. The acceptance of change is one of the greatest freedoms a human can experience, putting consciousness in the present moment where the power of creation is condensed."
This collection of handmade baskets uses vintage linens and cottons that she found in Normandy, some Poplin fabrics from Japan, and leftover fabrics from sewing projects along with vintage fabrics found in charity shops. She has dyed the materials with spices from her kitchen, berries from the local forest and flowers taken from her garden.
I wanted to share some of the jewelry she was once making nearly full-time because it's what brought me to Emma first so many years ago. I have several pieces of her jewelry and love them dearly.
Before I wrap up, as I know everyone is busy preparing for the holidays, I simply must highlight a special life-changing trip that Emma took with her family to Kenya in 2018. I'll let her tell you in her own words, "We took the kids out of school for a few weeks to have time to travel around Kenya and we stayed with multiple families. We had conversations with the locals around the fire at night, listening to their ancestral customs and their dreams for the future. One evening on Masai Mara in the camp, we met a student who was helping with the building work and he was gutting a chicken while chatting about quantum physics, showing us the fragility and the softness of the eggs inside the open animal…"
This short film was made by her son, Anton Bosredon, and it's definitely worth seeing so please take a few minutes to watch it. Anton interviews children who live in Kenya, "In June 2018, I traveled to Kenya. I visited 5 schools and interviewed children for a school documentary project. I asked children about their dream job, their worries, what they get for their birthday…" It was really revealing to me in many ways and made me think a lot about how I am raising my son and what values I am giving him, etc.
I'm so happy that I got to share Emma with you today dear friends. I want to wish you all a very Merry Christmas – I'll be back soon to wish you a Happy New Year, but until then, I hope you enjoy the holidays.
FOLLOW EMMA HERE:
Love,
Holly
(images with permission: Emma Cassi)