Hi friends, I simply must share a brand that I discovered in Paris in October 2019 that stayed on my mind ever since. I found them accidentally, my photographer and I were shooting a restaurant where I found the most lovely hand-blocked textiles so I asked the owner about them. He said they were designed in Paris just "around the corner" as he pointed outside of his door… At a studio called Jamini Design. He also revealed the textile designer, Usha Bora, designed his entire restaurant, too. I was so impressed by her eye for interiors that I wrote to her right away and she so nicely sent me some cushion covers. They are now in my home for over a year, I've shared them on my Instagram stories a few times. If you've not heard of Jamini Design before, I'd like for you to take a peek but also to learn how beautifully French and Indian decor is brought together in Usha's world as she explains in 3 easy steps how to create a very Hygge style that feels vibrant, warm, and alive.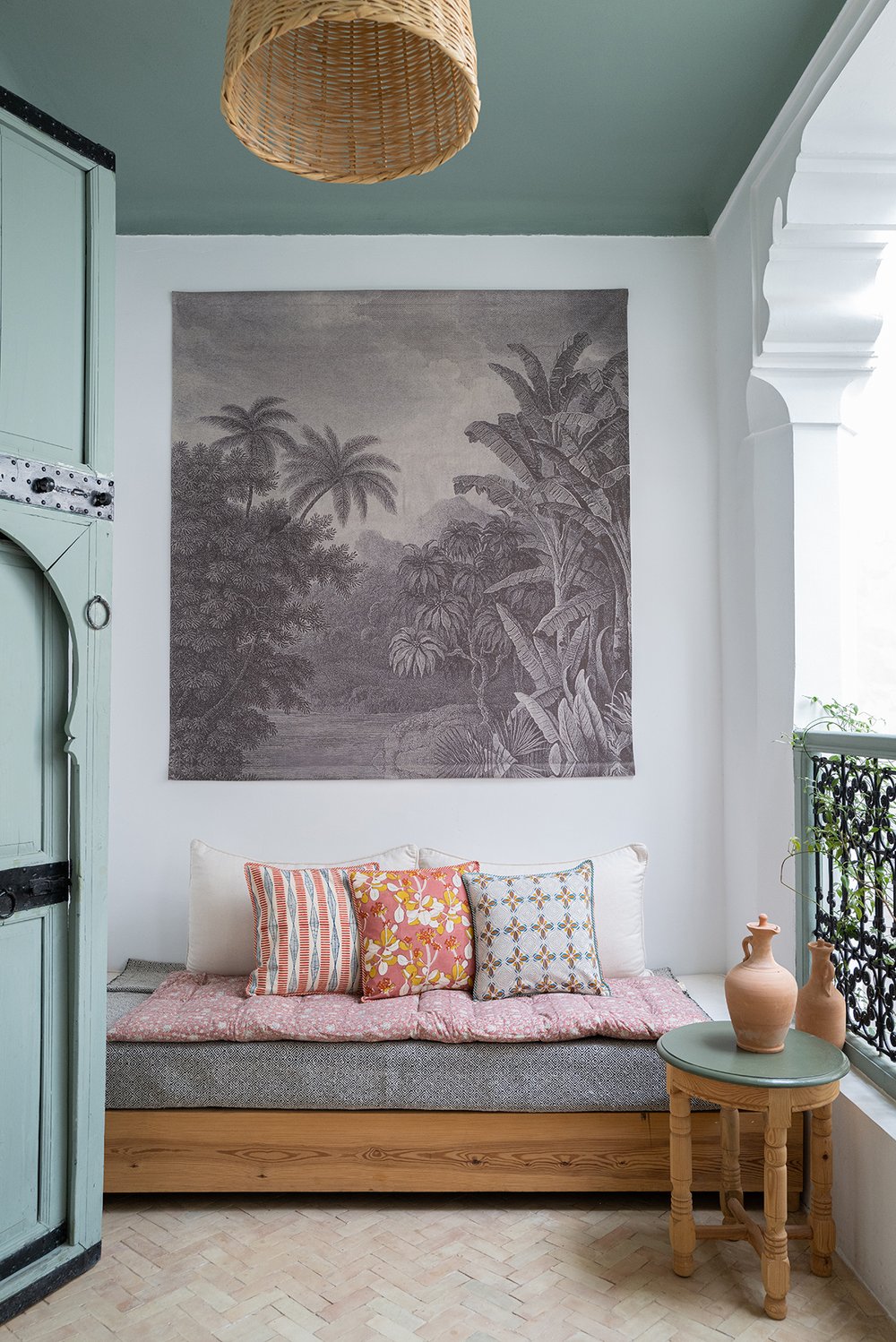 Usha is known for her immeasurable energy, talent, and insatiable curiosity. She grew up in the heart of the tea plantations with majestic animals like the rhinoceros and elephants that her grandfather was in charge of – but she left her country for love and settled in Paris.
Her brand, Jamini Design, brings patterns and colors from India to Usha's design studio in Paris to create a very special French-Indian hygge style. HYGGE is a Danish word for cosiness but it's more – it's creating a warm atmosphere and enjoying the good things in life with people who matter to you. It's all about intimacy and warmth. Her beautiful hand-printed pieces in bright colors paired with neutral colors can refresh your decor and create a cozy sanctuary. Handcrafted natural materials like cotton and linen invite you to relax. Quilted, hand-woven cotton throws can transform a room into a warm and inviting place all year round.
Usha gives us her 3 tips on how to create hygge at home:
1/Natural lighting
Do as the Danes do and burn candles! Warm, yellow lighting is one of the main elements of hygge interior design. Warm, natural light soothes the nerves, increases concentration, prevents eye strain and is less harsh than white light. Place lots of small, scattered light sources in your living room. Use warm lighting in any room of the house such as the kitchen, bedroom or bathroom. Pretty yellow electric lights placed in mason jars remind us of beautiful lamps filled with fireflies.
2/Soft pillows and warm blankets
Hygge means comfort, and for maximum comfort, use soft cotton blankets, hand-woven covers and beautiful wood-stamp printed pillows as essential companions to add a bohemian touch to your Danish-inspired home decor. Throws and quilts should be used in every corner of the house. Hand-printed, reversible bed throws are perfect for creating a cozy environment to snuggle up in your living room.
The coziest space in our homes is a comfortable place to lie down and enjoy our favorite fall pastime. The Swedes call it Myshörna, which translates to "cozy corner." Find a slightly secluded spot and use items that create a calm, relaxing environment.
Make this your favorite place in the house to read a book, paint, play an instrument or watch a movie. An Indian bed -or charpoy- with wood stamped prints on mattresses could create a hygge spot for an afternoon nap or meditation time.
3/ Welcoming dining atmosphere
Encourage your guests to stay longer when you share your favorite bottle of wine or your secret family recipe. Mix and match dried flowers and natural elements with hand-printed place mats and napkins to create a welcoming table decoration for your dining table. Add colorful leaves and subtle handmade details with dried flowers and plants such as pampas grass, statice and proteas. These little touches bring immense pleasure, beauty and satisfaction. But most of all, they bring us together to celebrate this season with the people we love.
Read more in French, here.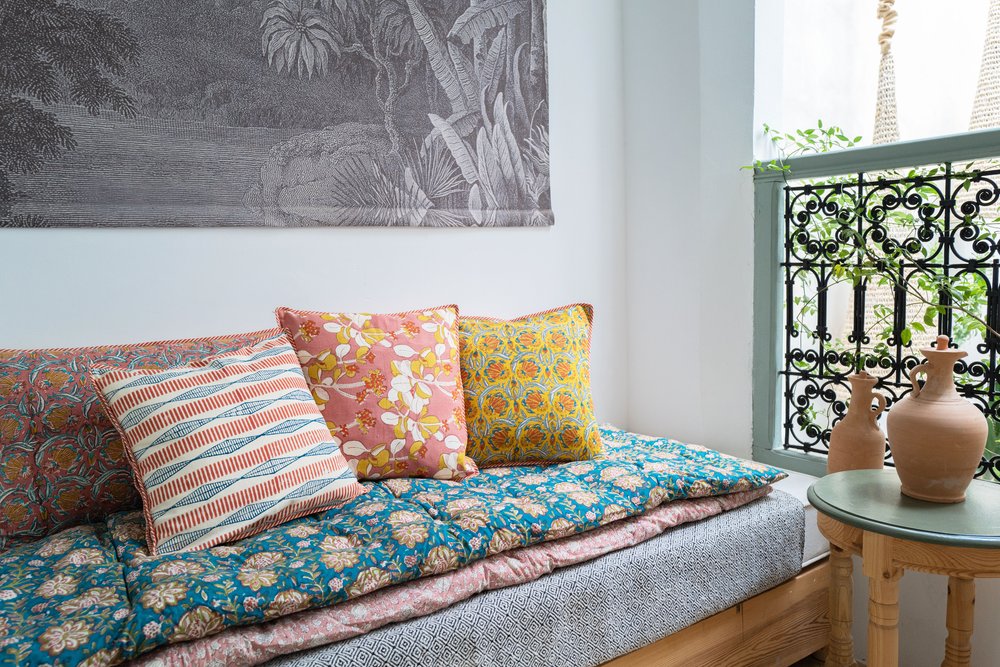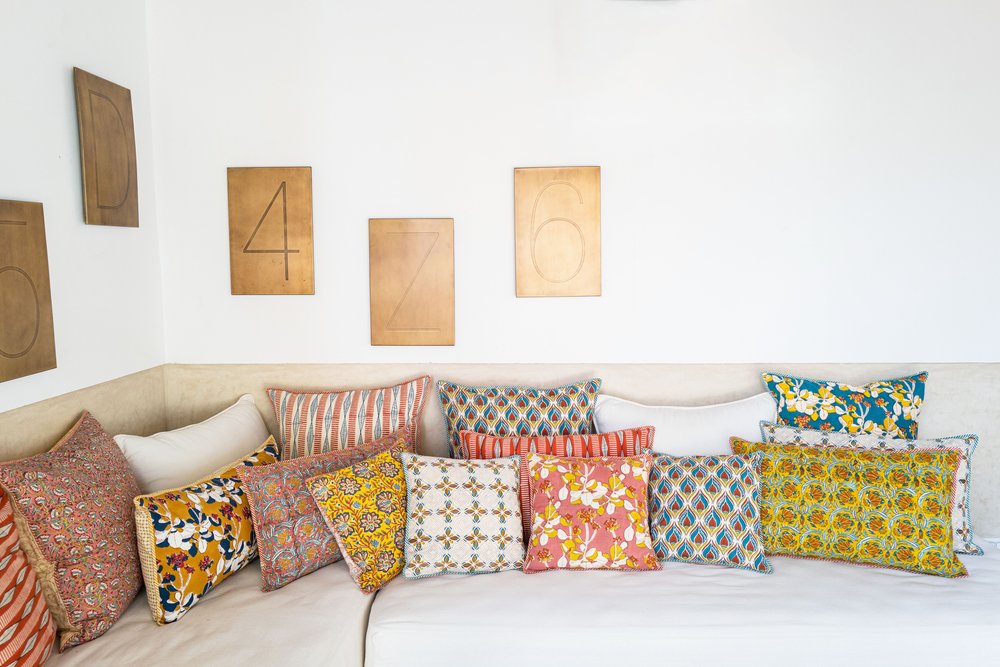 This brand is just lovely, and I hope to meet Usha one day in person – she must have so many stories to tell due to her cultural background, imagine growing up the way that she did! The mix of Indian prints in a European home is so appealing to me, I really love the mix!
I want to thank the very kind and talented French photographer, Sophie Denux, for giving me permission to use her beautiful photos in this story today, please check out her website if you have time – she has photographed some beautiful stories that are shown there.
Have a wonderful weekend!
Photography: With permission, © Sophie Denux
---
listen to my latest episode…
decor8 · 05: Why Staying Busy Is Unproductive
Embed Block
Add an embed URL or code.