I know this may be shocking, but I'm not really into the super colorful orange decor that is out there for Halloween. (Ha! Have you ever seen our other DIY pumpkin decor?? Very neutral haha.) But I do love vintage pumpkin decor. Especially the slightly spooky bizarre pumpkin photos and vintage Halloween cards that people used to send. So I decided to make my own quirky vintage-inspired paper mâché pumpkin bucket!
I bought a $2 typical neon orange bucket from the store and then turned it into this little guy and I'm kind of obsessed. Sadly, I don't do much trick-or-treating anymore but this little bucket is looking so cute on our shelf right now. I love the texture and funkiness that the paper mâché gives it! It feels like something you'd see in a picture of some kiddos around Halloween back in the early-mid 1900's.
Now I'll just be filling this with candy and stealing a piece every time I walk by for the next week!
Materials needed for Vintage-Inspired Paper Mâché Pumpkin Bucket:
scissors
paint
paint brush
Follow along with the video below for steps on how I made mine!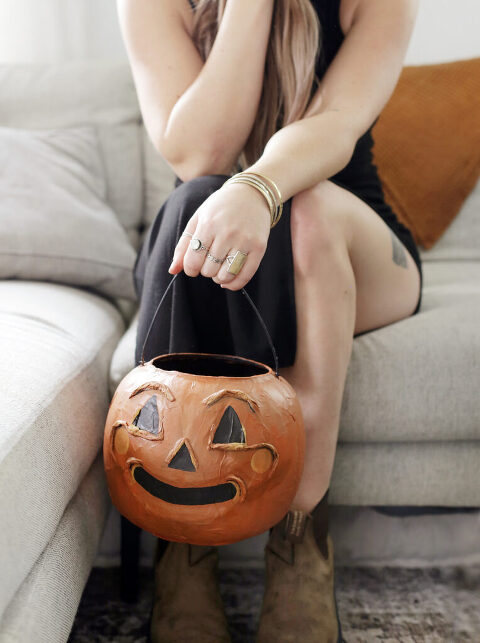 The post Vintage-Inspired Paper Mâché Pumpkin Bucket appeared first on The Merrythought.