Hello dear friends, I'm excited to share a very special home tour and family with you today. If you dream of rolling hills and country life, this charming French Country home built in 1783 will steal your heart. It is lovingly filled with collections, character, and creativity and is where Naïa Salamah, her Dutch boyfriend, Folkert (Folk) Hengeveld, their 4-year-old son, James, and their three cats live and it's tucked away in a small village in the Loire Valley, between Le Mans and Tours. As freelance creative directors of Compass Island, they left Amsterdam and relocated to the French countryside to work remotely and enjoy a new way of life. I'm so pleased to have them here on decor8 today to show you their interior world and to inspire you with such a character-filled home. There are so many ideas to steal too – particularly if you love old homes and well-edited collections.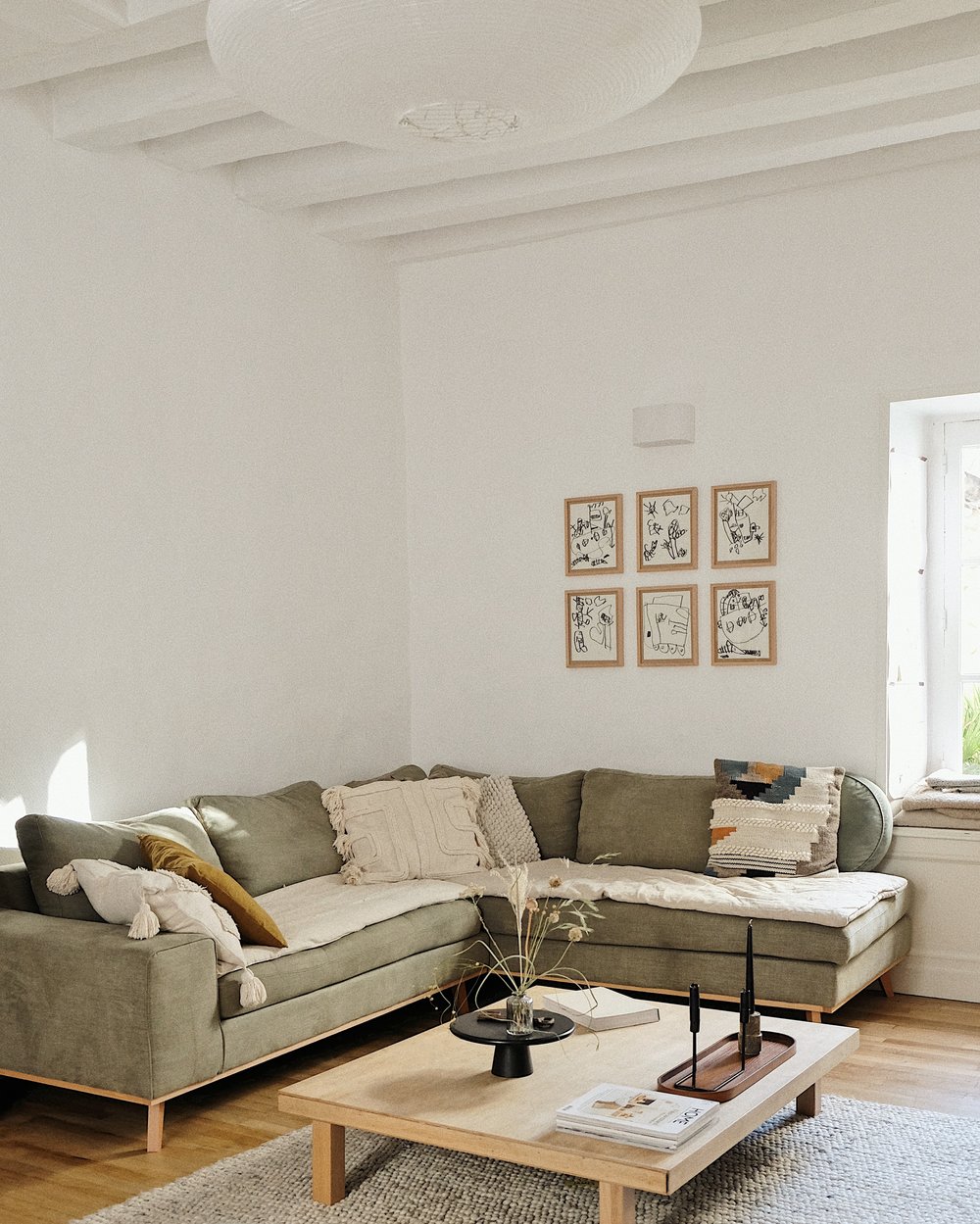 First, let's discuss their decor style, which they describe as Simple and Organic. They love raw, natural materials but also Naïa adores architecture, particularly the greats like Mies Van Der Rohe, Frank Lloyd Wright and Eames along with the photographs of Julius Schulmann, though she admits to also having a soft spot for little English cottages, and of course old French homes and cute farms.
When they lived in Amsterdam, they had a very minimalist "Japandi Modern" interior with clean lines. It served them well at the time, but like many of us, decor evolves as our life does, so their move to France brought them a fresh new perspective on living. In Amsterdam, they also had handmade pieces, but much more sparingly, and their previous color palette was quite similar: neutral tones, wood, white, but now they admit to slowly beginning to explore color and that their handmade and vintage collections have grown exponentially.
When it comes to decoration, they've learned to embrace the characteristics of their 1783 house with its old beams, wooden floors, marble chimney, crooked floors and walls, and their many moldings because it gives the property character. They also like that though their home is old, the rooms are large and the layout is well thought-out and functional. This isn't always the case in older properties, for instance, I have a 220m2 floor-through circa 1901 Jugendstil apartment here in Germany and the layout is absolutely not suited for modern living, the kitchen and baths are the smallest rooms in the house, and my massive bedroom is larger than even my dining room. As I look at Naïa's home from the late 1700s, I can't help but think of how she clearly struck gold with the overall size and functional layout that works for modern living 239 years after it was first planned out and built. That's rather interesting, isn't it?
Here are some views first of their living room which is admittedly very neutral but not at all boring since there are many lovely layers and interesting objects to look at. I particularly like the black mantle above the fireplace. I had to ask her where she shops for the home and she gave us a few of her favorite links at the moment, in case you're curious: Smallable, Anthropologie, Made, and The Cool Republic.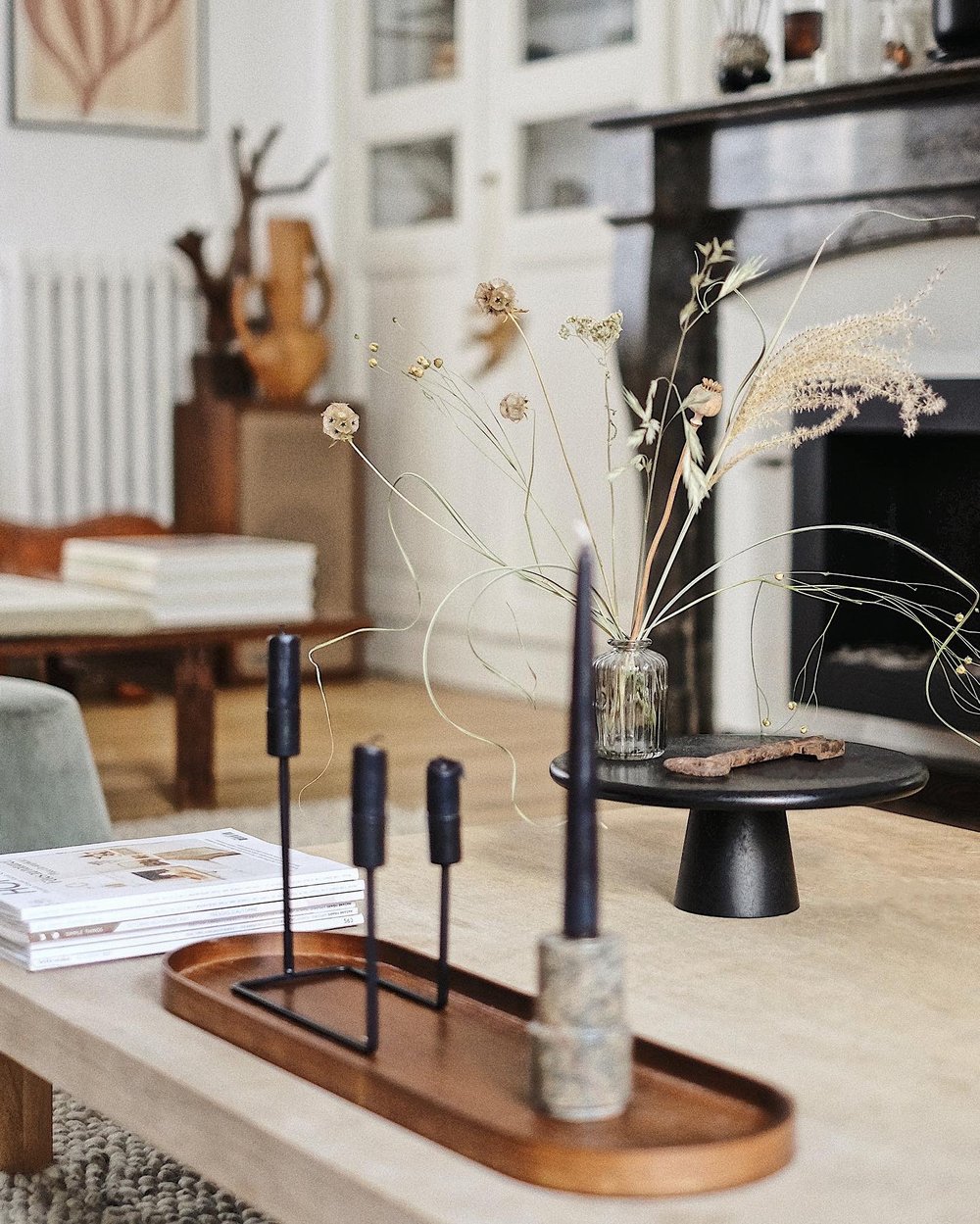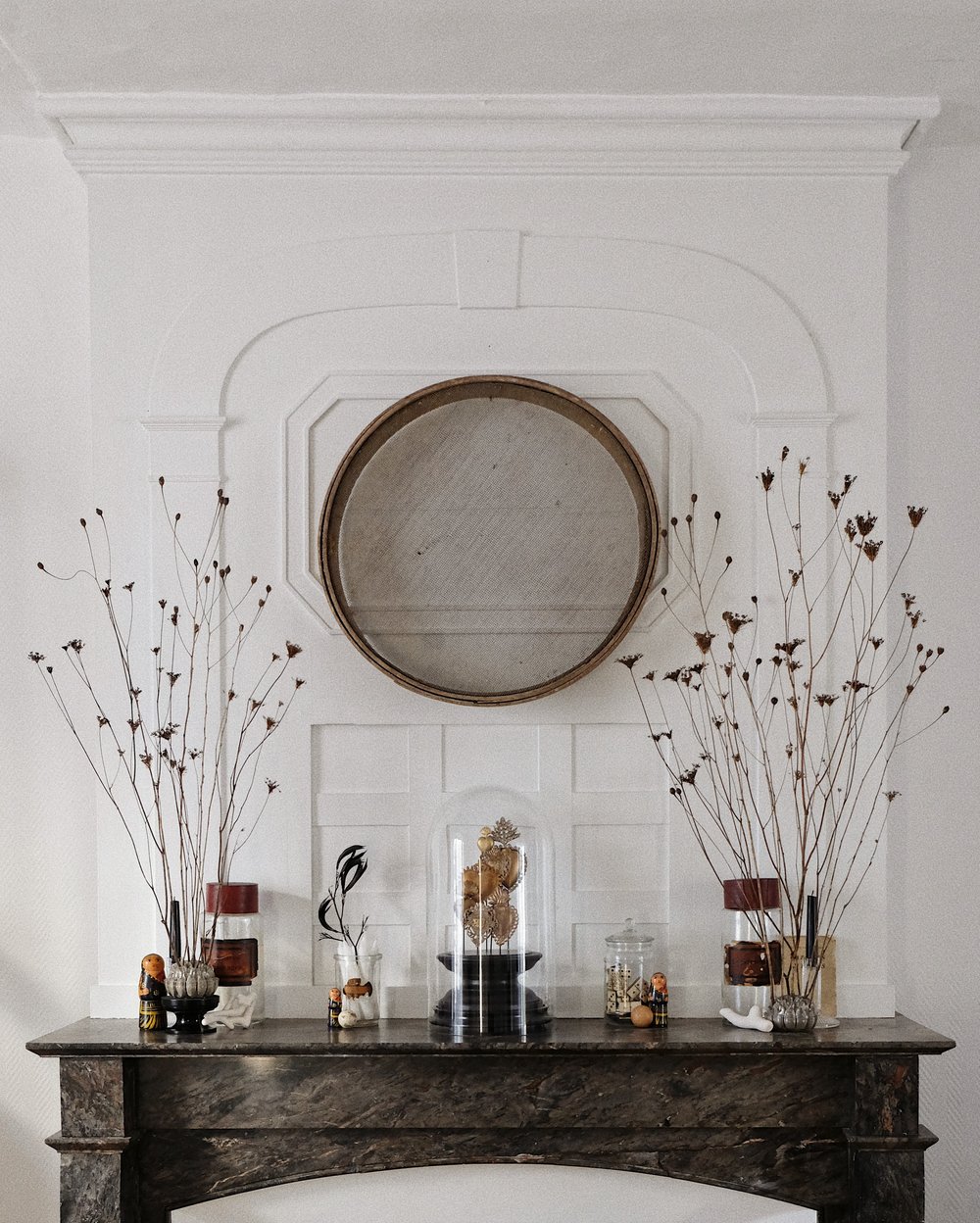 I asked for some decor advice since Naïa obviously has a great eye, and she willingly shared these four tips which she applies to her entire home:
1. Modernize your old home while keeping its authenticity by choosing materials that can bring both an organic yet sleek look, for instance a kitchen counter top in concrete that binds both a natural texture but a clean shape.
2. Accessorize any sitting area like your sofa and beds with soft beautiful materials like linen or velvet.
3. Do not hesitate to move furniture until it feels right for you.
4. And take risks (dare!), trust yourself regardless of the trends of the moment, and have fun!
Also, I noticed a stack of magazines on her table, which made me wonder how much print inspiration she consumes with so many of us being inspired all day digitally. She used to read books but hasn't in quite a while and misses it, but she loves Ann Perry's books, which are Victorian murder mysteries, and Edo era Japanese books. For print magazines, she enjoys HOME magazine (me too!), Kinfolk, Cereal, FLOW and lately she'd reading more gardening and nature magazines like Bloom.
Of course, I had to ask also where she finds inspiration digitally, particularly on Instagram. Here are her favorite accounts at the moment: @astylistguide @thevanketels @entreventsetmarees @clotildevente and @zoedelascases – follow them! Also follow Naïa @Annaandwolf and @annaandwolf_mini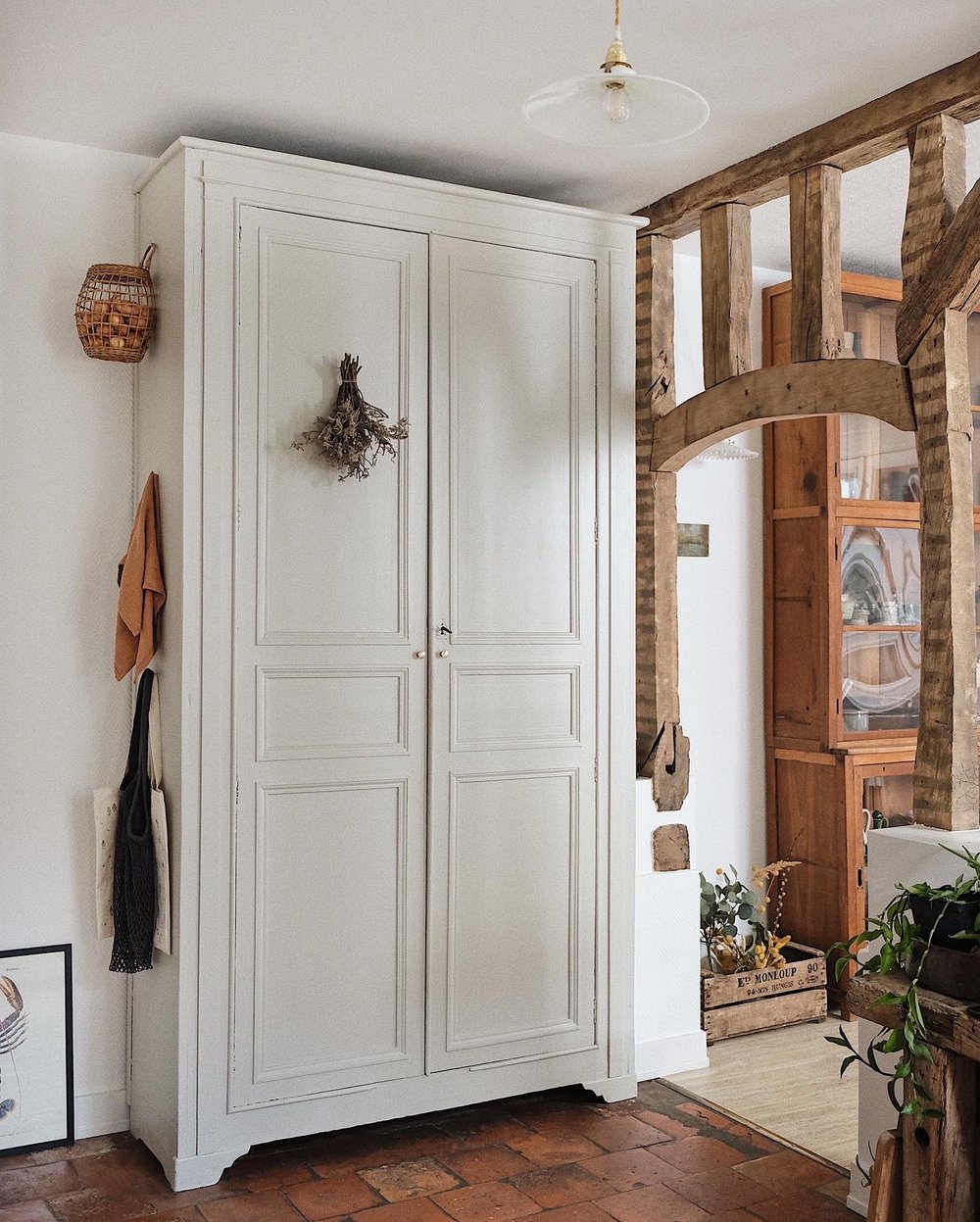 I find the idea of village life quite charming, don't you? Since I've spent a few years now in (more or less) isolation in my city, I've discovered things about myself that I'd not paid much attention to before the pandemic. During lockdown, I asked Naïa what she learned because I think we all have some solid takeaway from this time period. She explained how she learned to prioritize things in her life much better, both personally and professionally – as in who and what really matters. I can agree with her on that point, it has been the same for me. She said she also became better organized in her daily life so that she can "win" more time in her day. Admittedly, I'm still working on that! She said she has also learned to really count her blessings, especially for her to be in such a spacious home with a patio during lockdown with access to a lot of nature nearby for daily walks, "In that sense we were very grateful to have left the city life for the countryside life, well aware that this is a privilege."
I asked Naïa more about her village life in France, because it's a big contrast to Amsterdam living, and what she loves about it most and she listed a few things that came to mind first – her village is filled with charming old homes, she loves the sound of the church bells nearby, and her favorite part – the wonderful vegetable allotment gardens with the castle garden in the background. Sounds idyllic, right? Let's all relocate to the French countryside, stat!
Now that we know what she loves about her town, what about her home? What does she enjoy doing there? She loves to cook, create in her attic atelier, play with her son, change the decor in the house according to the seasons, and take care of her plants on the patio in Spring. What do you like to do at home? I find this such a nice question to ask because usually the answers are so varied and often, unexpected. Personally, I love to bake, play with my son, take photos, craft, do puzzles, read books and magazines, rearrange things, decorate, arrange flowers, and clean. I honestly love to clean! What's on your list?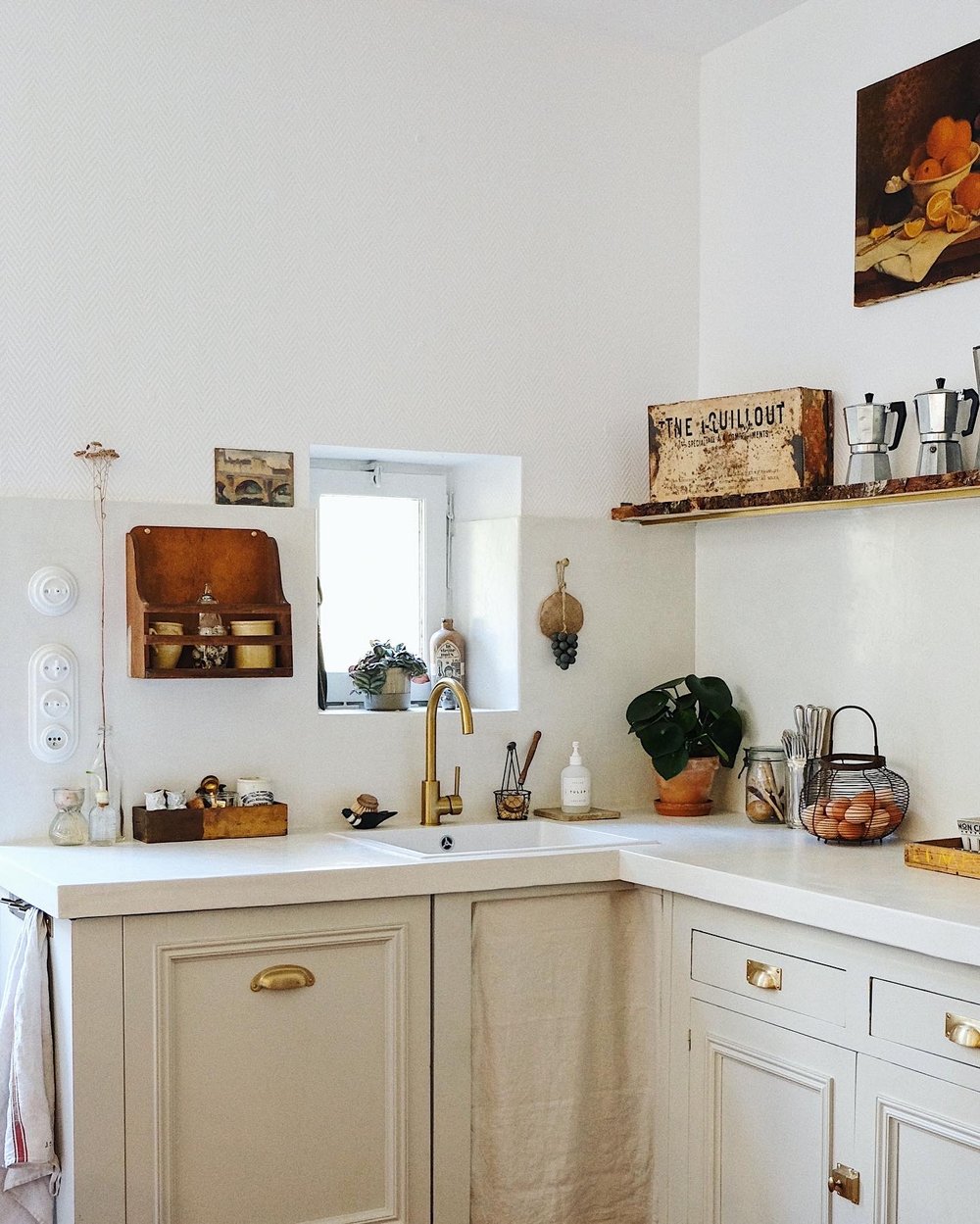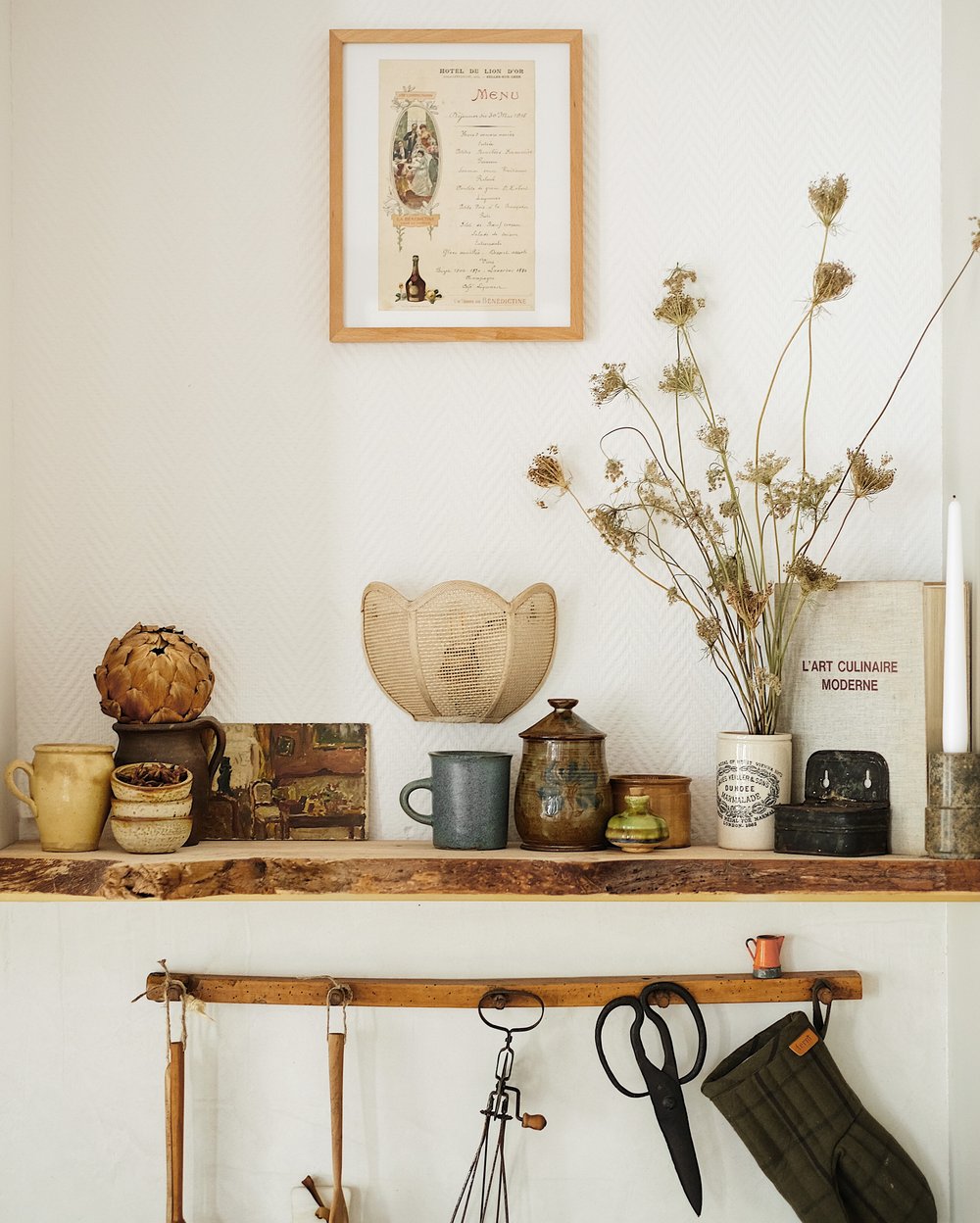 One thing that I noticed about her home the moment I found her space online was the many lovely collections and groupings of like objects. "In the kitchen I love to collect old handmade ceramics with natural earthy and neutral tons as well as more classical old white dinnerware. And in the "petite école" ("the little classroom" which is James playroom) we have a big cabinet of curiosities where we collect everything about flora and fauna, from the forest to the sea, microscopes, butterflies, etc. It's our own little museum of Natural History!", Naïa says. You can see that below, it's amazing what she has created for James!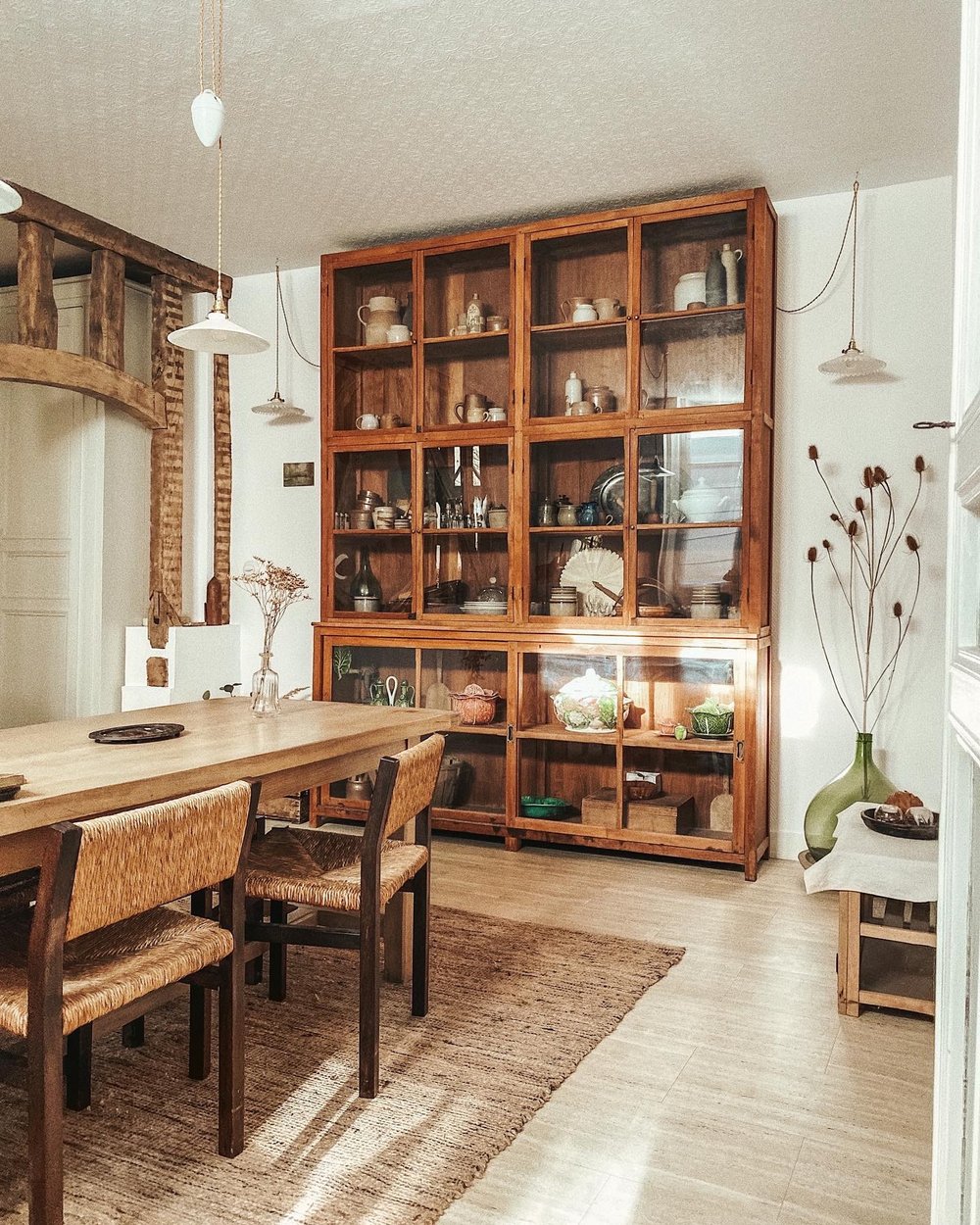 Does Naïa have favorite room? I wondered this, so I asked her. She told me that it's her dining room because it's light and open with beautiful old beams. They eat together in this space, obviously, but they also love to sit at the table and plan their next projects and dreams, like her online interior design shop that she's working on for @Annaandwolf that will consist of antiques, handmade objects, and beautiful brands that she loves, along with her own creative projects, everything being centered around the home. They are also planning the renovation of their little cottage outside of the village, making plans and drawings, reading flower catalogs to decide what they will plant in the spring, etc…" I like her dining room to, very much, but…. My favorite room in her home is James' "classroom" space below – I mean, just wow… Look at this below… Imagine being 4-years-old and having access to so many coo things!
I admire her home office/atelier so much too, "With a father that was a painter and a mother that was a journalist, and being from Paris, I grew up surrounded by brushes, paint, art books and we would go to museums a lot. So it influenced me, I love to draw, lately experimenting illustrations on my iPad, to sew as well and I want to learn ceramic. I installed my atelier in the attic, it feels like a bubble!" What a beautiful bubble it is!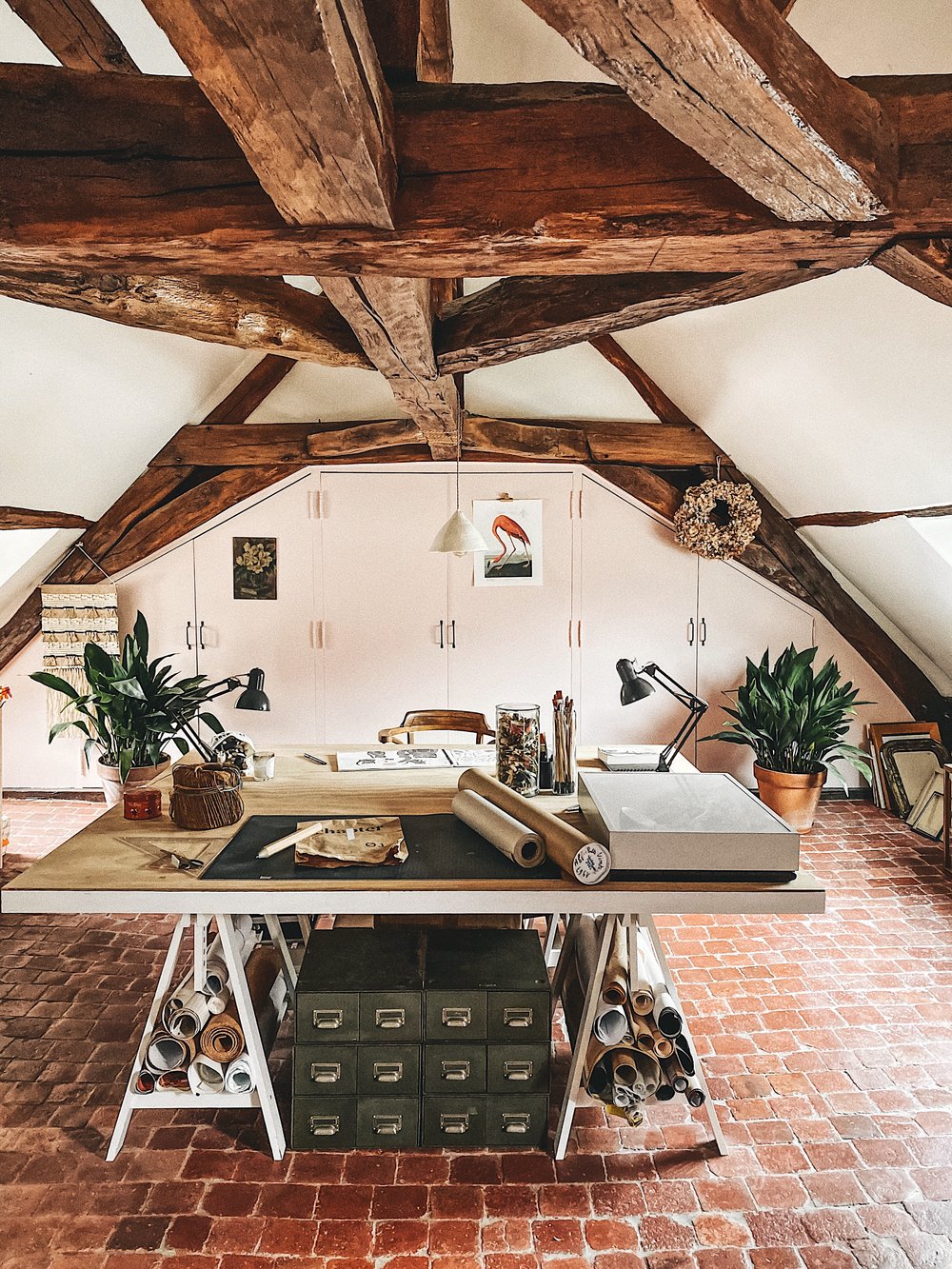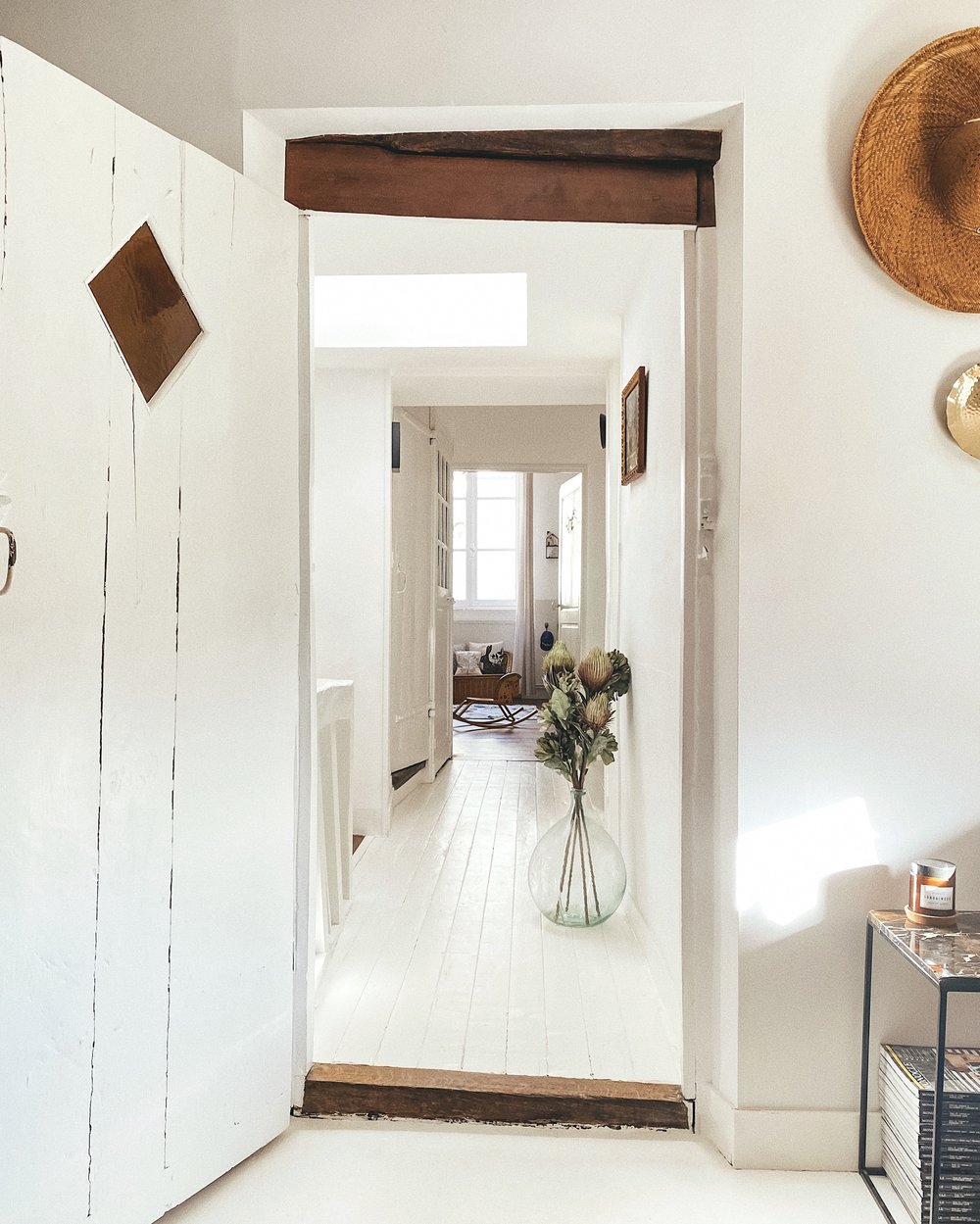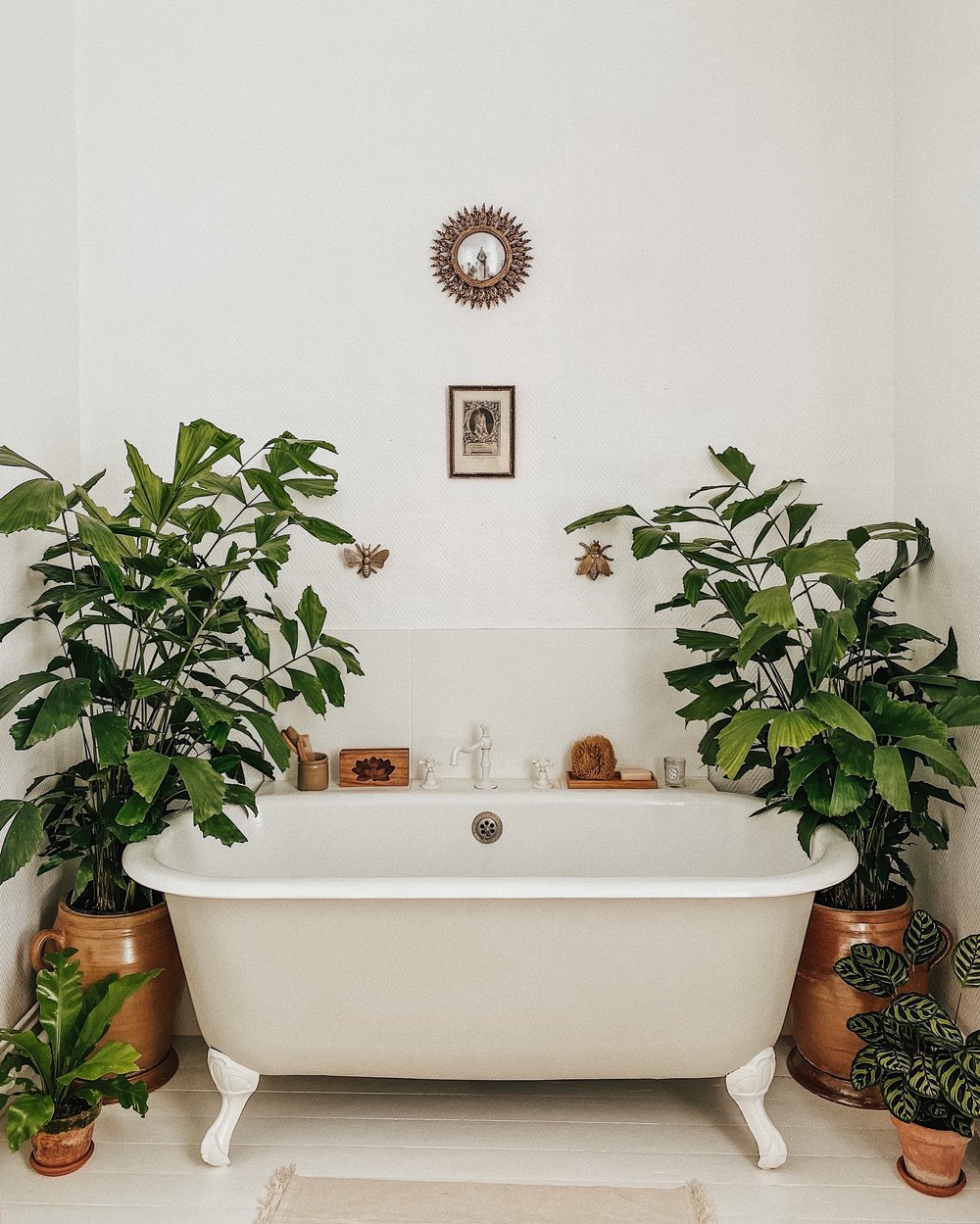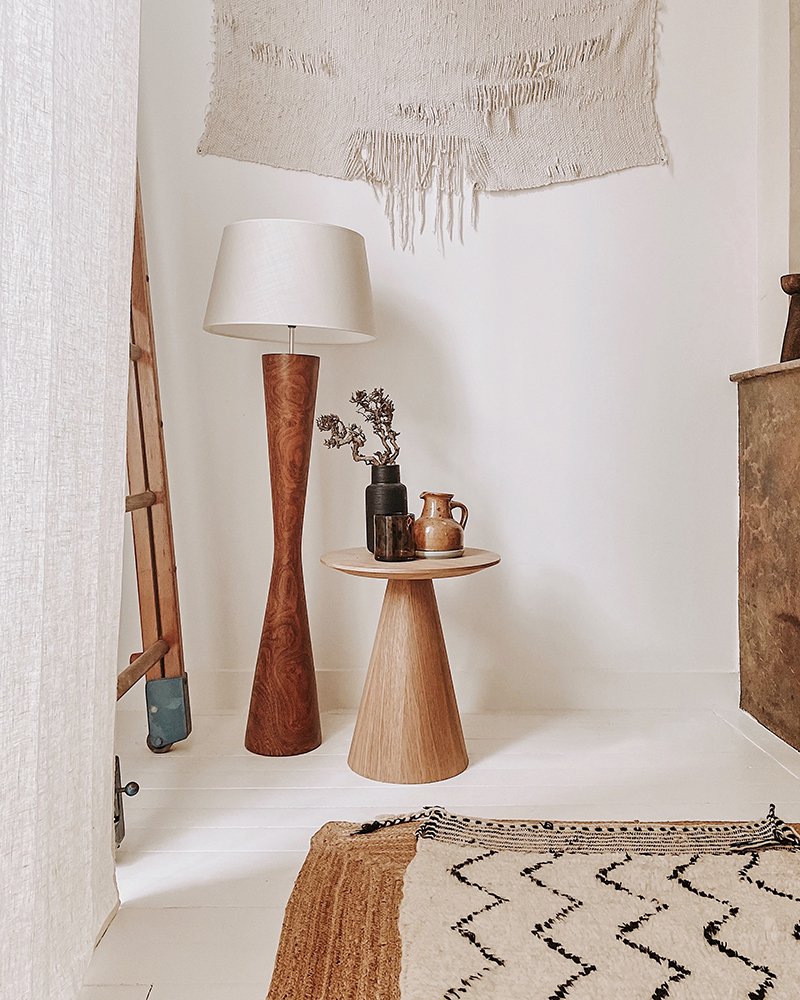 And okay, I totally adore her bedroom, too. It's my second favorite room in addition to James' classroom space. It's restful, serene, and harmonious, I especially like the neutral decor, the various wood tones mixed together, the abundance of natural light, many tactile elements and of course, the old wooden floors painted white – this will always be my favorite type of flooring – old hardwood kept natural or old wood planks painted white.
As I looked through her home, I not only appreciate all the beautiful arrangements of objects, but am impressed by how she owns SO MANY THINGS yet it doesn't feel cluttered. It's a real talent to be able to pull that off!
Before wrapping up this home tour, I had to ask what kind of music Naïa plays at home and how her home smells – because sound and scent really make a home even more beautiful to me, I am very much into sensory decorating so to speak. I love when all of the senses are engaged the moment you visit someone at home.
For music, Naïa enjoys certain sounds according to the season. In Spring, it's Jungle Drum by Emiliana Torrini and Django Reinhardt. In Summer: Sand and Sky by Paul Kalkbrenner, in Autumn: To Build a Home by Cinematic Orchestra and some Ella Fitzgerald and in Winter: Christmas songs by Frank Sinatra. When I look at her home, I can definitely imagine Django Reinhardt playing!
For scent, she loves Diptyque candles – in Spring and Summer she uses Mimosa and also the Figuier candle (I have the fig room spray – it's a favorite of mine). In Autumn and Winter, she burns Feu de Bois (me too!), Baies, and also Genevrier, "One of my favorite smell ever though is in winter when I open our windows and it smells like firewood in the crisp air!". I think Naïa and I love the same scents – for me it's the same, I love winter nights when I walk outside in my neighborhood and smell the fires burning…. It's heaven!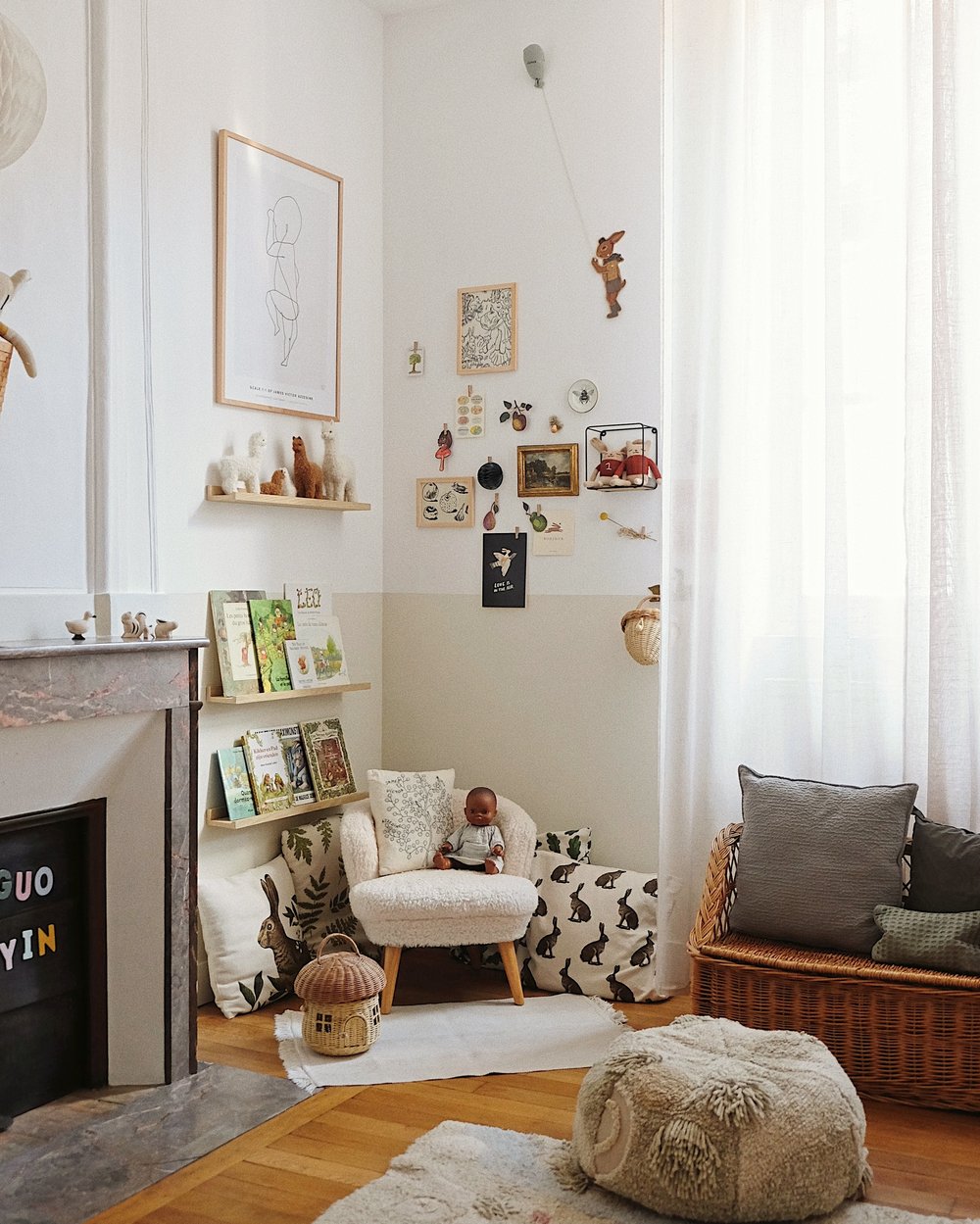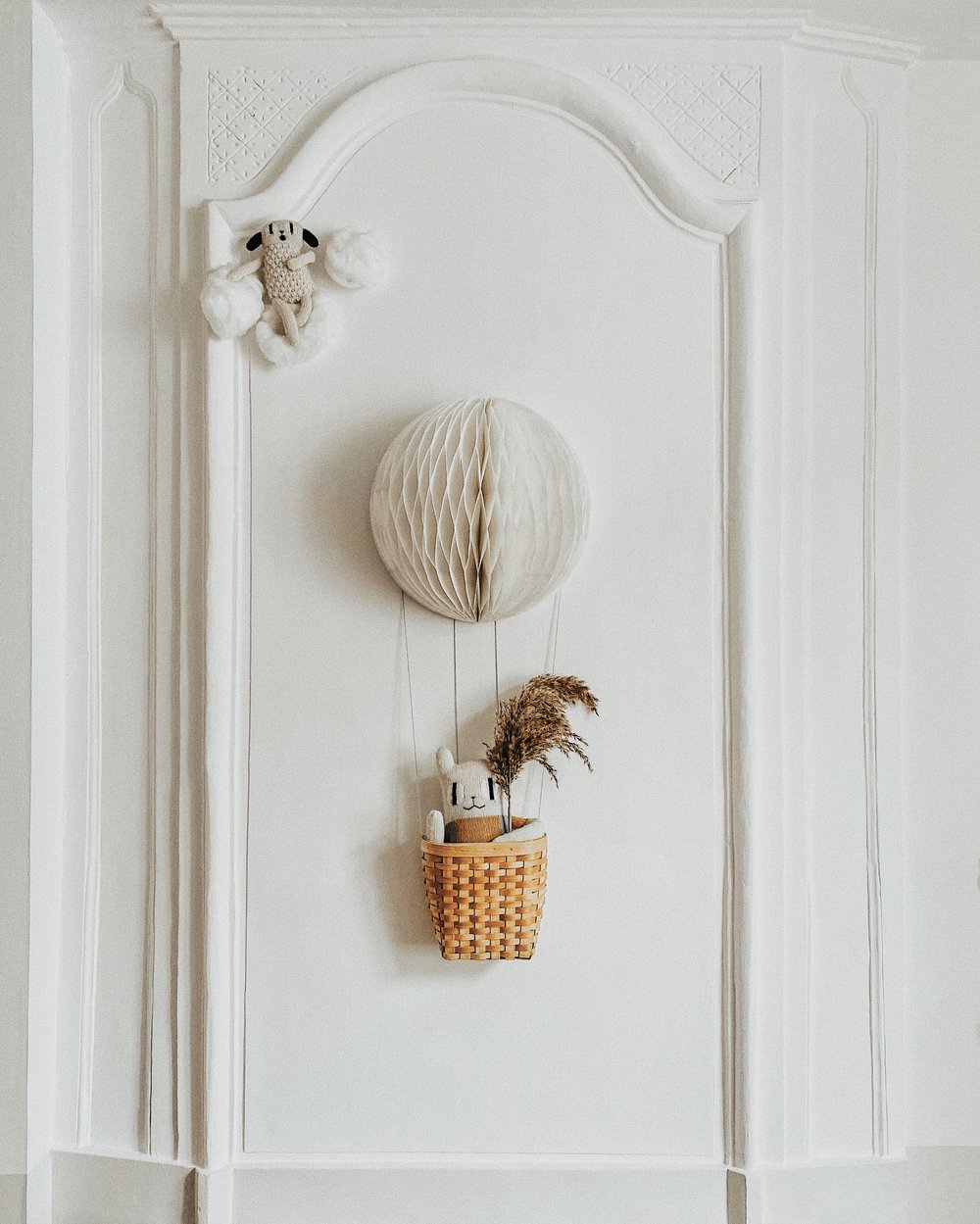 Isn't the bedroom of little James just the cutest? My son is 8 now and I am still the Designer-in-Chief of his bedroom, but I'm not sure how much longer that will last. He is already claiming his title as "Creative Director", especially during the last updates we made in September 2021, but thankfully he has quite nice taste so I'm hoping I have more say in his room design until he's around 12, then I can finally let go. ha ha! But seriously, decorating a child's space is an absolute favorite of mine – I will always be a child at heart. I love the little collections, dolls, even legos and action figures, tiny pots of paint and globs of dough and clay, a child's room is just a ball of dynamic, moving, creative energy just as a child is. Full of adventure and possibility!
Thank you so much to Naïa, Folk, James and their three kitties for allowing us in their beautiful home today. This has been such a delight for me to bring this to you, dear readers. Please comment below if you have any questions for them, or for me, or simply want to leave your thoughts about their home or comment on the things that you appreciate or want to try yourself.
Have a wonderful day, friends!
Love,
Holly
Photography: Naïa Salamah, with permission.
Have you heard my latest episode of Voice Letters?