Are you ready to learn about and view a premiere project that I worked on for Domotex which launched last month here in Hannover, Germany? If you aren't familiar with Domotex, it is one of the largest and most influential trade fair for floor coverings in the world and it takes place in Hannover each January. Domotex is exclusively dedicated to the architectural and floor covering industry. Buyers and shop owners visit to find the latest to stock their shops. Architects and Designers visit to spot the trends and find flooring for their projects. Dealers set up their space on the trade show floor to sell and network and they're able to see firsthand what their competition is up to. This encourages them to either evolve or innovate their designs or process, or to simply design patterns that are more on trend. Journalists and online content creators also attend, alongside trend scouts and rug experts, to see what's on the radar and for an overview: What are the current flooring trends, which brand stands out, what matters to consumers, the overall buzz. Domotex is for the trade only, so the public (consumers) is not able to attend, which makes it quite exclusive and not nearly as jam-packed as fairs that are open to the public or have public days – yet the exclusivity is a big draw for me because I truly get an insider's view.
I've been working with this far since 2018 when I was initially hired to set up the first ever Influencer's Team to visit and report on the fair as well as to speak on stage, complete with a panel of lively discussions. I was also asked to present a keynote. You can read all about the social media team that I formed here: Meet These Interior Design Bloggers at Domotex!
After the successful launch of that project, I was again hired the following year to repeat the concept only to add a trend space – a room filled with carpets that I loved and furniture I had selected from the beautiful Hannover-based design shop, Steinhoff, which you can see and read about here: My Trend Stand at Domotex: The Design and Photos
In 2020, I was brought on again, this time to moderate a panel and give a keynote, along with create a mood board shown at the fair as part of an exhibition. I talk about this more here: Well-being Trend for Flooring 2020
I was asked to partner again with Domotex in 2021 and 2022, but Corona squashed the chance and the show was postponed until post-pandemic times. In 2021, I pitched a concept to create a way for Designers to bring a mood board to life around rugs, an exhibition I'd envisioned to inspire visitors of the fair with various prominent designers based in Germany. I wanted to bring rugs into context – into a living space since I believed this type of exhibition could serve to elevate the fair even more by making it more relevant and exciting for visitors seeking visual stimulation around rugs who also would like to see some trends, ideas and impressions from interior designers.
Once the project was approved, the initial planning was thwarted by the cancellation of the 2022 fair due to Corona. The project was put on ice until we got the green light to plan for January 2023 and happily, it worked out.
What was involved on my side? Lots of you have asked so I wanted to take time today to explain my involvement more thoroughly and also share the lovely spaces with you. Many assumed I only had designed my trend stand or only curated the exhibition and that was it but there was so much involved and I've happy to share the process
First, I was asked to pick the interior designers that I wanted as part of the project and to decide on how many we'd involve based on the feedback from Domotex and their budget along with the amount of space we had for the actual exhibit on the fairgrounds. We had originally envisioned 6 designer spaces but ended up with 5 which was the perfect number in the end based on our overall budget and size of the space.
I also helped finalize the exhibition location at the fairground because it needed to be in the perfect spot with the most foot traffic. We went back and forth a lot on this but I wanted a space where I could imagine the most guests would pass through or see it. This was important. In the end, we were placed along with the Carpet Design Awards and their exhibition and stage, so it was the perfect pairing – I was delighted!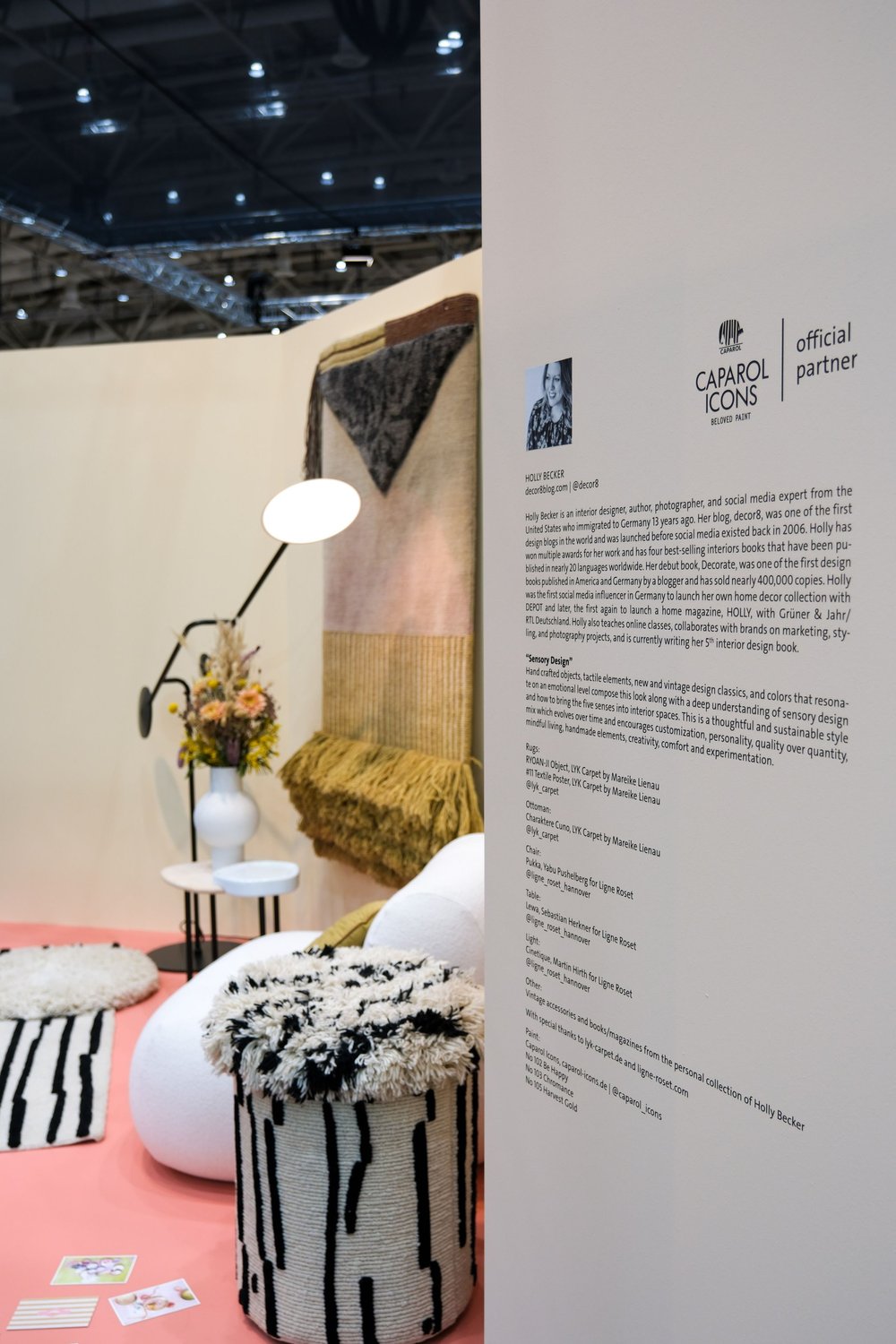 Other considerations included…
The actual stand design and construction of each space, would each stand be high or low, circular, oval, "rooms" with ceilings, how would these look?

What would be the theme?

Would the spaces have flooring from the show (like wood or granite)?

Should each space be level with the floor or on a small platform?

What security measures needed to be taken?

How could we ensure that visitors wouldn't enter the spaces and sit down and relax?

What about lighting – will the spots from the fair be enough or should each space have lighting? Should the spots be warm or cool?

Should the spaces have ceilings so we can drop lighting or hang things like plants or mobiles, pendants, etc.?

Should the walls be patterned with wallpaper, fabric, or only paint?

Which spaces had access to electrical outlets and which would not?

What about the text on each stand – what would it say? In which language? Who would translate German to English?

Where would the text be located on the walls? And in black or white?

Should we include our portraits? bios? What should be listed there?

Should anything be included on the back of the walls facing the cafe?

Which designer should be placed where on the floor plan?

Should the spaces be open towards the cafe or towards the aisles?

Which designers could come to the fair and could I arrange for local press to meet them or for interviews?

Who would order all of the items for each space (chairs, rugs, paint, accessories, lighting, flowers, etc.) and how would delivery and pickup be arranged?
That is only part of the list of details but this project was really fun and great challenge for me which I really loved. I was proud of what my manager Annette Levy and her Deutsche Messe collegue, Ines Kirsch (Standbau Manager) had accomplished together with me, the designers (Peter Fehrentz, Sebastian Herkner, Mark Braun Studio, Studio Besau Marguerre) and their teams of each Mood Space, the wonderful Mattheis Messebau team who built the stands and painted them beautifully, Julia Ripper at Caparol Icons who provided the most beautiful paints that we requested in a matter of days, and the very patient Bernd Berger from PER Medien & Marketing who expertly created our text for each space. Together we accomplished so much!
I ended up ordering nearly everything and Annette handled the complicated jigsaw puzzle of logistics… Including delivery and later, pick up. What a job she had! I visited Ligne Roset personally at their Hannover showroom to select the three pieces that I wanted to loan for my space. I spent weeks negotiating with each brand that had products in each space to ensure a fair and easy partnering could occur. We had products coming in from all over Germany and a few things from France. Annette and I also had to check each box to ensure nothing was damaged – this was a week before Christmas – it was hectic but the adrenaline rush was something I welcomed after not working with fairs for a few years due to Corona.
I was happy in the final hour to pitch to Caparol Icons to become our official sponsor for our paints which created a wonderful partnership for us both. Caparol Icons is a sister brand to Germany's paint giant Caparol, so to support a young brand and to use sustainable paints for our project was absolutely perfect. I couldn't have asked for a better collaboration for our paint which we used on the walls and floors – the colors were gorgeous and were all selected by our designers – each designer decided on the colors for their walls and floors.
I must thank my partner-in-crime Annette Levy at Domotex who hired me for this project and with whom I worked so closely with on weekly calls from start to finish – she was always so dedicated and positive – her endless help, feedback and support was great. Most importantly, she trusted me – and TRUST is everything in a project of this scale.
---
Mood Spaces was so fulfilling in many ways and I am completely satisfied with the results of this trend exhibit, the first of its kind, at Domotex. Now it's time to show them to you.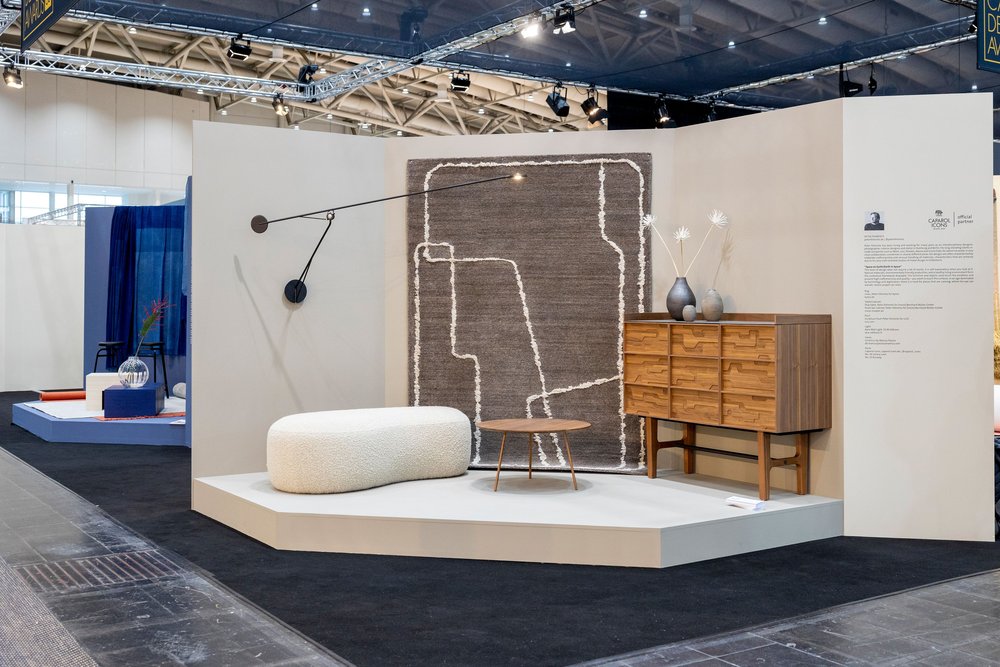 Peter Fehrentz. "Warm moody colors, natural materials and craftsmanship are the main focus of Peter Fehrentz's design." – Saskia Krolop, Domotex
Here is the first of our 5 inspiring mood spaces – This one was designed by Hamburg-based multidisciplinary designer Peter Fehrentz.
Theme: Space on Earth, Earth in Space. "This level of design does not require a lot of words, it is self-explanatory when you look at it. Natural materials, environmentally friendly production, and a healthy living environment form the contextual framework displayed. The furniture and objects used touch the emotions and present high craftsmanship and quality – you want to touch the surfaces. In an age dominated by technology and digitization, there is a need for places that are calming, where the eye can wander, where people can relax." – Peter Fehrentz
He shared mostly pieces he had designed along with ceramics by his friend Marcus Paulus and a wall lamp from DCW Editions in Paris. The rug was designed by him for Kymo, the round table and credenza was also his design for MORE Moebel, and the large ottoman in cream (love!) was a creation of his for Luiz.
Paint on floors and walls: Runway and Library Love by our official sponsor, Caparol Icons.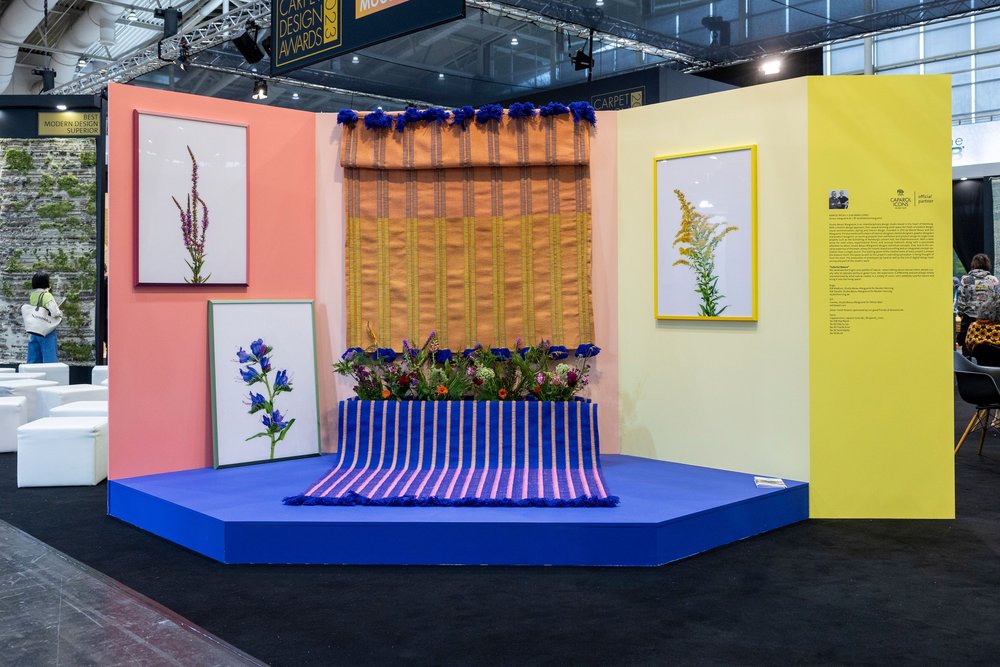 Studio Besau Marguerre. "Studio Besau-Marguerre inspires with the exploratory use of extraordinary materials in combination with bold and eye-catching colors'." – Saskia Krolop, Domotex
Here is the 2nd of our 5 mood spaces from designers Eva Marguerre und Marcel Besau from Studio Besau Marguerre in Hamburg.
Theme: Colorful Nature. "We celebrate the bright color palette of nature – when talking about natural colors, people usually refer to delicate earthy or green hues. We experience it differently and are always totally overwhelmed by what nature creates in a variety of colors. Let's celebrate colorful nature and bring it into the living space!" – Studio Besau-Marguerre
They premiered their new RIB rugs for the first time (at a fair) here that they'd designed for Reuber Henning in Berlin, along with their new WhiteWall Design Edition frames for WhiteWall. The assorted fresh flowers were sponsored by Bloomon.
Paint on floors and walls: Blush, Serendipity, Pop Peach, Trial and Error, and Ode to Joy by our official sponsor, Caparol Icons.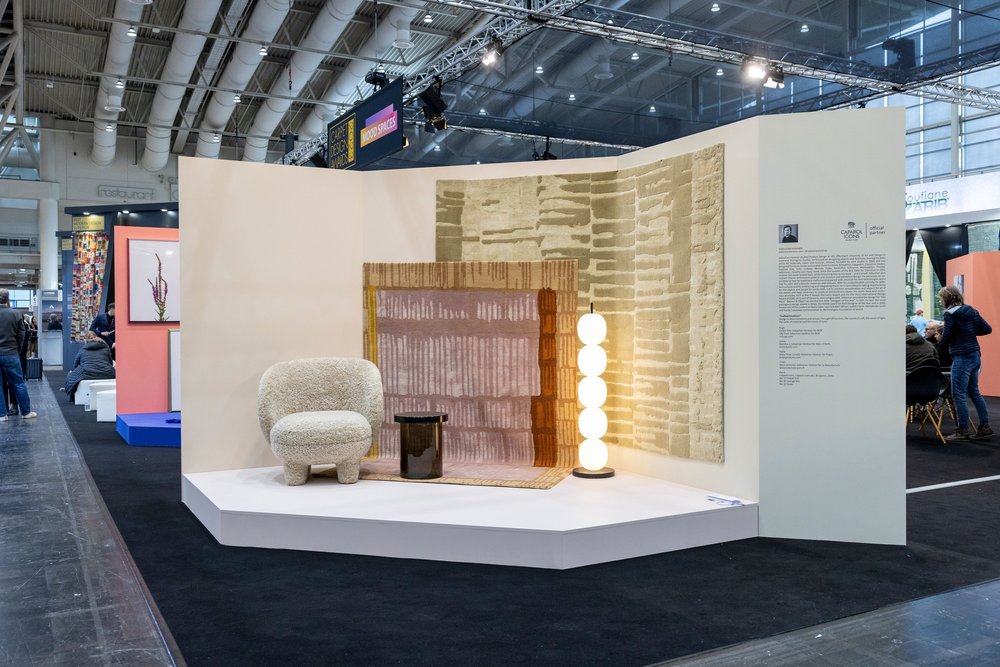 Studio Sebastian Herkner. "Sebastian Härkner surprises in the design of his Mood Space with soft colors and the sensual interplay of different shapes." – Saskia Krolop, Domotex
Here is the 3rd of our 5 mood spaces, this time by designer Sebastian Herkner.
Theme: Crafted Emotions. "Design is about emotions and senses. The sight of function, the sound of craft, the smell of light, the taste of material and the touch of color." – Sebastian Herkner
His rugs are part of the Trails collection for M2Rugs and this was the first time they were presented in Germany at Domotex last month where he also won the Carpet Design Award from Cover Magazine and Domotex for best new collection – a big honor. Chair: Moro from French brand La Manufacture designed by Sebastian, the table was designed for Pulpo Products and the Mankai 5 lamp, also his design, for Man of Parts.
Paint on floors and walls: Flokati Frill, Lounge Mix, and Nude by our official sponsor, Caparol Icons.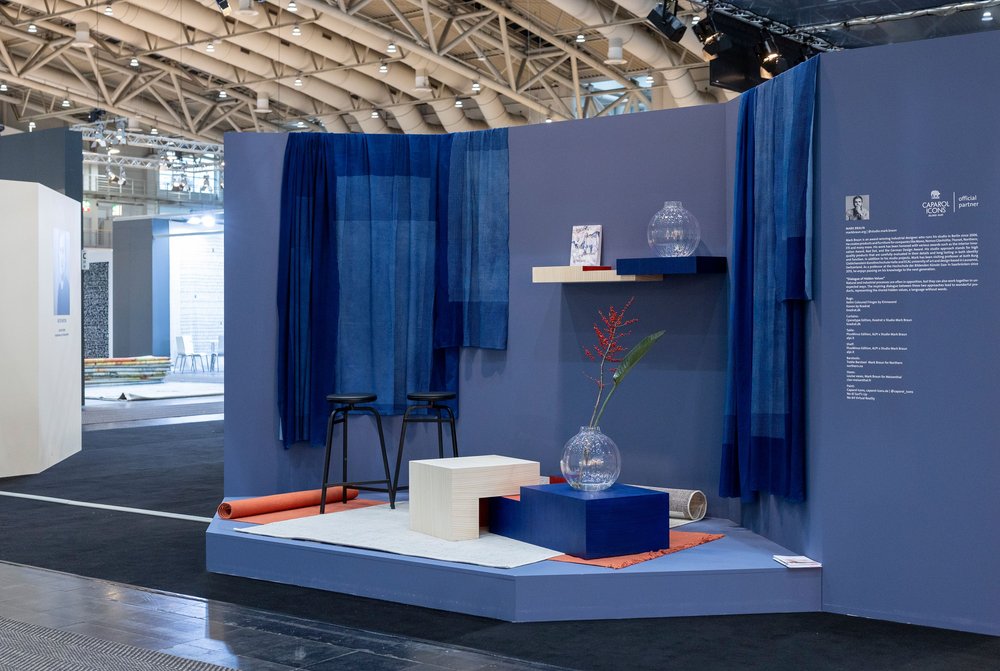 Mark Braun Studio. "Natural and industrial processes are often in opposition, but with his design Mark Braun proves that these can also form a unity in unexpected ways." – Saskia Krolop, Domotex
This is the 4th Mood Space by Mark Braun in Berlin. Project assistants: Vanessa Shababzadeh, Ivo Schläpfer, Hendrik Lucka.
Theme: Dialogue of Hidden Values. "Natural and industrial processes are often in opposition, but they can also work together in unexpected ways. The inspiring dialogue between these two approaches lead to wonderful products, representing the shared hidden values, a language without words." – Mark Braun
He went with beautiful tones of deep blue with touches of orange-red. Nearly everything you see was designed by him. He was particularly excited to share the Cyanotype curtain that his studio had created in collaboration with Kvadrat and his new side tables designed for Alpi. The rugs shown are by Kvadrat and Kinnasand, shelf by Studio Mark Braun for Alpi along with his bar stools for Northern and the Louise vase designed by Mark Braun for Meisenthal.
Paint on floors and walls: Virtual Reality by our official sponsor, Caparol Icons.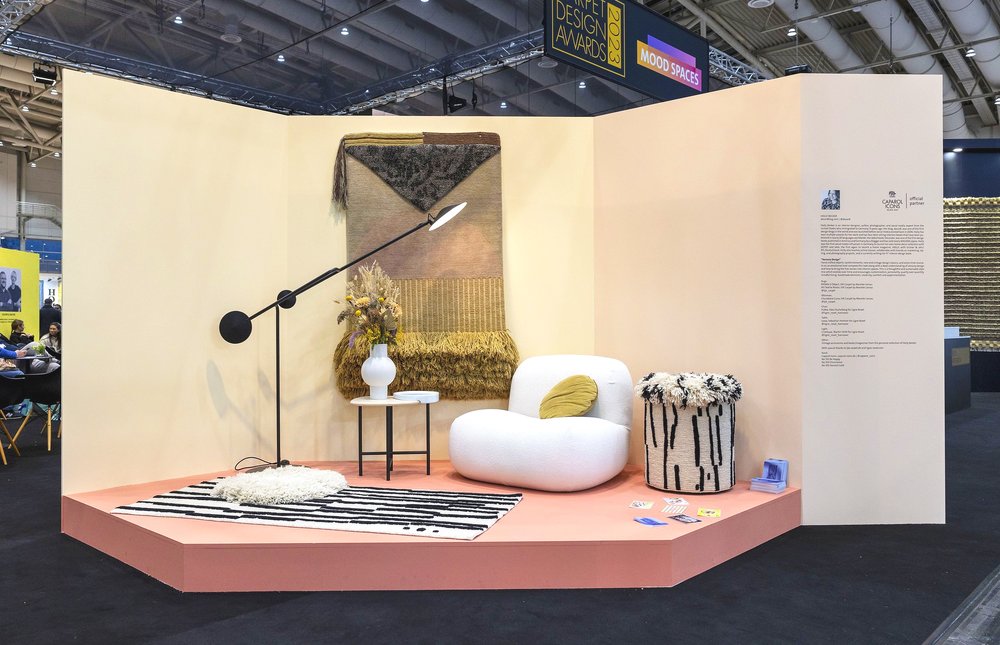 Holly Becker. "Hand-crafted tactile elements, design classics, personal touches and warm, soft colors along with graphic elements dominate in Holly Becker's installation." – Saskia Krolop, Domotex
And the 5th – Here's my Mood Space! I really love it, it made me so happy to see my vision brought to life!
Theme: Sensory Design. "Hand crafted objects, tactile elements, new and vintage design classics, and colors that resonate on an emotional level compose this look along with a deep understanding of sensory design and how to bring the five senses into interior spaces. This is a thoughtful and sustainable style mix which evolves over time and encourages customization, personality, quality over quantity, mindful living, handmade elements, creativity, comfort and experimentation." – Holly Becker
Both rugs and pouf designed by Mareike Lienau for LYK Carpet Berlin. Chair – PUKKA designed by Yabu Pushelberg for Ligne Roset. Light – CINETIQUE by Martin Hirth for Ligne Roset. Table – LEWA by Sebastian Herkner for Ligne Roset. Vase – HKLiving. Fresh + Dried Flowers – Indigo Blumenladen Hannover.
Paint on floors and walls: Be Happy, Chromance, and Harvest Gold by our official sponsor, Caparol Icons.
What do you think of these spaces?
I am so happy to have worked with Domotex on this project and hope you have enjoyed this presentation here today!
Love,
Holly