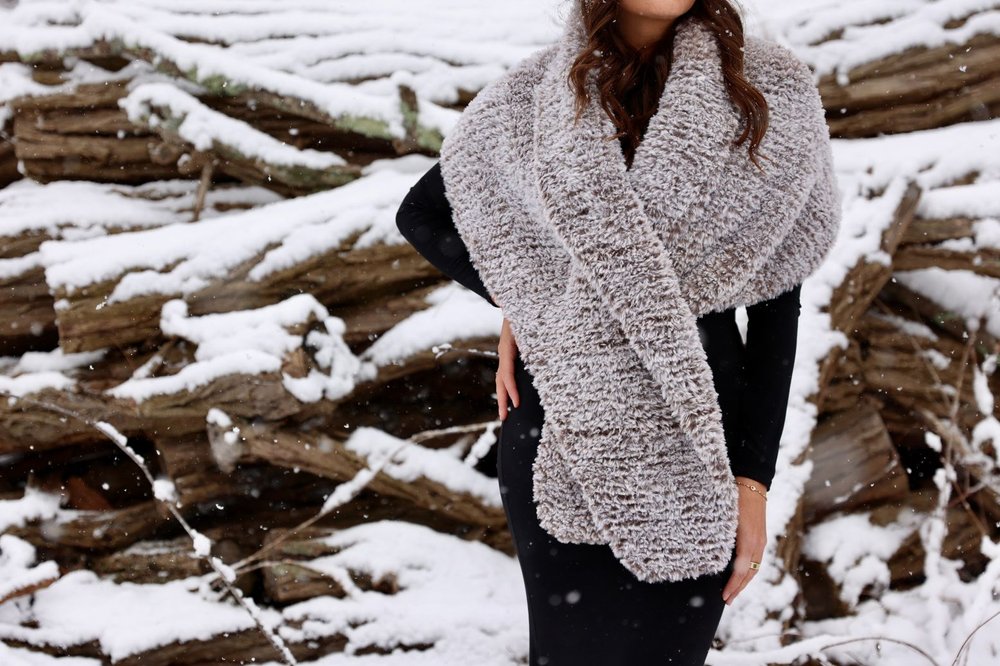 No your eyes are not deceiving you – the new knit Fête Stole is nearly identical to its sister pattern, the crochet Soirée Stole released 10 days ago! While there are a few small differences (read on to find out what they are!), in photos these babies are basically twins. Now knitters and crocheters alike can sport this uber glam accessory to all of the most chic events of the season. Scroll down for the free Fête Stole knitting pattern or click here to purchase the ad-free printable PDF.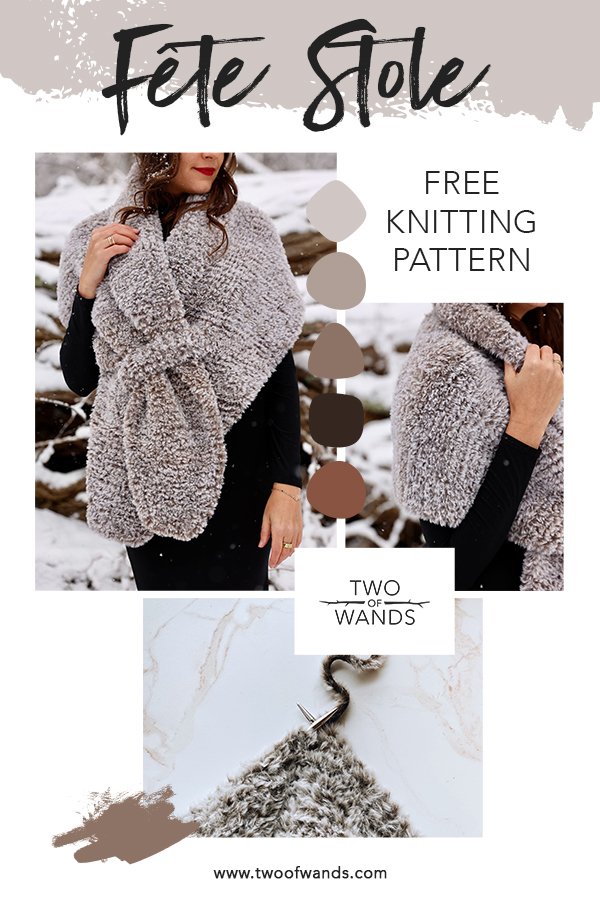 I just knew that when I published my Soirée Stole a little less than two weeks ago, it would stir up the usual "ugh, too bad I ONLY KNIT" crowd, lol. While sometimes I get a little frustrated by comments like this because they can feel really ungrateful (and frankly, if you don't know how to do a certain craft, it's a much better idea to learn how to do it rather than asking a designer to create a whole new pattern for you), there are certain designs that I am more than happy to do in both crafts and this is thankfully one of them! That being said, there's always a reason I purposefully choose the craft I do for each design. Crochet and knitting are wildly different and their properties typically lend them to different designs. You also can't just "translate" a pattern from one craft to another – you have to start entirely from scratch and it takes a lot of hours of math and making and frogging and reworking to take a concept from knitting to crochet and vice versa.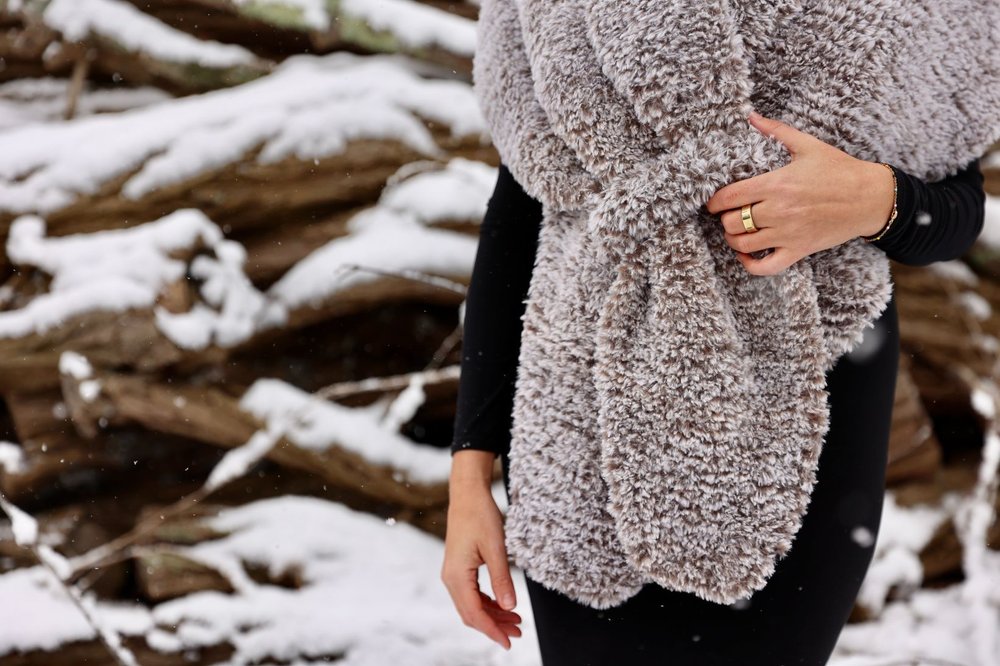 Go For Faux is extremely forgiving thanks to its thick fluffy nature (that hides basically all mistakes) and the fact that it creates imprecise shapes, so it's often easy to create similar looking items with it in both knitting and crochet. However, there are still distinct characteristics of each craft to consider when designing something even as basic as this stole in each craft. Crochet is generally at least twice as dense as knitting when using the same weight yarn and hook/needle size, so it creates a much stiffer fabric. Crochet stitches are also much bigger than knit stitches, so the rate of increases/decreases is different when trying to create the same curves, angles, and shapes.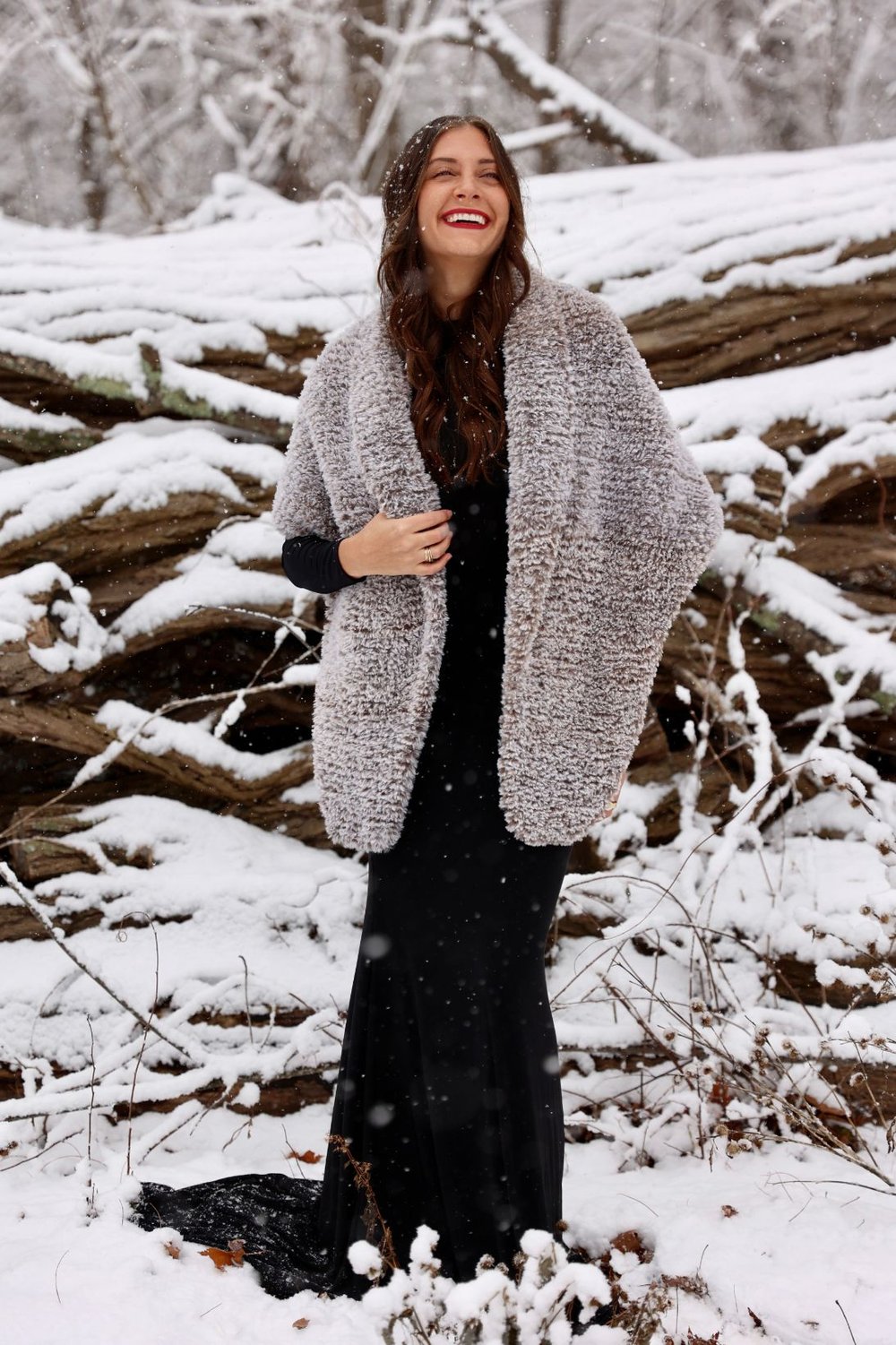 Curious how I took this design from crochet to knitting and got it to look so similar? First I started with a smaller needle to try to create a dense fabric like its crochet counterpart. For the Soirée Stole, I used an 8mm hook – and for the Fête Stole I went with a 6.5mm needle. The fabric is still much drapier and more flexible, but it's about as close as I could get it without having frustratingly tight stitches. While the crochet design increases/decreases every other row, to get a similar angle with the knit design I had to increase/decrease every 4th row. The increase/decrease sections on the knit design still worked out to be about 2"/5cm shorter than the crochet piece, so I added 4"/10cm to the middle straight section to achieve the same overall length.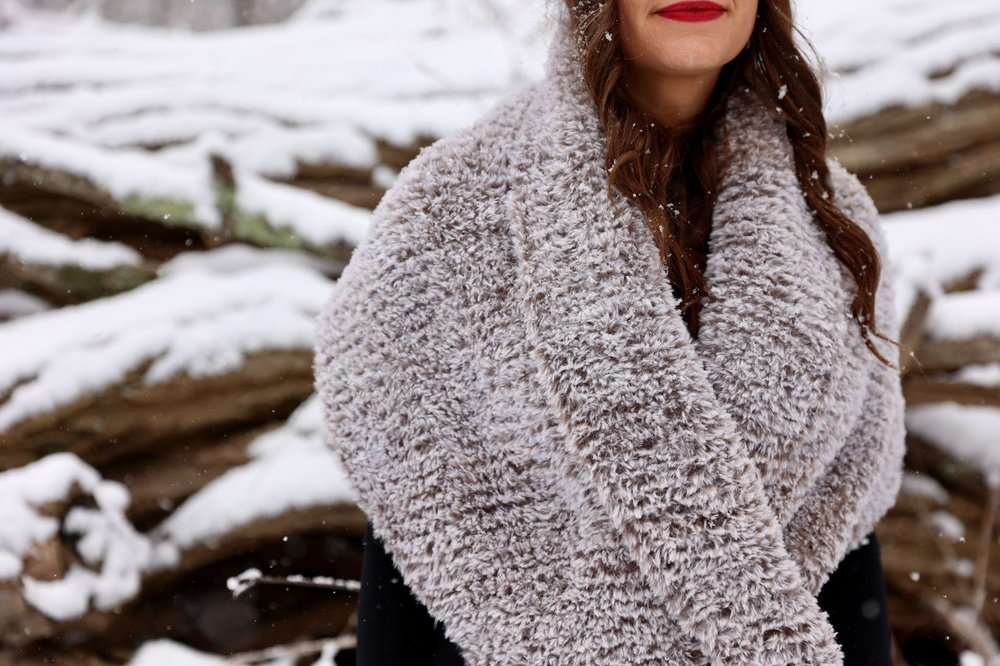 Since knit fabric is SO much stretchier than crochet fabric, I knew that the width of this stole would shrink a little with wear due to the length pulling on it and distorting it, so I made the knit stole 1"/2.5cm wider to accommodate for that. Lastly, since knit fabric is thinner and takes up less space, I made the strap 2"/5cm shorter on the knit stole as the fabric passing through it wasn't as bulky. Keeping it the same length would have caused a lot of empty space in the strap and it wouldn't have looked as though it was being pulled down. All of these seemingly invisible but very important details ensure that the stoles look the same when worn.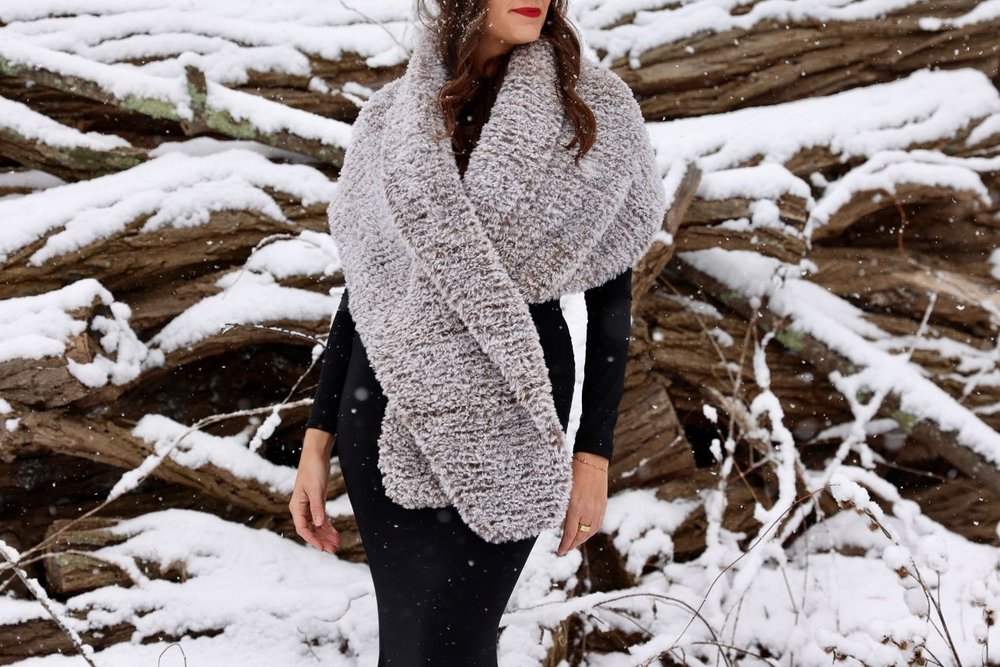 This is an easy level knitting pattern and the only techniques used are the knit stitch, KFB increase, and K2tog decrease. Just like the Soirée Stole, I would have categorized it as beginner, but it can be tough to work with this kind of fuzzy yarn if you don't have any experience. The good news is, this fabric hides pretty much all mistakes so as long as you don't drop a stitch, you probably won't be able to see any other booboos.
MATERIALS
7 skeins Lion Brand Go For Faux in Bear (322-206BD)
Size US 10.5 (6.5mm) knitting needles
Stitch markers
Tapestry needle
FINISHED SIZE
A) Width: 19"/48.5cm
B) Length: 68"/173cm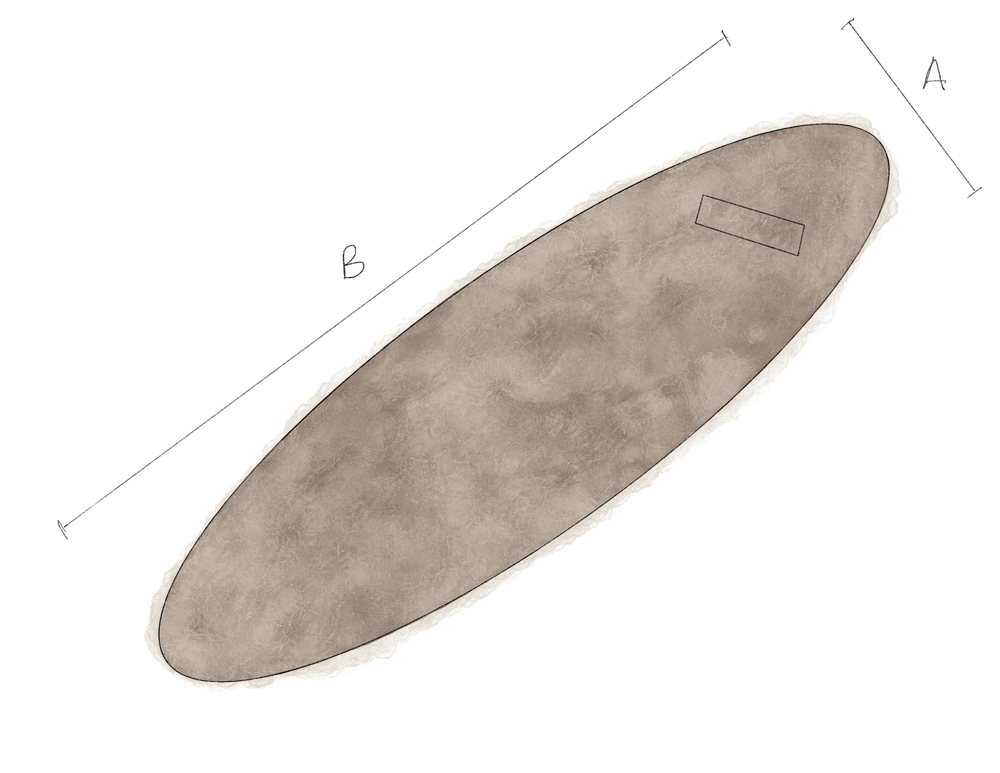 GAUGE
10.5 sts + 17 rows = 4"/10cm in garter stitch
ABBREVIATIONS
*All Two of Wands patterns are written in standard US terms
CO – cast on
K – knit
K2tog – knit 2 together
KFB – knit front and back
Rep – repeat
St(s) – stitch(es)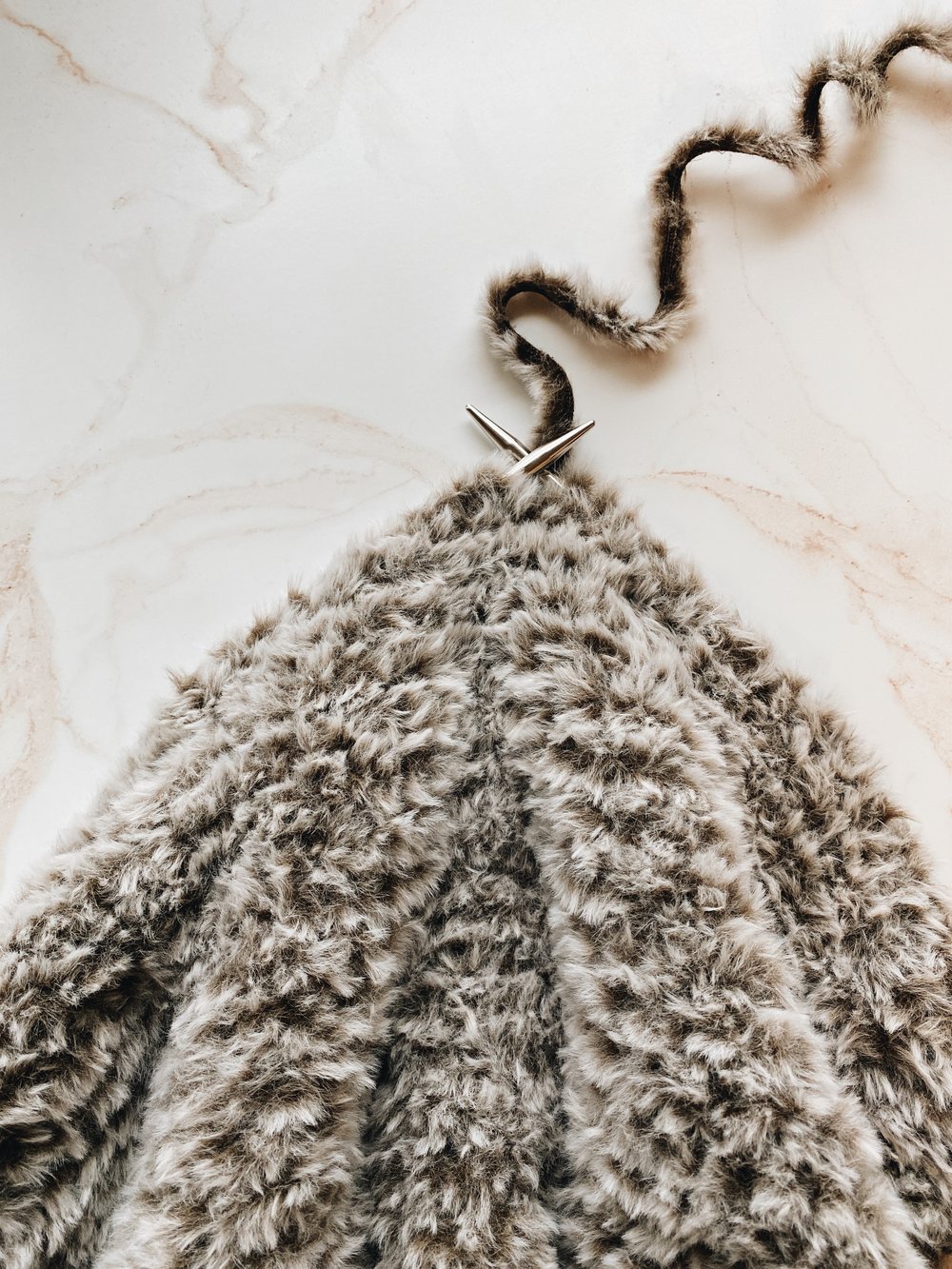 Wrap is worked flat widthwise, first increasing every 4th row to the full width, then decreasing every 4th row to the opposite end. To keep track, place a marker on the side of the fabric with the increases and decreases to easily identify it.
STOLE:
CO 12.
Begin increase section:
Rows 1-3: K.
Row 4: KFB, K to last st, KFB. (14 sts)
Rows 5-76: Rep rows 1-4, 18 more times. (50 sts)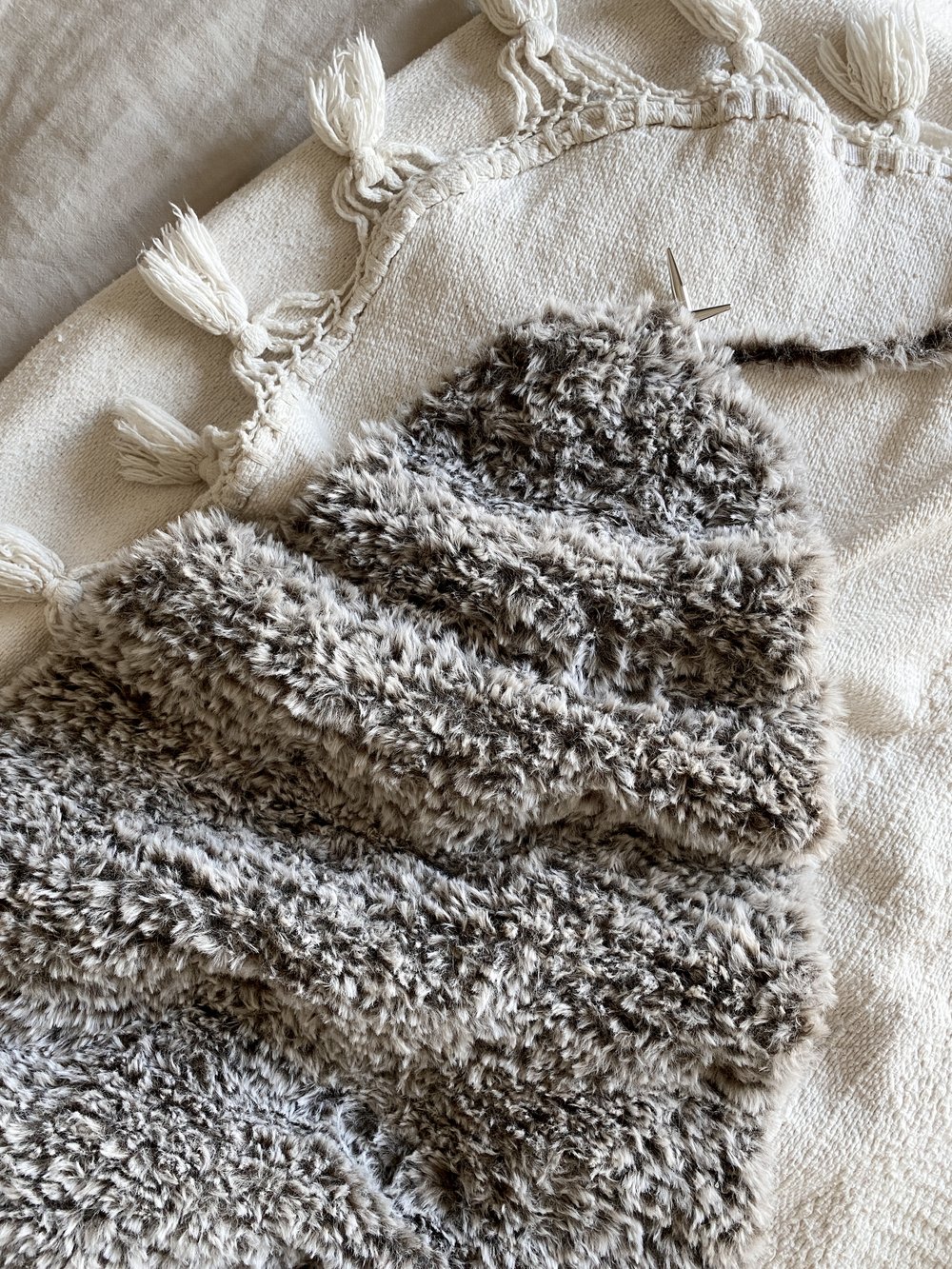 Begin straight section:
Next row: K.
Rep last row until straight section measures approx. 32"/81.5cm from last increase.
Begin decrease section:
Next row: K2tog, K to last 2 sts, K2tog. (48 sts)
Next 3 rows: K.
Rep last 4 rows 18 more times. (12 sts)
Bind off.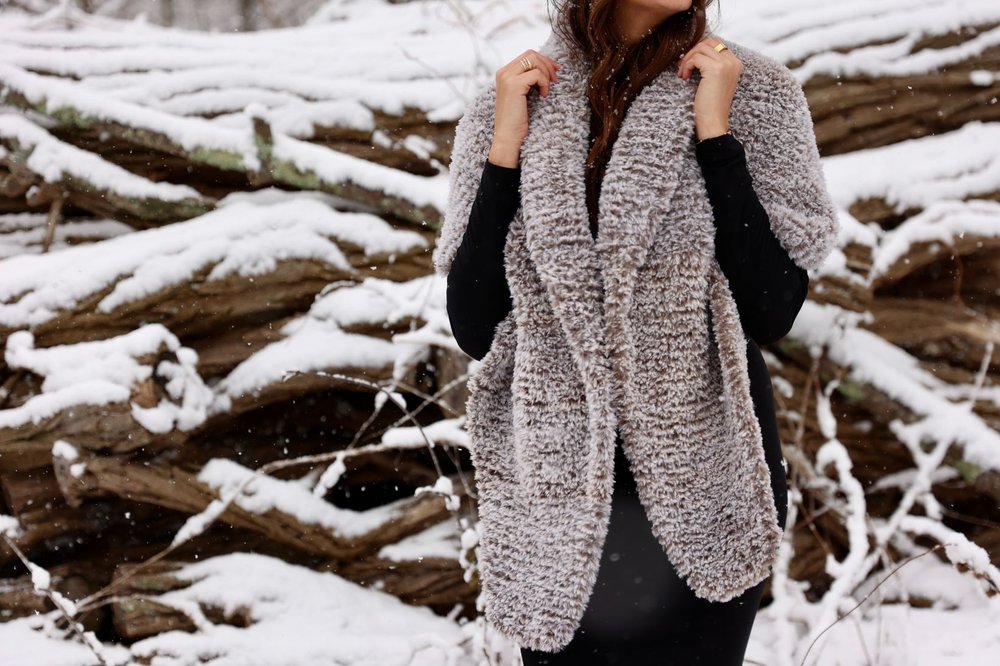 STRAP:
Leaving a long tail for seaming, CO 8.
Row 1: K.
Rep row 1 until strap measures 6"/15cm from CO.
Bind off, leaving a long tail for seaming.
CONSTRUCTION:
Seam the ends of the strap to one end of the stole at a diagonal, approx. 11"/28cm from the bottom edge and 4"/10cm from each side.
Secure and weave in all ends.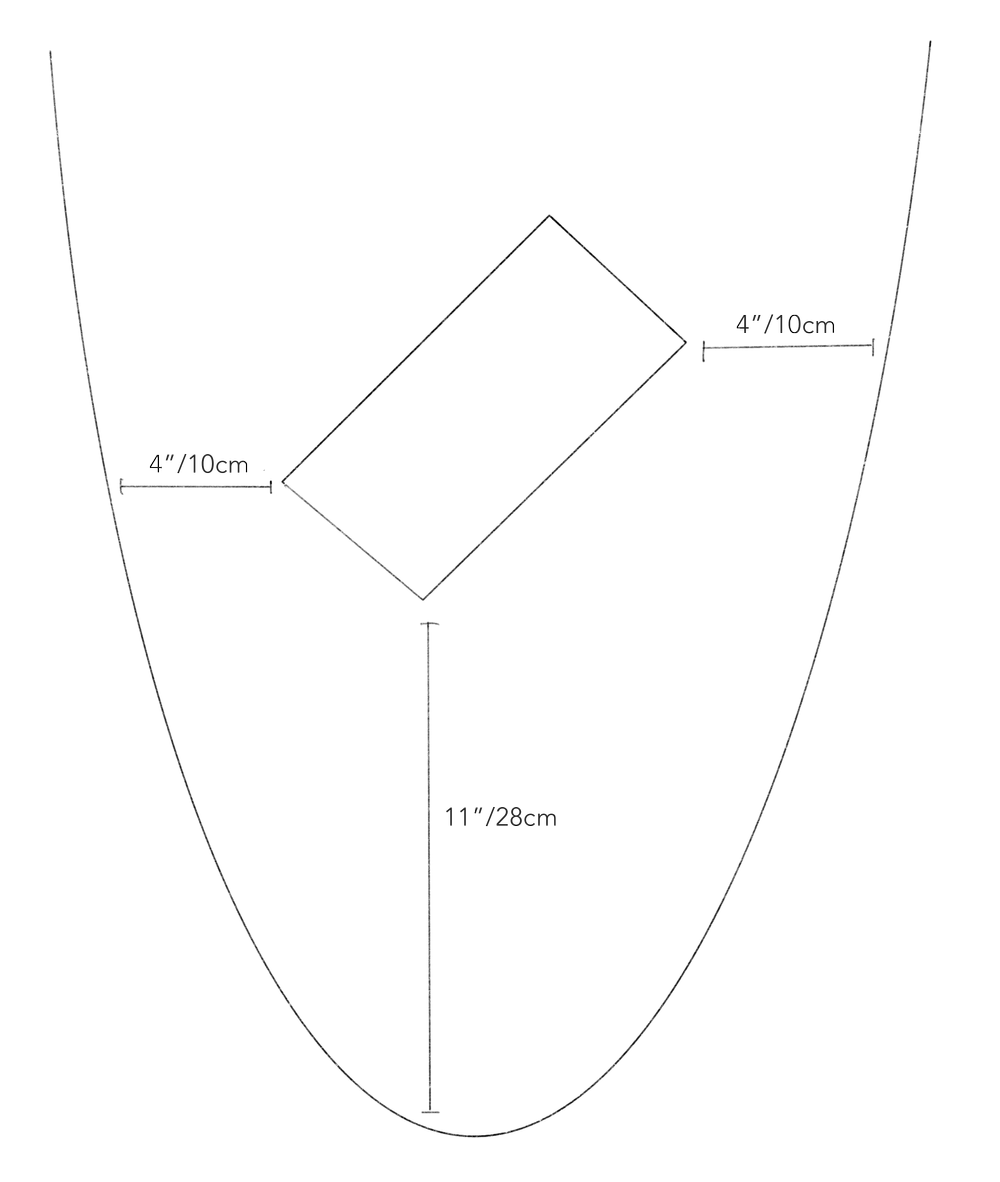 ---
Purchase the printable, ad-free pattern here.
Don't forget to share your projects made using Two of Wands patterns on Instagram with the hashtag #crewofwands to get featured on my page and be in the running for monthly pattern giveaways!
Check out the #crewofwands community page here.
The patterns and photographs of items on this site are the property of Two of Wands and are for personal, non-commercial use only. These patterns files are protected by US copyright, and you may not distribute or sell them electronically or physically. Small batch sales of finished pieces made from these patterns are permitted, but seller must use their own photographs and credit must be given to Two of Wands as the designer.