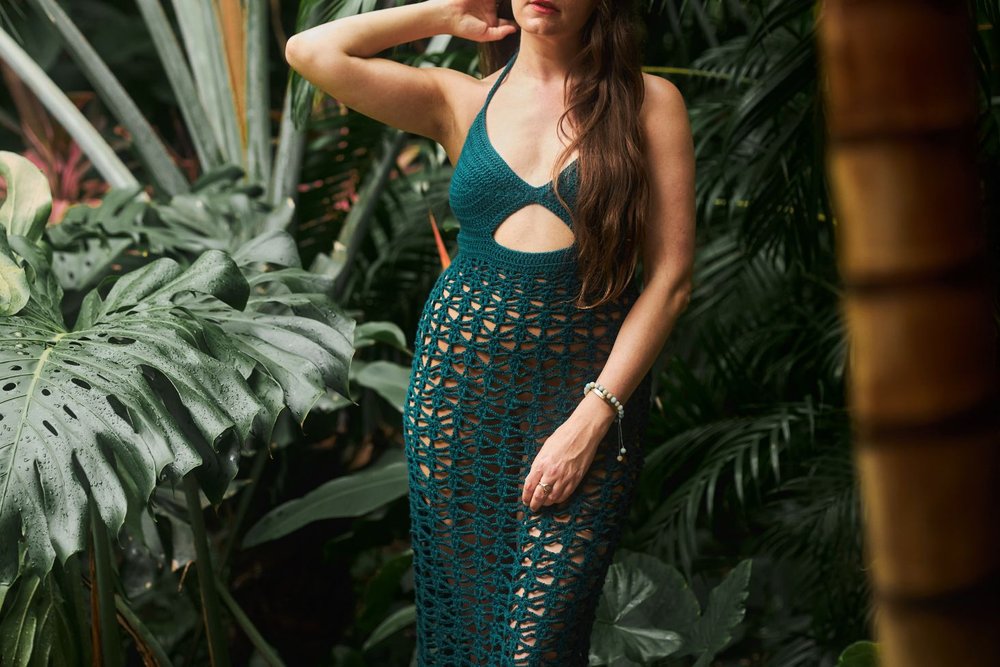 The smell of coconut and fragrant florals. The sound of gentle waves and breeze through open windows. The feeling of sunkissed skin and salty hair. The taste of colorful fruits and exotic cocktails. The sight of lush rainforests and sparkling tides. Introducing the Tropic Nights Collection!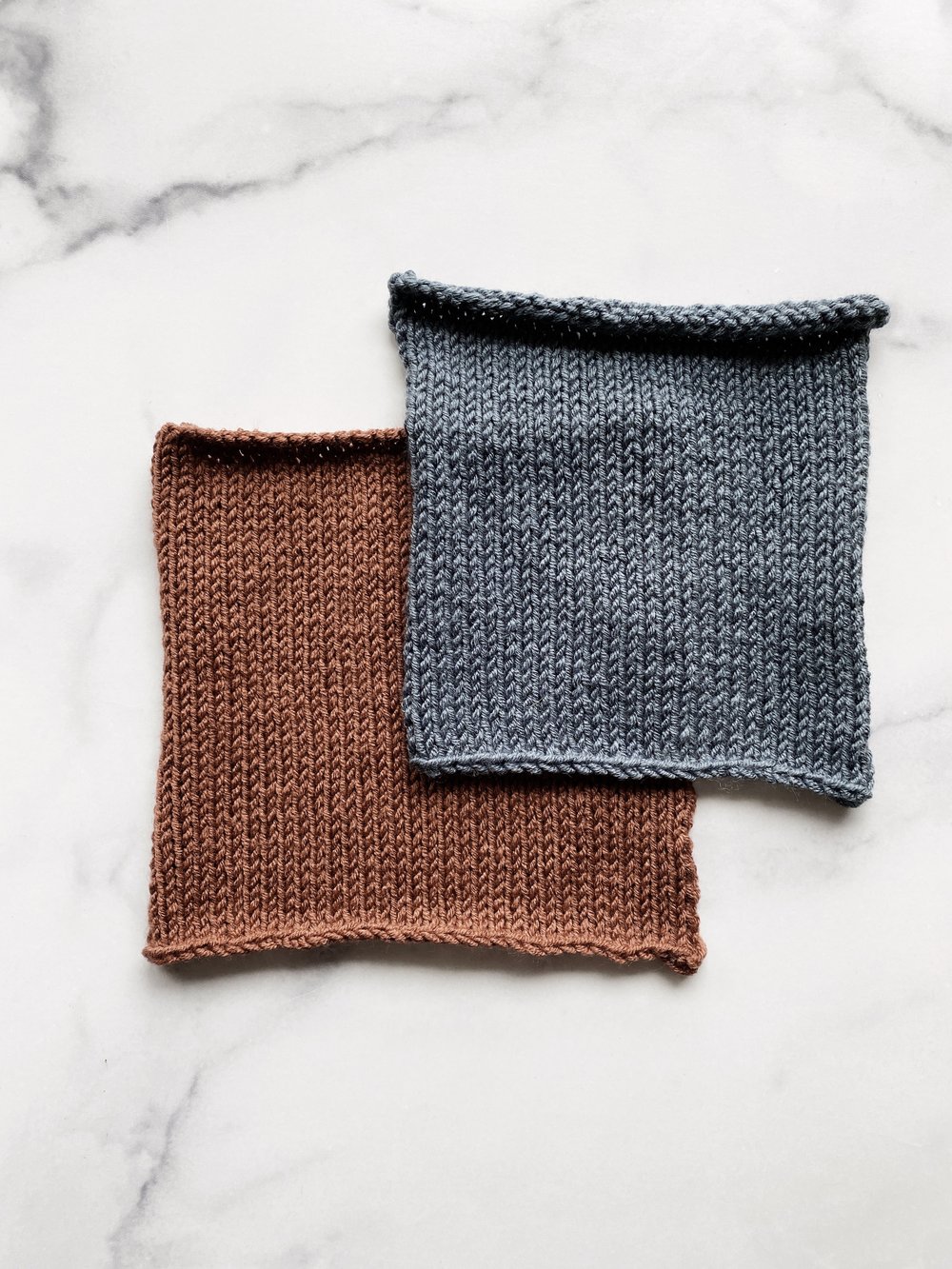 Designing collections is so fun for me because I really get to take an idea and create a whole little world out of it – as is the case with my new Tropic Nights Collection, designed using my new Color Theory Yarn in collab with Lion Brand. Even when I design just a singular piece, my inspiration always comes from a mood or feeling of being in a particular place and time. So to design a whole collection just brings it to another level! Read on for more behind-the-scenes deets on how Tropic Nights came to life.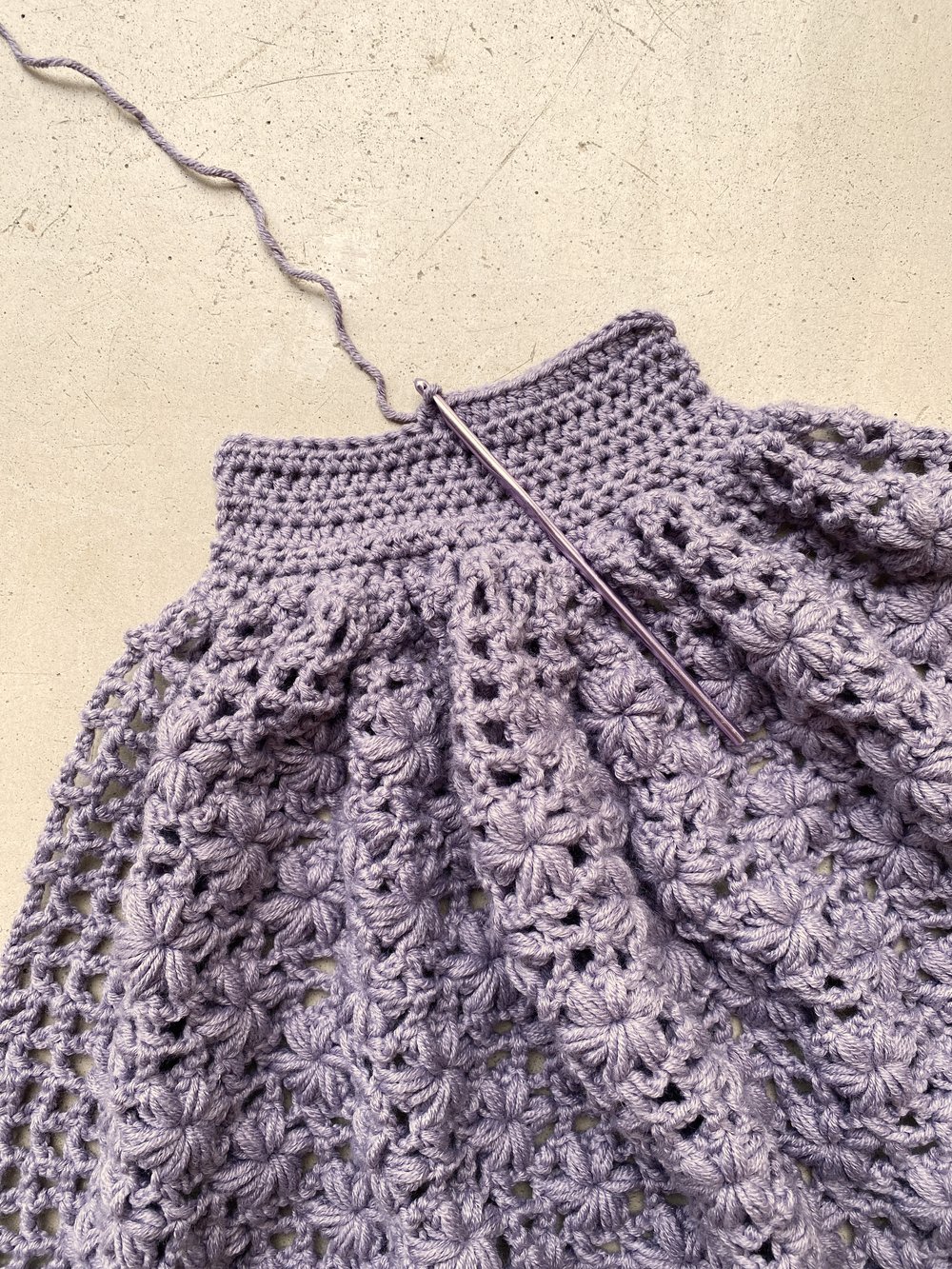 This collection really started with color. As I was selecting the palette for Color Theory, I was drawn to colors that were a bit more vibrant and saturated than those in the Hue + Me line, my other Lion Brand collab yarn. I wanted Color Theory to have lots of mini families and combos that would speak to different seasons, so I had to make sure there were several colors that would suit a spring/summer mood. This new palette feels like a fresh spin on Hue + Me's more dusty, desaturated vibes and it instantly made me think of tropical flowers and cocktails when I had the whole lineup in place.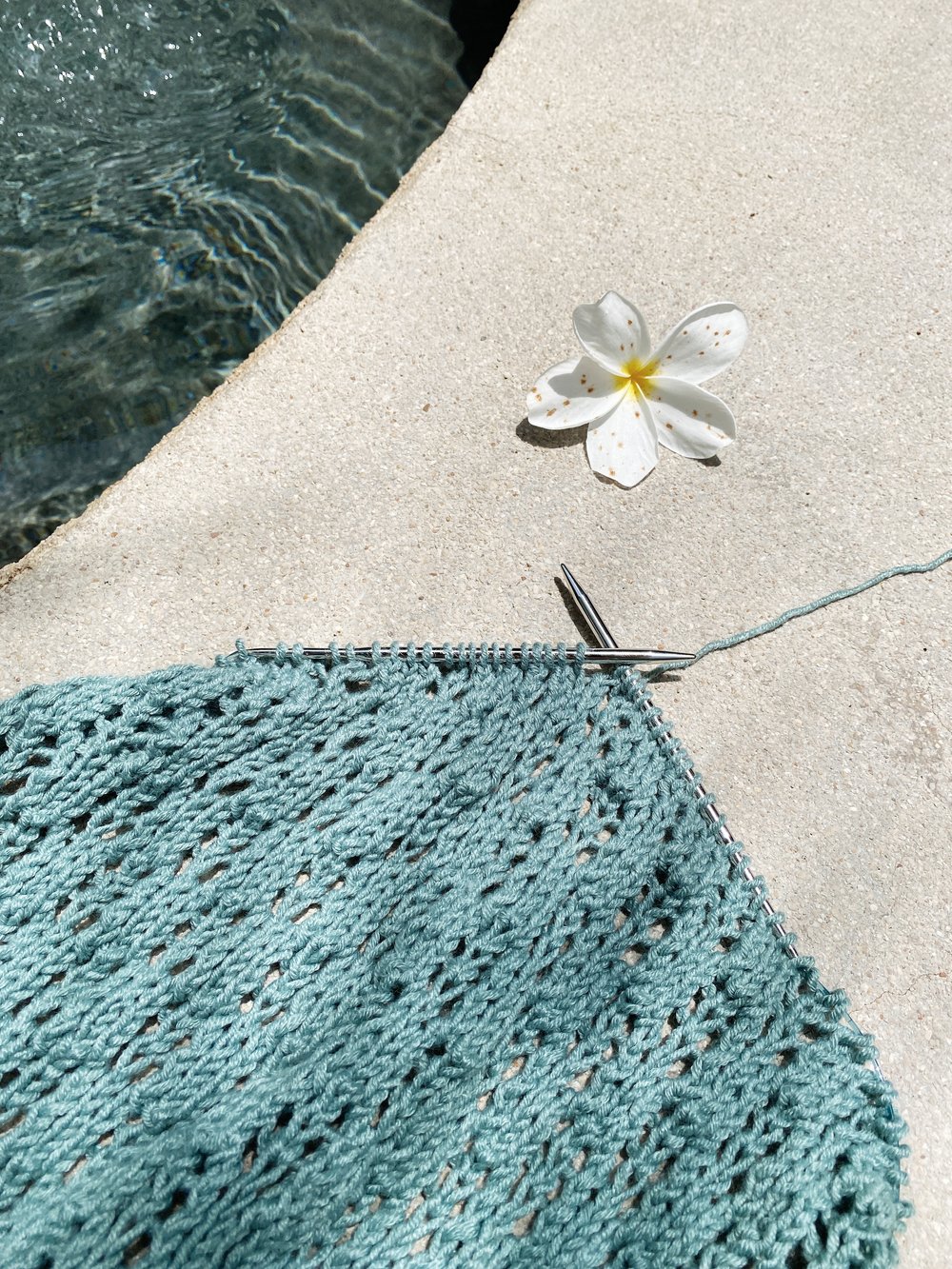 Each season I do a ton of research on trends and the meaning behind them to get inspo for my designs. Fashion is so often influenced by things the world is facing at any given time, and the pandemic had a huge impact as one can imagine. After two years of feeling isolated and hidden, this season's trends are all about bold choices, optimism, confidence, and feeling sexy. The combination of this overall mood and the vibrant hues in the Color Theory palette really inspired me to do something a little more bold and feminine than what I'd normally design (and I love a challenge), so I ran with the tropical theme! There's something so exciting about spending the day in the sun and then getting dressed up for a night out, so I took it even further and chose "Tropic Nights" as the name of the collection.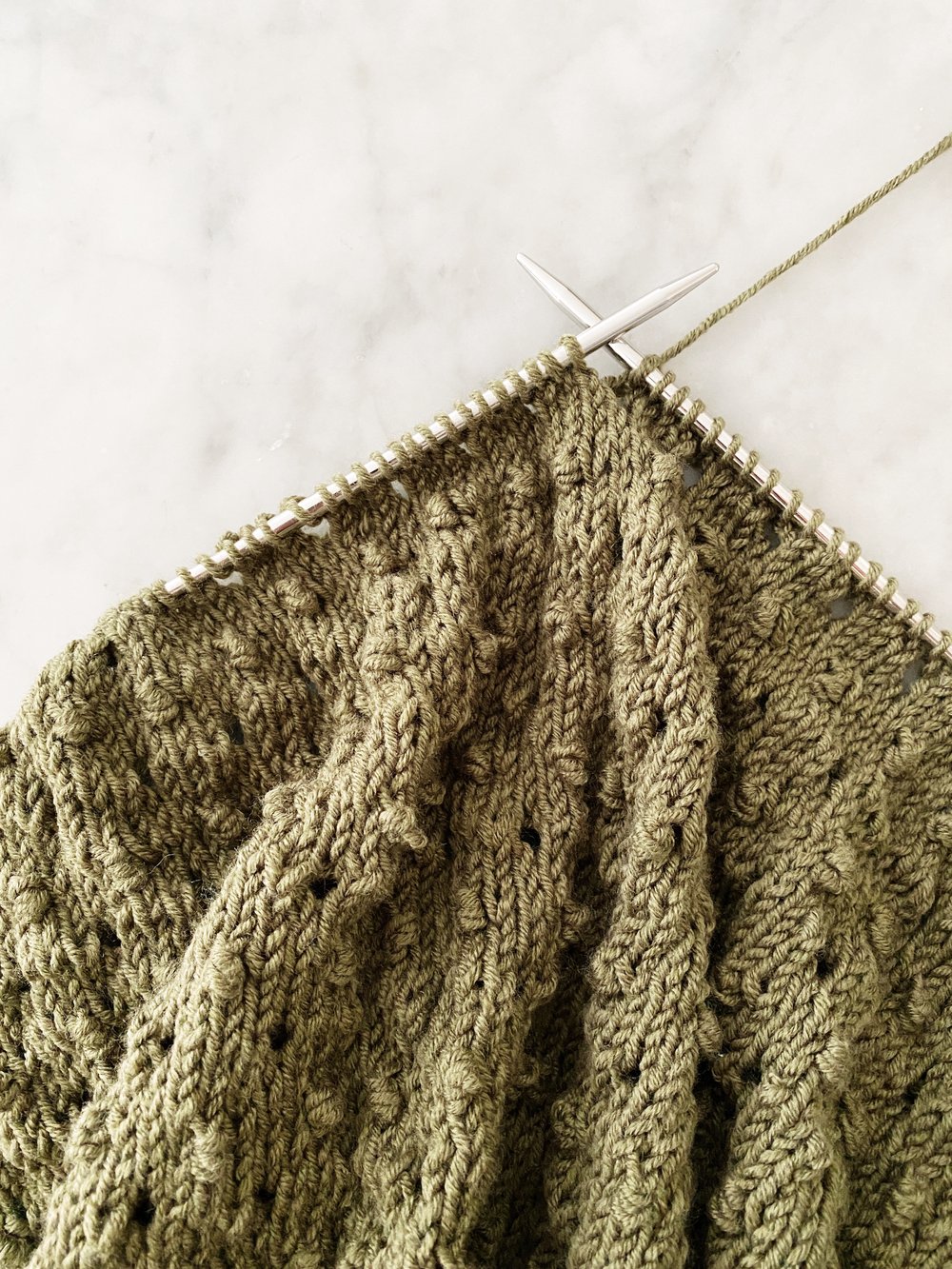 I start with a mood board to really get a feel for the world I'm trying to create. This is less about pulling images of specific things I want to make, and more about the setting and lifestyle of the person who would wear these pieces.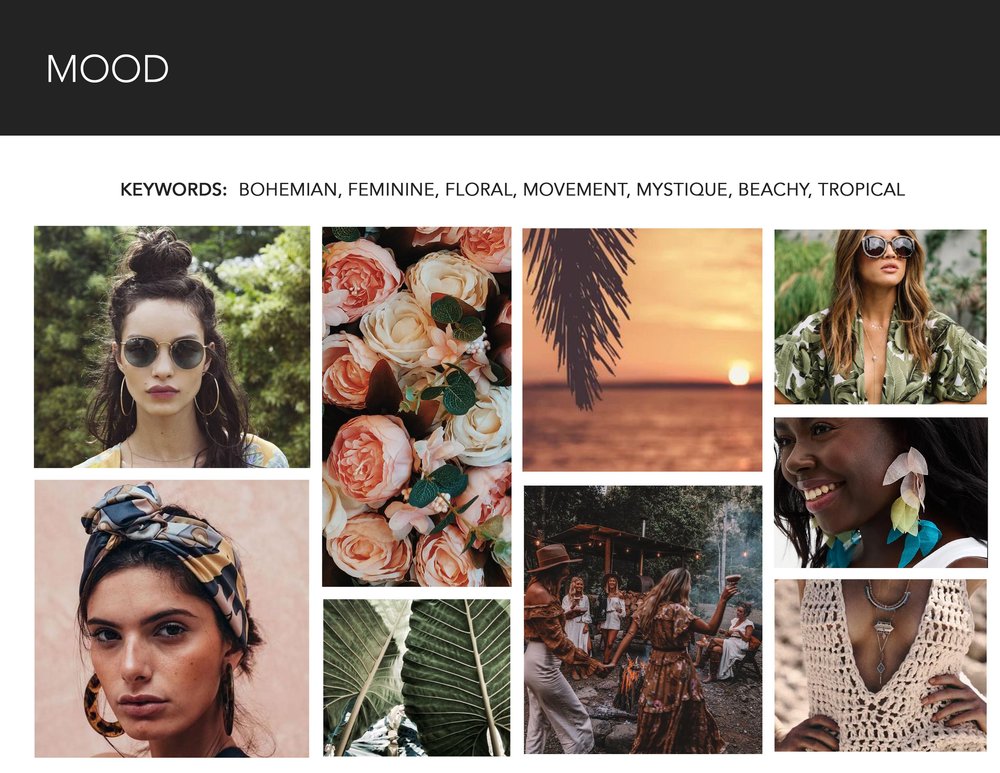 Every collection I design has eight pieces – four knit and four crochet, and a variety of garments and accessories. Typically I have an idea for one or two pieces that fit the theme right away, and then I build all of the other designs from there, taking into consideration the types of items I like to include – several garments varying from casual to more formal, a bag, and a couple wraps or scarves. Florals were a huge trend I saw on the runway (specifically 3-D florals – a trend I used heavily throughout this collection), and that felt super tropical to me, so I decided to use that as sort of a secondary inspo and design each piece based off of a tropical flower.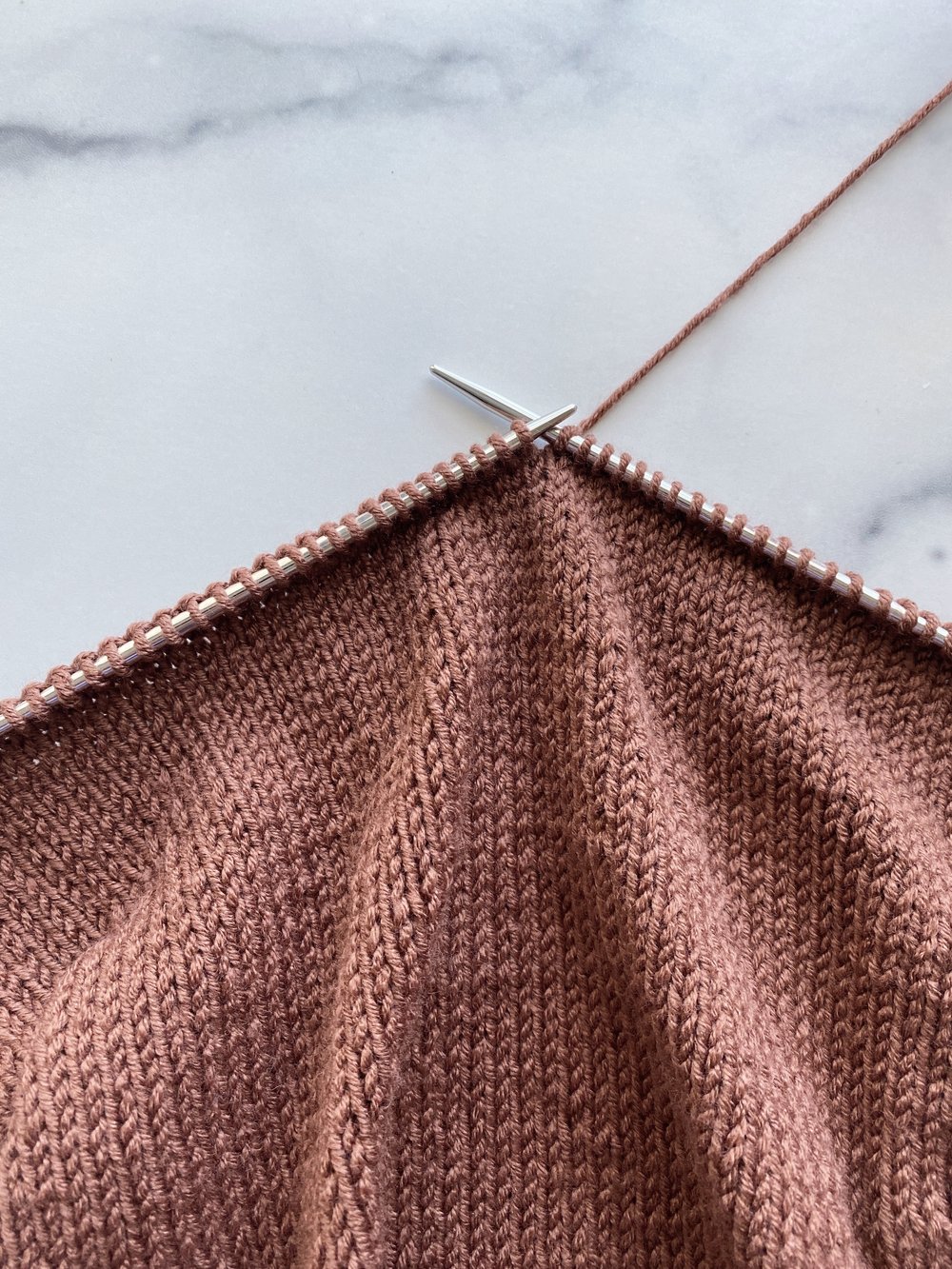 I used a similar process last year with my Polished Collection where I named each piece in the collection after a gemstone. That collection was also a nod to the idea that we were emerging from a pandemic and looking for outfits that felt more put together and "polished" after a full year of wearing lounge clothes at home. I began researching tropical flowers and pulling images of all sorts. Some pieces were directly inspired by a certain flower, and others I already had an idea for I tweaked a bit to fit a specific flower's details.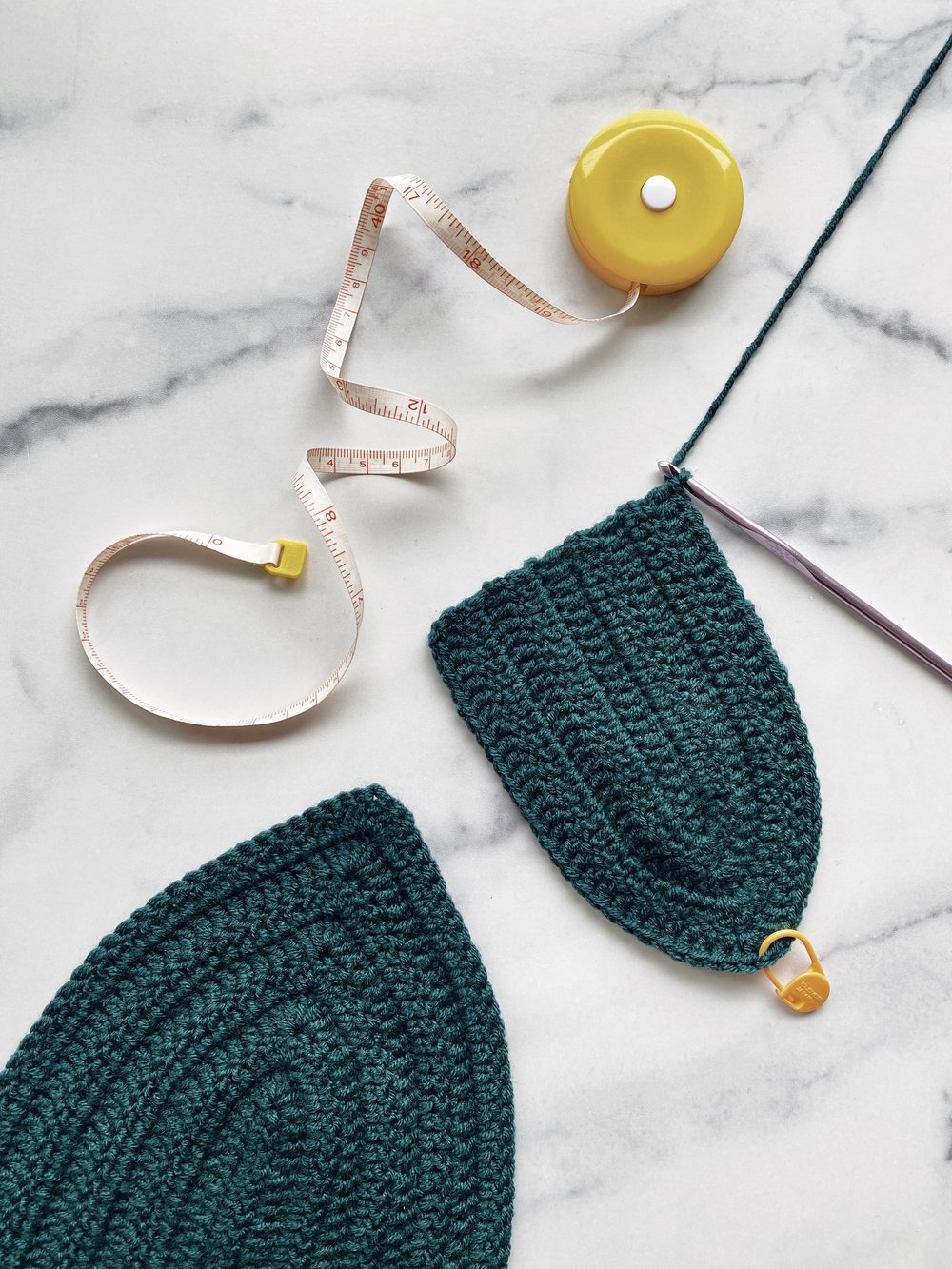 Let's take a look at each piece and the flower that inspired it!
---
FRANGIPANI CAMI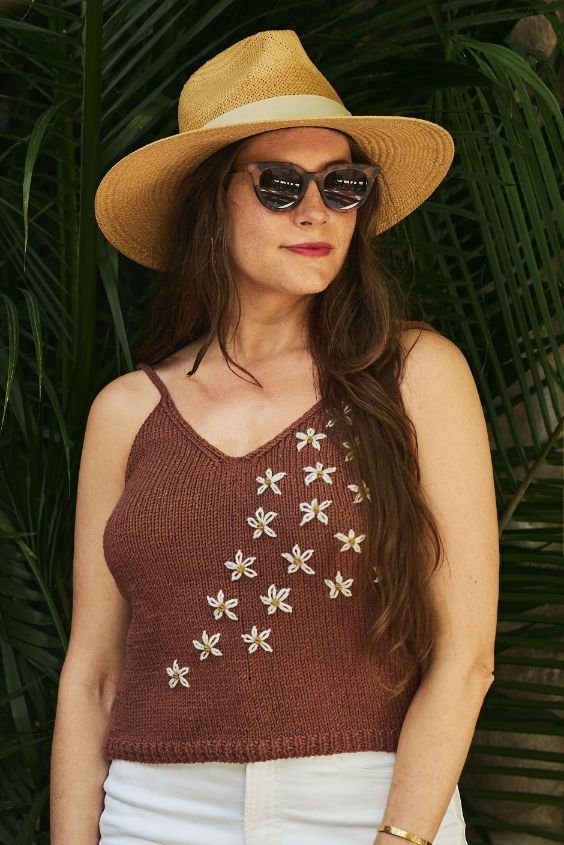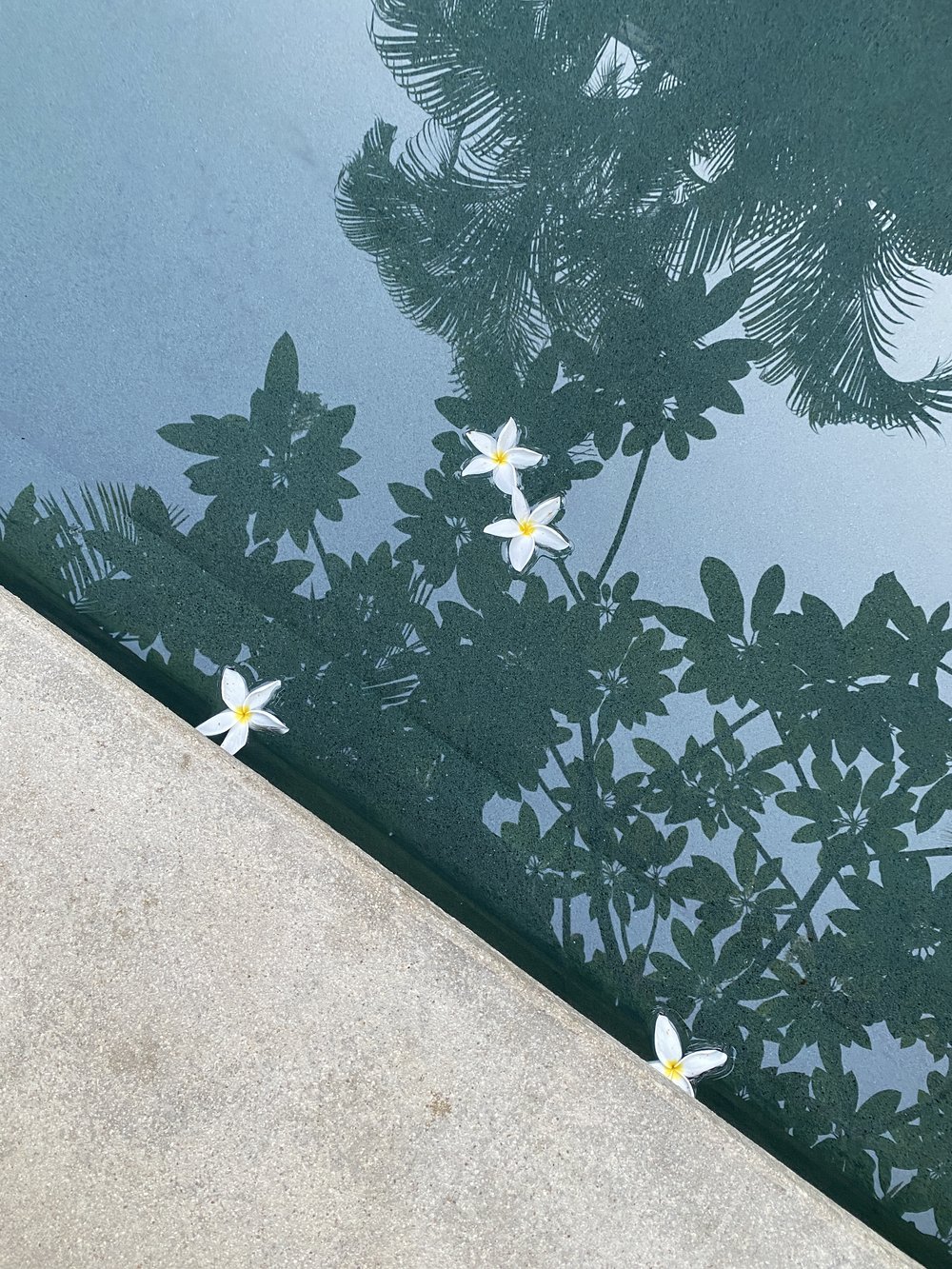 This is one of the pieces that came to me immediately. Frangipanis, also known as plumerias, are my favorite tropical flower and I just love the name of them. "Frangipani Cami" also just sounded like the perfect pairing! These fragrant tree flowers are most potent at night and fill the air with the most beautiful tropical scent. Last year we went to Costa Rica to shoot my Polished Collection and the hotel where we stayed (The Nomadic) had plumeria trees surrounding the pool. Each morning we would wake up to some that had fallen, floating on the water. I dreamed up the idea of a simple tank top base with embroidered flowers that would cascade across, mimicking the idea of those that fell from the trees. This also suits the 3-D floral trend that was all over the runways.
---
GARDENIA MARKET TOTE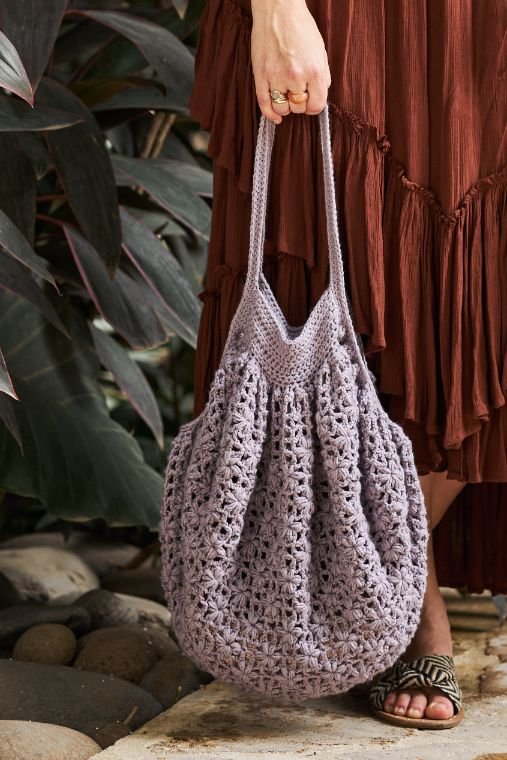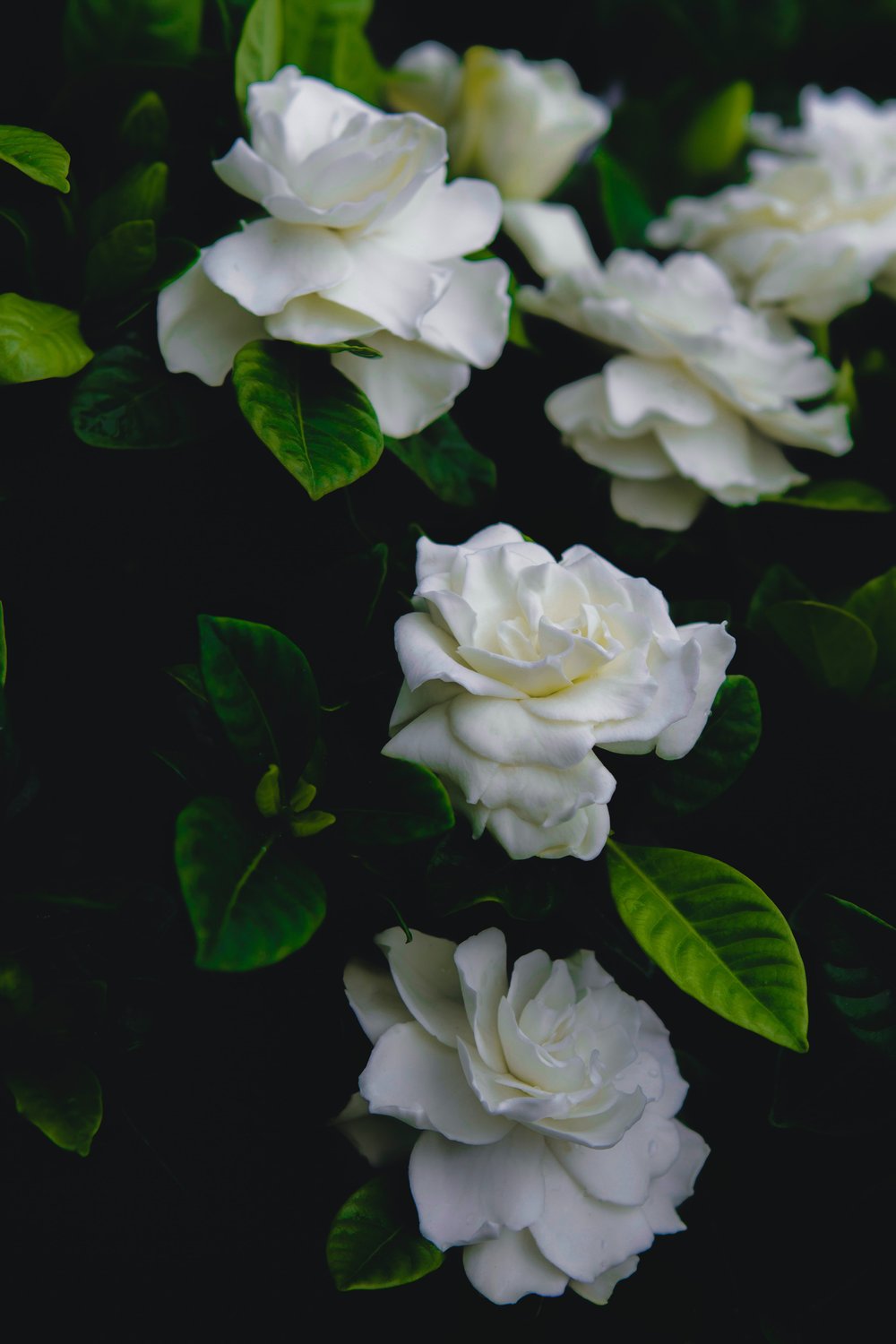 The gardenia flower is another one with a beautiful scent, and it's actually capable of changing scents throughout the day, also becoming more fragrant at night. The idea of something transitioning from day to night made me think of an elegant tote that could serve as a daytime market or beach bag, and then transition into something elevated enough to be used at night. Although the stitch I used for this bag is actually meant to be jasmine flowers, the pudgy little blooms reminded me of the fluffy, chunky gardenia. This bag was inspired by my classic French Market bag, but with a more romantic, tropical twist. Once again, this meets the 3-D floral trend, along with the trend of netting that was also very prominent in this season's shows.
---
GINGER WRAP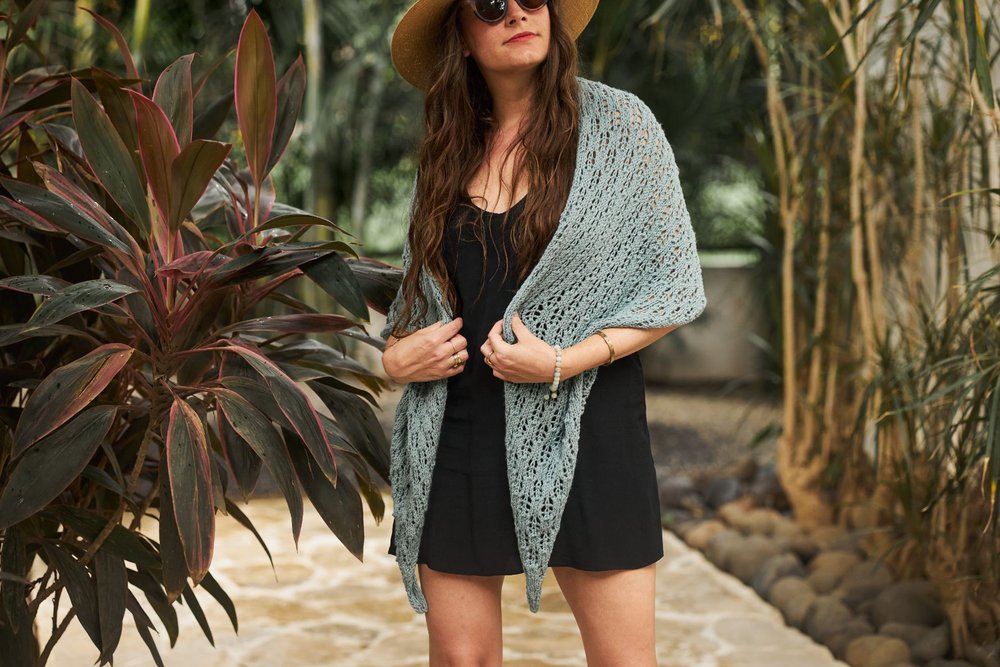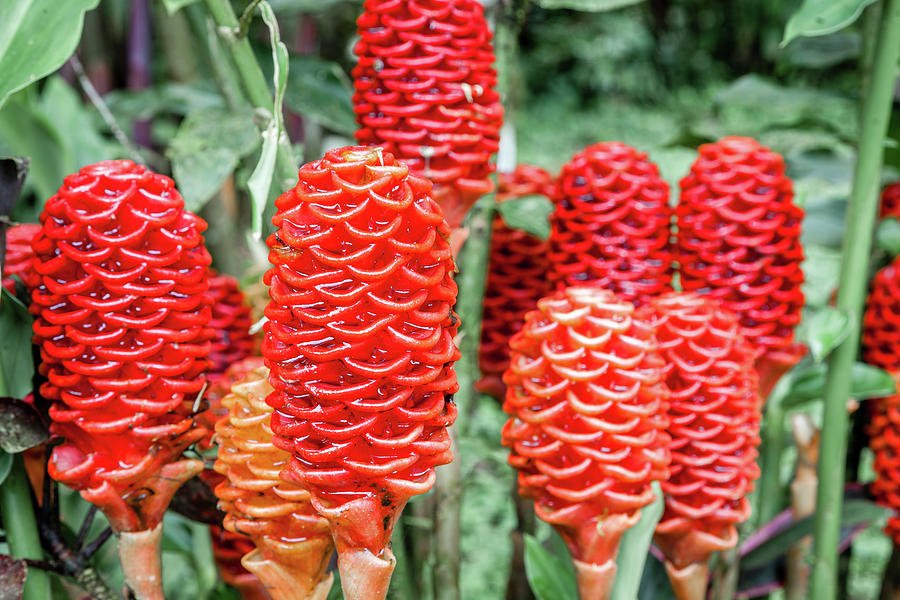 The ginger plant is known for its roots in cooking and medicinal uses, but the flowers of the ginger plant are used for ornamental purposes and can even be used to flavor foods and cocktails. The flowers are tapered and cone-shaped and I loved the idea of how reminiscent they are of tiki torches. One of my favorite pieces from last year's Polished Collection is the Sunstone Multi-Wrap, and since the shape of that is also tapered and oval, I used it as a base for this design. To give this piece its own personality reflective of the ginger plant, designed a repeating lace stitch with columns of eyelets to try and evoke the layered petals of the ginger flower.
---
HIBISCUS RUFFLE TEE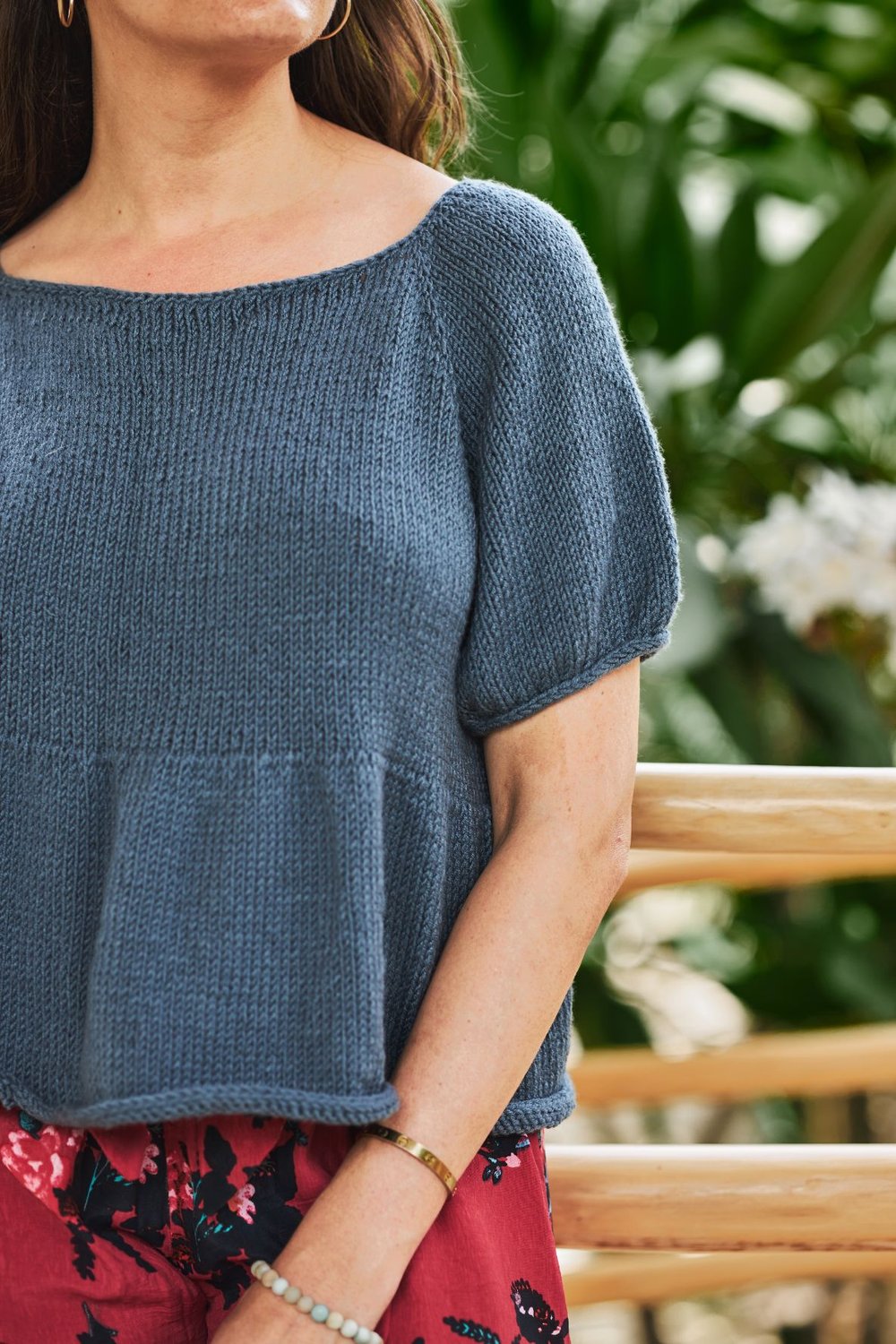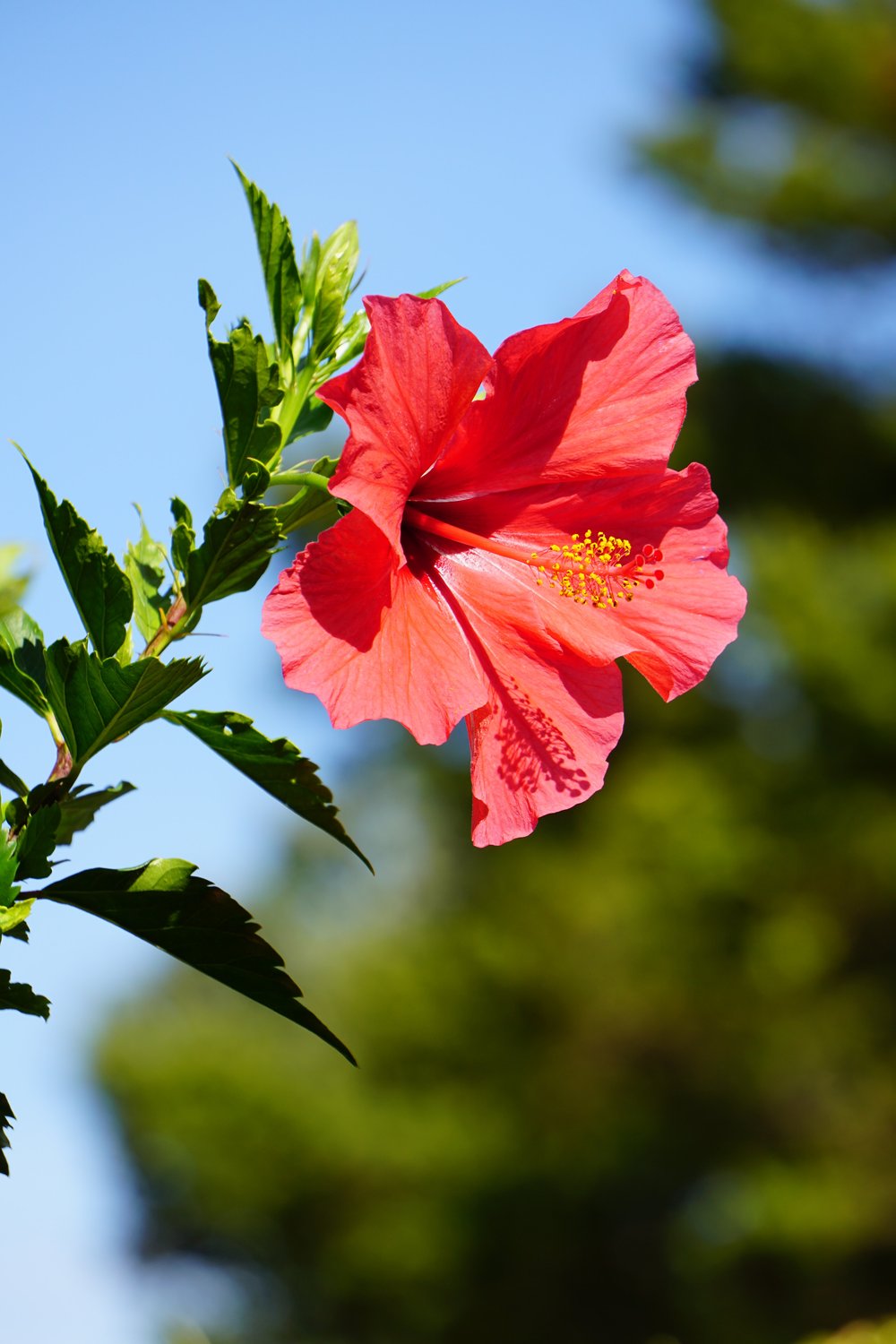 Hibiscus flowers, an iconic tropical plant, are large but extremely delicate, typically lasting only 1 day before they close and fall from the plant. Their bright colors and giant blooms make a short-lived but very bold statement. I knew I wanted to design something based on this flower seeing as how it's such a quintessential symbol of anything tropical, so I pulled inspo from the oversized, softly ruffled petals to capitalize on the big ruffle trend. Boxy yet feminine, this top is statement-making while also being super comfy.
---
LANTANA TANK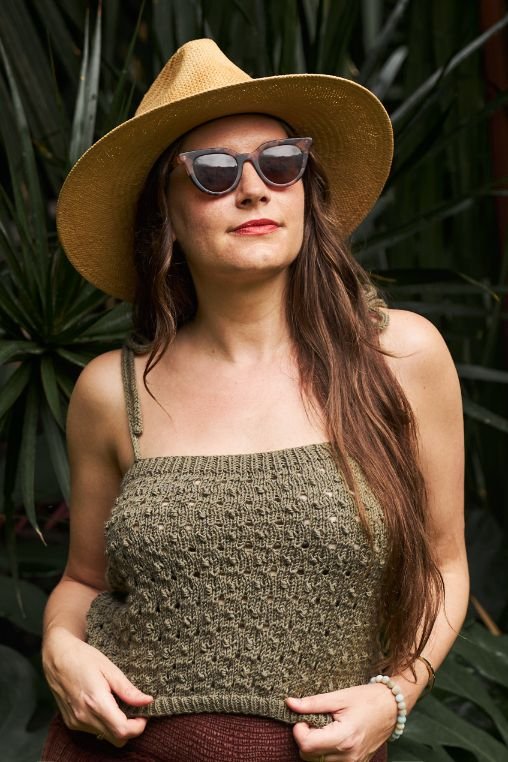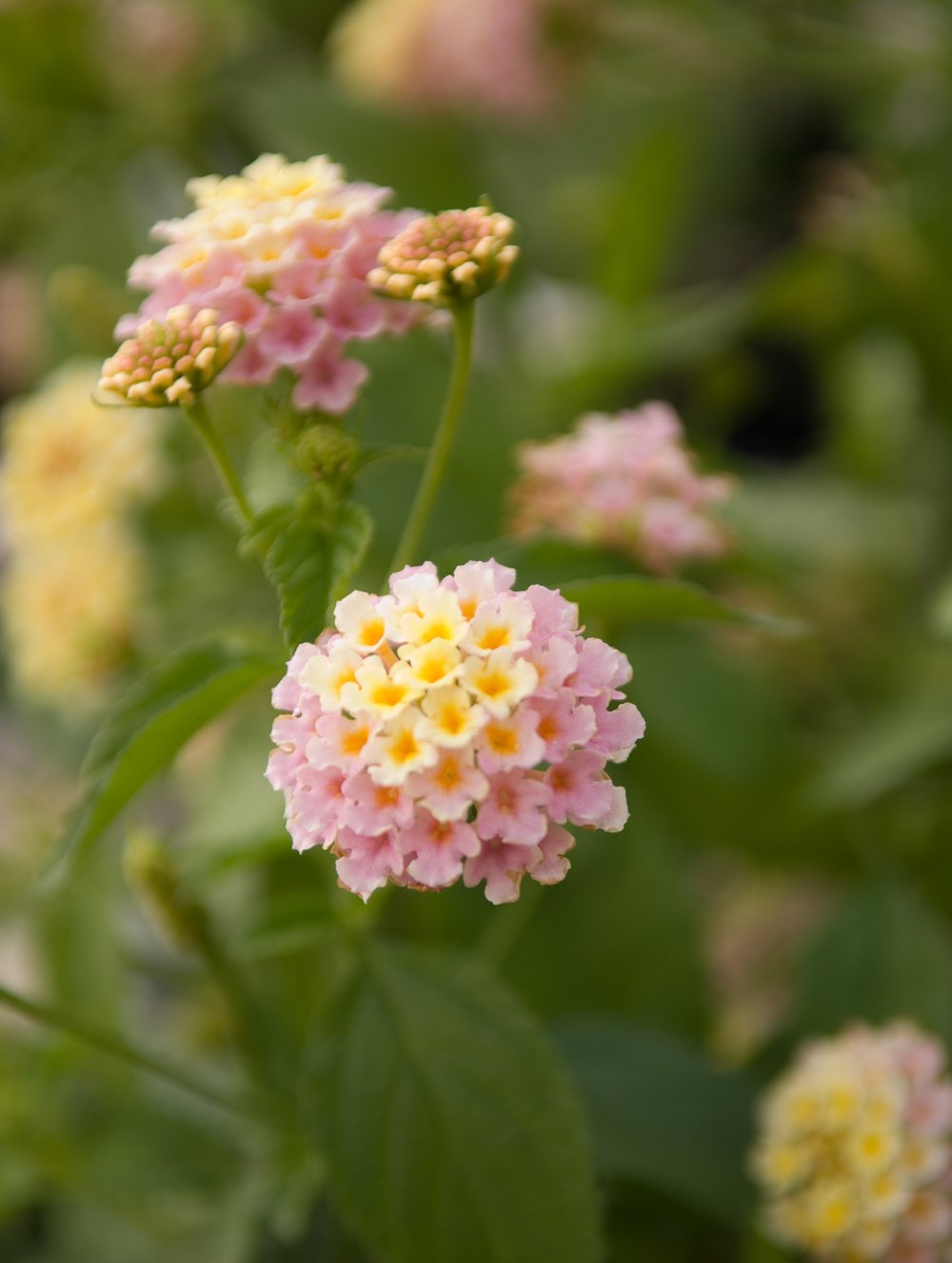 Lantana flowers, a species of the verbena plant, cluster together in little puffs that immediately made me think of bobbles. They are friendly and simple, and I took that idea into the concept of the tank. To offset the rows of bobbles and keep this top nice and airy, I worked alternating rows of eyelets. This project is incredibly meditative and easy to customize, and fits right in with this season's strappy trend.
---
LOTUS WRAP TOP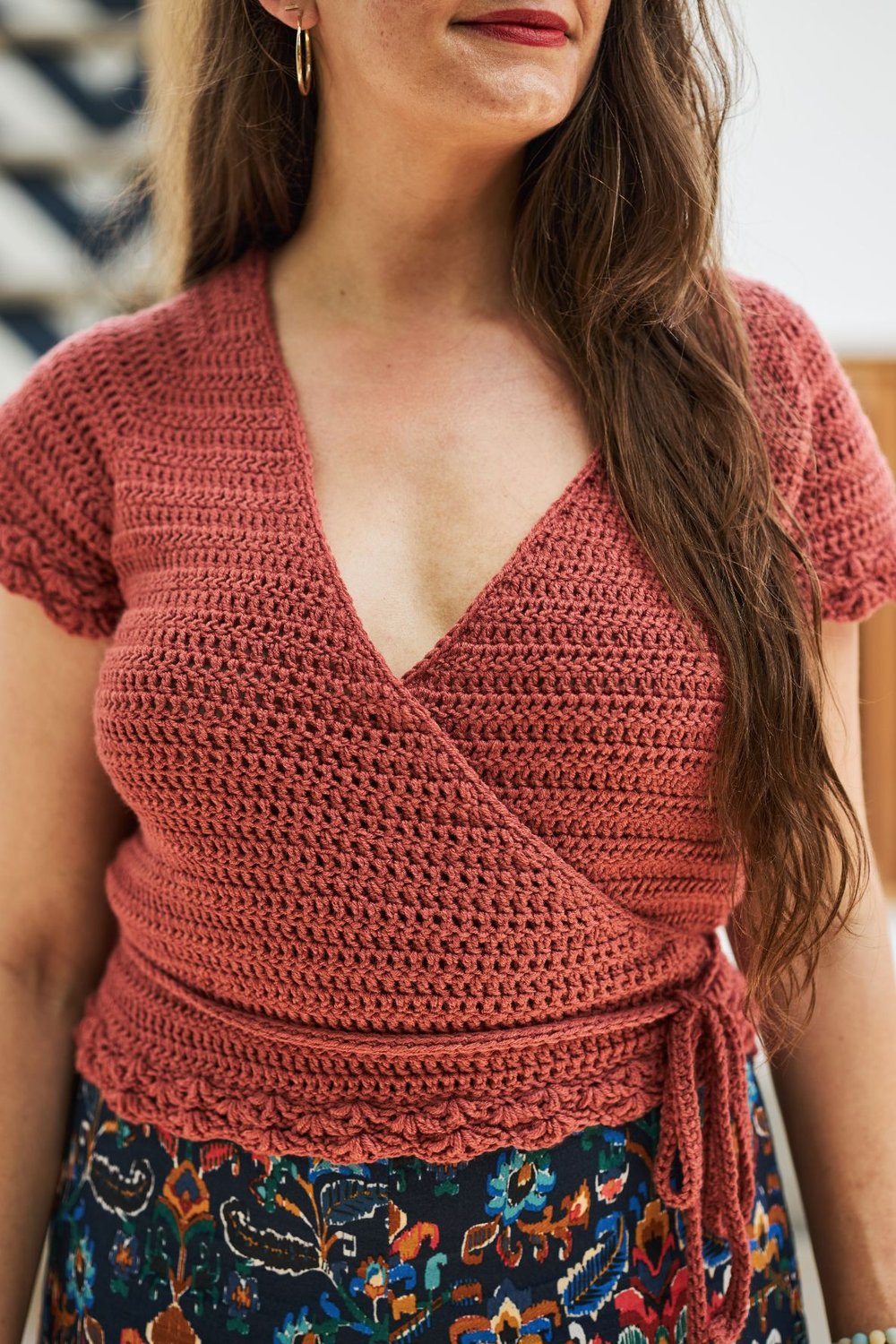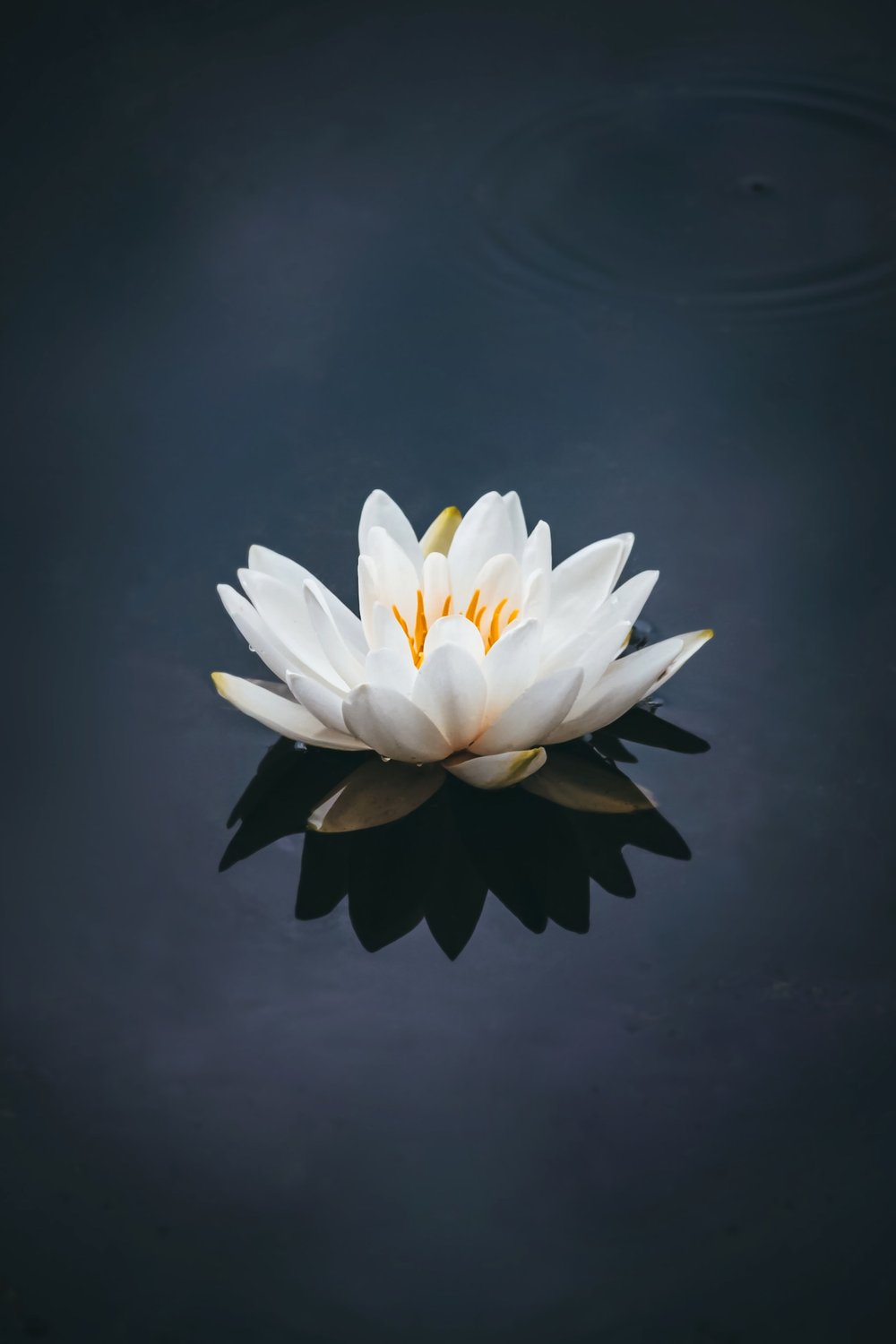 I've been wanting to create a crochet version of my uber popular knit Ballerina Wrap Top for a long time now, and the feminine shape was just perfect for this collection. I had used a modified lotus stitch for the 2021 Traveling Seasons Afghan and I've been itching to do so again, so to jazz up the top I opted to add it as a trim along the bottom edge and sleeves. It worked out beautifully since the criss-cross nature of the top is also representative of the folding petals of the lotus flower.
---
MIDNIGHT JASMINE WRAP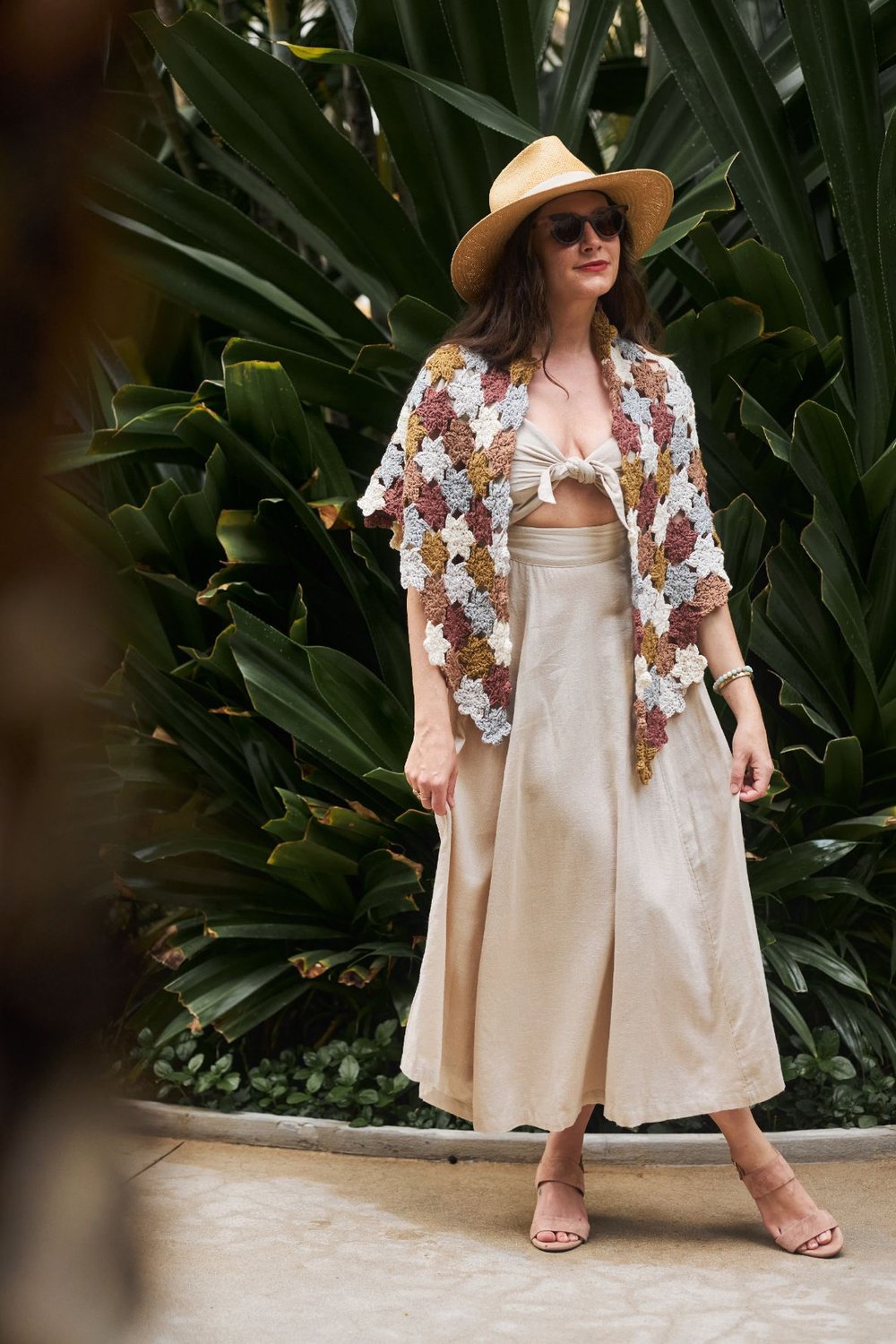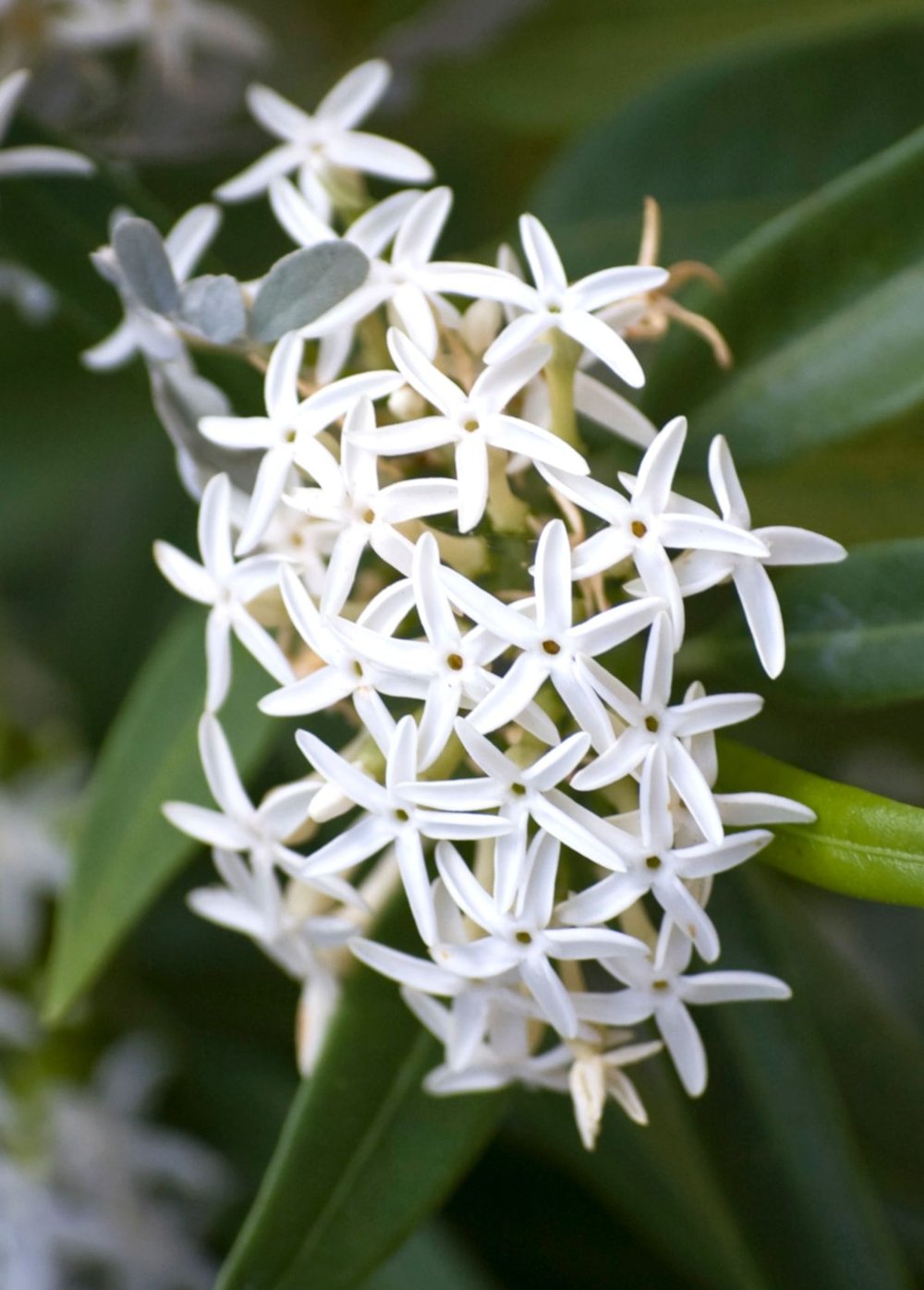 Midnight jasmine, aka night-blooming jasmine or "lady of the night," is actually not true jasmine but instead a species of the potato plant! I absolutely adore the clustered star-shaped flowers. Like many of the flowers that inspired the collection, this one blooms only at night and is very fragrant. This piece is another one that instantly came to me along with the collection theme as I was dying to do something heavily influenced by the 3-D floral trend that involved covering oneself in blooms.
---
QUEEN OF THE NIGHT MAXI DRESS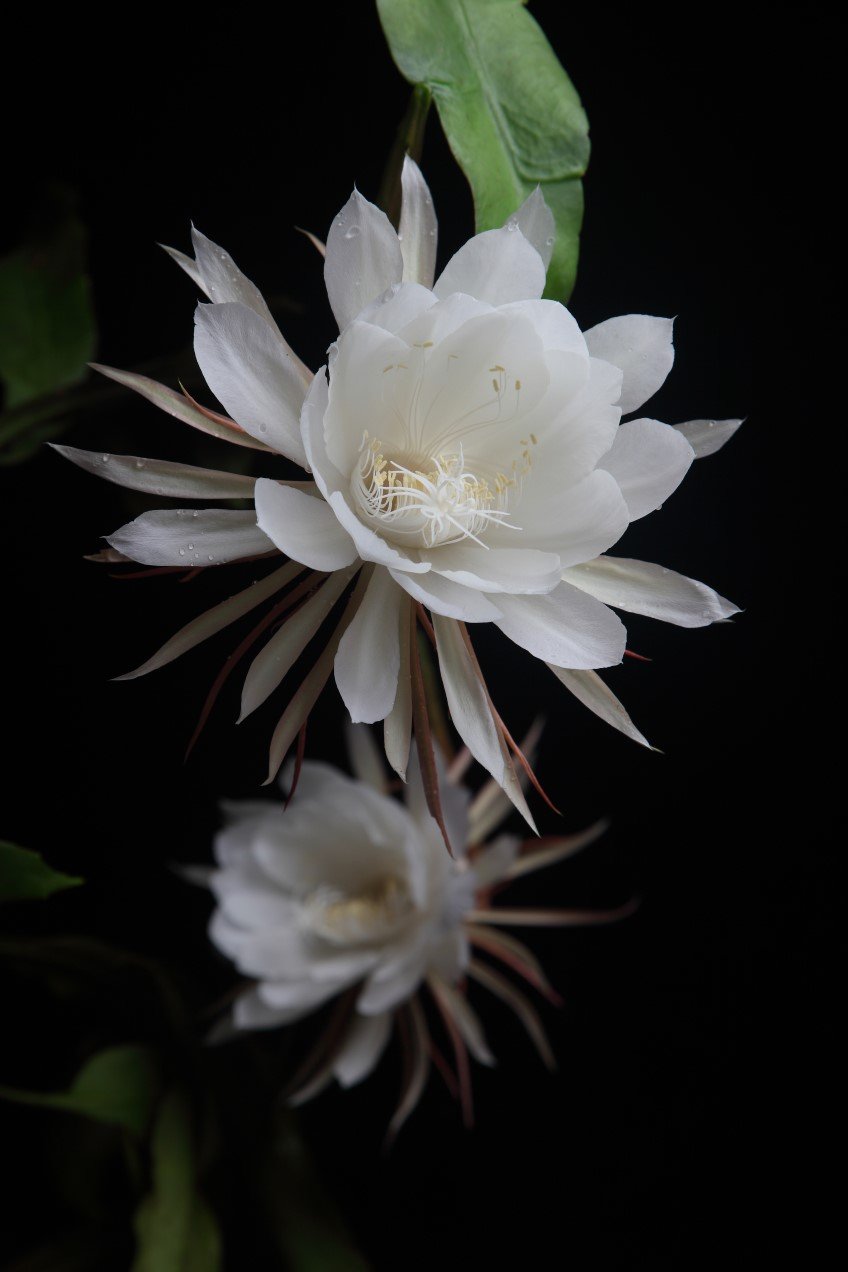 Definitely the showstopper of the collection, this dress is one of the designs I'm most proud of in my entire portfolio. I have been wanting to make a dress for ages, and it was an absolute must for this collection. I was super nervous I wouldn't be able to pull it off, but I truly could not be happier with the way it turned out. The cut outs and net-like floral skirt are both major trends for the season, and make this dress so mysterious and sexy. Wear it over a swimsuit or skin-toned biker shorts or leggings and you can wear it easily from day to night. I named this one for a cactus species called the Queen of the Night – could the name be any better!? Not only do the feathery flowers of this plant look like the stitch I used for the skirt, they are also very rare and only bloom at night which felt super fitting for this design.
---
Finishing a full collection is a huge feat and I always feel such a relief when I finally get to press launch and release all of the patterns and kits to you! The best part is seeing all of the projects and everyone's interpretations and color choices. Watching my designs come to life through your hands is the best gift, and I hope you love this collection as much as I do!