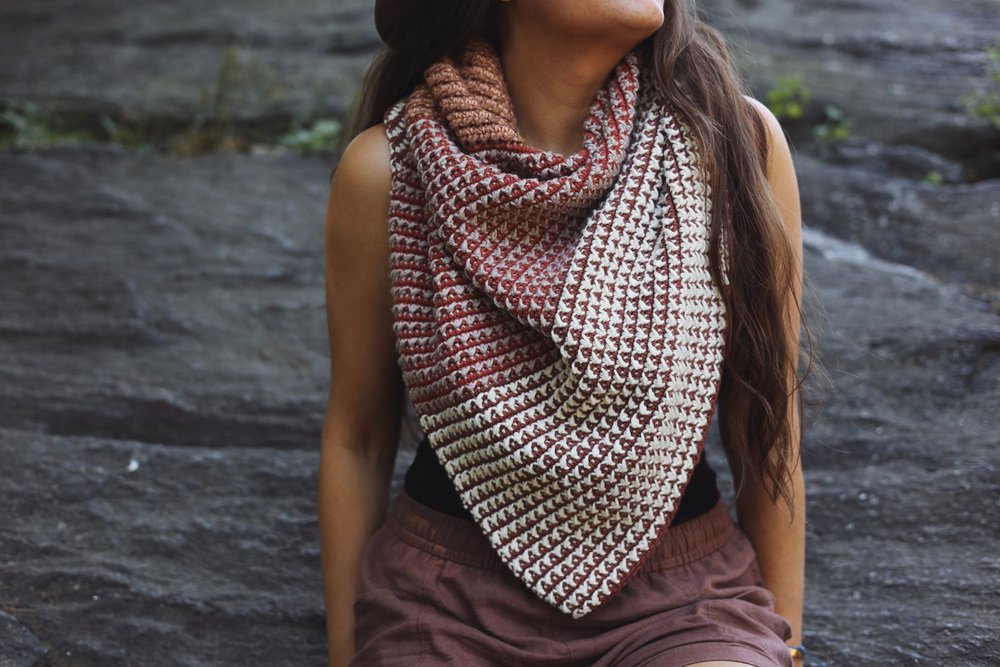 My favorite thing about Color Theory yarn is putting together little color combo families. Because all of the colors go so well with each other and the palette spans the rainbow and includes a solid set of six neutrals, there are so many possibilities for "fades." You know the deal – sweaters, scarves, and shawls, fading from one color to the next in an ombre-style progression, the perfect canvas to play with color. For my latest design, the Resonance Wrap, I decided to do a spin on this and create a two-way fade that would transition from one color to the next in opposite directions. The result is mesmerizing and SO fun! Scroll down for the free pattern, click here to purchase the printer-friendly PDF, or click here to purchase the full kit including the yarn and pattern.
The multi-textural Resonance Wrap is a two-way fade triangle scarf with brilliant color combining opportunities. Fading from light to dark in opposing directions coupled with a unique pebbled texture makes for a mesmerizing fabric that will catch everyone's eye. I chose to work with three neutrals and three colors, keeping the colors as the "background" and using the neutrals for the textured pops. The cool thing about this design is that it would look super different if you did the opposite, swapping color A for color B, color C for color D, and color E for color F.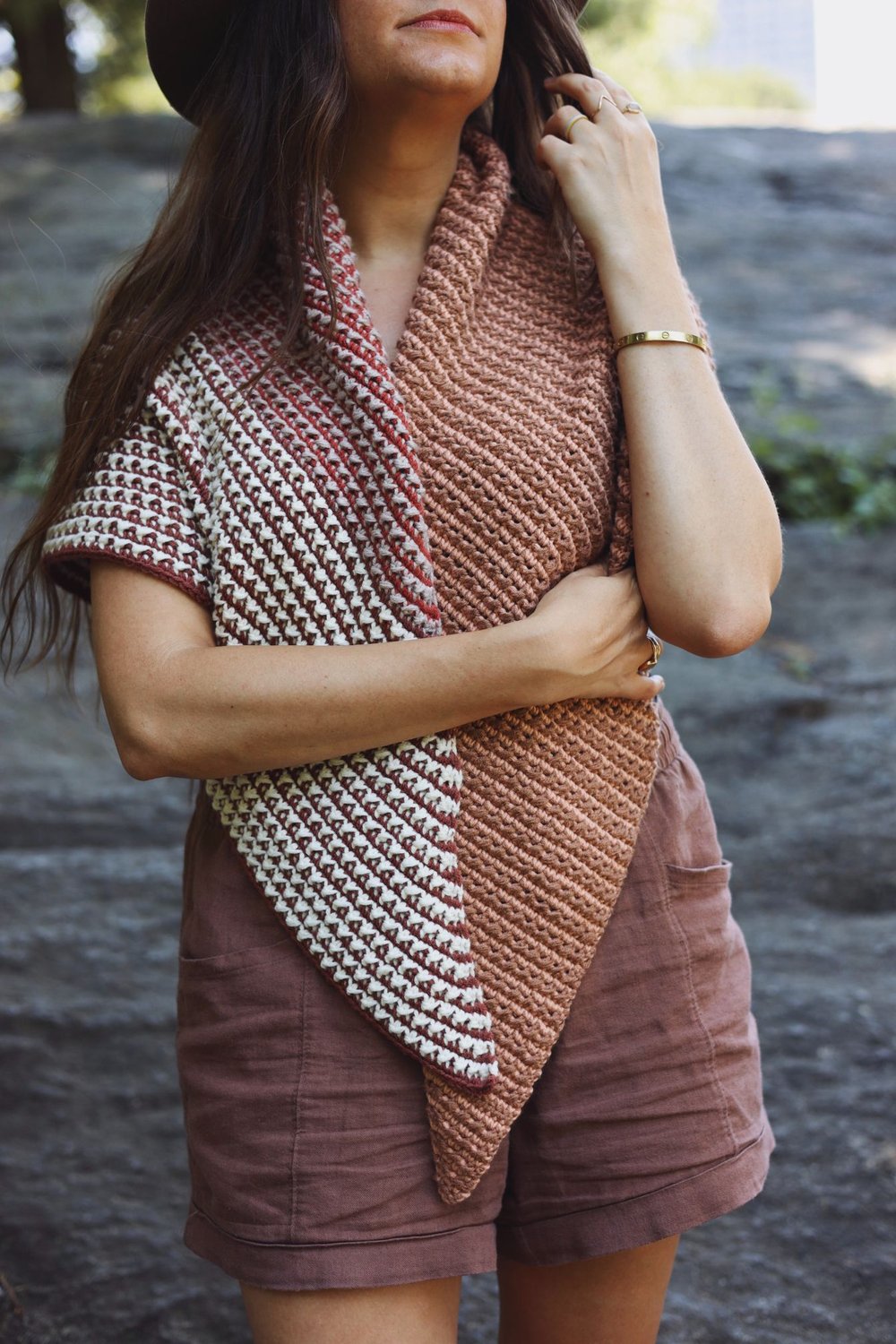 While I'm in love with the color choices I made, there are SO many other options thanks to the versatility of the Color Theory palette. You could do as I did and choose 3 neutrals and 3 colors, or go wild with 6 colors! If you're stumped on combos, don't worry – I gotchu! See below for all of my faves.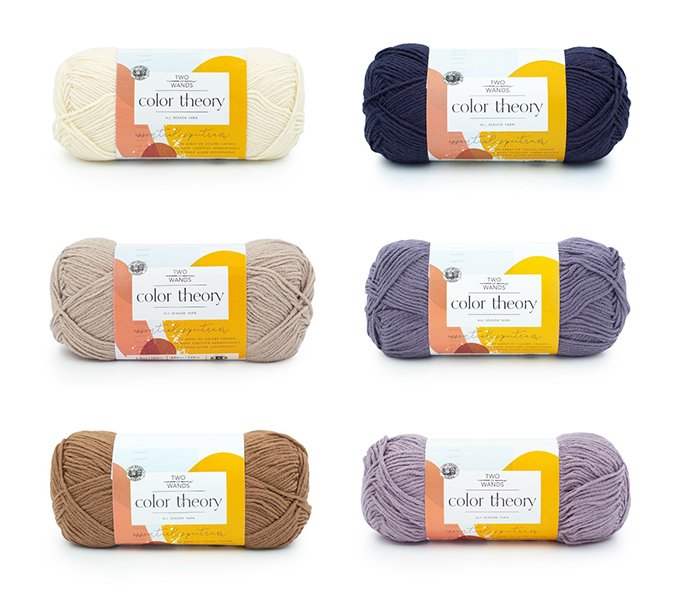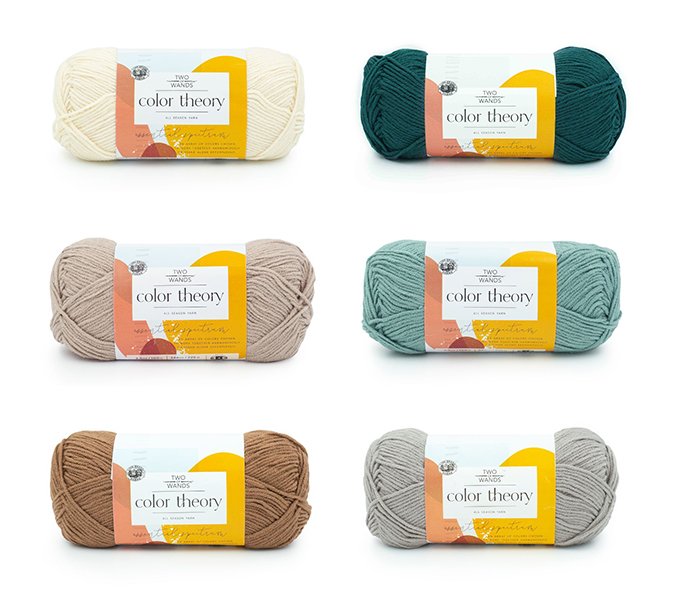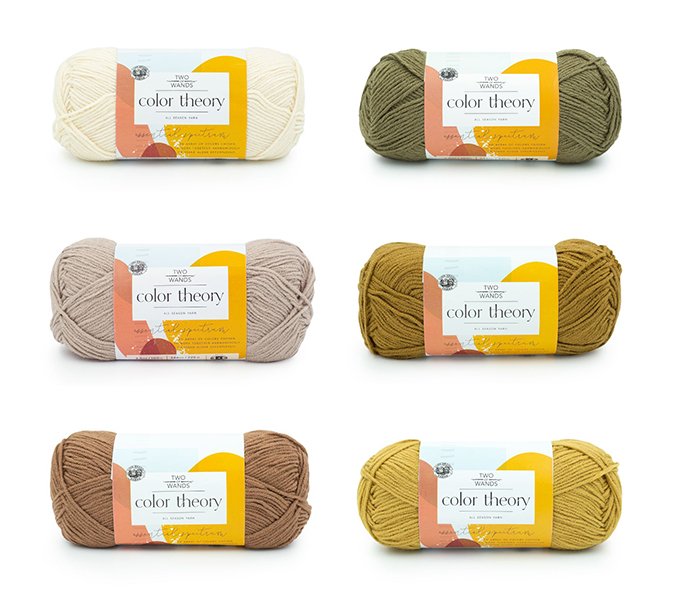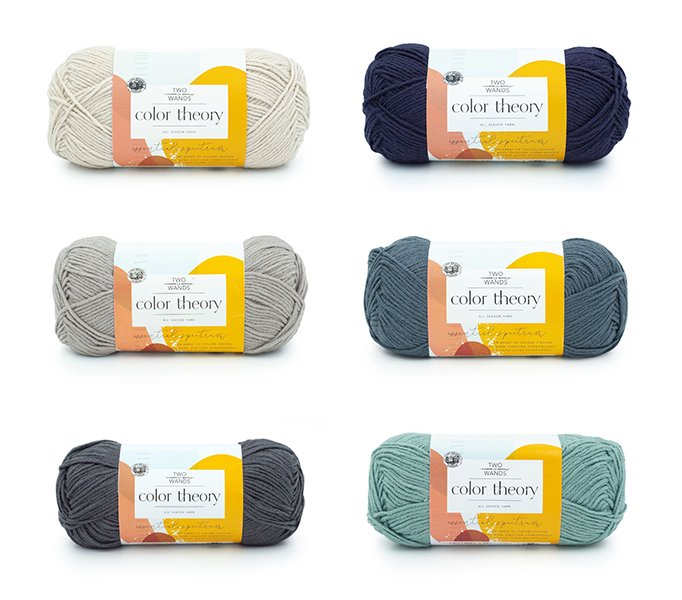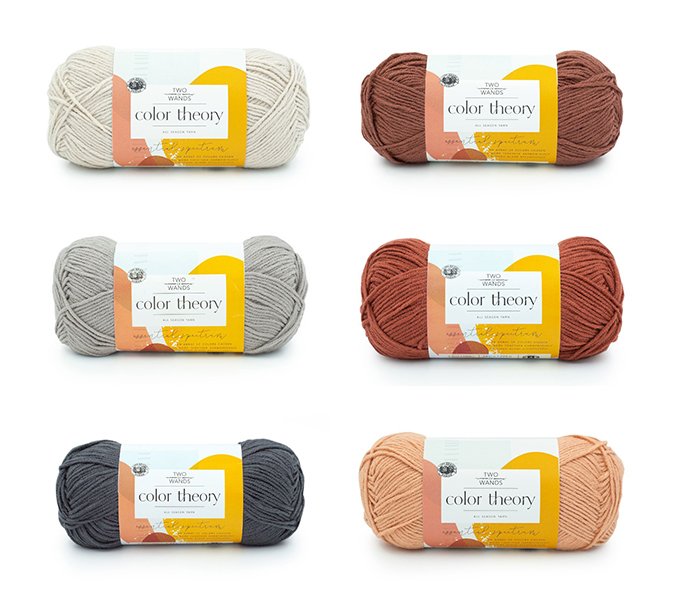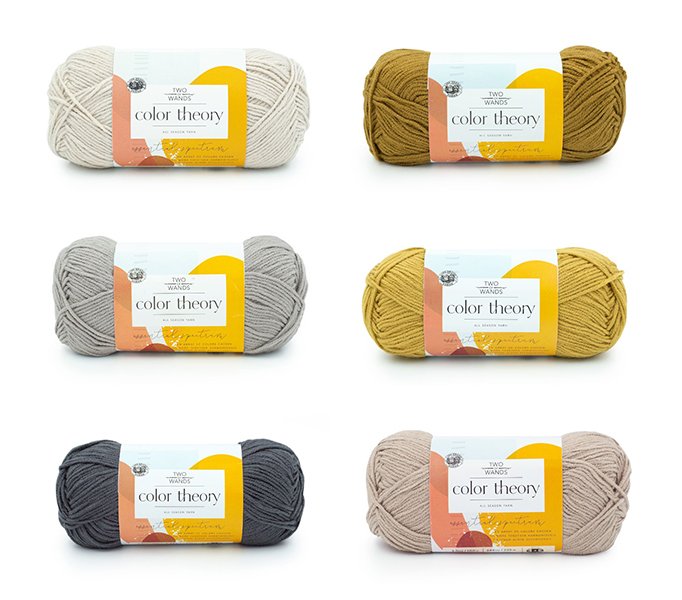 I'm always amazed that you can create such interesting and unique textures in crochet with such simple stitch combinations. This wrap uses only single crochets, half double crochets, and slip stitches, but the way they're utilized makes it appear like a more complicated or fancy stitch was used.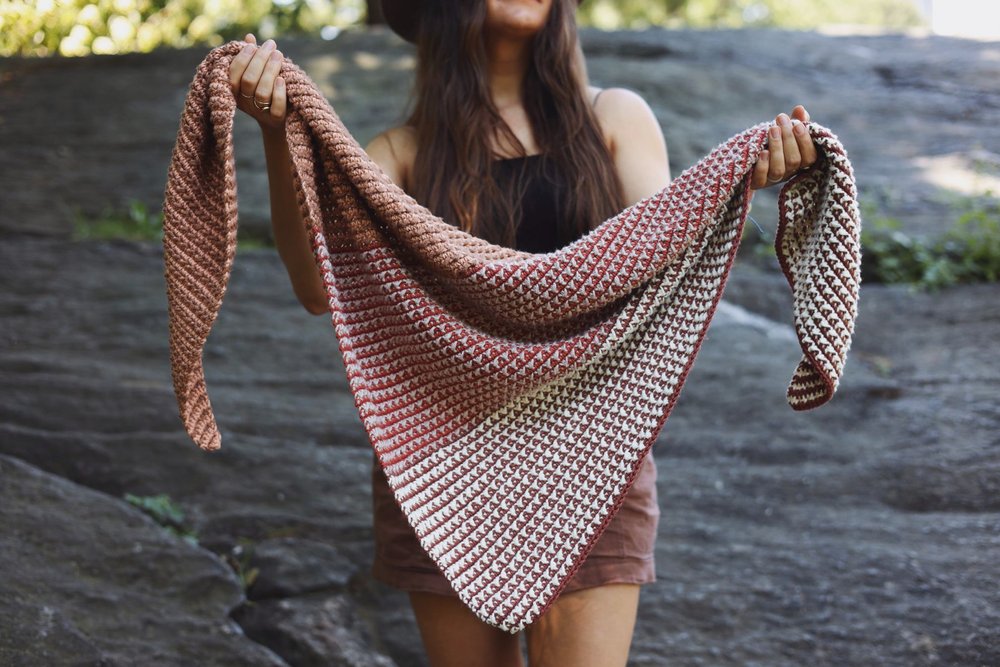 If you know me you know I love a triangle wrap for its functionality and versatility. Wear it draped over the shoulders, with the point in front, or swooped across the chest for three different looks. Depending on the way you wear it, you can highlight different sections of the wrap!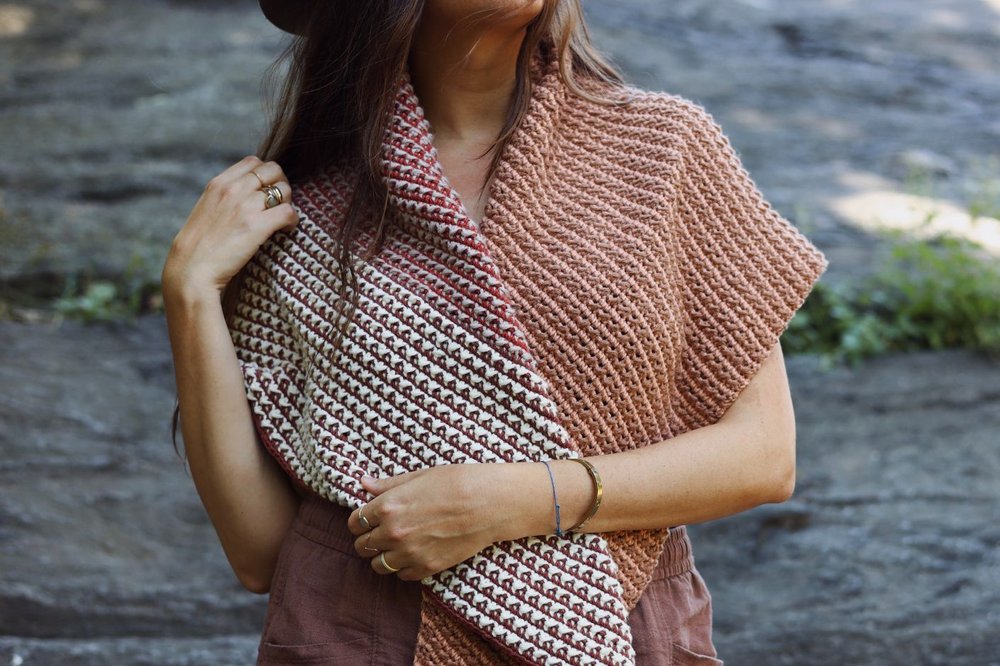 This is an easy level crochet pattern and the techniques involved are single crochet, half double crochet, slip stitch, increasing along an edge, and changing colors.
MATERIALS
1 skein each Lion Brand Color Theory in Himalayan Salt 619-184X (color A), Nutmeg 619-124AD (color B), Canyon 619-132AG (color C), Bone 619-122X (color D), Raisin 619-144U (color E), and Ivory 619-098AW (color F)
(worsted, weight 4; 246yds/225m per skein)
Size US J/10 (6mm) crochet hook
Tapestry needle
FINISHED SIZE
Length to point: 28"/71cm
Width: 62"/157.5cm
GAUGE
18 sts + 15 rows = 4"/10cm in pattern
ABBREVIATIONS
*All Two of Wands patterns are written in standard US terms
Ch – chain
Hdc – half double crochet
Rep – repeat
Sc – single crochet
Sl st – slip stitch
St(s) – stitch(es)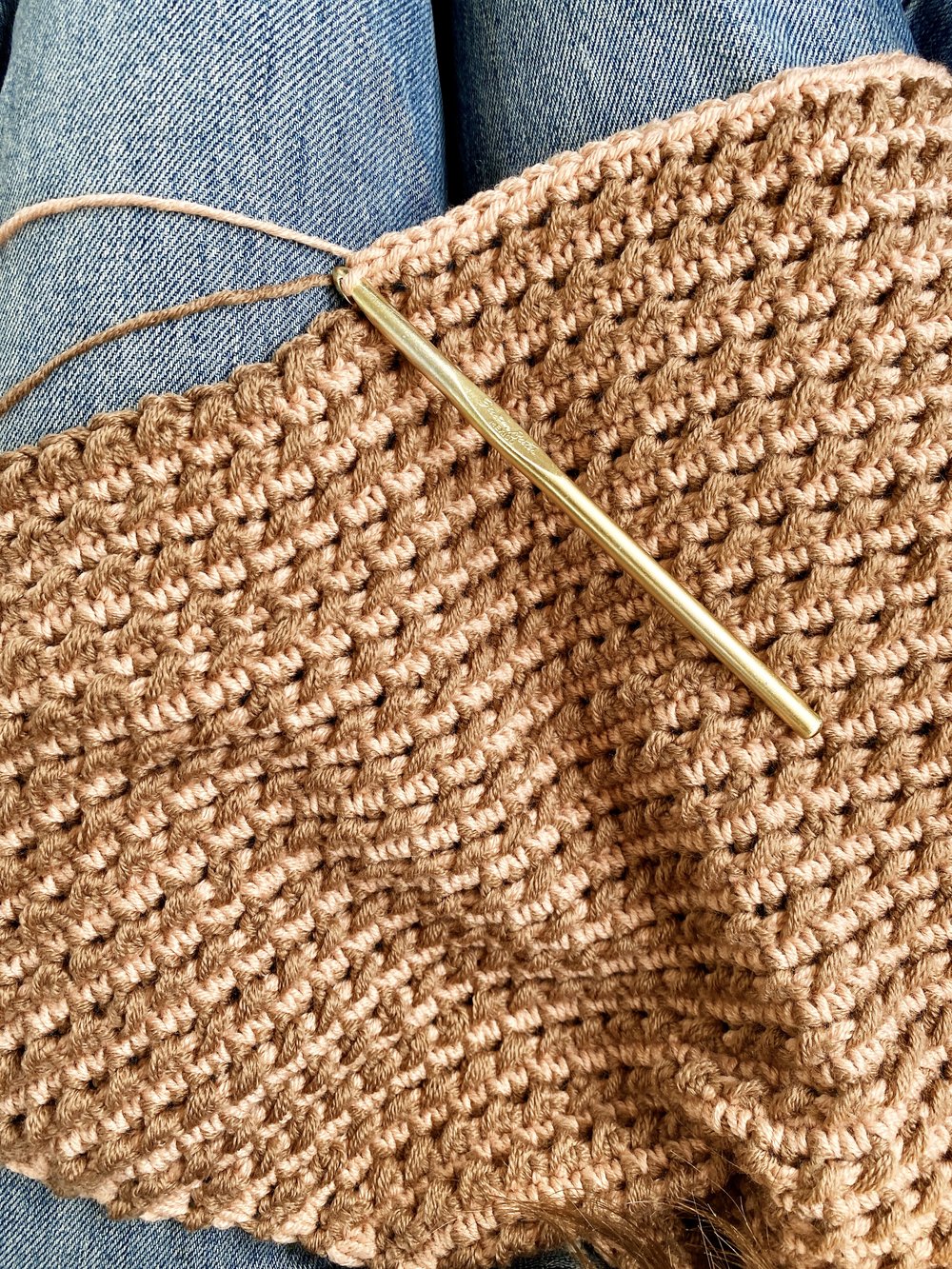 Notes: Wrap is worked flat side to side, increasing by 2 stitches on every right side row. Turn at the end of each row. Tapestry crochet is used to carry the alternate color so it is available at the end of each row. To do so, lay the unused color on top of the previous row and work over it with the current color. To change color, work the final yarn over of the last stitch of the previous row in the new color.
With color A, ch 2.
Row 1 (RS): 3 sc in 2nd ch from hook. (3 sts)
Change to color B.
Row 2 (WS): Ch 1, sc 1, hdc 1, sc 1.
Change to color A.
Row 3: Ch 1, sc 1, 2 sc in each of last 2 sts. (5 sts)
Change to color B.
Row 4: Ch 1, sc 1, hdc 1, sl st 1, hdc 1, sc 1.
Change to color A.
Row 5: Ch 1, sc to last 2 sts, 2 sc in each of last 2 sts. (7 sts)
Change to color B.
Row 6: Ch 1, sc 1, (hdc 1, sl st 1) twice, hdc 1, sc 1.
Change to color A.
Row 7: Ch 1, sc to last 2 sts, 2 sc in each of last 2 sts. (9 sts)
Change to color B.
Row 8: Ch 1, sc 1, (hdc 1, sl st 1) to last 2 sts, hdc 1, sc 1.
Change to color A.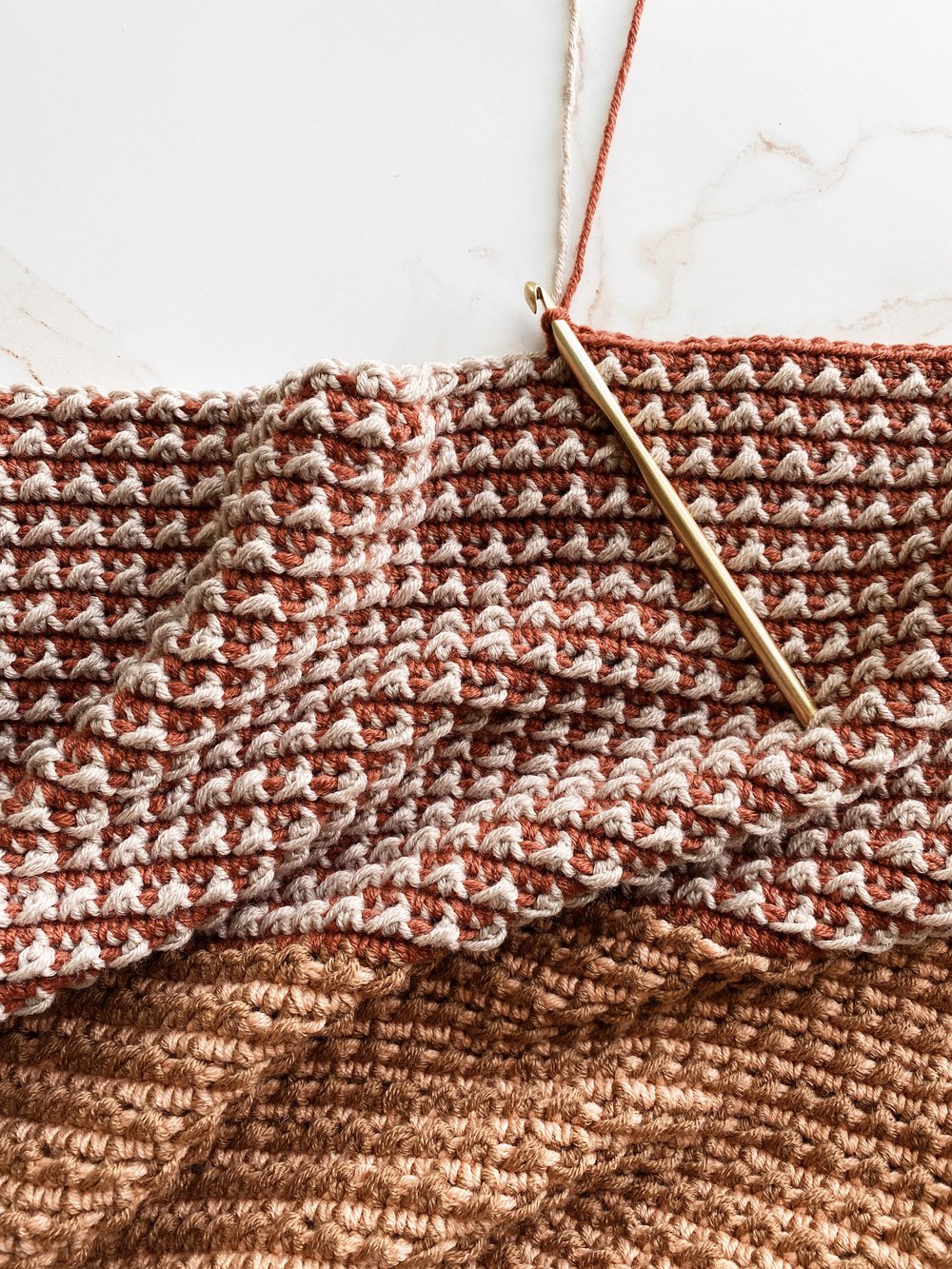 Rows 9-98: Rep rows 7 and 8, alternating colors A and B each row. (99 sts)
Change to color C.
Rows 99-136: Rep rows 7 and 8, alternating colors C and D each row. (137 sts)
Change to color E.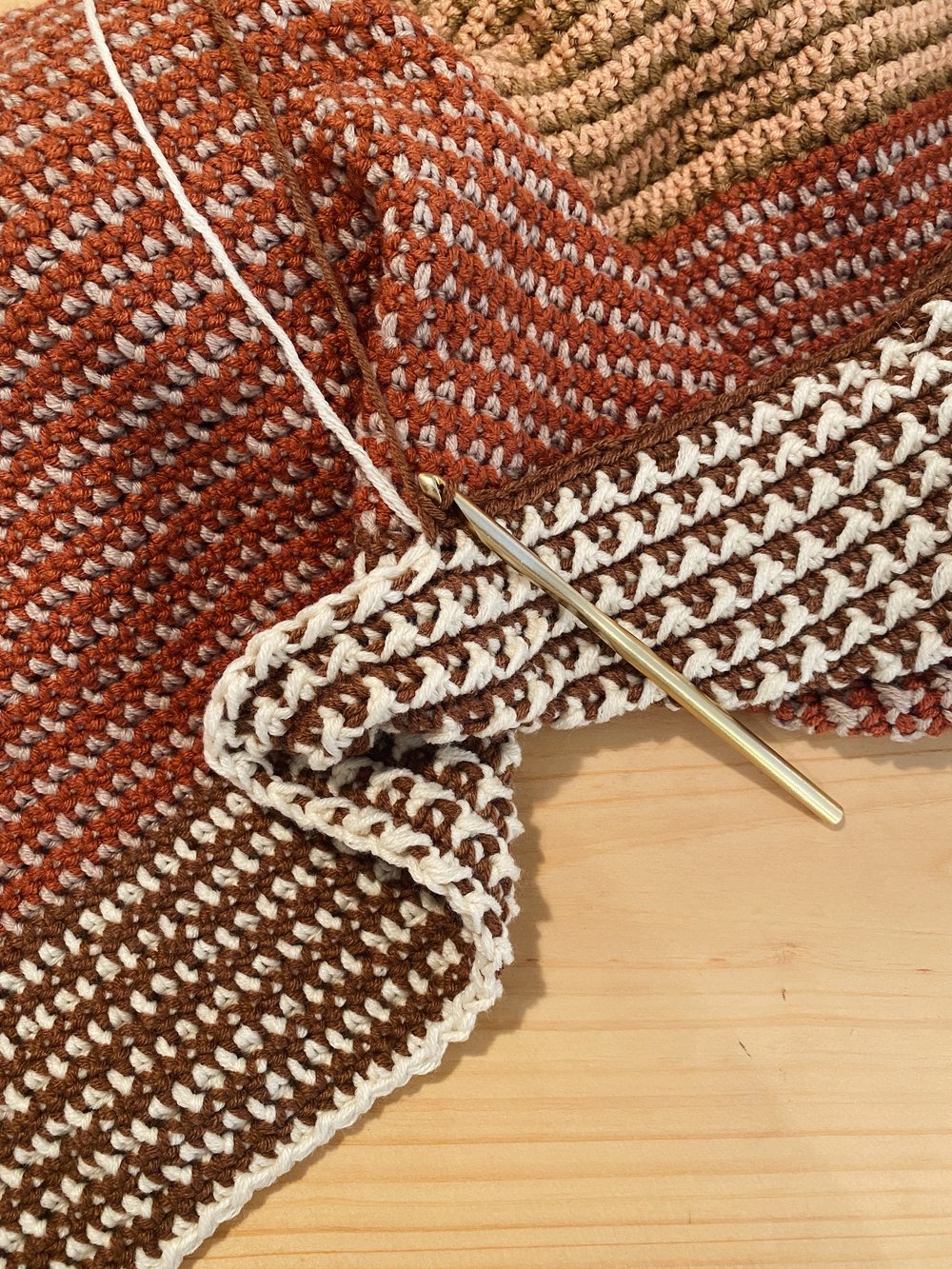 Rows 137-168: Rep rows 7 and 8, alternating colors E and F each row. (169 sts)
Row 169: Rep row 7. (171 sts)
Fasten off. Secure and weave in all ends.
---
Purchase the printable, ad-free pattern here.
Purchase the kit from Lion Brand Yarn here.
Don't forget to share your projects made using Two of Wands patterns on Instagram with the hashtag #crewofwands to get featured on my page and be in the running for monthly pattern giveaways!
Check out the #crewofwands community page here.
The patterns and photographs of items on this site are the property of Two of Wands and are for personal, non-commercial use only. These patterns files are protected by US copyright, and you may not distribute or sell them electronically or physically. Small batch sales of finished pieces made from these patterns are permitted, but seller must use their own photographs and credit must be given to Two of Wands as the designer.