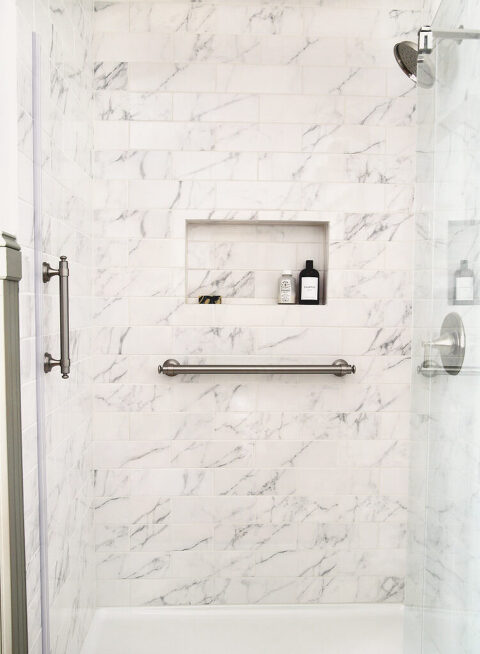 When we remodeled my parents' bathroom, they requested that we put in some grab bars in the shower when we redid it. So we're sharing how to install shower grab bars – and it's a super easy DIY.
I ordered these grab bars for the shower (a 9-inch and 24-inch). We went with brushed nickel fixtures in the bathroom, I wanted the grab bars to match. I also looked for ones that had a little bit of design detail that fit with the bathroom style – shower grab bars don't have to be an eyesore!
Just to note, our tile walls have wood behind them where the grab bars go, we made sure to put that in since we knew we'd be putting in the grab bars, so the steps are for that type of installation. If your walls don't have wood behind them, you will need to use anchors, and our steps don't include that process.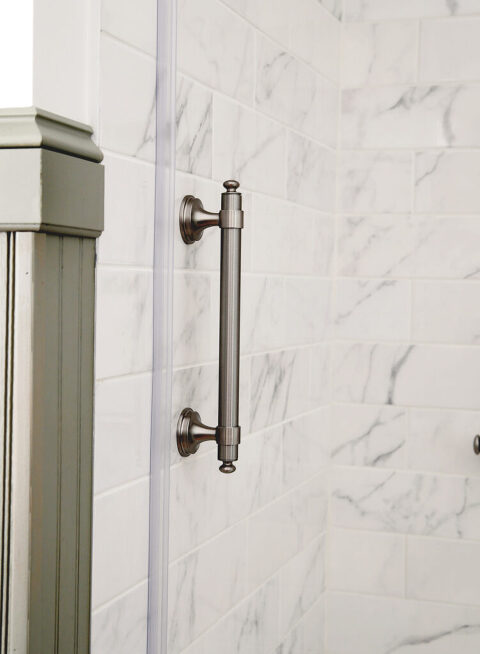 Where to Install Shower Grab Bars
The best way to figure out where to place your shower grab bars is to step in and out of your shower and see what feels comfortable for your reach. We placed a smaller grab bar vertically by the shower door, where you would step in and out. We placed a larger grab bar horizontally on the side wall. The height should be a comfortable reach for the main people using that shower.
Supplies:
Watch the video for the tutorial on installation or see the steps below:
Steps:
The grab bars should come with a template to use. Drill holes through the template where your screws will go so you can mark the tile wall. 
Layout the template where the grab bar will go on the wall. 
Mark all of the holes. We found it easiest to use a marker for this so we could actually see the marks.
Next, we pre-drilled the holes with a small masonry bit. 
Then we drilled the holes with a larger masonry bit, which will allow the screw to go through. 
Use an allen wrench to remove the mounting base from the bar.
Apply silicone to the back of the mounting base.
Screw the base to the tile. 
Repeat with the bottom base. 
Place the bar on the base and use the allen wrench to attach it.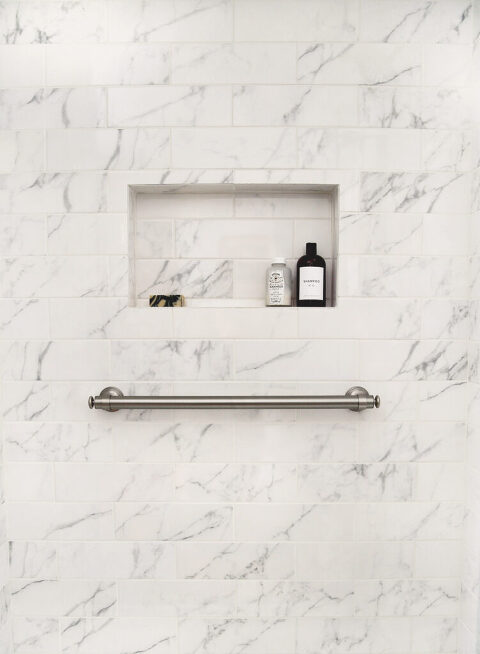 You can see the entire bathroom remodel here.
SOURCES:
The post How to Install Shower Grab Bars appeared first on The Merrythought.