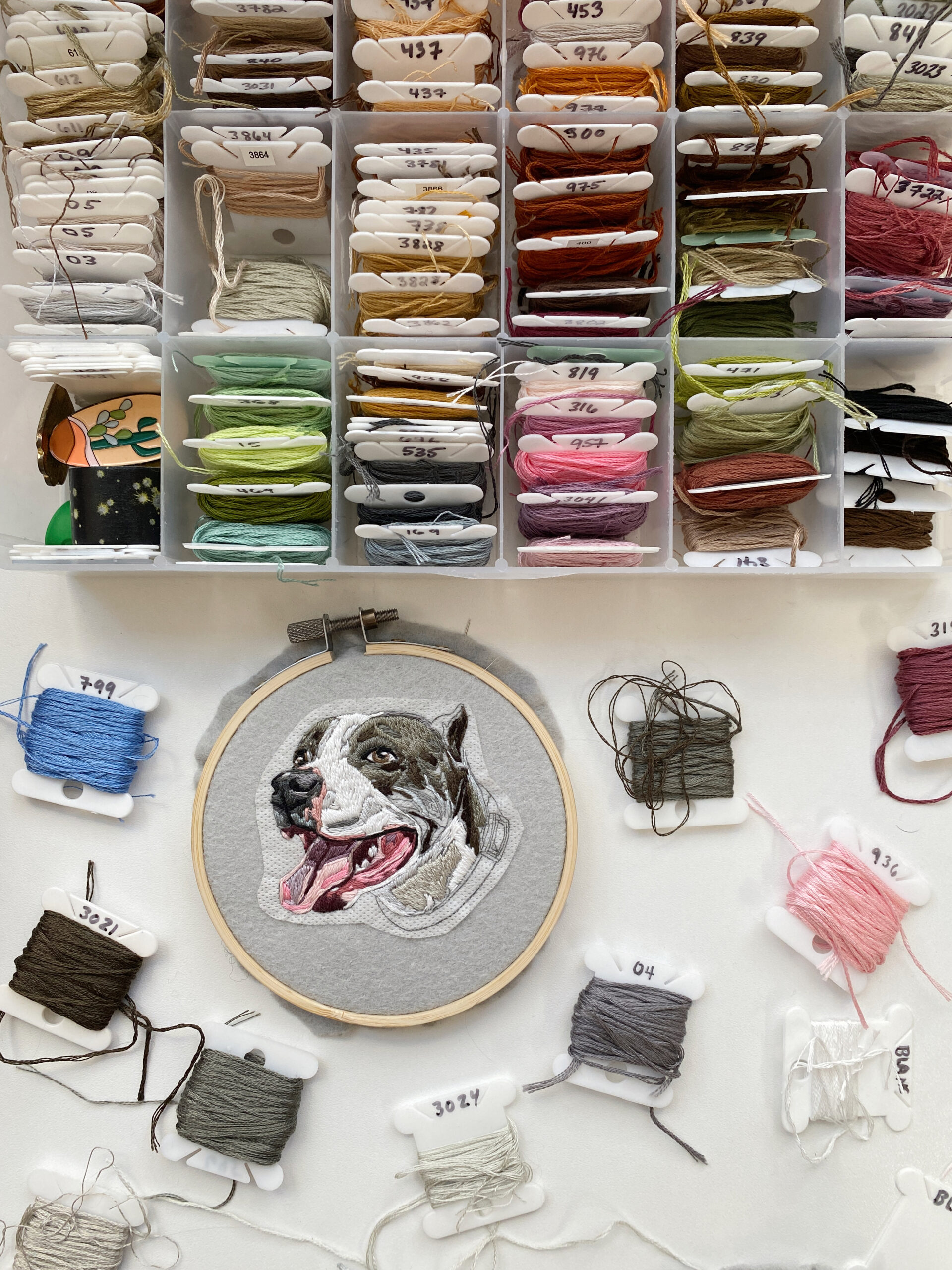 Embroidery is one of those activities that, thankfully, you can take it anywhere. No matter how long of a trip I'm on, my embroidery travels with me. If you're flying, however, there are special considerations you'll want to take with your stitching in tow.
After some trial and error, here's what I learned to take with me when I'm on a plane so that I can enjoy my stitching as I fly.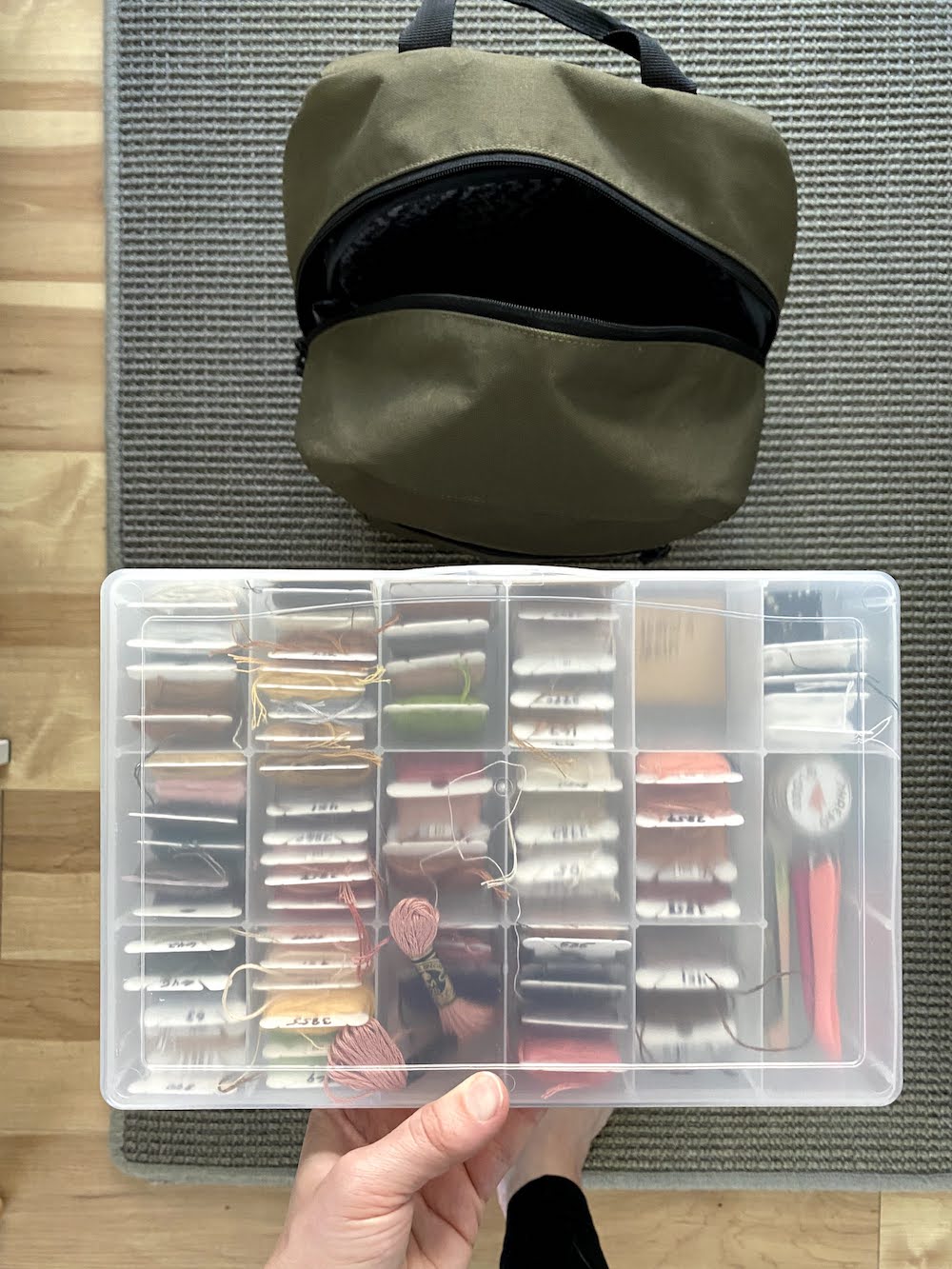 Small thread storage box
When I first started traveling with my custom pet portrait embroidery, I would place all of my threaded plastic bobbins onto metal rings and bring them with me. They would, theoretically, include all of the colors I'd need. I found this didn't work for me. I think I'm a bit too messy to keep the rings of floss tidy. Plus, it's often that I don't know exactly what colors I need for a trip—especially if I'm going to be gone for a while or am prone to changing my mind about the thread.
A small thread storage box (you can easily find them online or at your local craft store) allows me to organize my thread and keep the other supplies in one place. It should fit in most standard-sized backpacks. (I'm a fan of the Lo & Sons backpack.)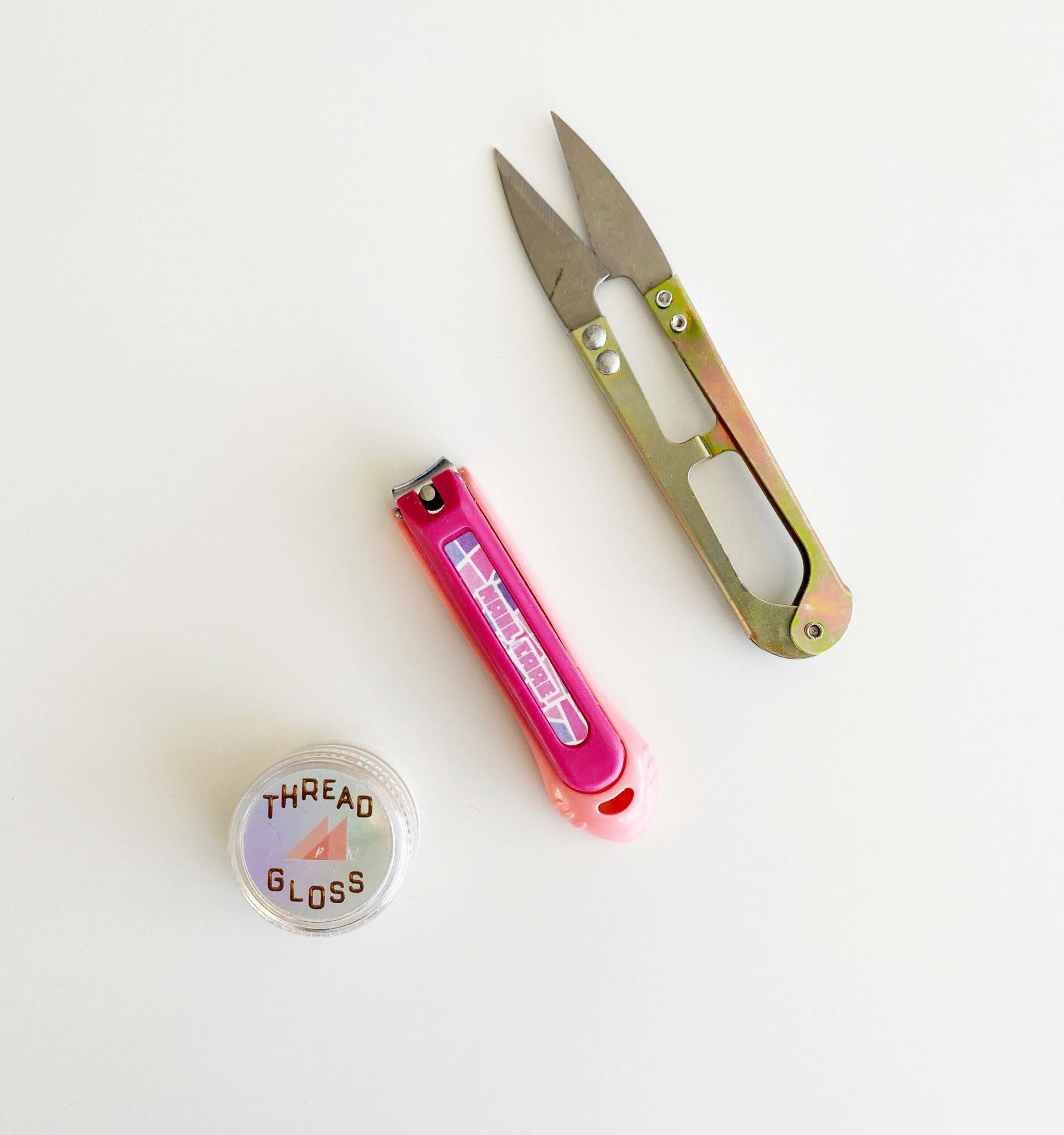 Thread snips
I have a pair of embroidery scissors that I absolutely love to use while I'm at home. But they are borderline too big for the TSA, so I'm not going to risk taking them on a plane. My go-to travel scissors are thread snips. They aren't the fanciest scissors, but they have short blades that are less likely to get flagged by airport security. Plus, you can often find them sold as a pack, which lessens the blow if they do get taken from you or you lose them.
Thread gloss
Traveling over the pandemic has meant masking up on a plane. I'm one of those people who puts their floss in their mouth in order to thread the needle. But, being masked on a plane meant that it wasn't a viable option. Thread gloss is a wax and essential oil blend that basically tames your floss. In this case, it's helpful to use it to refine the edge of your thread and makes it possible to thread a needle without having to take your mask off.
Nail clippers
Nail clippers are a replacement for thread snips. I learned this firsthand a few years ago when flying back to the U.S. from Tokyo. As my bag was going through security, it was flagged because of the scissors; they had to be thrown out. I was devastated! It was a long flight from Tokyo to Seattle, and embroidering was the only thing I had to do. I went into the nearest shop to try and find some sort of scissors I could use, and I landed on a set of nail clippers. Luckily, they worked. Nail clippers are not my first choice when flying, but I always bring along a pair on the off chance my thread snips get tossed.
Multiples of all my tools
I cannot tell you how many times I've lost stuff on planes. It is amazing how things just slip out of my hands and into the infinite abyss of the plane. Over the years, I've learned to bring at least two of everything. A couple of thread snips, three or four needles, a couple of different scents of thread gloss. It's better to be safe than sorry—especially when you're traveling!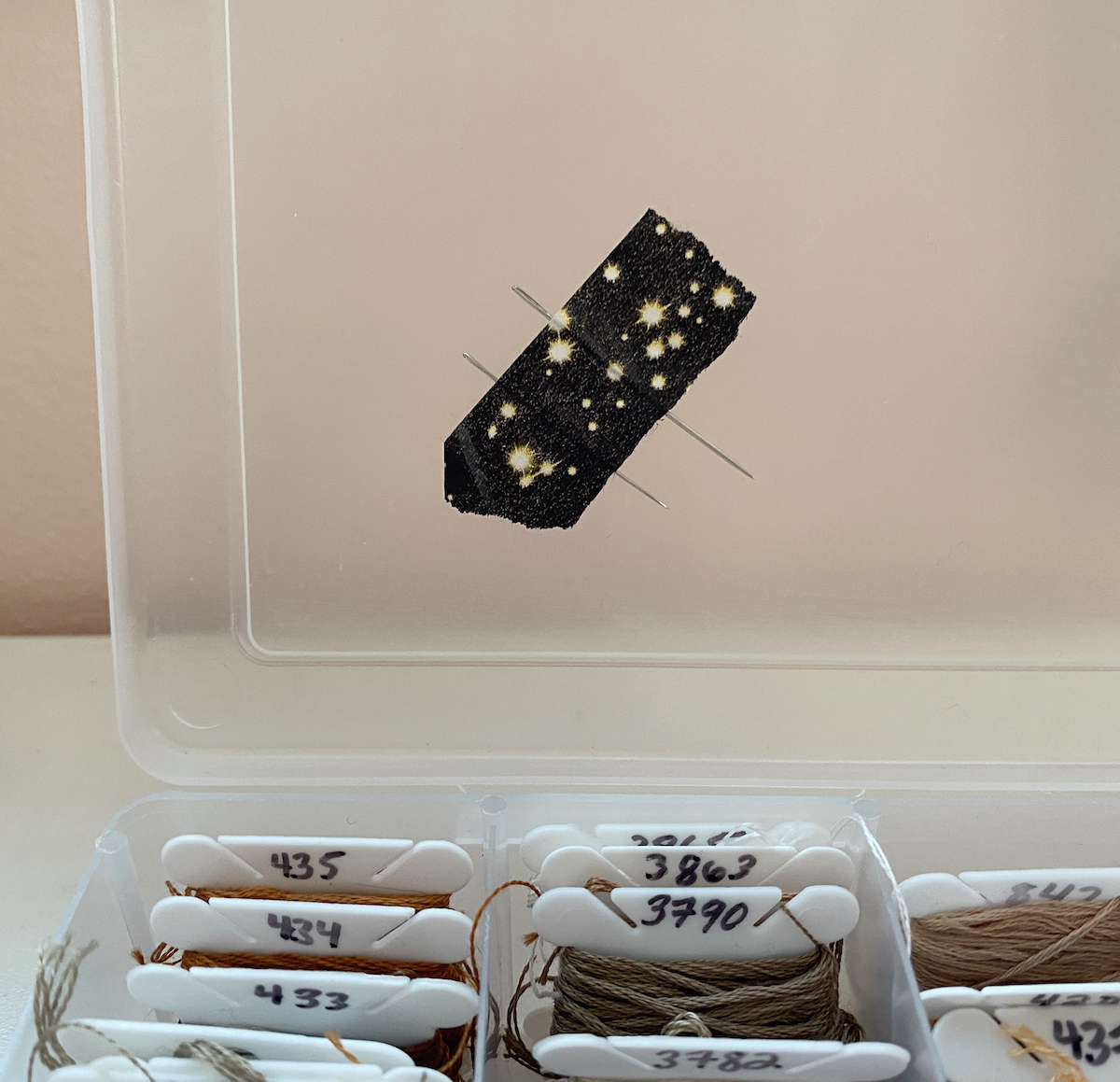 I'm excited to be one of Google's paid early testers for their Thank with Google pilot program. Thank with Google is an experimental feature that allows you to purchase a virtual sticker and directly show your appreciation for content on my website. As a loyal supporter, you can now feel more connected and engaged because you have the ability to express yourself and share what my work means to you.
There are a variety of stickers to select from and every time you send a paid sticker, you can add a personal message which I enjoy receiving. For me, these virtual stickers translate into direct revenue to support the work that goes into the content that you are enjoying on my blog.
You can find the Thank with Google feature in multiple places on my site, including as a button at the top and bottom of this and all blog posts. If you try it out, let me know what you think! Thanks as always for your support.
The post Flying With Your Embroidery? Make Sure You Carry On These 4 Essential Supplies appeared first on Brown Paper Bag.