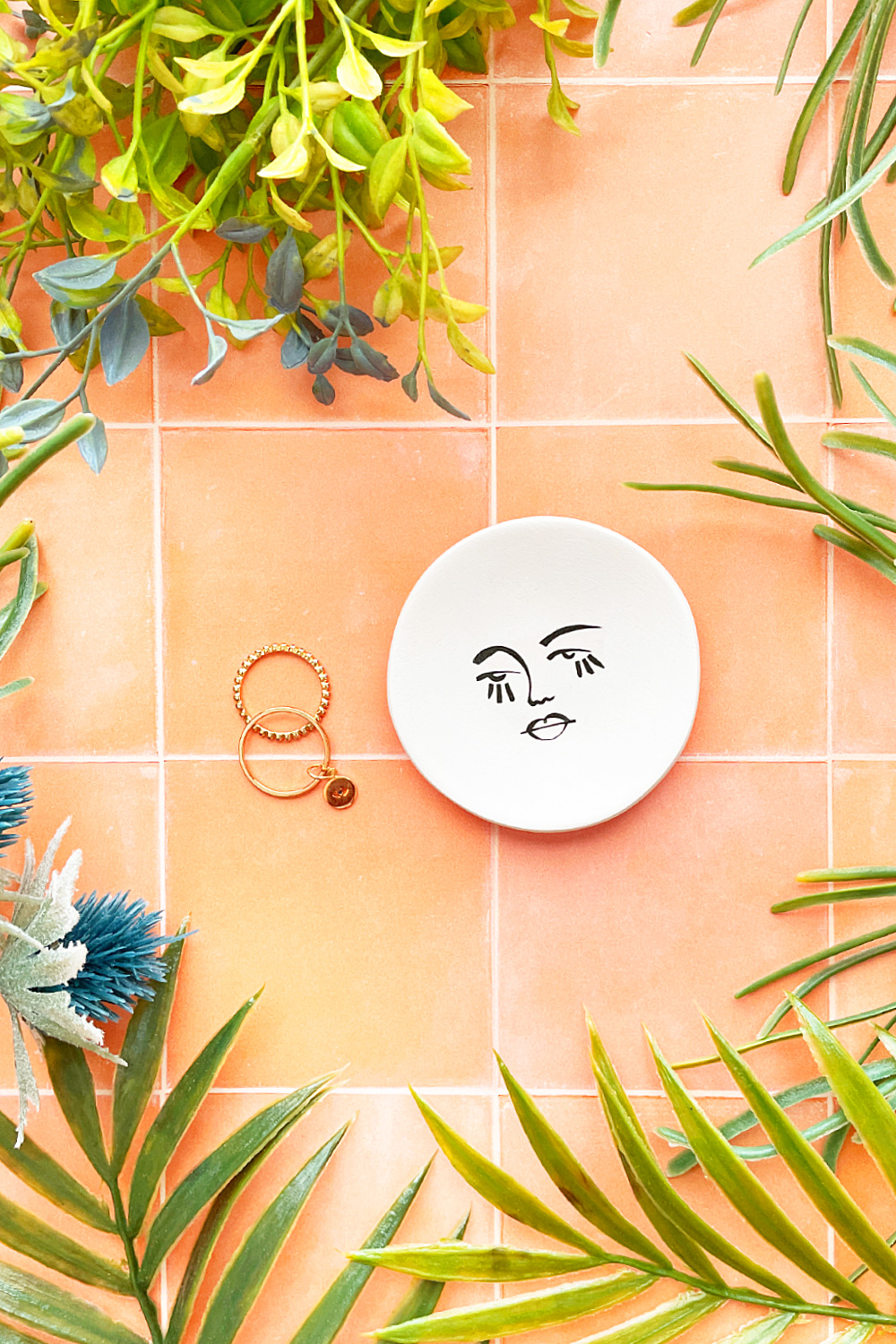 Well hello, friends! It's been a minute, hasn't it? I've been pretty busy with developing my Society6 shop and managing the kids' school schedules. I hope you are well – I've missed you! I'm back with this fun temporary tattoo tutorial for you which will show you how to make your own Abstract Face Ring Dish. I love all things boho and art related so here is a project that combines both to add to your modern home decor.
---
---
*This post contains affiliate links for products that I use and love!
About My Favorite Temporary Tattoo Paper:
If you've been around here, you will know that I use Printable Temporary Tattoo Paper for many of my projects and tutorials.
You can make temporary tattoos with Silhouette America's Temporary Tattoo Paper. There are so many ways to use this medium. When you use temporary tattoos the traditional way (by applying it to your skin), they are perfect favors for kids' and adults' parties and even sporting events. What's even more fantastic about these temporary tattoos is that you can apply them to smooth surfaces like ring dishes! Your abstract face artwork can be applied easily with water and a wet cloth or sponge.
Silhouette America is the brand I use and they make a range of temporary tattoo paper options:
Clear
Gold
Silver
White
For today's project, we will use the clear sheets. Why? Because all the white parts of the images will appear clear when applied to your ring dish.
---
DIY Abstract Face Ring Dish With Temporary Tattoos –
Materials:
Silhouette Studio (there is a free version available for download!) or any other free graphic software that you already have
Abstract face image with a transparent background (.png) – I drew my own image using the Procreate app and Apple Pencil on my iPad
Ring dish (I got ceramic ring dishes on Etsy)
Wet cloth or sponge
Optional – sealant
---
Instructions – DIY Notebook Cover With Temporary Tattoos
Draw your abstract face
As mentioned before, I drew my abstract face on my iPad, then saved it as a .png file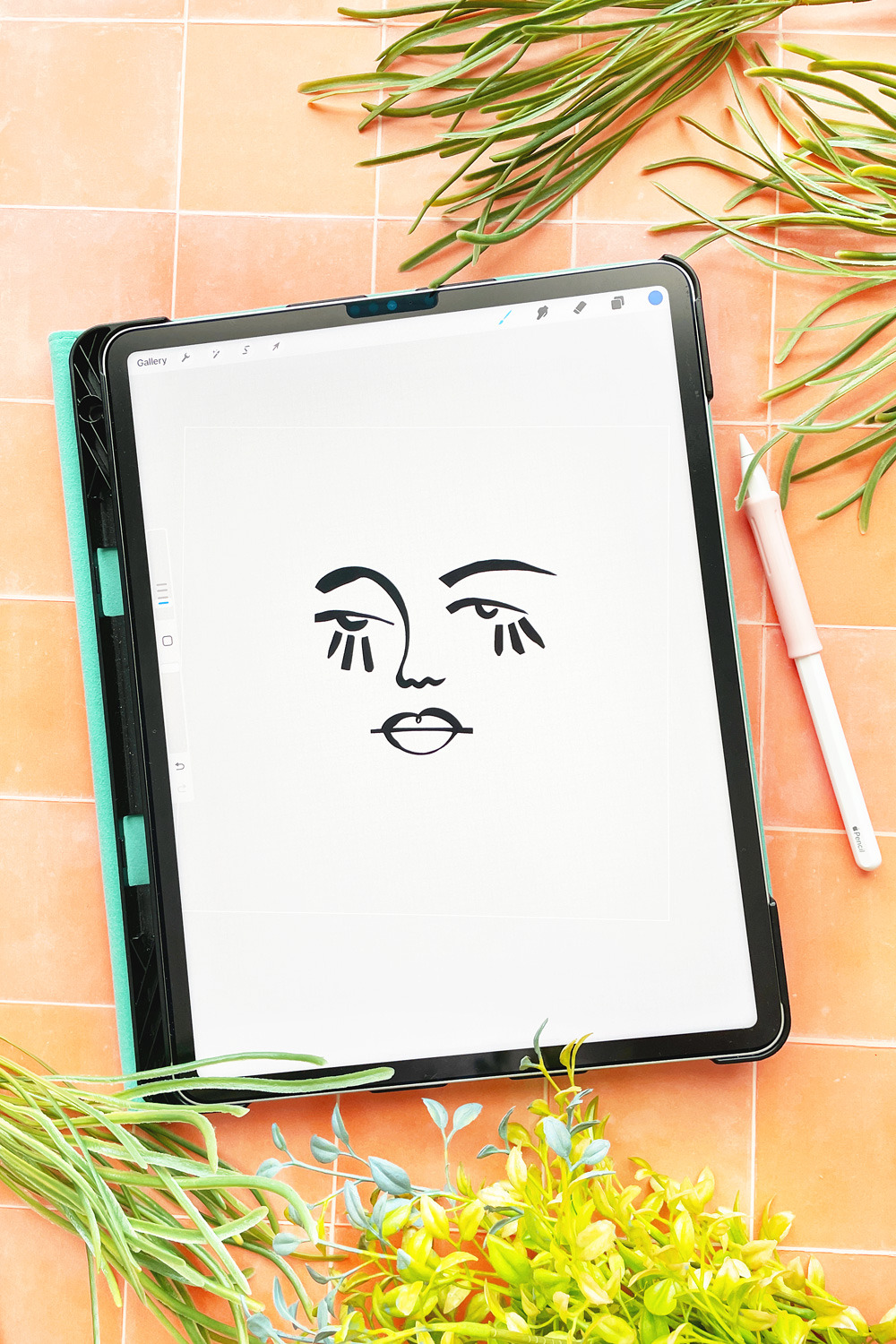 Download your abstract face
Download your abstract face image to your computer so that you can open it in your graphic editing software.
Open your abstract image
Open your image in Silhouette Studio or any graphic software you have
Mirror your image so that it is reversed. When printed on temporary tattoo paper and applied to your ring dish, it will appear the correct way
Resize the image so that it will fit on your ring dish
Replicate and place your images in the printable area of your software if you are making more than one dish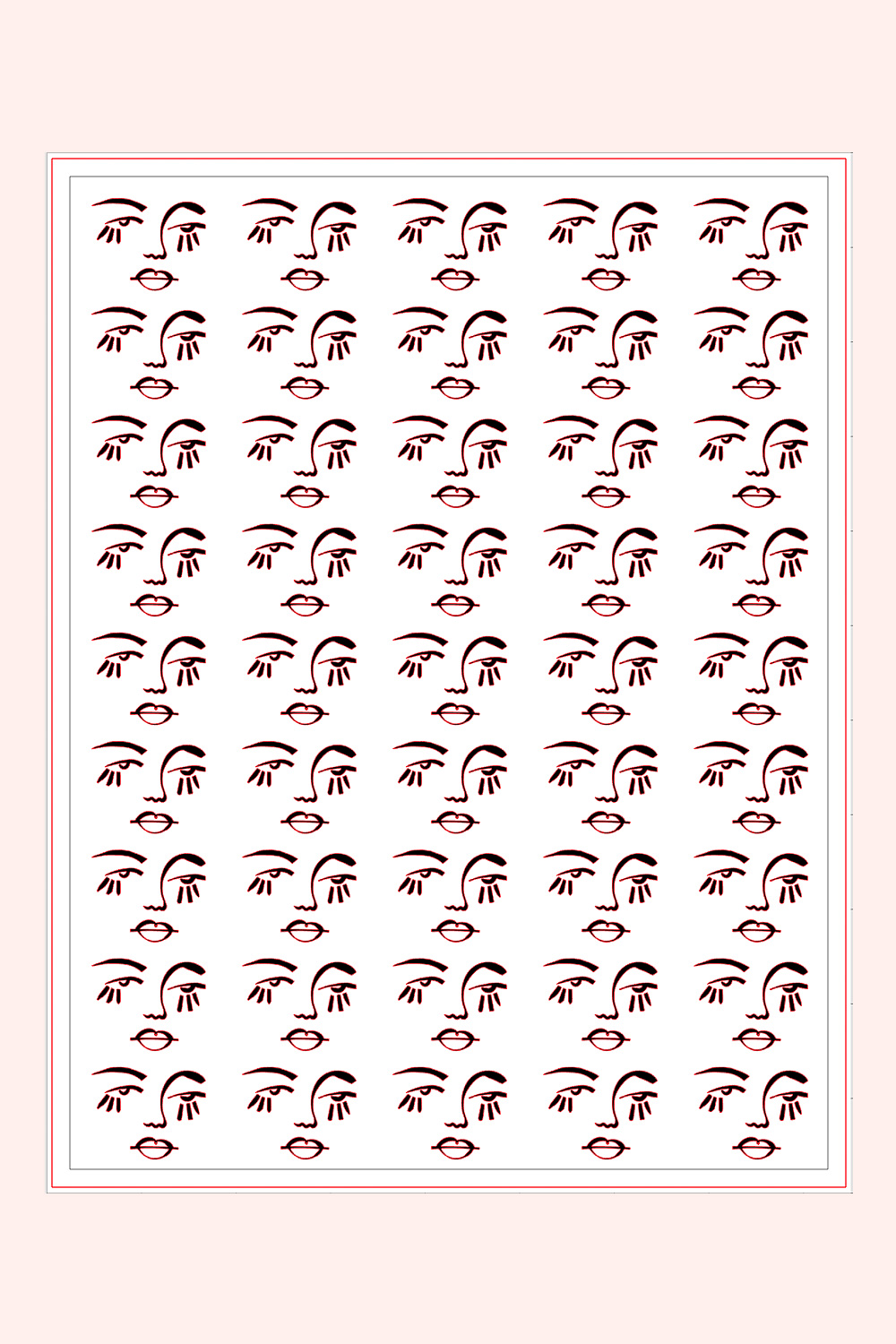 Send Your Abstract Images to Print on Temporary Tattoo Paper
Load your temporary tattoo paper into your printer, making sure that the images will print on the glossy side. I recommend using the highest quality print settings or photo paper settings
Send to print
Once printed, let the ink dry
Prepare the Temporary Tattoos for your Ring Dish
Apply the clear adhesive sheet (with the green backing) to the top of the sheet you just printed with your jungle images
Use the scraper to smooth out any bubbles and rub the adhesive to the images
Apply Your Abstract Face Image to your Ring Dish
Use your scissors to cut out the abstract face images, staying very close to each image's edges
Peel off the clear adhesive layer
Apply the abstract face image down on your ring dish and cover with a wet cloth or sponge for 10-15 seconds until the white paper backing slides off easily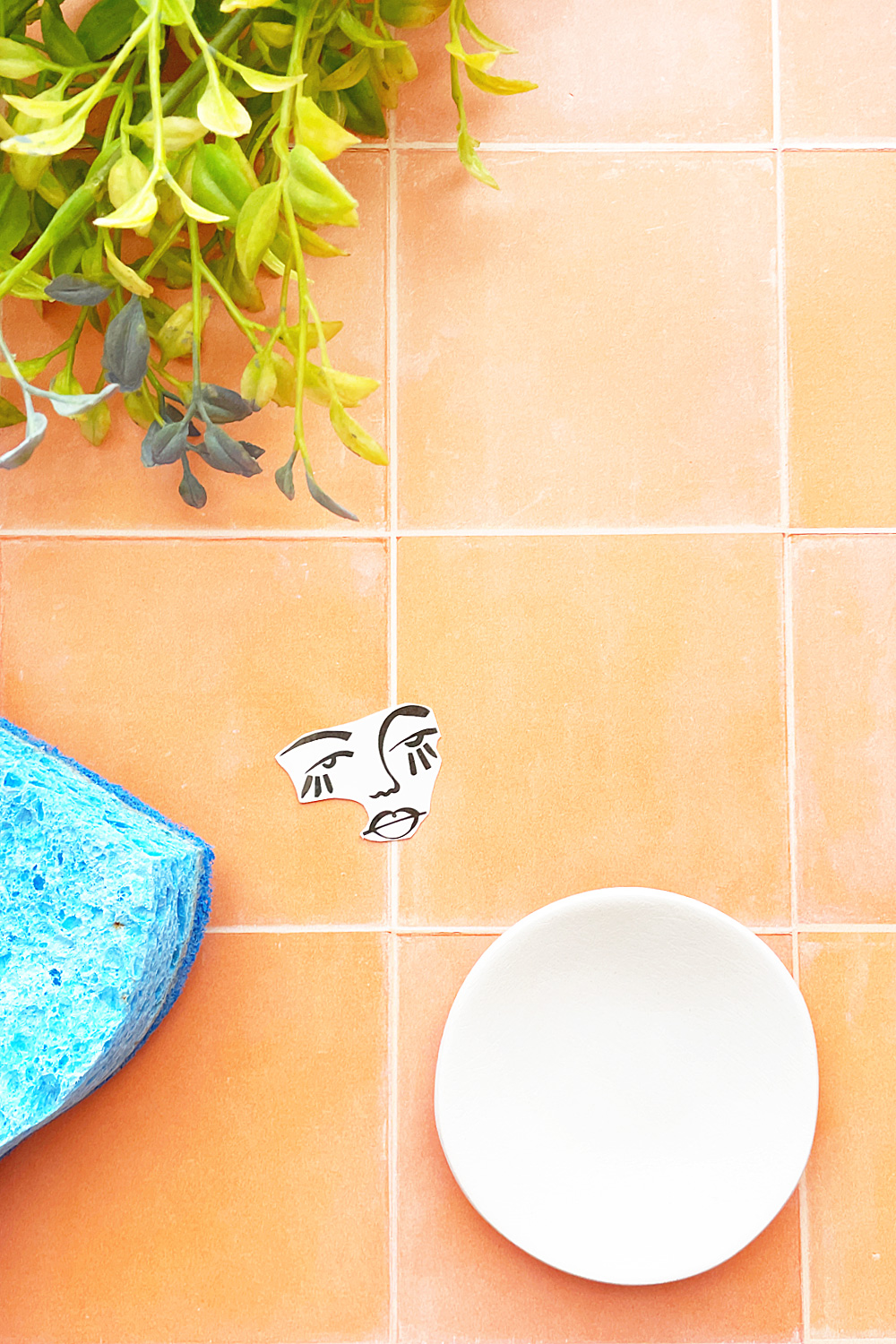 And that's it! Your Abstract Face Ring Dish is not only gorgeous but it's on boho trend too. Let me know how your gorgeous project turned out!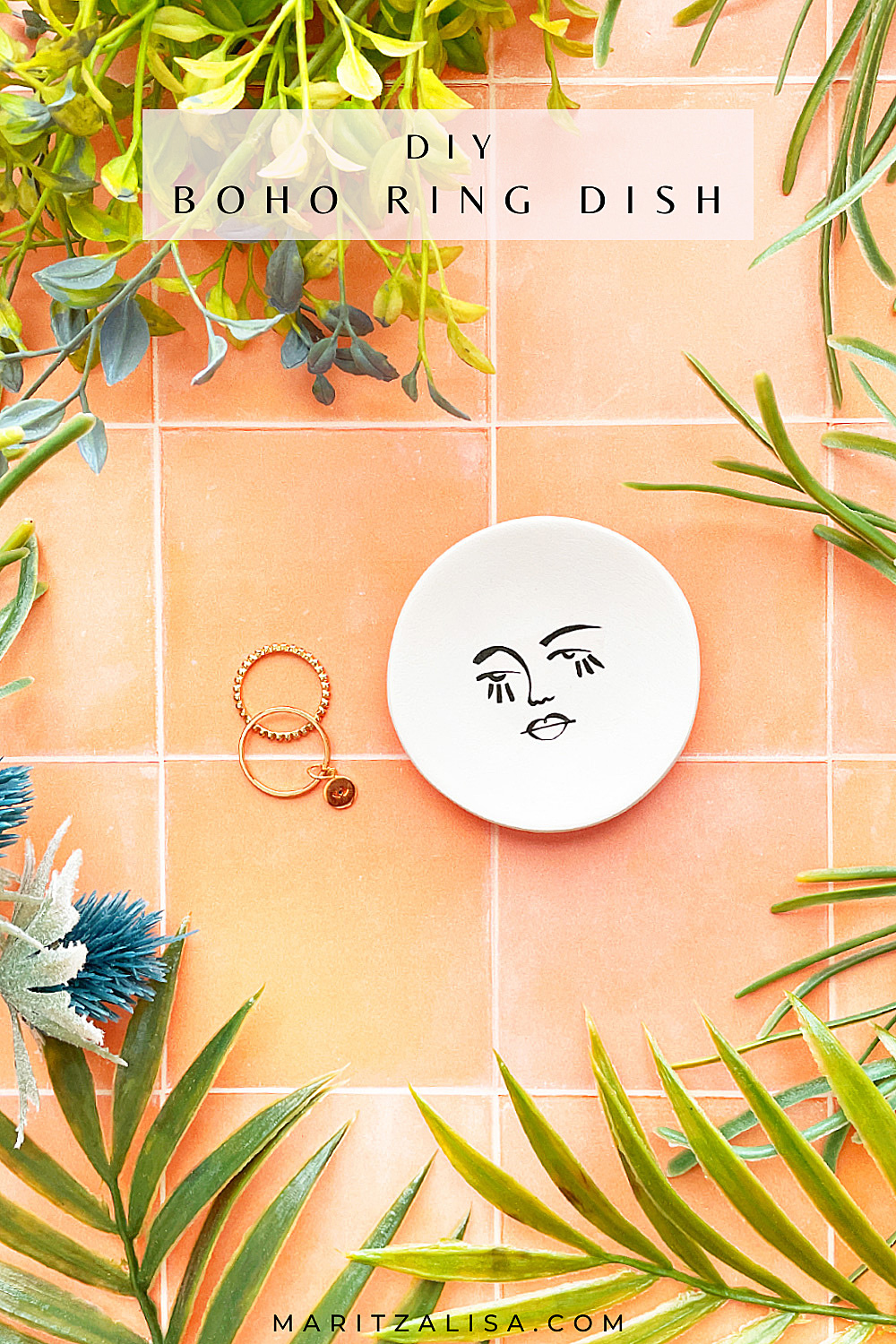 Looking for some more crafty inspiration? Take a look at some of my other DIY Temporary Tattoo Projects!
The post DIY Boho Decor – Abstract Face Ring Dish appeared first on Maritza Lisa.