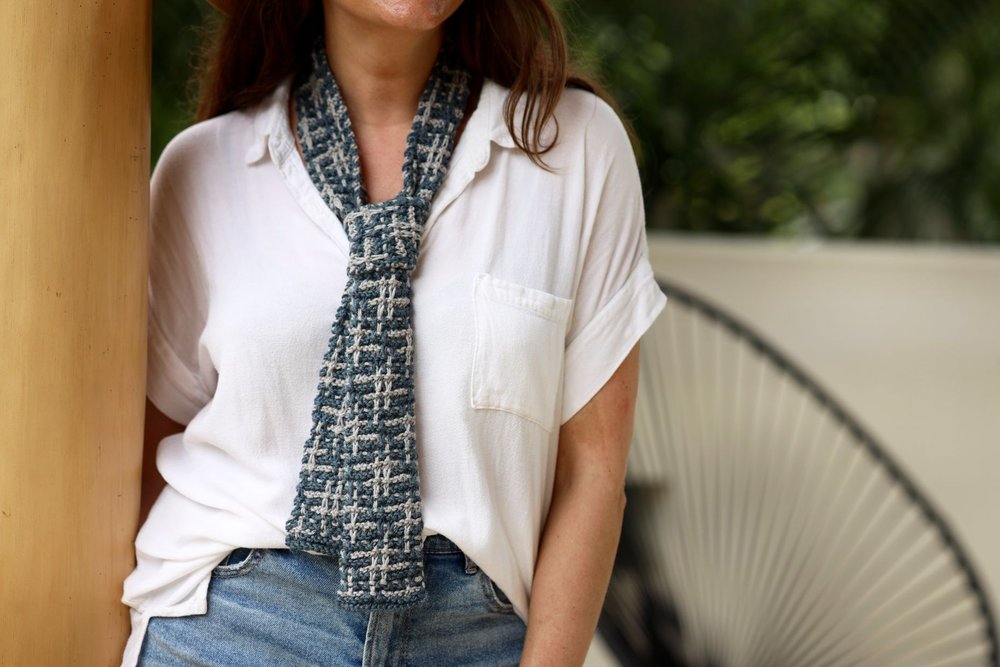 THE WINSTON TWEED TIE IS AN EXCLUSIVE PATTERN MADE IN MY BRAND NEW YARN, COLOR THEORY, PRODUCED IN PARTNERSHIP WITH LION BRAND YARN. LEARN MORE ABOUT THE YARN AND COLLABORATION HERE!
The seemingly intricate colorwork of the Winston Tweed Tie is actually achieved with a simple slip stitch technique called mosaic knitting. Sport this dapper accessory around the neck, waist, head, or a hat! Scroll down for the free pattern, purchase a printer-friendly PDF of the Winston Tweed Tie pattern, or purchase the kit with all the Color Theory yarn you'll need!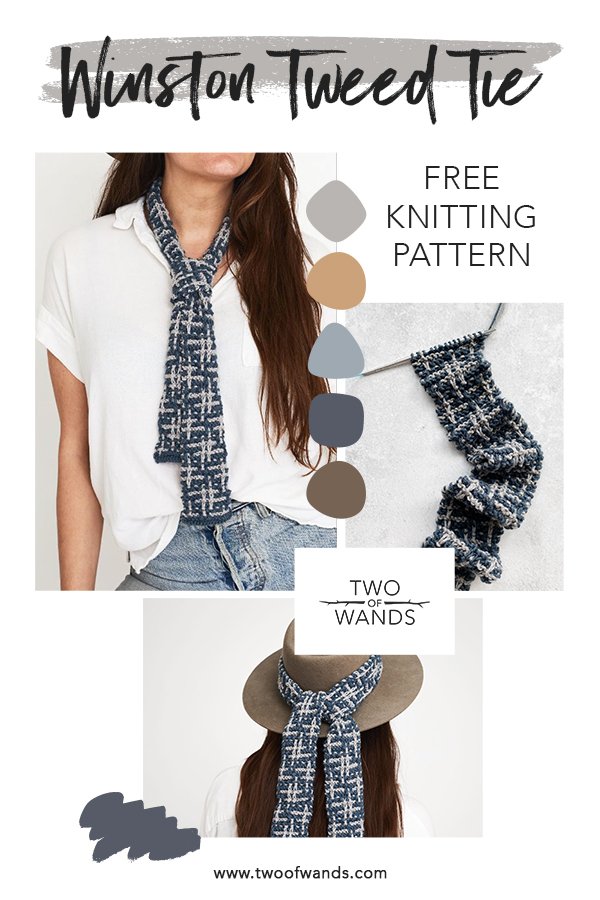 Annie Hall has always been one of my style icons and I can't believe this is the first tie I've ever designed! I can tell you that it definitely won't be my last. They're quick, easy, and so versatile!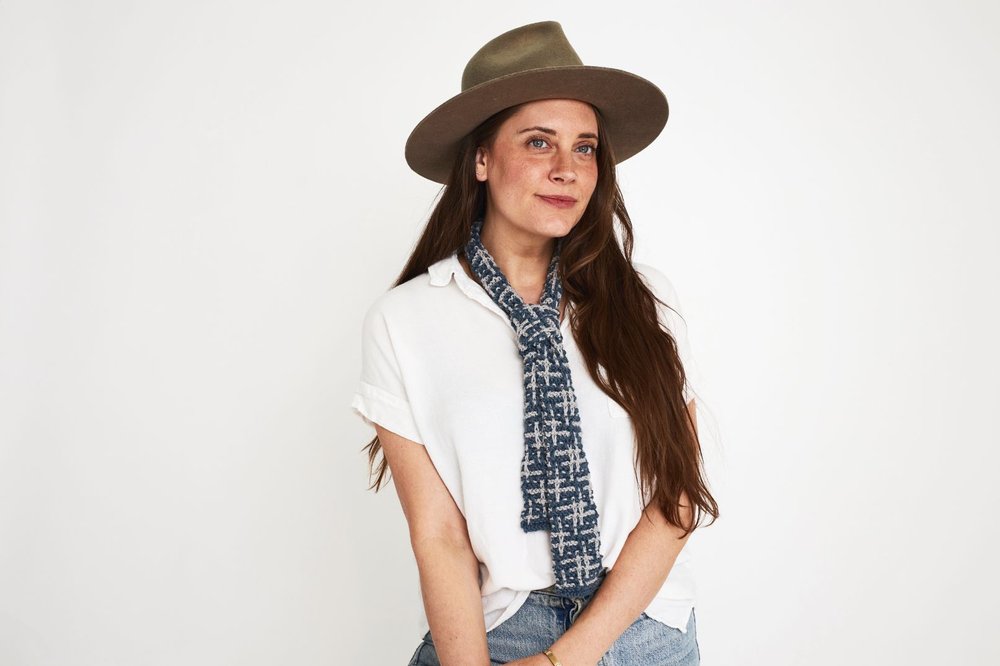 I was really hoping I could bring the vision I had in my head to life with this tie, and I have to say I think it turned out even cooler than I was imagining. The mosaic knitting gives it such a fun texture and vibe! I can't wait to style this up with high waisted pants and a blazer for fall.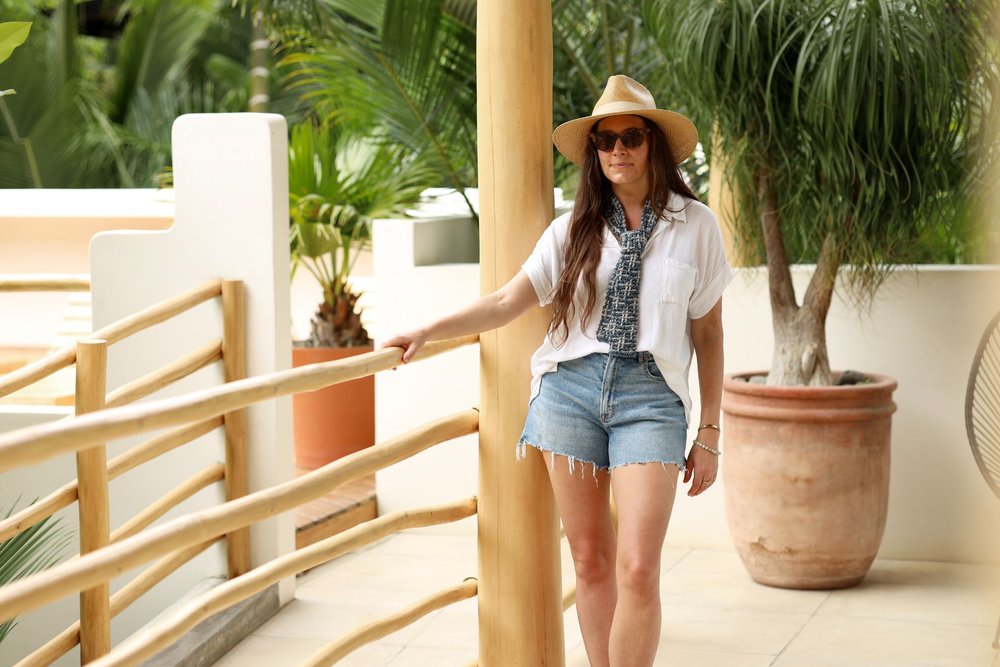 I was going for kind of a grandpa chic vibe, but it also feels very Chanel to me because of the tweed look. If you haven't tried mosaic knitting, this is the perfect time to do so! It's such a simple technique with beautiful, intricate results.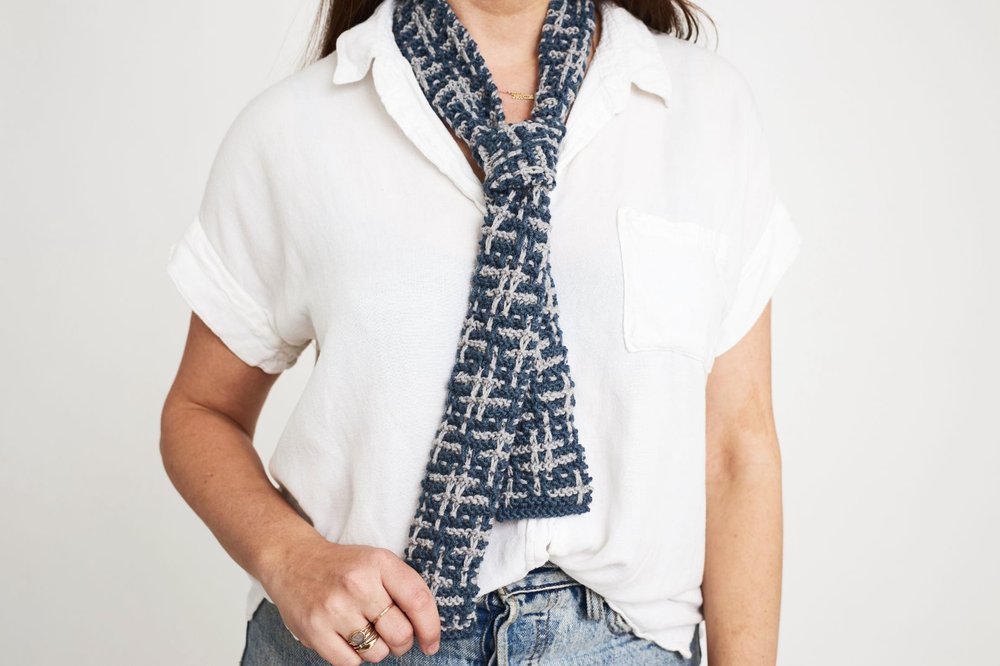 This is an easy level knitting pattern and the techniques involved are knitting, slipping stitches, and carrying an unused color up the side of the work.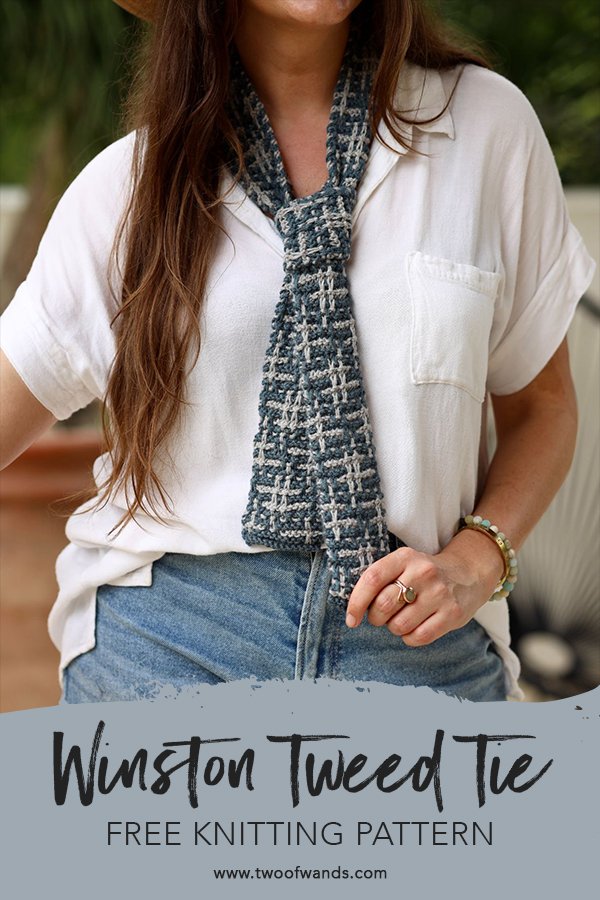 MATERIALS
1 skein each Lion Brand Color Theory in Stonewash (619-109W) for color A and Satellite (619-149X) for color B
(worsted, weight 4; 246yds/225m per skein)
Size US 7 (4.5mm) knitting needles
Tapestry needle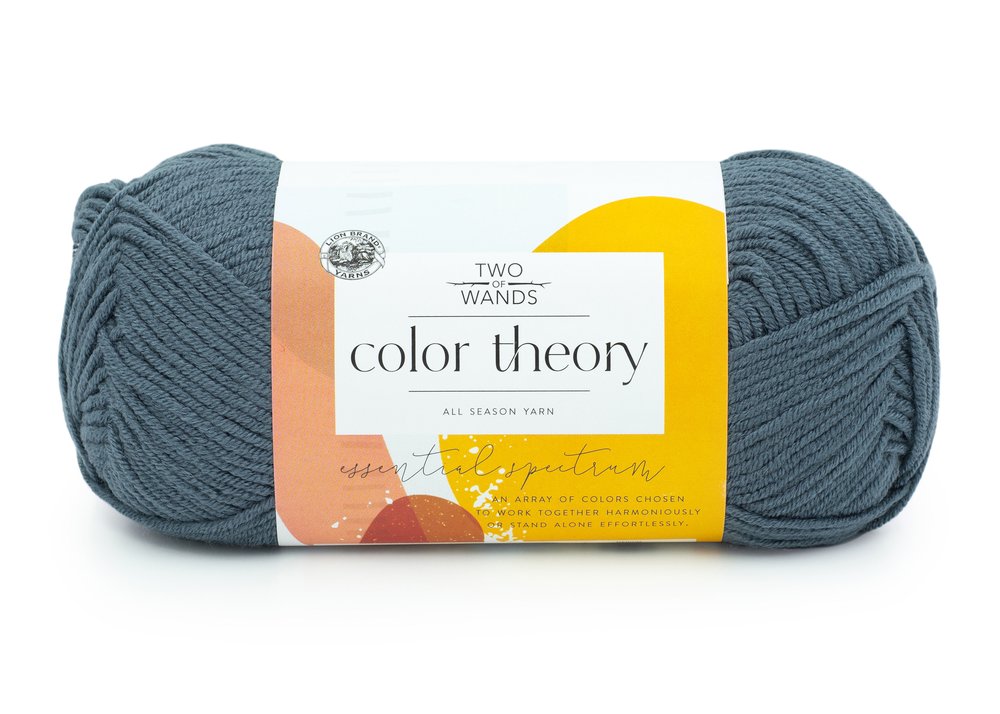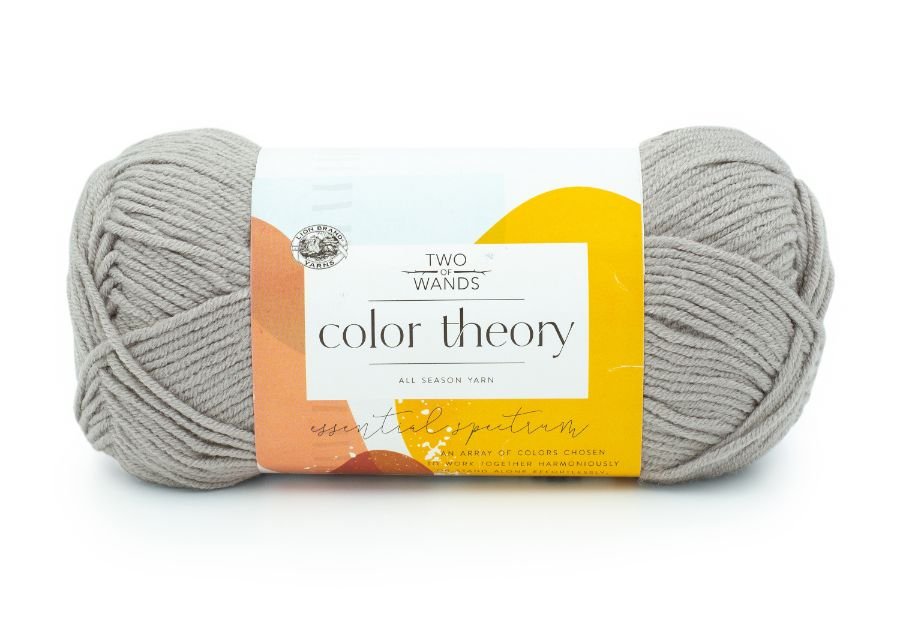 GAUGE
24 sts + 32 rows = 4"/10cm in garter stitch mosaic knitting
FINISHED DIMENSIONS
(A) Width: 2.5"/6.5cm
(B) Length: 56"/142cm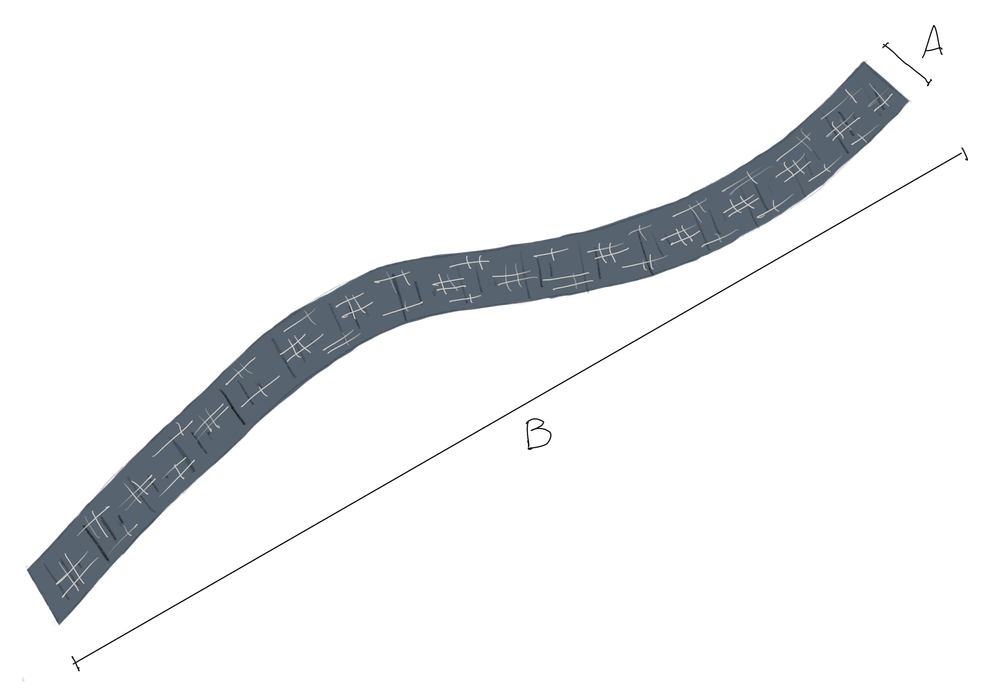 ABBREVIATIONS
*All Two of Wands patterns are written in standard US terms.
CO – cast on
K – knit
Rep – repeat
RS – right side
Sl – slip
St(s) – stitch(es)
WS – wrong side
Wyib – with yarn in back
Wyif – with yarn in front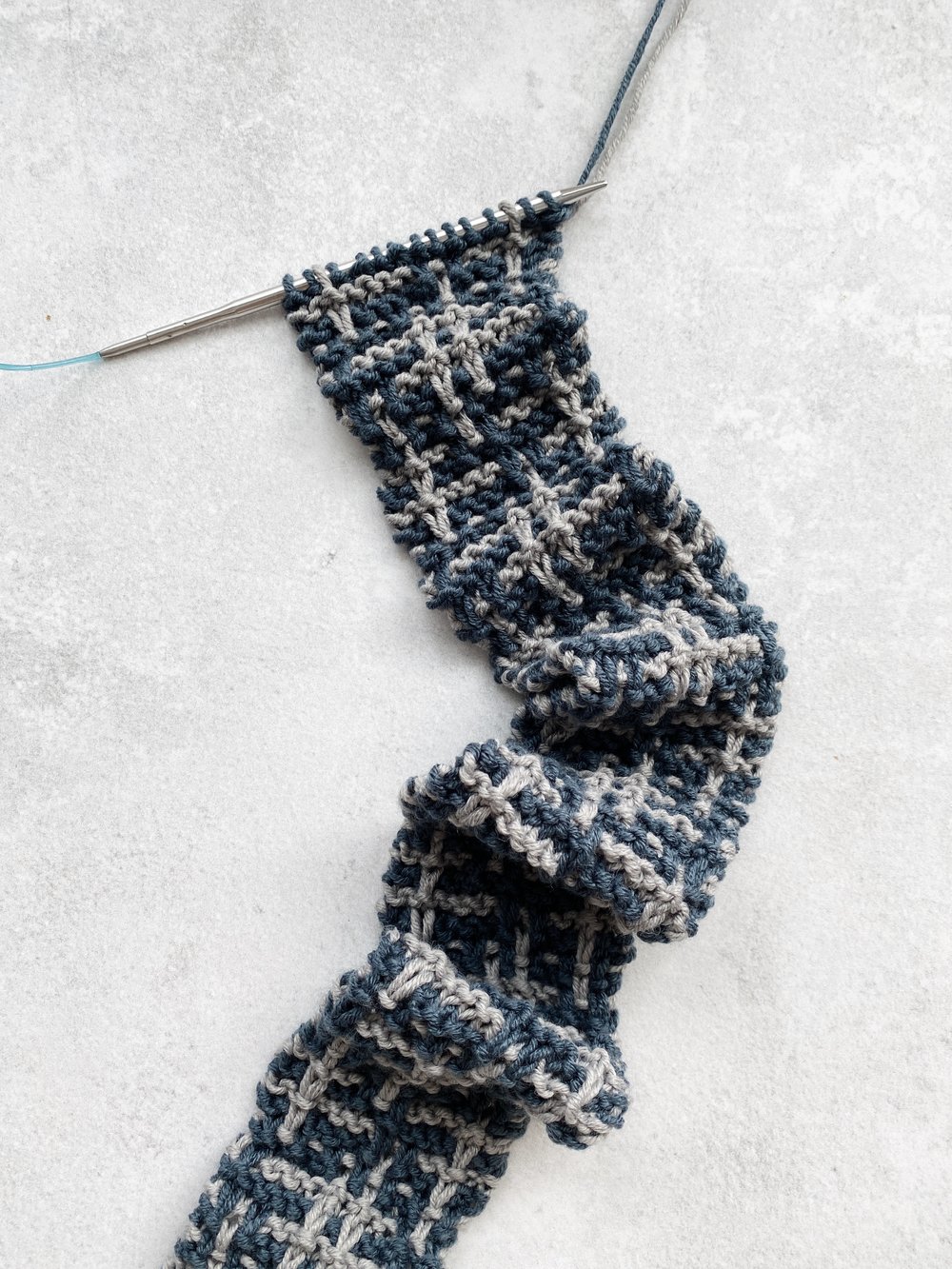 Notes: Tie is worked in mosaic knitting, which is a slip stitch technique using two colors. The color worked as the first stitch of the row is considered the dominant color. Each dominant color of the chart is knit, while the contrast color is slipped. Mosaic knitting can be worked in stockinette or garter stitch, but for the purposes of this pattern it will be worked in garter stitch. Chart is read from right to left on RS rows and left to right on WS rows. All sts are slipped purlwise with yarn either in back on RS rows or in front on WS rows.
Pattern:
With color A, CO 15 sts.
Set up: K 2 rows with color A.
Change to color B.
Begin chart:
Row 1 (RS): K 7, sl 1, K 1, sl 1, K 5.
Row 2 and all WS rows: K each dominant color and sl each contrast color.
Change to color A.
Row 3: K 2, sl 1, K 5, sl 1, K 3, sl 1, K 2.
Change to color B.
Row 5: *K 1, sl 1, rep from * to last st, K 1.
Change to color A.
Row 7: K 6, sl 1, K 1, sl 1, K 3, sl 1, K 2.
Change to color B.
Row 9: K 1, sl 1, K 9, (sl 1, K 1) twice.
Change to color A.
Row 11: K 6, sl 1, K 1, sl 1, K 6.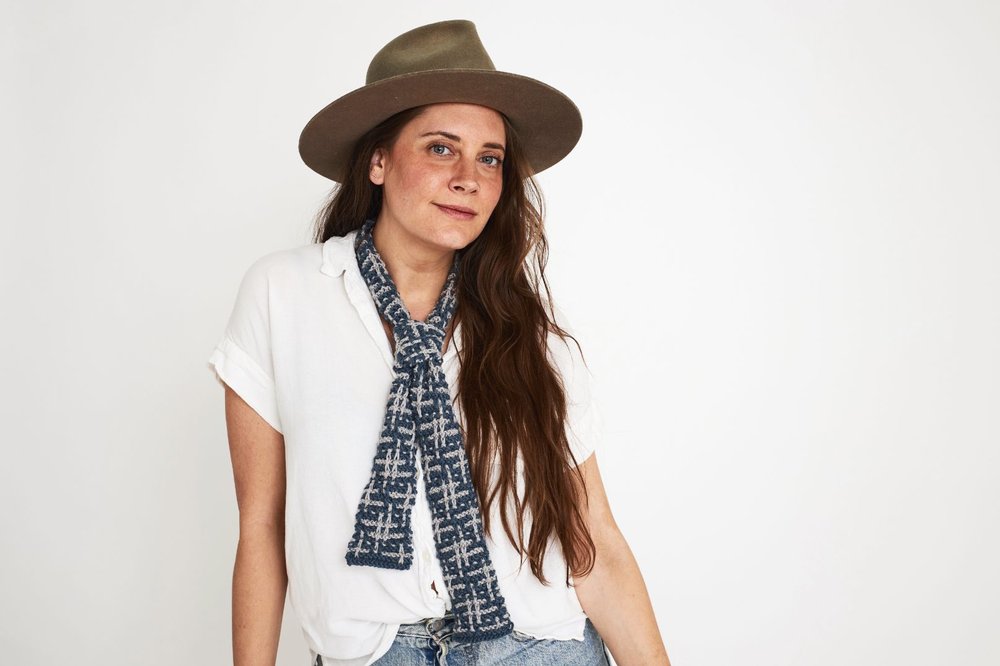 Change to color B.
Row 13: (K 1, sl 1) twice, K 9, sl 1, K 1.
Change to color A.
Row 15: K 2, sl 1, K 3, sl 1, K 1, sl 1, K 6.
Change to color B.
Row 17: *K 1, sl 1, rep from * to last st, K 1.
Change to color A.
Row 19: K 2, sl 1, K 3, sl 1, K 5, sl 1, K 2.
Change to color B.
Row 21: K 5, sl 1, K 1, sl 1, K 7.
Change to color A.
Row 23: K 2, sl 1, K 9, sl 1, K 2.
Rows 25-432: Rep chart rows 1-24, 17 more times.
Finish: K 1 more row with color A. Bind off.
Secure and weave in all ends.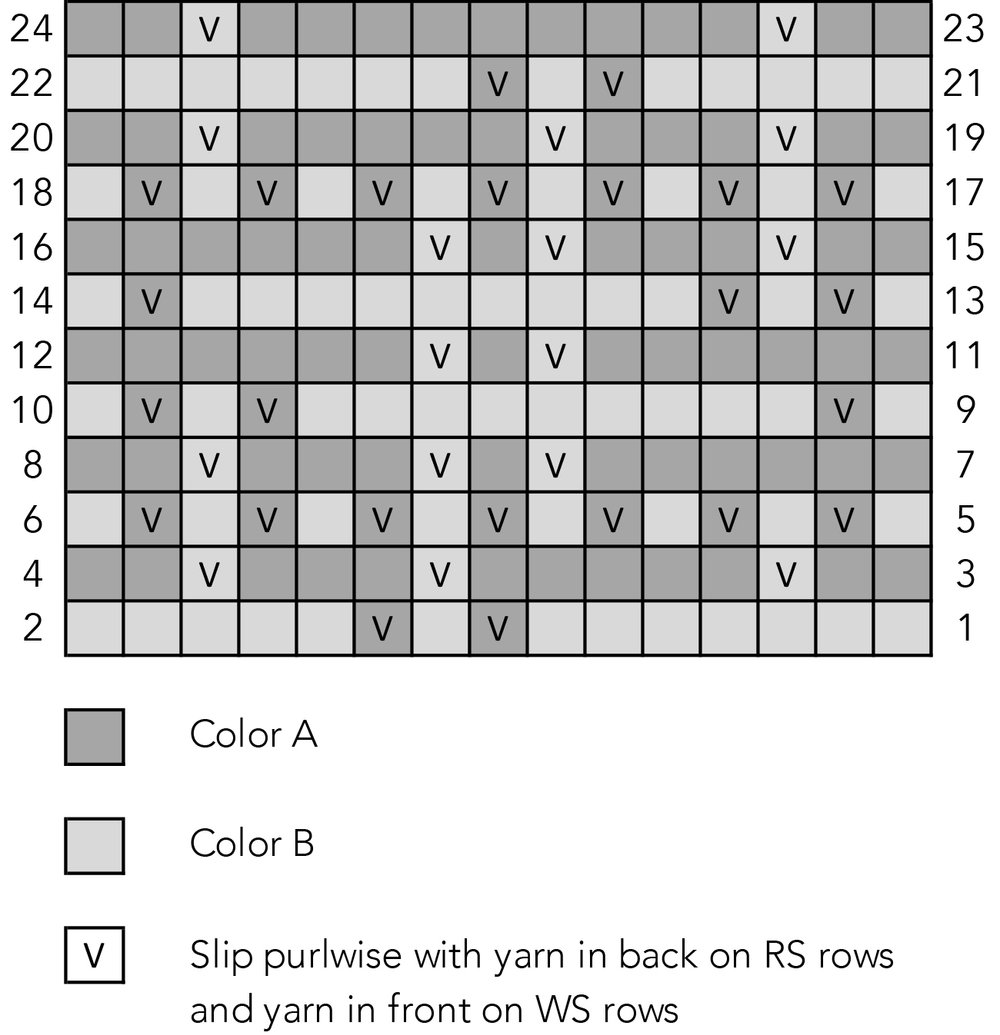 ---
Purchase the printable, ad-free pattern here.
Purchase the kit from Lion Brand here.
Don't forget to share your projects made using Two of Wands patterns on Instagram with the hashtag #crewofwands to get featured on my page and be in the running for monthly pattern giveaways!
Join the Crew of Wands Facebook group to connect with other makers of Two of Wands patterns for help with techniques and pattern related questions.
The patterns and photographs of items on this site are the property of Two of Wands and are for personal, non-commercial use only. These patterns files are protected by US copyright, and you may not distribute or sell them electronically or physically. Small batch sales of finished pieces made from these patterns are permitted, but seller must use their own photographs and credit must be given to Two of Wands as the designer.