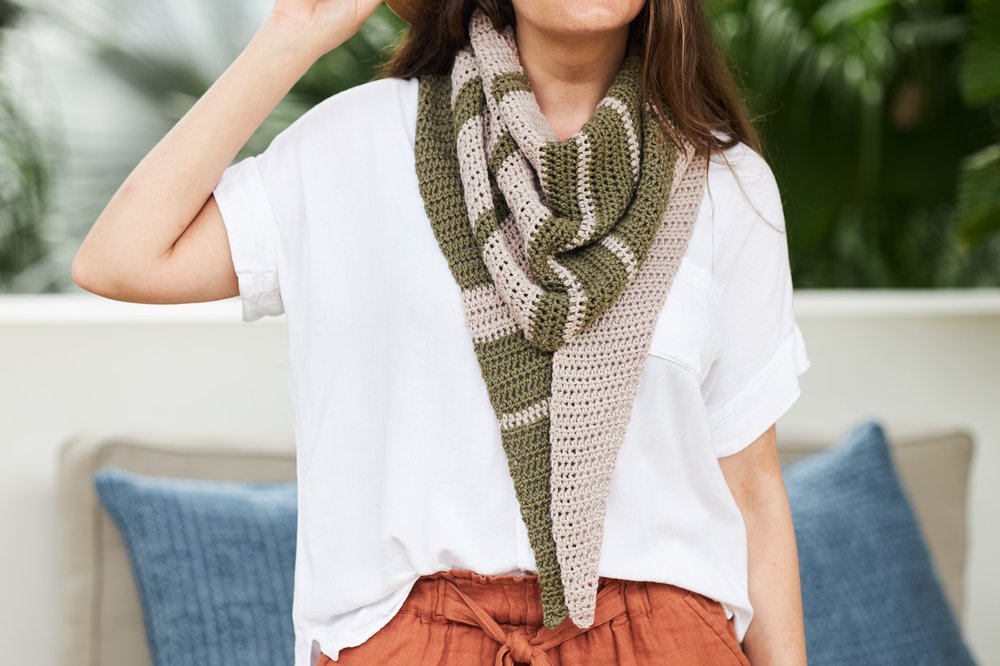 THE OPPOSITES ATTRACT KERCHIEF IS AN EXCLUSIVE PATTERN MADE IN MY BRAND NEW YARN, COLOR THEORY, PRODUCED IN PARTNERSHIP WITH LION BRAND YARN. LEARN MORE ABOUT THE YARN AND COLLABORATION HERE!
Dueling stripes and color blocking adds a split personality to this chic otherwise minimalist kerchief. Wrap it in a variety of ways to show off the different sides. Scroll down for the free pattern, purchase a printer-friendly PDF of the Opposites Attract Kerchief pattern, or purchase the kit with all the Color Theory yarn you'll need!
This project is probably the most satisfying of all 12 designs launching with Color Theory Yarn. Watching it gradually grow in width and then taper back down is so fun, and the uneven striping breaks up the basic repetitive pattern to keep it interesting and make you excited to keep going.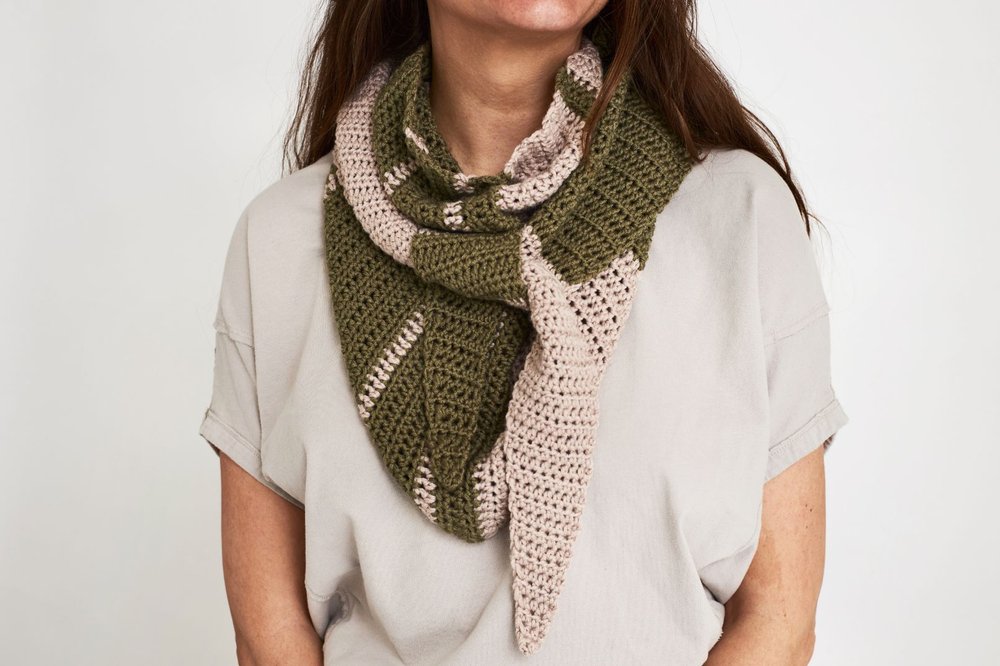 While there are several other two-color projects in the collection, this one really allows each hue to shine and the sharp contrast of the bold striping makes them pop even more. This design would also look fab with two monochromatic colors for a more subtle, faded look.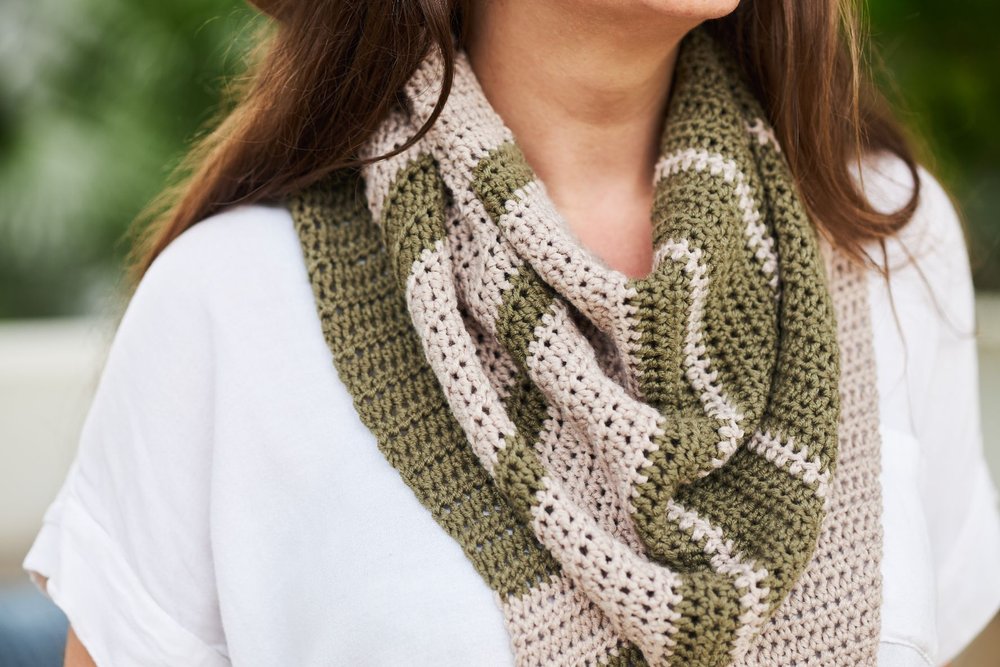 I wanted this piece to be appropriate for spring, so I went against my typical "bigger is always better" sense and kept the dimensions of this one on the petite side. The fabric drapes so beautifully and I can see myself making this in several more colorways!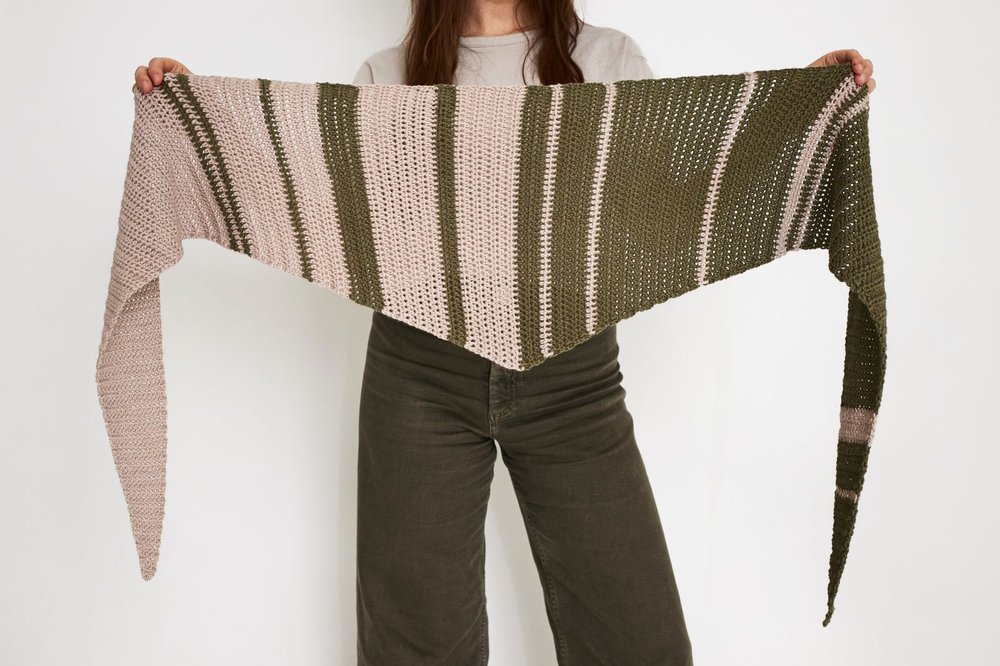 This is a beginner level crochet pattern and the techniques involved are half double crochet, hdc2tog, and changing colors.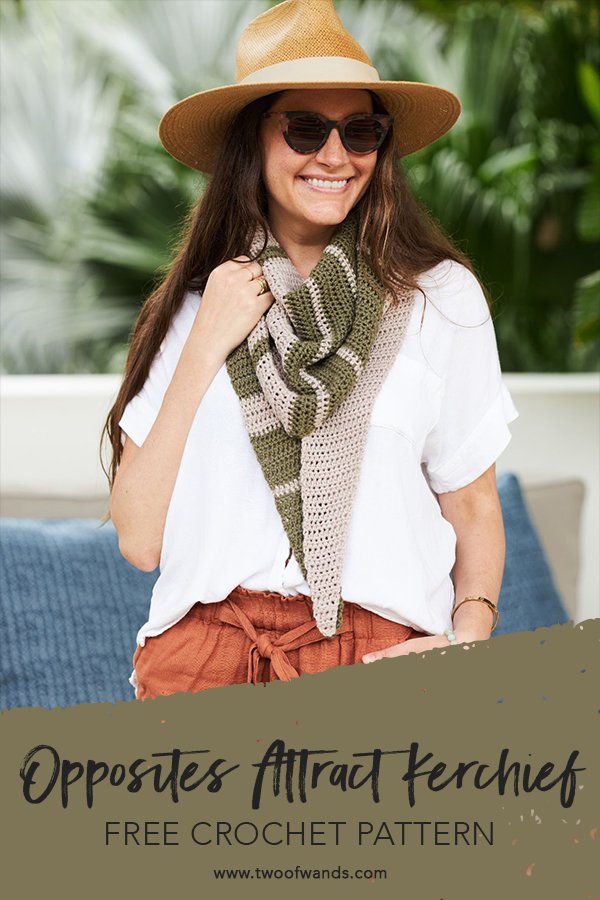 MATERIALS
1 skein each Lion Brand Color Theory in Bone (619-122X) for color A and Caper (619-173AE) for color B
(worsted, weight 4; 246yds/225m per skein)
Size US I/9 (5.5mm) crochet hook
Tapestry needle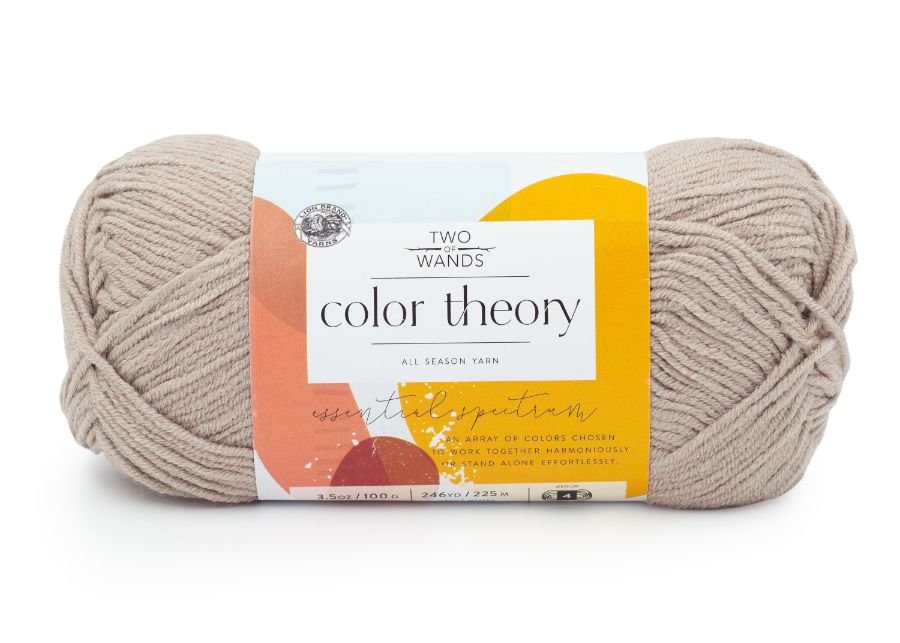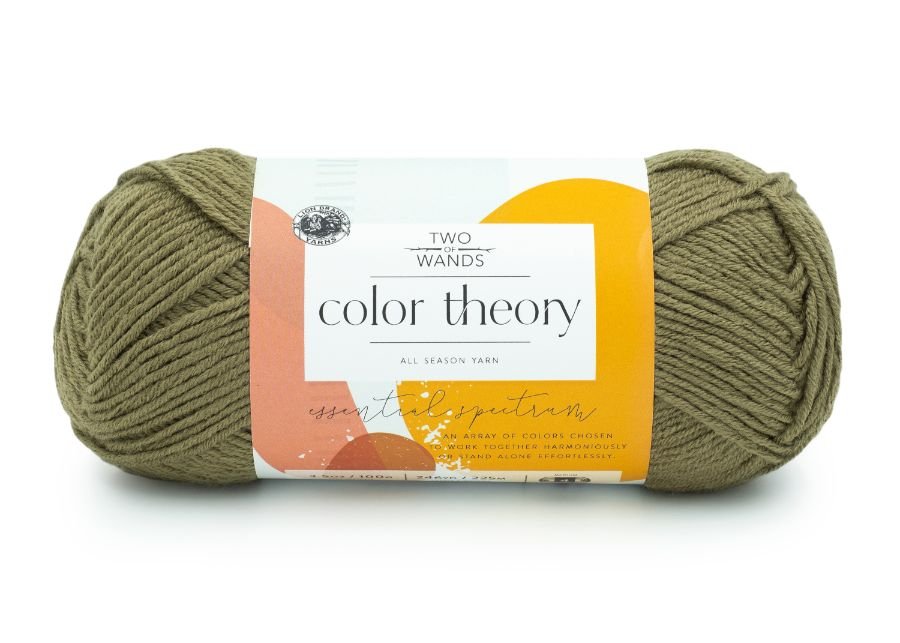 GAUGE
16 sts + 11 rows = 4"/10cm in half double crochet
FINISHED DIMENSIONS
(A) Length end to end: 74.5"/189cm
(B) Widest point: 13.25"/34cm

ABBREVIATIONS
*All Two of Wands patterns are written in standard US terms.
Ch – chain
Hdc – half double crochet
Hdc2tog – half double crochet 2 together
Rep – repeat
St(s) – stitch(es)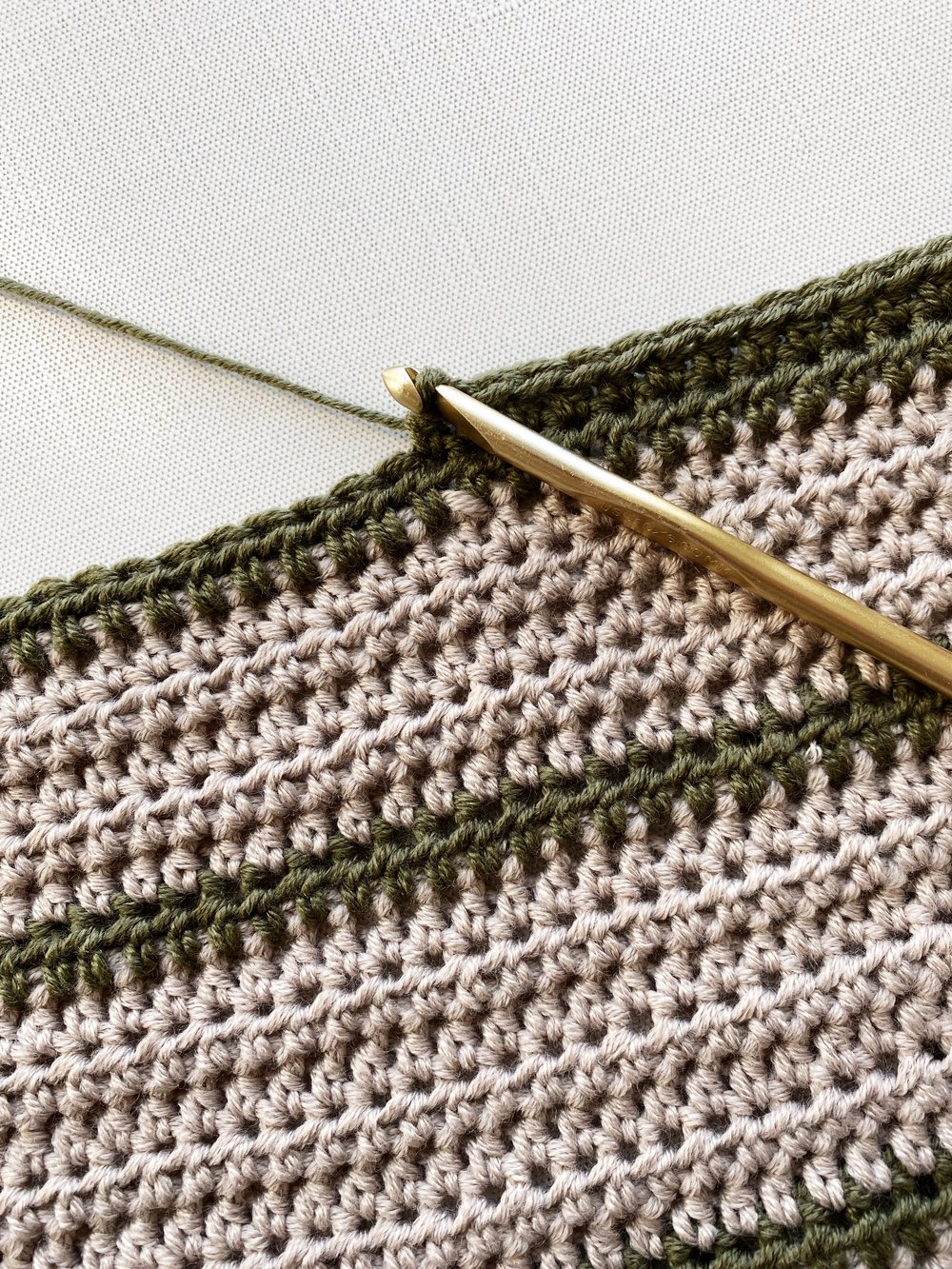 Notes: Kerchief is worked flat side to side, first increasing by one stitch every other row to the widest point, then decreasing every other row to the opposite end. Turn at the end of each row. To change color, work the final yarn over of the last stitch of the previous row in the new color. Tapestry crochet can be used to carry the alternate color on single row stripes to reduce the number of ends to weave in. To do so, lay the alternate color on top of the row below and crochet over it.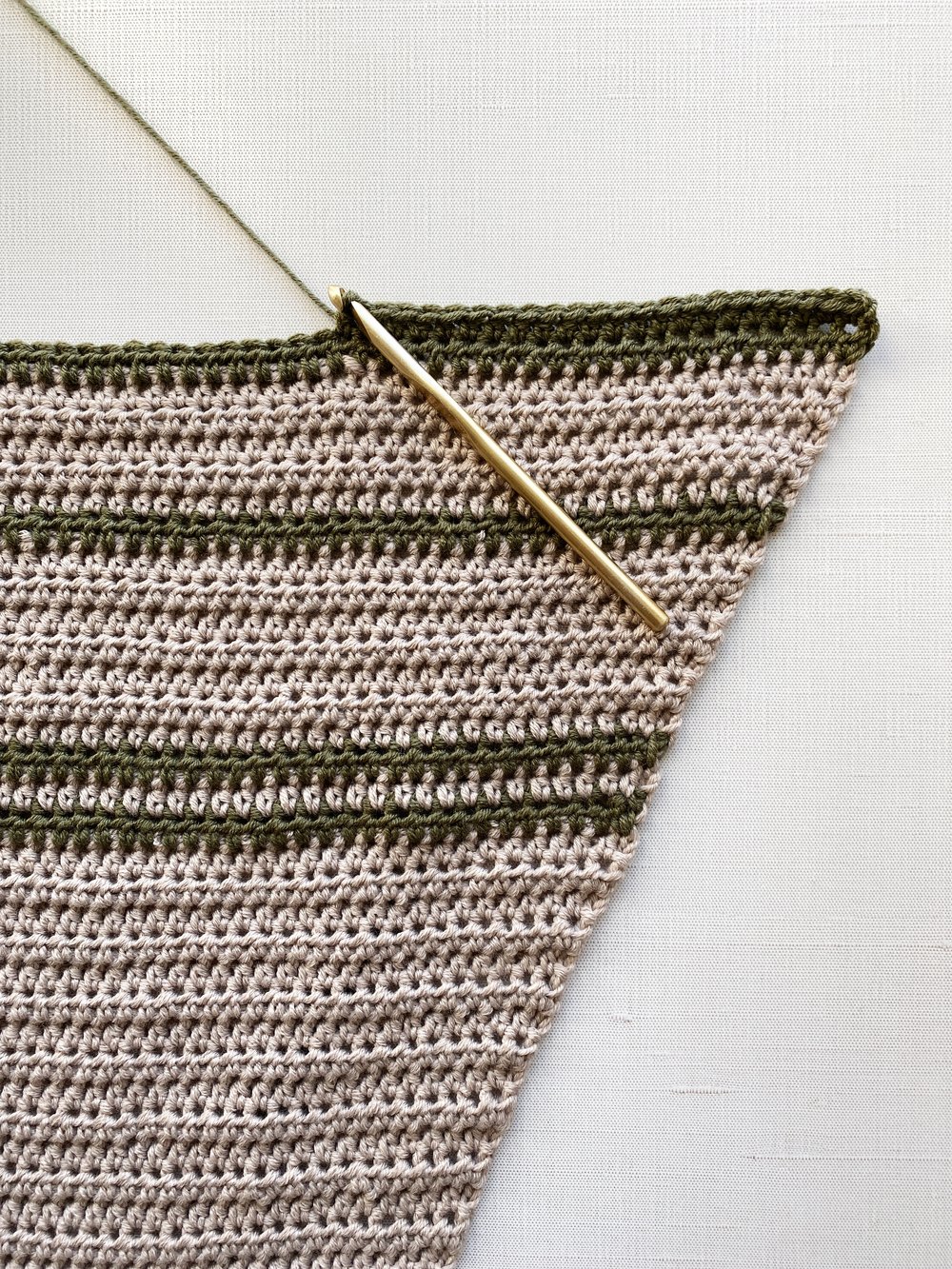 With color A, ch 3.
Begin increase rows:
Row 1: 2 hdc in 3rd ch from hook. (2 sts)
Row 2: Ch 2 (does not count as st here and throughout), hdc, 2 hdc in last st. (3 sts)
Row 3: Ch 2, hdc across row.
Row 4: Ch 2, hdc to last st, 2 hdc in last st. (4 sts)
Rows 5-102: Rep rows 3 and 4, changing colors as follows:
Rows 5-65: Color A (34 sts)
Row 66: Color B (35 sts)
Row 67: Color A (35 sts)
Row 68: Color B (36 sts)
Rows 69-75: Color A (39 sts)
Row 76: Color B (40 sts)
Rows 77-81: Color A (42 sts)
Rows 82-85: Color B (44 sts)
Rows 86-93: Color A (48 sts)
Rows 94+95: Color B (49 sts)
Rows 96-102: Color A (53 sts)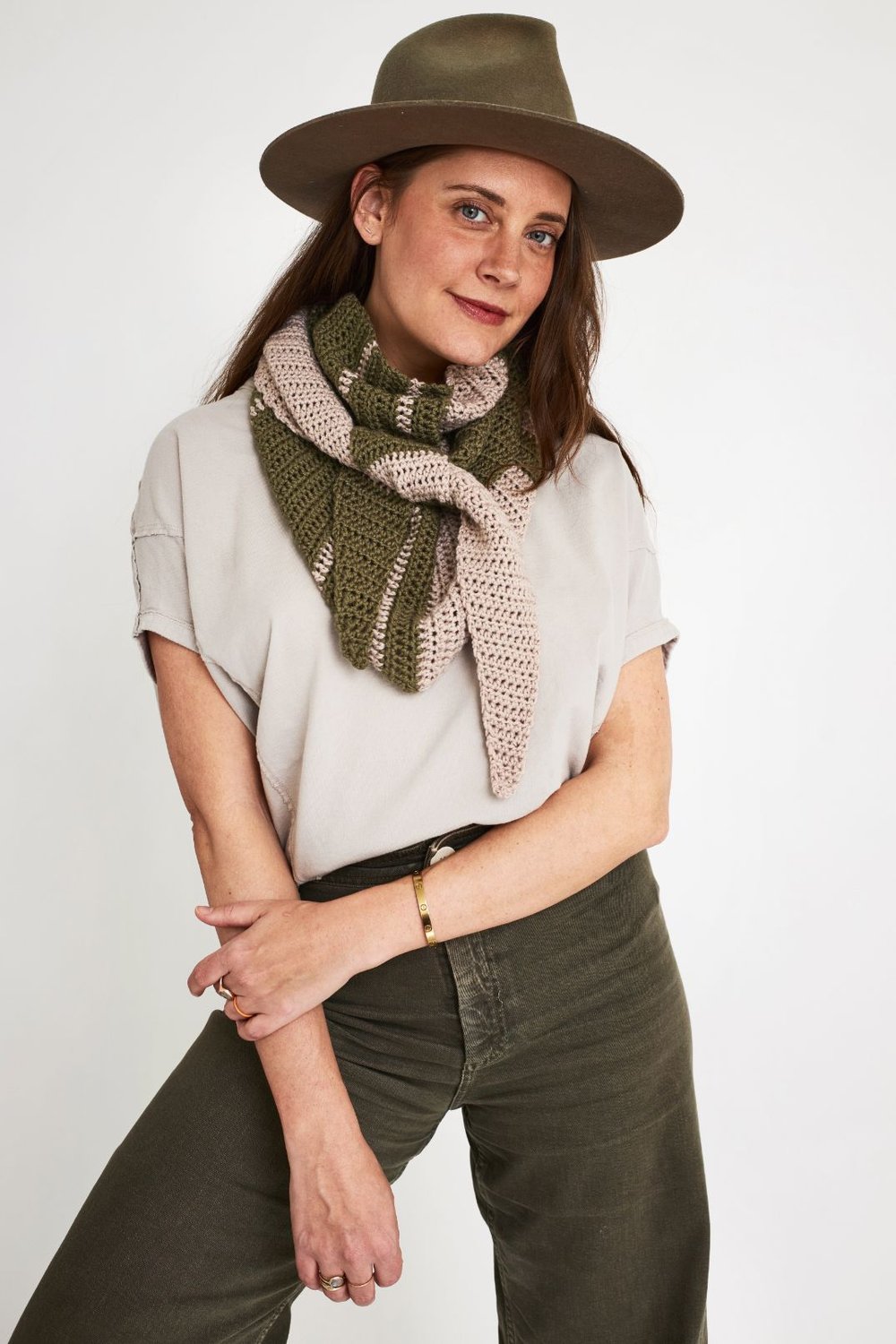 Begin decrease rows:
Change to color B.
Row 103: Ch 2, hdc2tog, hdc to end of row. (52 sts)
Row 104: Ch 2, hdc across row.
Rows 105-204: Rep rows 3 and 4, changing colors as follows:
Row 105: Color B (51 sts)
Row 106: Color A (51 sts)
Rows 107-111: Color B (48 sts)
Row 112: Color A (48 sts)
Rows 113-125: Color B (41 sts)
Row 126: Color A (41 sts)
Rows 127-135: Color B (36 sts)
Rows 136+137: Color A (35 sts)
Row 138: Color B (35 sts)
Row 139: Color A (34 sts)
Rows 140-173: Color B (17 sts)
Rows 174-177: Color A (15 sts)
Rows 178-183: Color B (12 sts)
Row 184: Color A (12 sts)
Rows 185-204: Color B (2 sts)
Row 205: Hdc2tog. (1 st)
Fasten off. Secure and weave in all ends.
---
Purchase the printable, ad-free pattern here.
Purchase the kit from Lion Brand here.
Don't forget to share your projects made using Two of Wands patterns on Instagram with the hashtag #crewofwands to get featured on my page and be in the running for monthly pattern giveaways!
Join the Crew of Wands Facebook group to connect with other makers of Two of Wands patterns for help with techniques and pattern related questions.
The patterns and photographs of items on this site are the property of Two of Wands and are for personal, non-commercial use only. These patterns files are protected by US copyright, and you may not distribute or sell them electronically or physically. Small batch sales of finished pieces made from these patterns are permitted, but seller must use their own photographs and credit must be given to Two of Wands as the designer.