The temperature is starting to feel cold outside, and that means Christmas is just around the corner. I really miss the twinkling lights, beautiful garlands, and Christmas trees in almost every place I pass. The happiness that each Christmas decoration brings, adds to the holiday cheer and enlivens the atmosphere. This year's Christmas I want to start from the first thing people see when passing in front of the house, especially decorating the veranda or yard during this festive season is as exciting as opening presents in the morning.
There are lots of ways to decorate your outdoor space with a beautiful Christmas display. Creative touches on every part of the outside of the house will make your residence look inviting and friendly to your guests. So in this post, I want to inspire you with some of the prettiest outdoor Christmas decoration ideas that will definitely make your Christmas even more memorable for years to come.
1. Outdoor Christmas tree
Adding a Christmas tree as part of the room decoration is commonplace, but what about when you want to put it outside? If you want everyone who sees it to feel like Christmas, keep a Christmas tree on your patio, yard, or garden. Try to decorate it with weather-resistant ornaments and natural shades so that it lasts throughout the holiday season.
2. Outdoor Christmas lighting
Liven things up with some colorful string lights on the roof. Small white lights are very popular and give a lovely winter feel. However, you can also choose other lighting colors for a more festive look. If you want the outdoors to look brighter, bathe your home in golden light with a wreath surrounded by LED Christmas lights.
3. Front door
The front door is the first thing your guests see when entering your home. So, decorate this part of the front door with natural Christmas wreaths or ornaments. You can also jazz it up with flashy ornaments in bright colors like red, gold and silver to give it a different feel.
4. Christmas garden and yard
You can also expand your Christmas decorations from the porch, yard, to garden. It can be anything you want, and I highly recommend making some DIY projects as well as being a fun activity during the holidays. Take advantage of used pallets or old items and decorate them with ornaments or LED Christmas lights. You can even choose Christmas ornaments in the form of woven balls filled with lights, buckets with Christmas trees, or pallet boxes decorated with pinecones.
5. Outdoor Christmas windows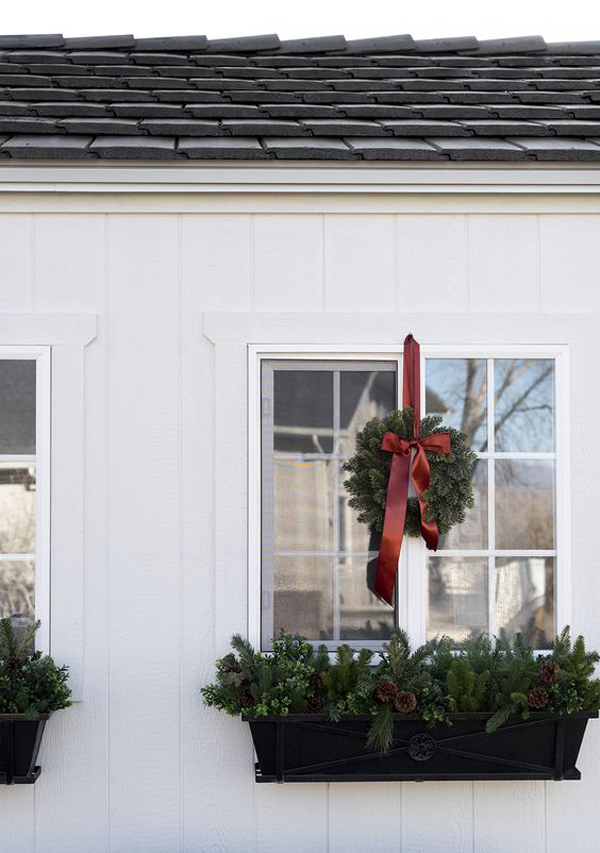 One thing you shouldn't miss at Christmas is decorating your outdoor windows. You can use flower garlands to add appeal. Also consider adding seasonal green plants to your window boxes. One idea is to hang a wreath with ribbon for a fresh, natural look.
6. Christmas porch
Christmas is one of the most beautiful holidays of the year. So, Christmas decorations should be as beautiful as outdoor decorations. You can be totally enchanted with fairy lights, a door wreath on your patio door, twinkling fairy lights, comfy patio chairs and so much more. Your terrace will look stunning while radiating the warm Christmas spirit.
7. Christmas mailbox
Don't forget the simple Christmas mailbox! Give your guests a warm welcome by adding a touch of Christmas to your mailbox. Just a few pine needles on a wire, along with red accents and pinecones, your Christmas will be even more perfect.
The post 7 Pretty Ways To Make Outdoor Christmas Decor first appeared on HomeMydesign.