Stripes are coming in hot for Spring/Summer 2022 from walls to floors, ceilings to accessories. OYOY Living Design just launched a large collection of outdoor planters (see image with tip 6 below) and in the press release, I noticed all of their latest products for the home and instantly spotted a trend – STRIPES. And well, you know how it goes… When someone tells you not to look for a red truck, that's all you see. Now, I'm seeing stripes all over, from many of the brands here in Europe, and also in Australia and the United States, and realized they are truly a trend for the Spring and Summer season – so let's talk about how to use them in the home.
Personally, I've always loved a good stripe. They're a lovely way to play tricks in design since they can be used to visually expand a space as they'll stretch the appearance of walls, ceilings and floors either vertically or horizontally, depending on the direction in which you apply them:
Horizontal stripes elongate the room and make it feel wider.
Vertical stripes may ceilings appear taller and create the illusion of height and drama.
Wood paneling, wood applied to ceilings, paneling on walls, beamed ceilings… Consider the direction that they are installed because this makes a huge difference visually to any space. Also, the direction in which you lay your wood plank flooring matters precisely for this reason too, if you run the planks vertically, they will make the hallway appear longer, but more narrow. If you run the planks horizontally, they will give the illusion that the hallway is shorter but wider than it is. When I had my Eco-friendly wood floors installed in my current space, one of the questions I had to consider was the direction I wanted the flooring installed. I had to sleep on it, because it was quite a difficult choice to make, especially when the job was priced at around 15K.
Stripes as decor add personality and, depending on color, can be classy (think black and white), sophisticated (metallic gold and cream), playful (rainbow stripes or yellow and white for example) or Summer-y like a day at the beach (think blue and white which is synonymous with coastal living). I believe that stripes are loved by all, I've never met a person who hated stripes but I've met many who won't go near a floral pattern to save their life. Also, stripes are very democratic, they are good for all people, all backgrounds, cultures, budgets, tastes… For instance, they're great for the minimalist because they help to break up a monochromatic space so it goes from clinical to cozy, and for the maximalist, stripes are a great way to inject power, joy, and confidence. You can also easily DIY a good stripe as art work or with fabric paint on linen to create a pillow. Easy peasey!
Here are 10 simple ways to use stripes in your home decor right away – let me know which ones that you like the best:
CERAMIC ACCENTS. Lamps, vases, bowls, etc. I love this black and white stripe lamp from OYOY, so classic!
2. BINS AND STORAGE. Stripes can be as subtle as a woven basket – a trash can, laundry bin, storage containers, etc.
3. PILLOWS. Naturally, cushions are the first thing we think about when we want to add stripes to our decor. But did you know that the width of stripes matter? A thin stripe is more understated and can mix well with other stripes that are wider, for instance, A thick stripe can be bold and make a statement, think of awnings or table umbrellas.
4. RUGS. Striped rugs are always in style, I've had them in my home since I was a child. They are classic, like a good pair of denim jeans or a white button up blouse.
5. NATURE-INSPIRED. Stripes can also be part of an animal, plant, or insect pattern, like a zebra or the shell of a snail. Even plant leaves can have striped patterning on them. In this way, you can play with stripes, too.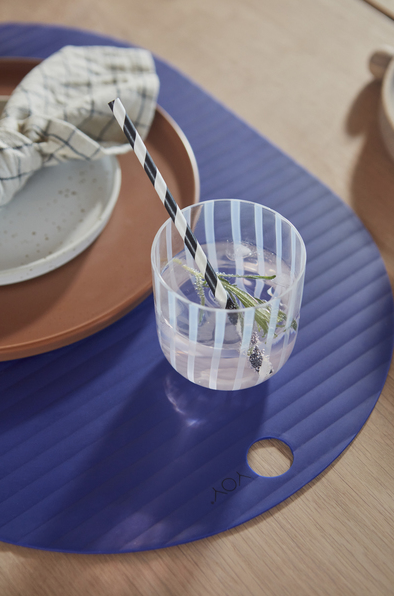 6. POTTERY AND GLASS. You may even have stripes that are so subtle, they could be missed, but they still add to the overall scheme of the room – for instance ridged glass vases, ceramics and pottery with lines in them, or plant pots with raised lines as part of the overall design.
7. WALLS. Stripes in your art work, or in this case, a woven hanging, is also a nice way to incorporate them in a fresh, modern way. They can even be part of the architecture or something that you add in later, like installing beams into your ceiling to create a more rustic look, or wood paneling for your lakeside cottage.
8. BEDDING. Stripes are fun to mix together too in the bedroom where you can also bring in solids, checks, floral, or even tactile fabrics like velvet or natural suede and leather, or sheepskin… The key is to make sure everything is in the same color family and to mix up your scale (see the bed below). One pattern can be more dominant, the others a medium scale, and the rest can be small for instance. Imagine a large floral-patterned pillow mixed with a thick striped pillow (also large) – this can work because of the contrast, but then make your additional prints medium scale, so a thinner stripe or smaller floral. From there, work your way down to a very small floral or a check pattern. Again, just keep everything in the same color family and play with scale to create a stylish bed with lots of cozy layers.
9. TABLETOP. Stripes on your table work beautifully with plates that are solid, or if you want to get playful, with plates that have floral motifs or even check cloth napkins. Have fun!
10. TEA TOWELS. I love tea towels because they are both practical and decorative. I like to hang mine from pretty hooks in my kitchen wall to bring in pattern and color.
There you have it, 10 ways to add stripes to your decor today! Have fun and I'll see you again this week with more decor ideas and inspiration. And remember, all of these gorgeous products are from OYOY so check them out if you see anything that you love. I have several products from OYOY in my home, I started buying from them when they first launched many years ago and I've met them at the fairs in Germany and Denmark several times. This post is not sponsored and I received nothing for free – no gifts – from writing this article.
Photos: © 2021 OYOY Living Design A/S, with permission.
---
HAVE YOU HEARD MY LATEST EPISODE?