Casi estamos en invierno, y estamos muy emocionados por presentar nuestra ultima colaboración: We Are Knitters & Anthropologie. Siempre hemos sido muy fans de esta bonita marca americana. Siempre nos sorprende con sus diseños inesperados y distintos para nuestro armario y hogar, así que colaborar con ellos ha sido como un sueño hecho realidad.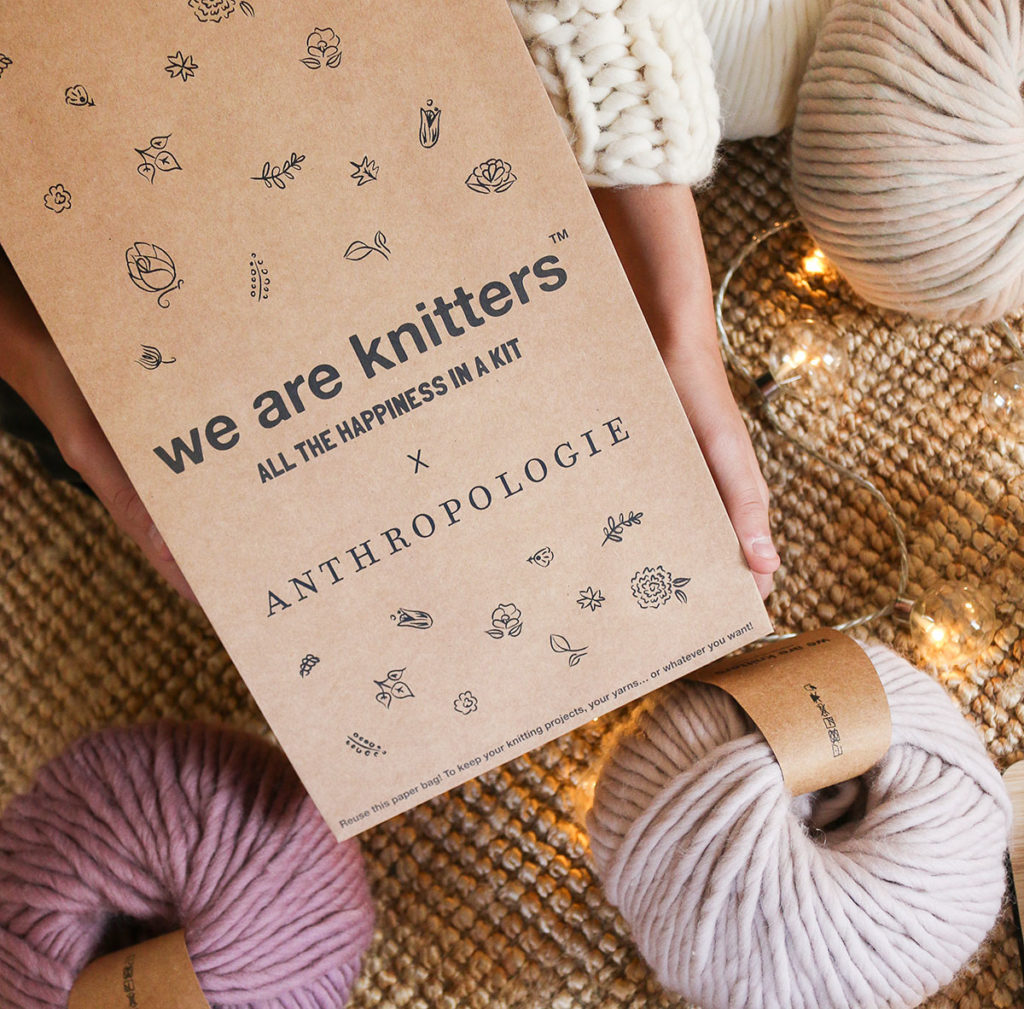 WAK x Anthropologie es la mezcla perfecta entre moda, estilo de vida y ese espíritu cálido y acogedor que buscamos durante los meses más fríos del año. El resultado han sido cuatro kits co-creados para tejer tus imprescindibles de invierno: dos gorros, una bufanda, y un cuello hechos con nuestra lana gorda. Como son de nivel principiante y fácil todos podéis tejerlos. Si, son el regalo perfecto para Navidad.
Los cuatro proyectos se presentan en una bolsa personalizada de We Are Knitters & Anthropologie, que da el toque easy-cool & boho chic perfecto que hace tan especial la marca Anthropologie.
Los cuatro kits son de edición limitada y solo estarán disponibles en
Anthropologie. Los cuatro kits también están disponibles en las siguientes
tiendas físicas en EEUU:
401 WAYNE, PA (NA)
402 BETHESDA (NA)
403 BEDFORD SQ, WESTPORT (NA)
406 NEWPORT BEACH, CA (NA)
407 SANTA MONICA, CA (NA)
408 CHICAGO AVE (NA)
410 BEVERLY HILLS, CA (NA)
411 SEATTLE,WA- U VILLAGE (NA)
414 BOSTON, MA NEWBURY (NA)
415 CHESTNUT HILL, MA (NA)
416 16TH & 5TH, NYC (NA)
417 ATLANTA, GA-LENOX SQU (NA)
418 PHILADELPHIA, PA (NA)
419 SEATTLE, WA-FIFTH AVE (NA)
422 SAN FRANCISCO, CA (NA)
424 CINCINNATI, OH (NA)
428 HOUSTON,TX-HIGHLND VG (NA)
433 THE GROVE, L.A., CA (NA)
435 PALO ALTO, CA (NA)
436 SAN JOSE, CA (NA)
443 DENVER, CO-CHERRY CRK (NA)
444 RICHMOND, VA (NA)
450 DALLAS,TX – NORTHPARK (NA)
451 DALLAS,TX-HIGHLAND PK (NA)
454 CHARLOTTE,NC SOUTHPRK (NA)
455 LONE TREE,CO-PARK MDW (NA)
459 PORTLAND, OR (NA)
462 SHORT HILLS, NJ (NA)
466 WASH, DC – GEORGETOWN (NA)
473 CARLSBAD, CA (NA)
483 SHREWSBURY, NJ (NA)
484 NASHVILLE, TN (NA)
488 INDIANAPOLIS, IN KYSN (NA)
491 TROY, MI (NA)
494 NYC – ROCKEFELLER CTR (NA)
497 CORTE MADERA, CA (NA)
501 AUSTIN, TX (NA)
505 BURLINGTON, MA MALL (NA)
509 GLENDALE CA AMERICANA (NA)
514 ROSEVILLE CA FOUNTAIN (NA)
516 SAN DIEGO FASHION VLY (NA)
523 DURHAM, NC SOUTHPOINT (NA)
528 TORONTO,ON YORKVILLE (NA)
539 NY, NY CHELSEA MKT (NA)
563 NYC, 3RD AVE AT 71 ST (NA)
567 WALNUT CREEK DIABLO (NA)
569 COSTA MESA S.COAST PL (NA)
1436 KING OF PRUSSIA (NA)
1439 BROADWAY AT FULTON (NA)
1443 CENTURY CITY, CA (NA)
Para nuestros amigos europeos, podéiis encontrarlos en Anthropologie en
Londres (158 Regent St.) y en Dusseldorf (Königsallee 78).
Estás leyendo el post We Are Knitters X Anthropologie appeared first on The Blog – ES.