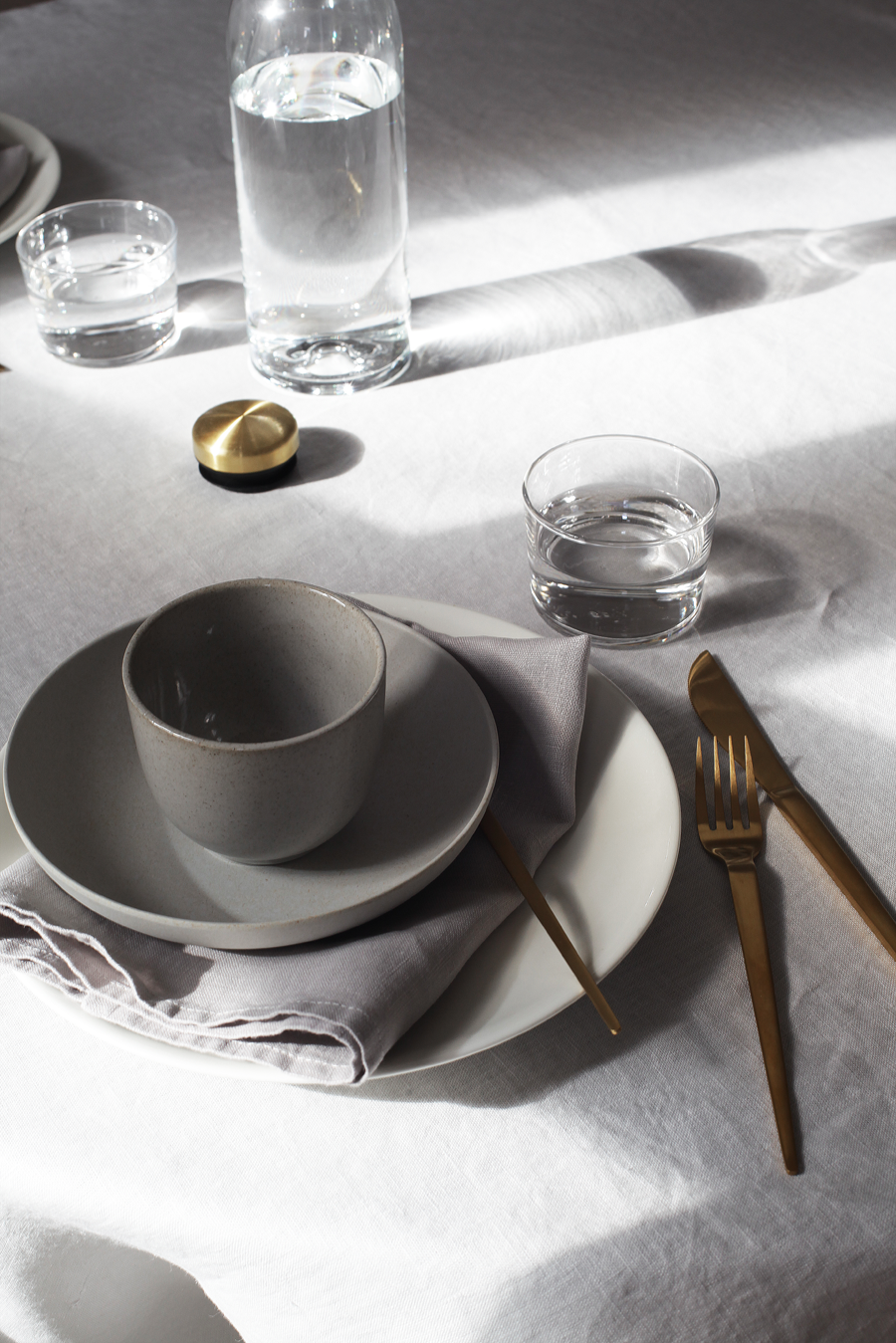 Annonse
I samarbeid med Ellos har jeg laget noen enkle tips til hvordan du kan bruke linservietter i borddekkingen. Anledninger til å dekke fine bord er det mange å ta av fremover utover våren og sommeren. Eller om du som meg synes søndagsfrokosten også er en anledning til å gjøre bordet ekstra fint. Ellos har et godt utvalg av både duker og servietter i forskjellige farger og direkte link til produktet finner du i teksten der det er beskrevet.
På det første bildet har jeg enkelt brettet servietten og lagt den mellom dekketallerken og en dyp tallerken. En fin måte å gjøre det på om du liker rene linjer og du heller vil ha fokus på serviset. Linserviett i fargen askegrå og duk i fargen kalkhvit. 
In collaboration with Ellos I want to inspire you on how to use linen napkins in your table setting. There are so many festive occations during spring and summer and hopefully you can get some tips from my ideas here.
In the first photo I have easily folded the napkin and placed it underneath the bowl. A nice way of doing it if you want to keep focus on your porcelain and in general prefer a clean look. Linen napkin in the color Ash Grey and table cloth in the color Chalk White.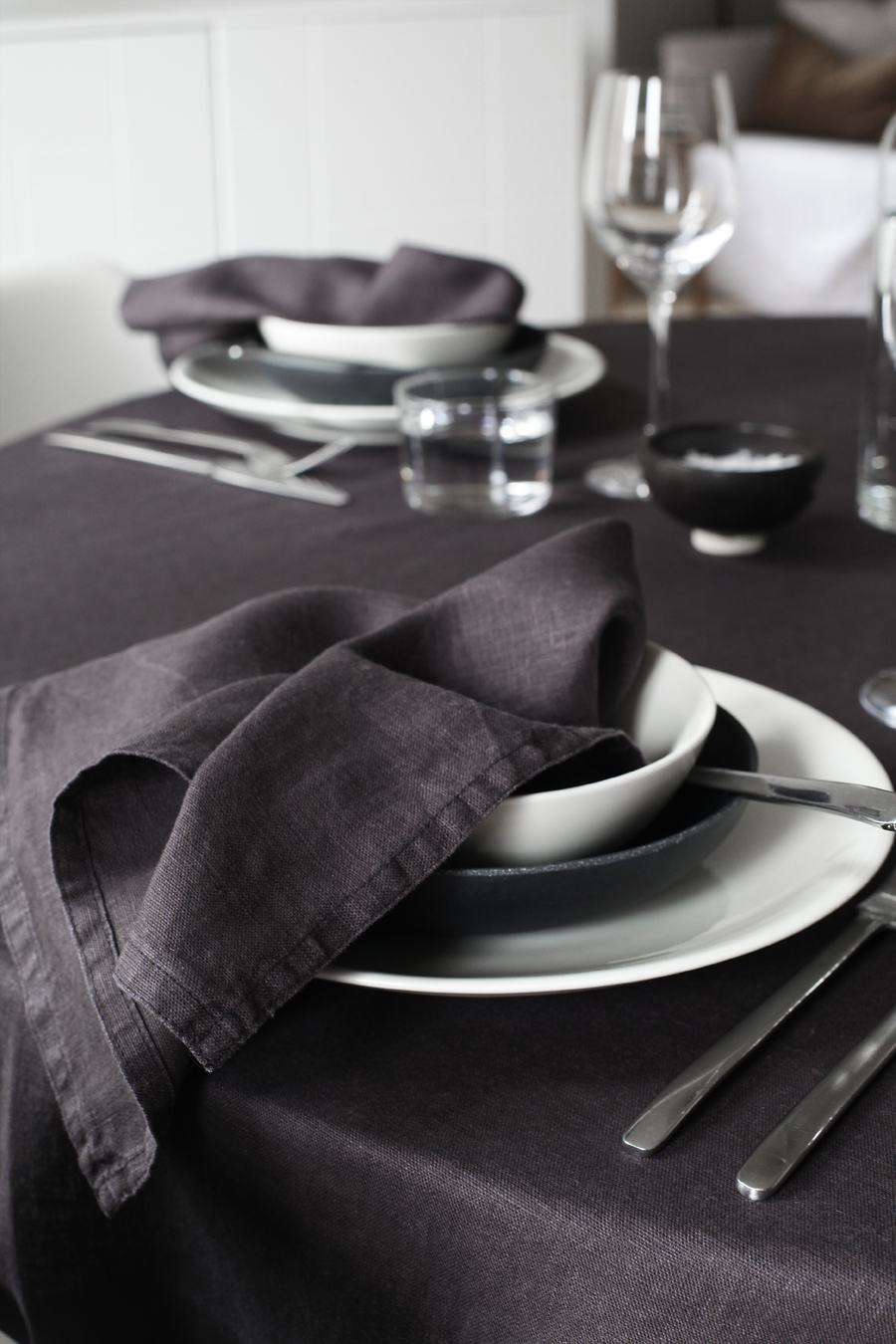 Med nystrøkne servietter er det enkelt å legge de pent over skålen slik som jeg har gjort på bildet over. Enklere får du det nesten ikke, men alikevel så dekorativt med myk lin som folder seg pent. Duk i fargen mørk grå og servietter i samme mørk grå farge, begge i 100% lin.
Newly ironed napkins folds naturally beautiful and here I´ve easily folded them into the bowl. Table cloth in the color Dark Grey and linen napkins in the same Dark Grey color.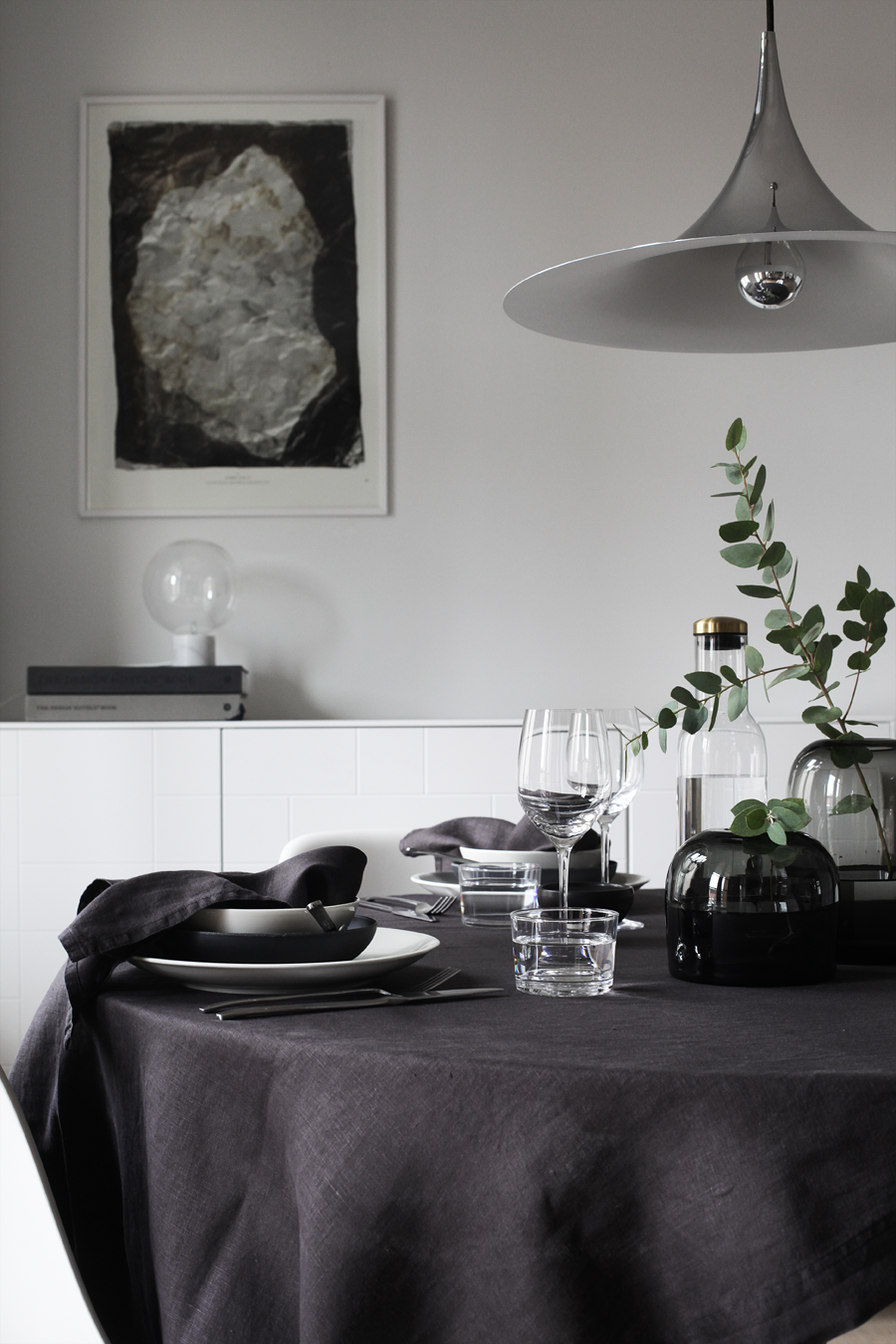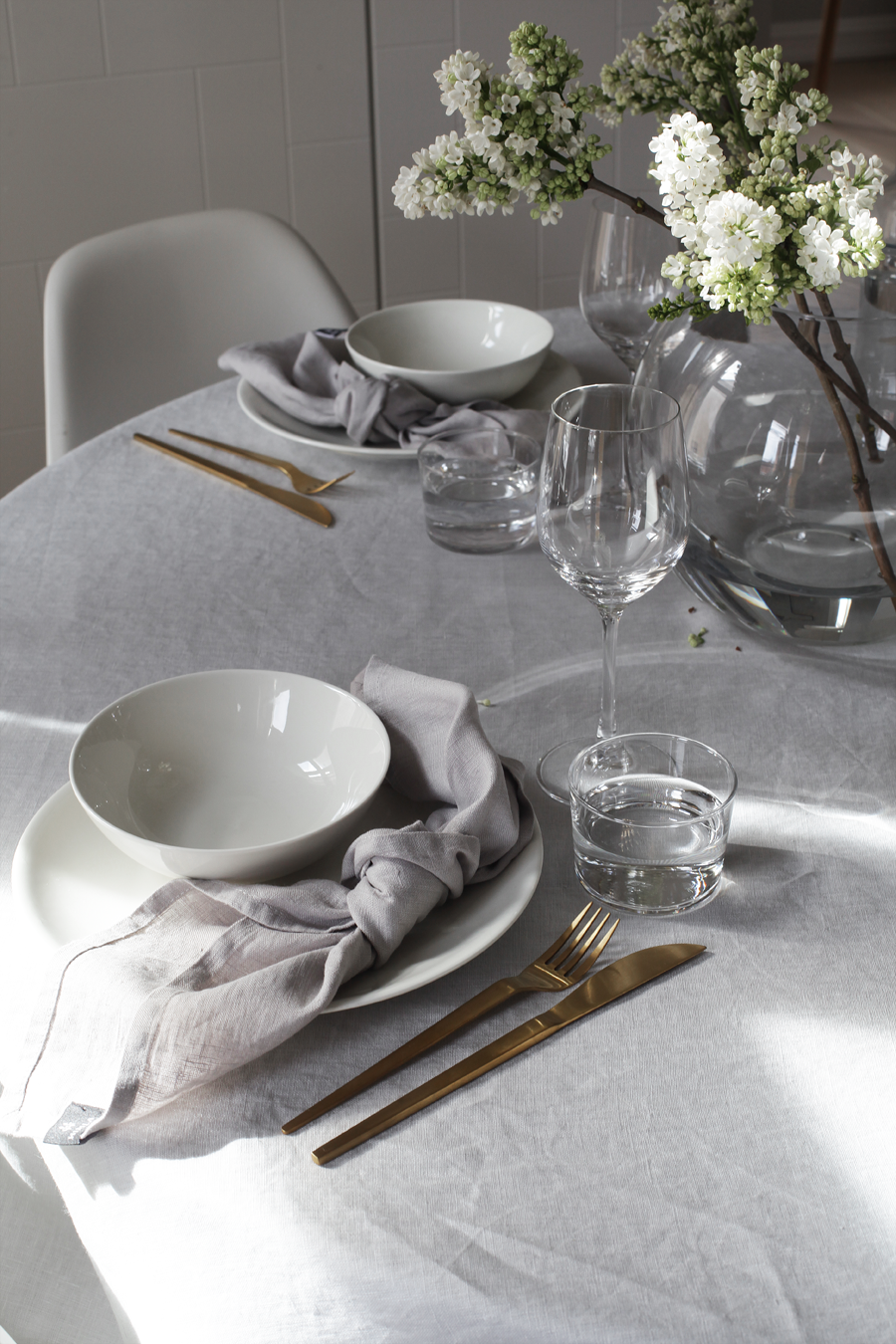 Til en finere anledning passer det godt med et bord i nyanser av hvitt. Serviettene har fått en dekorativ knute på midten og kan både plasseres på tallerken eller ved siden av. Serviett i fargen askegrå og duk i fargen kalkhvit. Begge i tynt vevet hellin.
For a more festive occation it´s beautiful with a table in light nuances. The napkins has gotten a knot and can both be placed on the plate or right next to it. Napkins in the color Ash Grey and table cloth in the color Chalk White.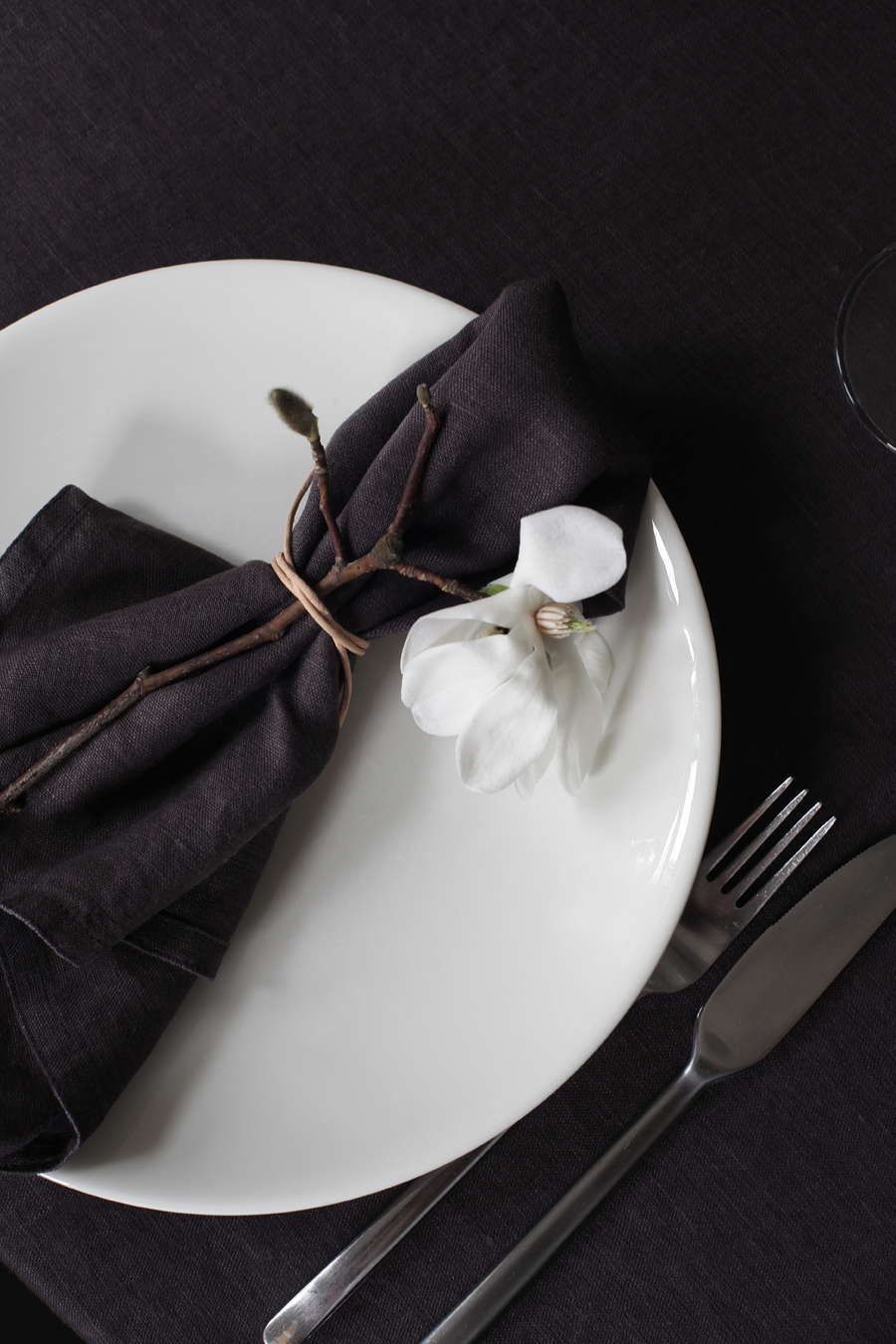 Med blomstring i alle bakgårder og hager finnes det så mye fint å dekorere bordet med, og inn under lærtråden har jeg stukket en liten magnoliakvist. Følg årstid og det som finnes akkurat nå, til 17.mai passer det kanskje med en liten bjørkekvist og et bånd i nasjonalfargene i stedet for lærtråden. Linserviett og duk i mørk grå.
A leather tie, some twine or whatever you have at home can easily be tied around the napkin. For extra decoration I´ve used a small twig of magnolia with it, whatever is in bloom at the moment will be a perfect fit. Linen napkin and table cloth in dark grey.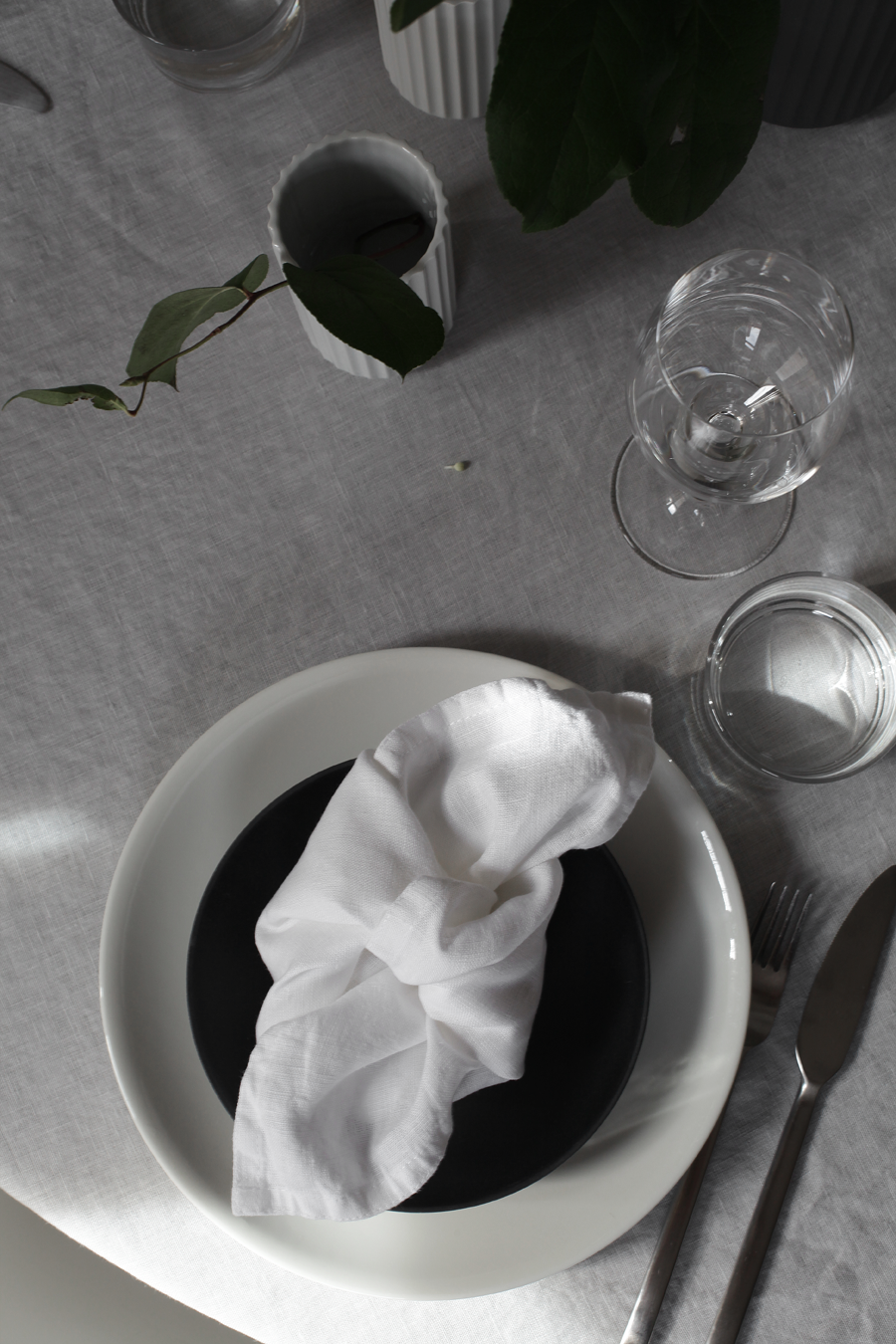 Til dåp eller bryllup er det often en liten kuvertgave til hver gjest og her har jeg brukt servietten som innpakning. Serviettene er store nok til å enkelt knyte de rundt en liten presang og det blir både dekorativt og fint. Her har jeg brukt hvite linservietter til den kalkhvite duken.
Are you planning a table setting for a wedding or a baptism you might also want to have a small gift for every guest on the table. Why not use the napkin to wrap the treat? Carefully fold the napkin around it and you have a decorative two-in-one on the plate. Here I´ve used white linen napkins toghether with the table cloth in Chalk White.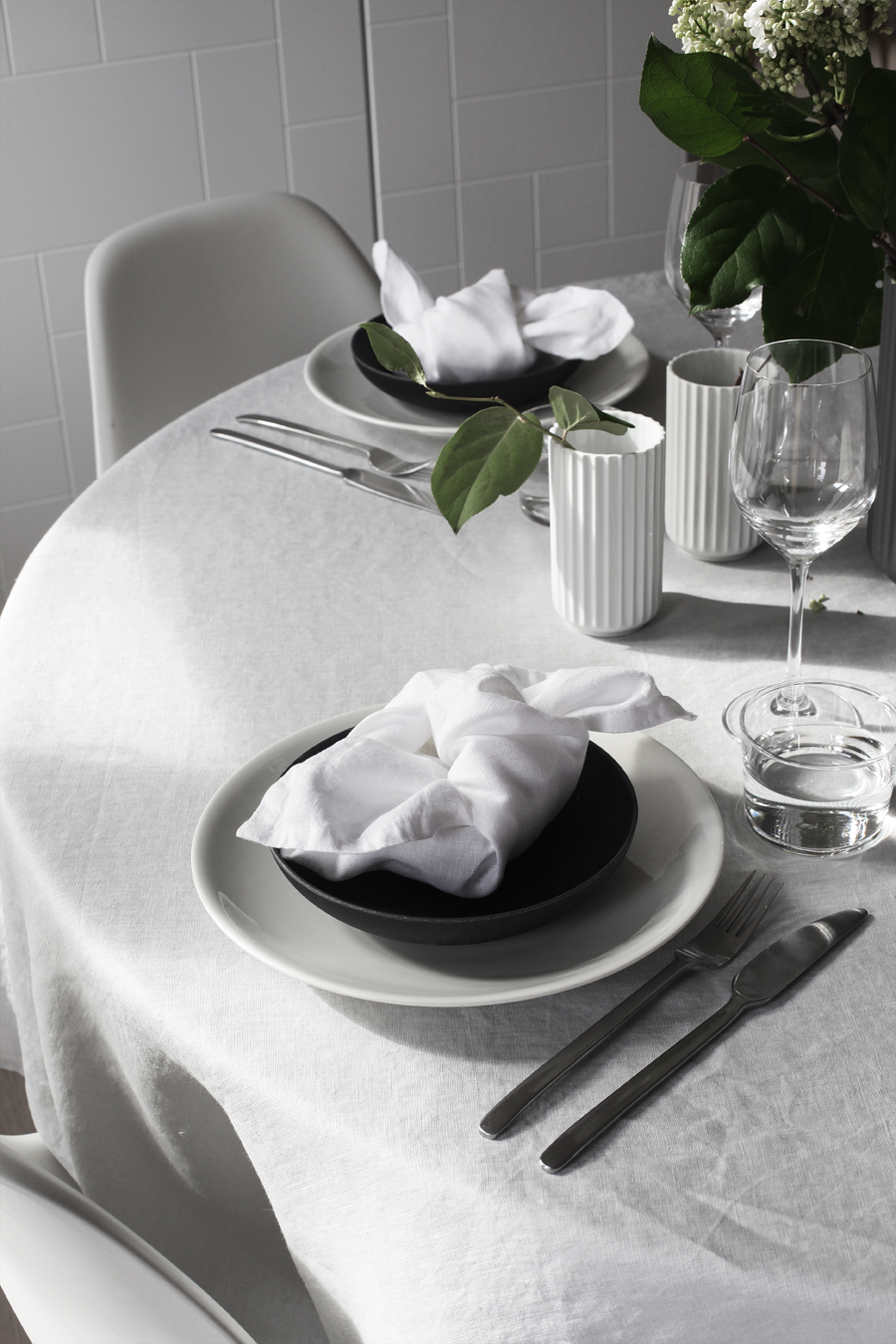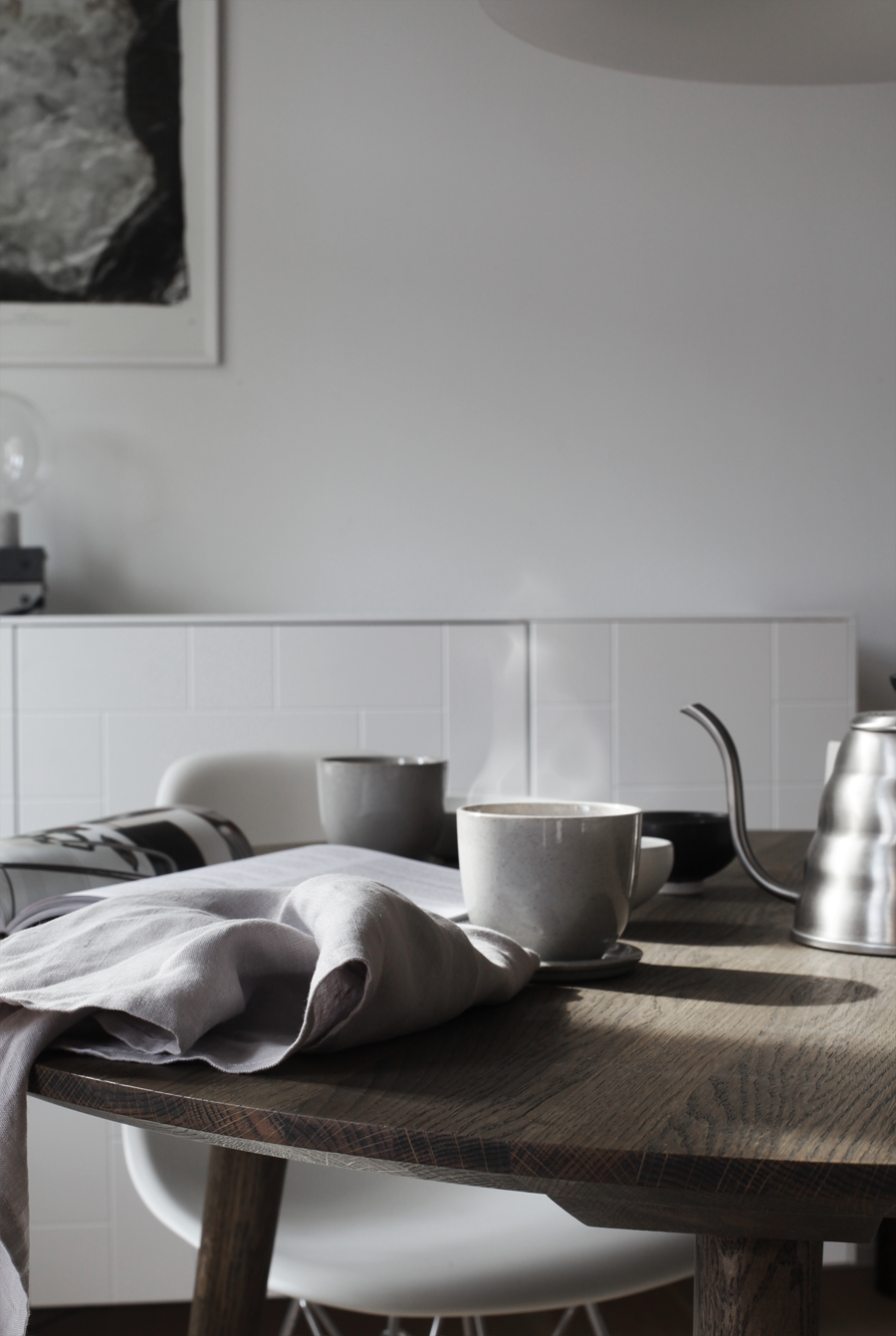 Og har du alikevel fine linservietter i skapet ser jeg ingen grunn til ikke å bruke de til frokosten. Jeg tar i hvertfall frem mine selv om det er en helt vanlig hverdag. Her har jeg brukt serviettene i den fine fargen askegrå igjen.
Theres no reason not to use the linen napkins also for a every day breakfast. Extra luxury on the table is understated, and at once the napkins are there it feels like a hotel breakfast. Here the beautiful color ash grey.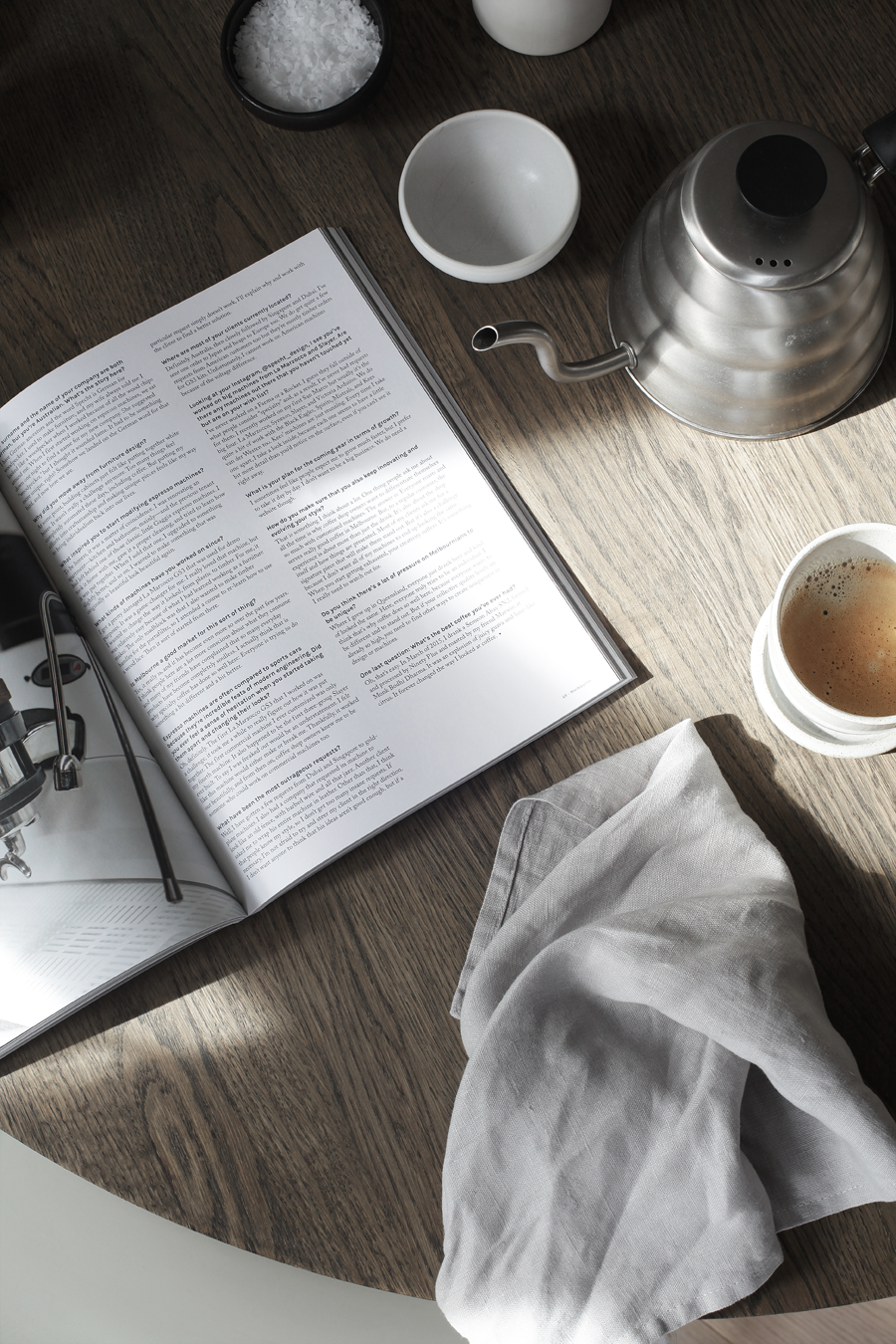 photo & styling © elisabeth heier
Elisabeth
Innlegget SIX EASY WAYS TO USE LINEN NAPKINS dukket først opp på ELISABETH HEIER.