Well hello! Today's quick and easy tutorial will be all about making pretty DIY Earrings As Gifts. You won't need any tools and I will provide the gift card to hold your handmade earrings. I've been doing lots of digital illustrations and I thought this lady was perfect for dressing up with earrings. I will be posting an Instagram Reel later showing you a video on how I made mine. Check it out later! In the meantime, read on for the full tutorial!
---
---
What You Need To Make DIY Earrings As Gifts
Gold ear wires or ear hooks. When selecting your ear wires, be sure to get the ones with the ball hooks and no closures
Earring charms. I got these cute green ones on Etsy. I absolutely love these bohemian leaf charms. They are perfect for dangle earrings or necklaces
Printable Earring Gift Cards – please note that this download is free and only for personal use
PDF software  – to open the download. Some browsers will allow you to open it directly for printing
*This post may contain affiliate links for products that I use and love!
---
How To Make 
DIY Earrings As Gifts
1. Make Your Earrings Without Tools
Prepare your ear wires – Open the small round loop in each ear wire gently (where the ball hook is) with your fingers
Thread the earring charm from the back of the ear wire to the base of the small round loop
Carefully close the loop with your fingers
Repeat for the other ear wire and earring charm
Create as many pairs you need for your gorgeous handmade gifts
2. Download The Earring Gift Cards
If you have not done so already, download your Printable Earring Gift Cards.
3. Open And Print The Earring Gift Cards
Open your earring gift cards in software that can read and print PDF files

Load your white cardstock into your printer. I recommend using the highest quality print settings or photo paper settings

Send to print
Once printed, let the ink dry
4. Cut Out The Earring Gift Cards
Use your scissors to cut out each gift card along the borders
Use your hole punch to create a hole on each ear of the image on the card
Put each earring in each ear so that the front of the earring can rest on the front of the gift card
Add the closures to the back of the earrings to prevent them from slipping off the card
Repeat for each gift card
And there you have it – quick and easy DIY Earrings As Gifts! You just have to fill out the card, place it in a cute gift box and your gift is set. I can't wait to hear how your earrings turned out!
PS – Care Suggestions For Your Easy DIY Earrings
Whether you are making these fun boho earrings for yourself or as gifts, here are some suggestions on how to care for your statement earrings that I got from one of my favorite earring parts sellers:
Avoid wearing the DIY Earrings in swimming pools or the ocean. Chemicals in the pool or salt water may destroy those gorgeous handmade beauties. The message is: don't get your "couture" wet!
To clean your fab DIY Earrings, gently polish them with a soft, lint-free cloth
When not wearing your DIY Earrings, store them in a cool dry place.
Avoid wearing the earrings to bed. First, ouch. Second, there are some pointy edges that may disturb your peaceful slumber and bed linens. Just sayin'.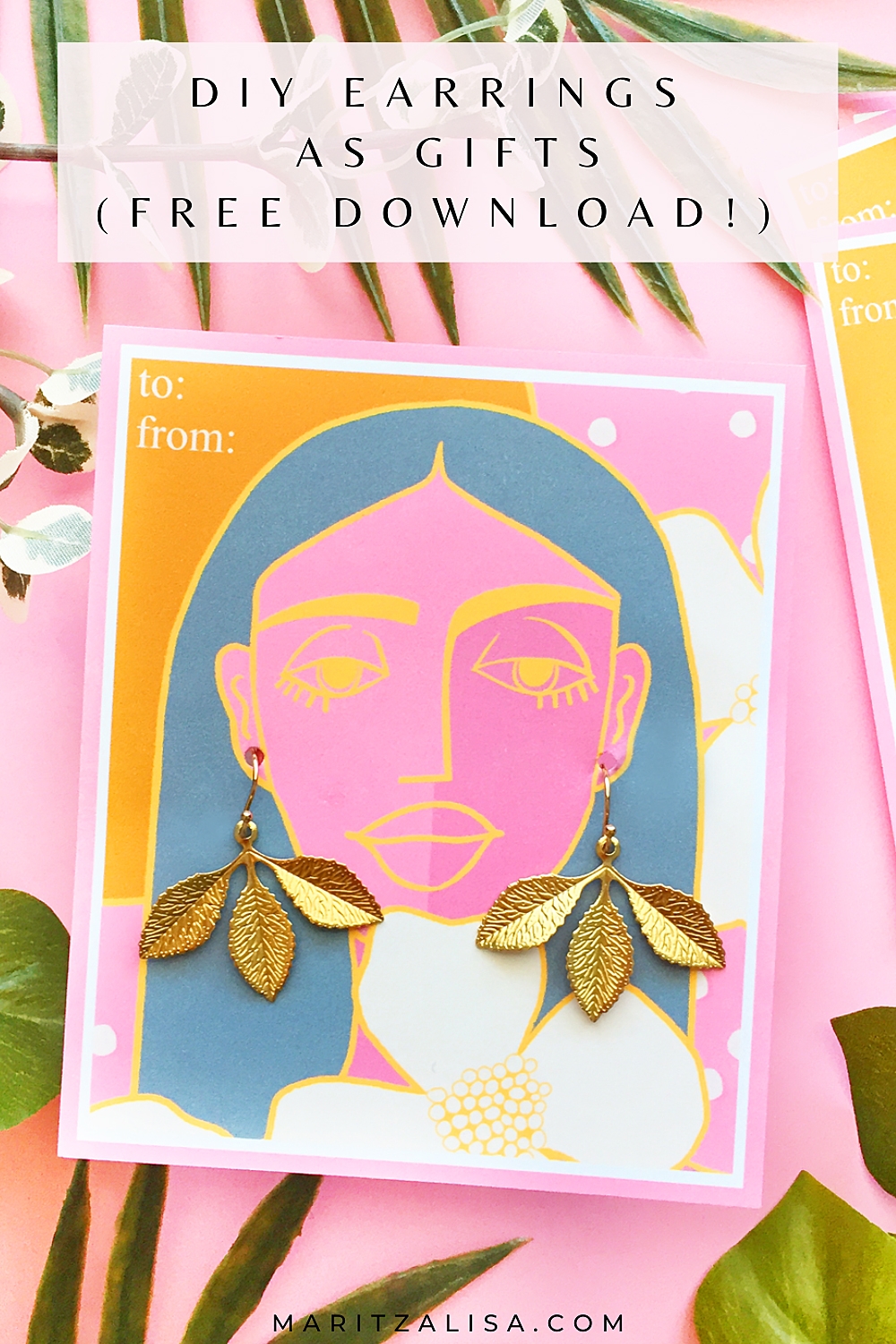 Looking for some more fun DIY Jewelry inspiration? Take a look at my other super easy Jewelry Projects on Maritza Lisa and craft a little longer with me! Happy Jewelry Making!
The post DIY Earrings As Gifts – Free Download! appeared first on Maritza Lisa.