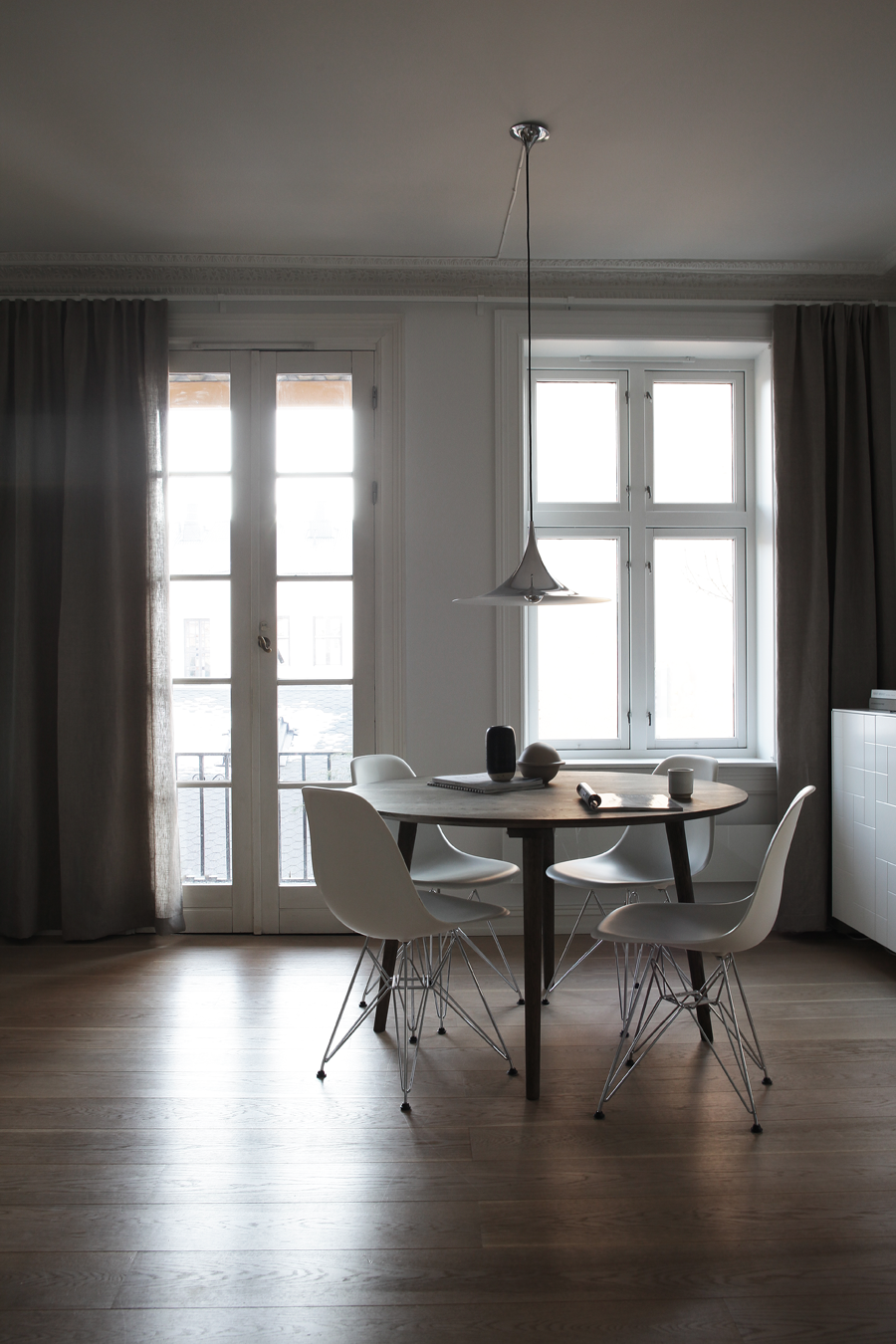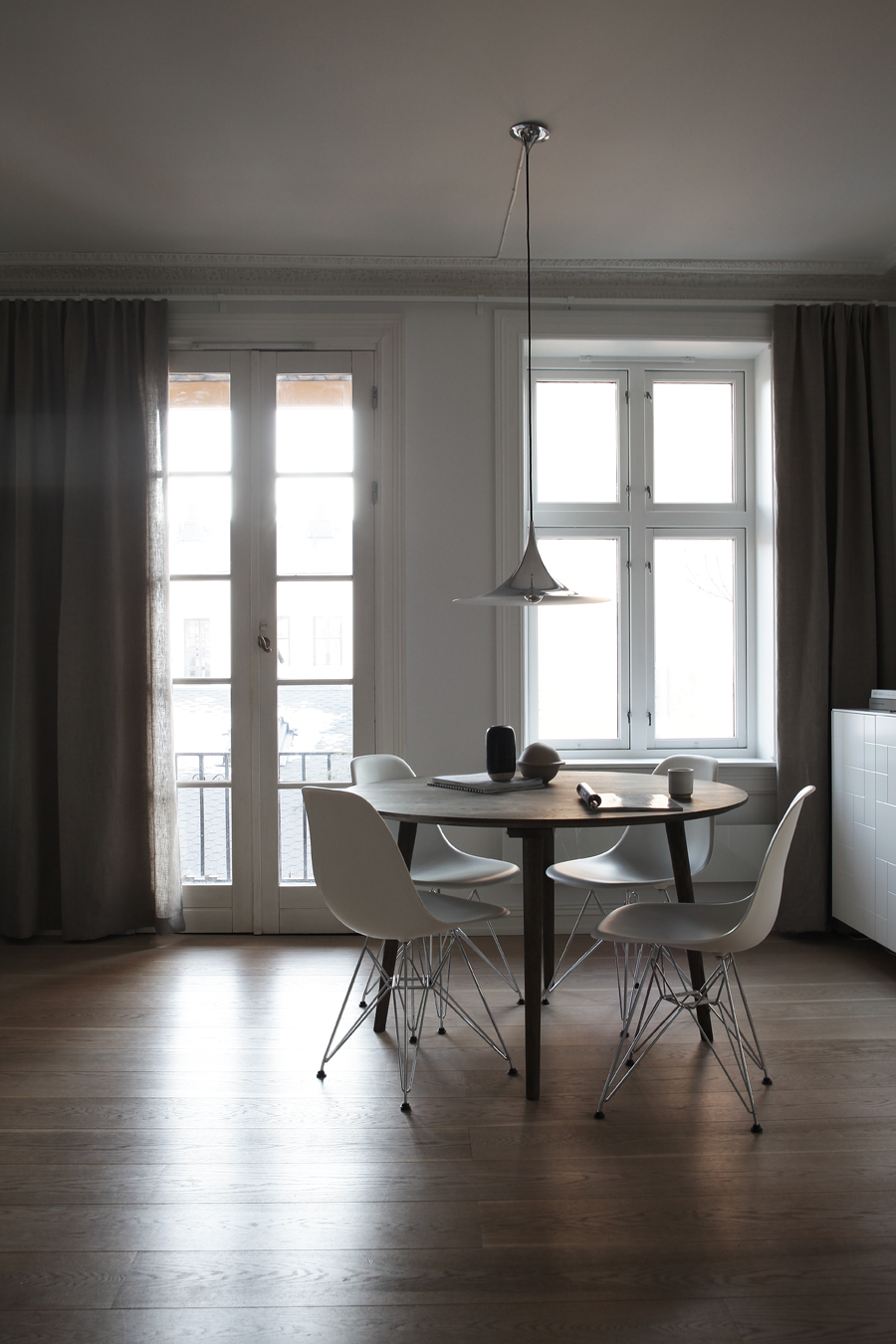 Å skape et hjem tar tid, og selv så utålmodig jeg er (aller helst hadde dette vært ferdig i går..) så liker jeg prosessen. Gjøres alt i hui og hast vil det sjelden være rom for personlighet i innredningen. Det vil i hvertfall ikke være tid til å lete og finne de små skattene som utgjør hele forskjellen. Gjøre noen kupp på møbler du ellers ikke ville hatt mulighet til å gå til innkjøp av, bruke tid på å finne den perfekte lampen – og for de fleste av oss, spare opp til det som står øverst på ønskelisten.
Creating a home takes time. I enjoy the process, although my impatience makes me want it all finished yesterday. But rushing it leaves no place for personality. At least you wont have time to search and find those small treasures, deciding on which lamp that fits your style the best – or doing some good bargains on furniture that you elsewhere wouldn´t be able to buy. And for the most of us, save up what it takes to afford whats on top of the wish list.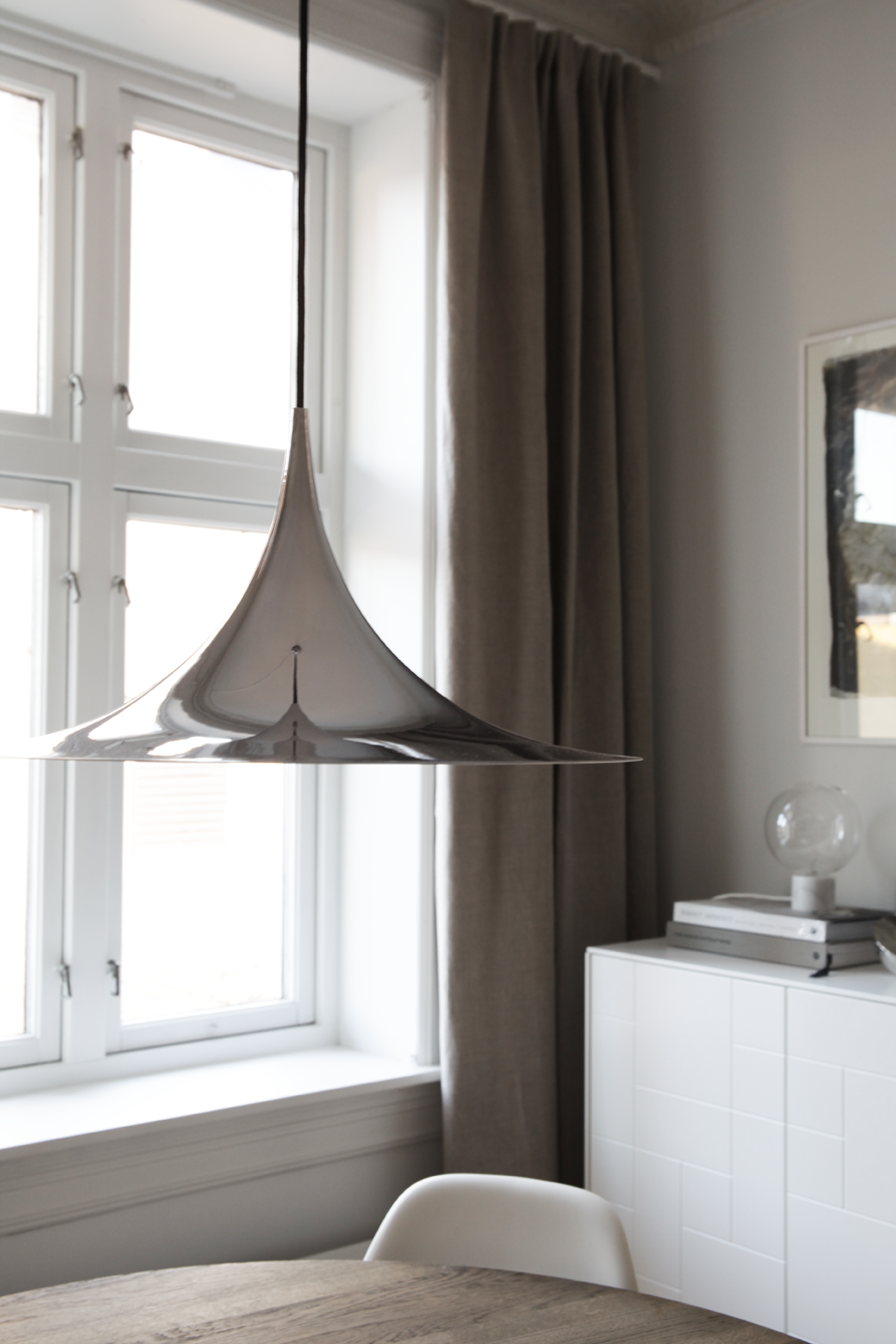 Gubis Semi pendel har stått på min ønskeliste en stund, og når In Between bordet fra &tradition kom i hus måtte lampen bestilles i krom. Kontrasten mellom det varme treet og det kjølige uttrykket på lampen i krom er så fin. Gardiner er på plass og stolene, uansett hvor mange ganger man har sett de, de er fortsatt like komfortable å sitte i. Skapet i bakgrunnen kjenner dere kanskje igjen fra tidligere? Det var opprinnelig høyere men Ikea-skap kan alltid tilpasses. Den øverste rekken med skap ble fjernet og vips passer det inn her og. (Ikea Metod skap med fronter fra Superfront, beskrivelse her.)

For my dining area the Gubi Semi Pendant was on the top of the list. To my beautiful In Between table in smoked oak (&tradition) a version of the Semi Pendant in chrome was the best fit in my opinion. Soft and warm wood in contrast to the elegant lamp in chrome. Curtains are up, and the chairs – I know, they are seen so many times that we´re are all bored, but still so comfortable and nice. The cabinet is the same as I had in the house but I removed one row on top to make it fit better in my new dining area. (See details here, cabinets from Ikea and fronts from Superfront.)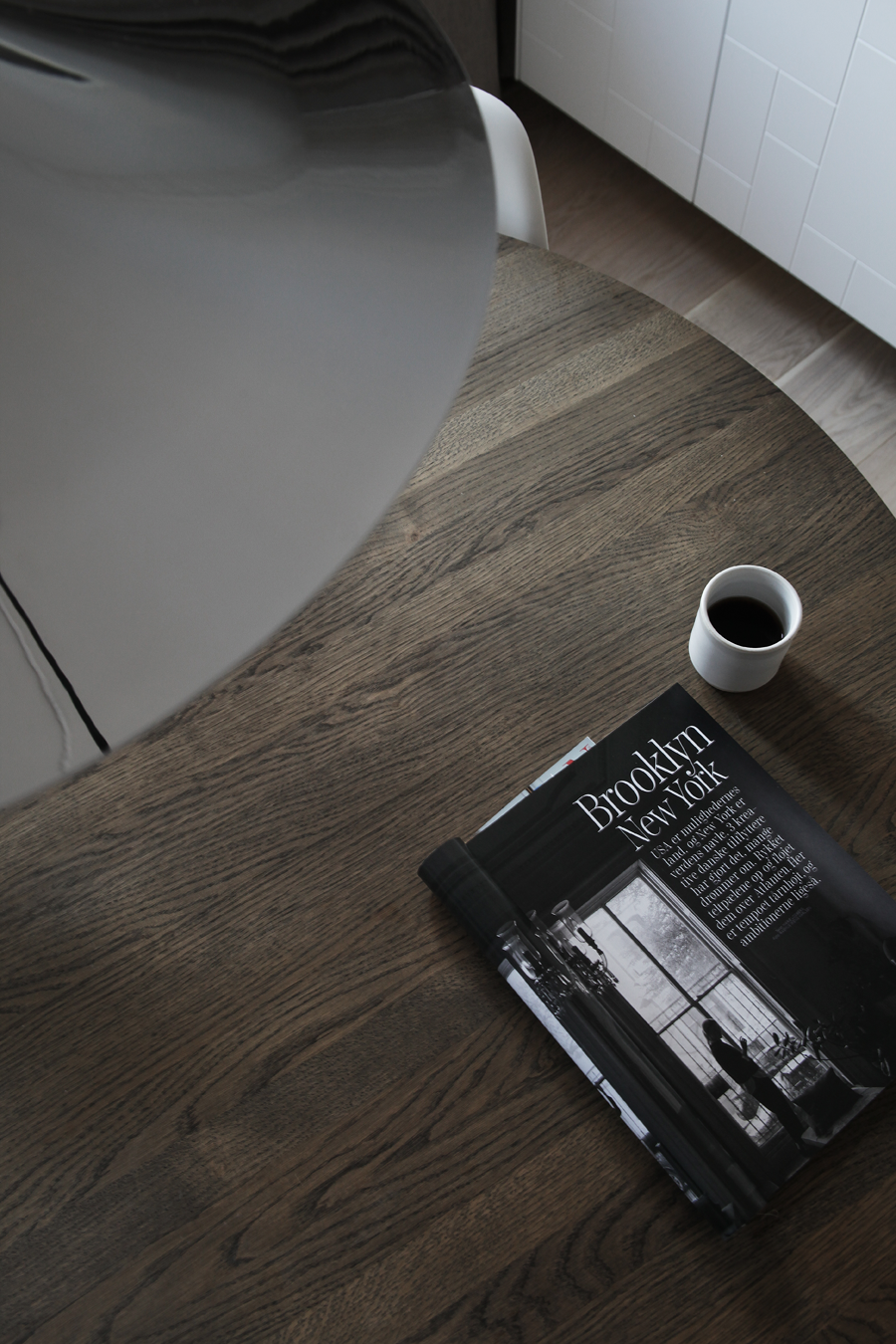 Semi pendelen ble designet i 1968 av Claus Bonderup og Torsten Thorup, begge arkitektstudenter den gang. Lampen var en reaksjon på «det koselige» som dominerte innen design i Danmark på tidspunktet. Lampen skulle ha rene linjer, geometrisk form og et skarpt og moderne uttrykk og gikk også til topps i en konkurranse ved Danmarks Designskole. Jeg liker det elegante og rene uttrykket på lampen som på 80-tallet ble superpopulær og i dag er et ikon innen dansk design.
The Semi lamp was designed in 1968 as a product of the creative partnership between two architecture students, Claus Bonderup and Torsten Thorup. Reacting against the 'cosy era' that was dominating Denmark at the time, Bonderup and Thorup wanted to create a lamp that incorporated sharp, clean lines and a geometric shape. Their design was submitted for a competition at the Royal Danish Academy of Fine Arts School of Architecture and won first prize. I love the elegant and sharp expression of the lamp that achieved great success in the 1980´s and which today has iconic status.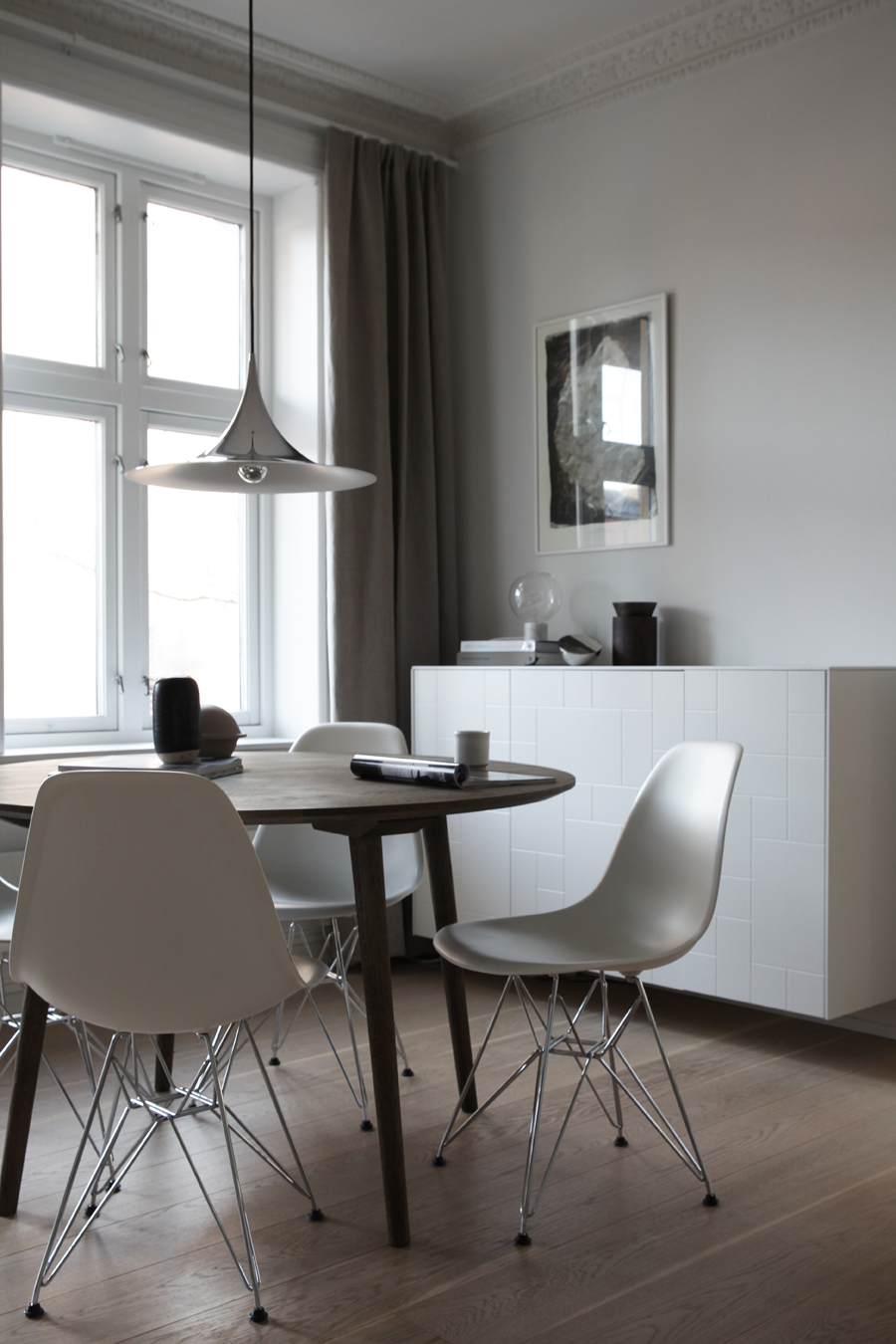 photo © elisabeth heier
Jeg tror på personlighet i interiøret. Miksen av det du har hatt med deg en stund, objektene du ikke kan kvitte deg med – uavhengig av trender. Designklassikere som aldri vil gå av moten, ekte materialer, kvalitet og aller viktigst – å lete, finne og velge det hjertet banker ekstra hardt for.
I belive in personality in the interior. The mix of old and new, objects you never can let go regardless of trends. Design classics which always will be modern, authentic materials, good quality and most important – to search, find and to choose by you heart.
Elisabeth
Innlegget DINING AREA AT HOME dukket først opp på ELISABETH HEIER.