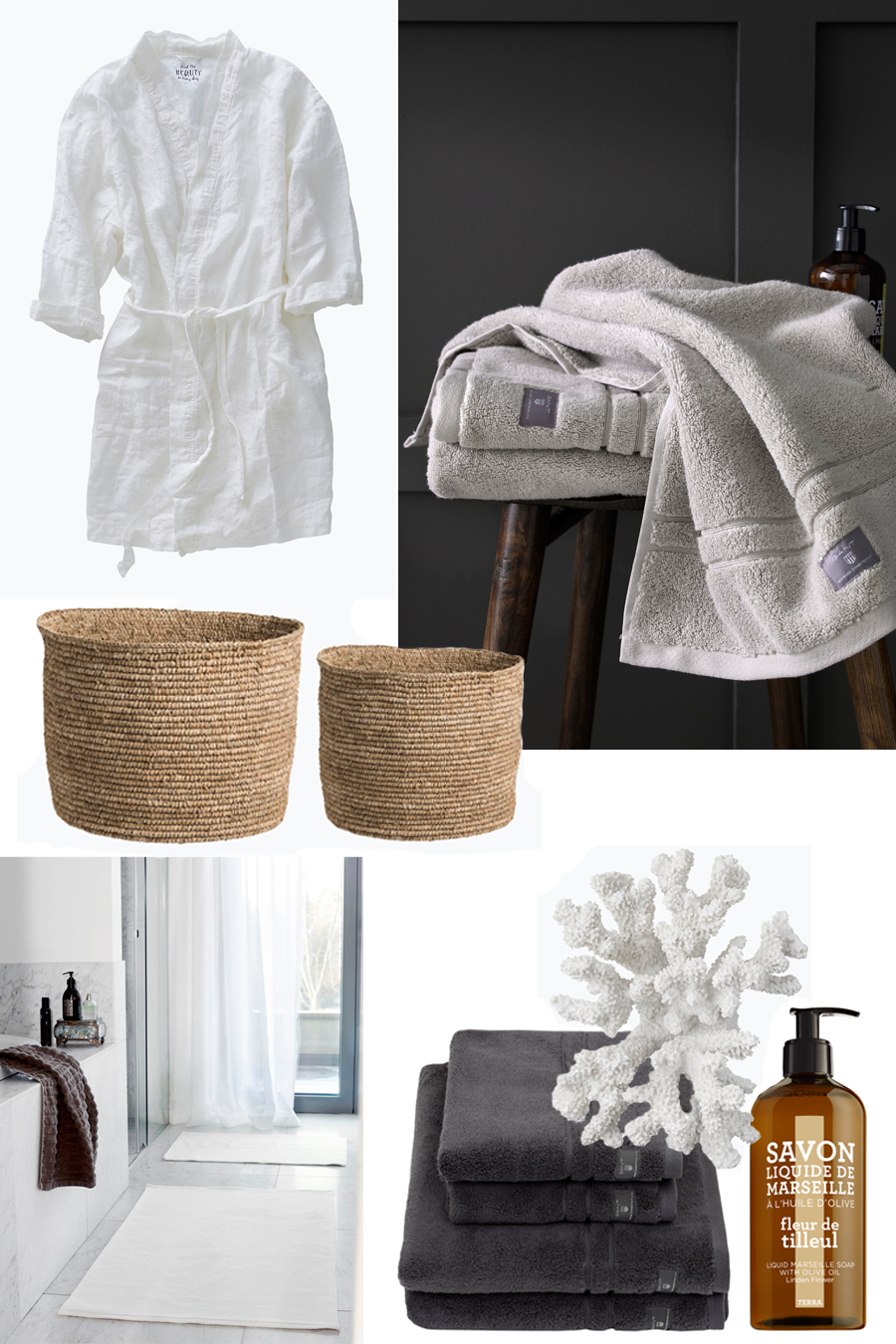 collage by Elisabeth Heier
Advertisement
I´ve picked some of my favorites from Ellos Home to inspire you on how to update your bathroom this spring. Even on a budget you can have a nice, luxurious feeling in the bathroom, and are you like me you might long for summer and white beaches. Here we go;
1. Linen kimono, for the long slow mornings.
2. Towels from Gant Home in a beautiful light sand color.
3. Baskets from Bloomingville, functional and decorative.
4. For the floor, mat from Himla.
5. Towels from Gant Home, dark grey.
6. Decorative coral.
7. Hand soap from Savon de Marseilles. 
Med våren kommer lysten på fornyelse og er det badet som står på din liste trenger man heldigvis ikke tømme lommeboken for å freshe opp uttrykket. Jeg har plukket ut noen fine favoritter fra Ellos Home som er godt innenfor en budsjettvennlig fornyelse, men som alikevel gir den deilige følelsen av luksus i hvertfall jeg ønsker meg på badet. Velduftende produkter, myke håndkler, kurver og koraller som minner om glitrende sjø og hvite strender..

1. Kimono i lin, perfekt for lange døsige morgener på badet. 
2. Håndkler fra Gant Home, de mykeste håndklene i 100% bomullsfrotte i en superfin lys sandfarge. 
3. Kurver i bast fra Bloomingville, supre til oppbevaring og er i tillegg dekorative på badet. Kommer i sett av to stk. 
4. Baderomsmatte fra Himla. 
5. Håndkler fra Gant Home, fine i mørk grått i kombinasjon med de sandfargede. 
6. Korall i kunstmateriale. 
7. Velduftende såpe fra Savon de Marseilles snill mot huden og med kun vegetabilske ingredienser. 
Elisabeth
Innlegget BATHROOM UPDATE ON A BUDGET dukket først opp på ELISABETH HEIER.