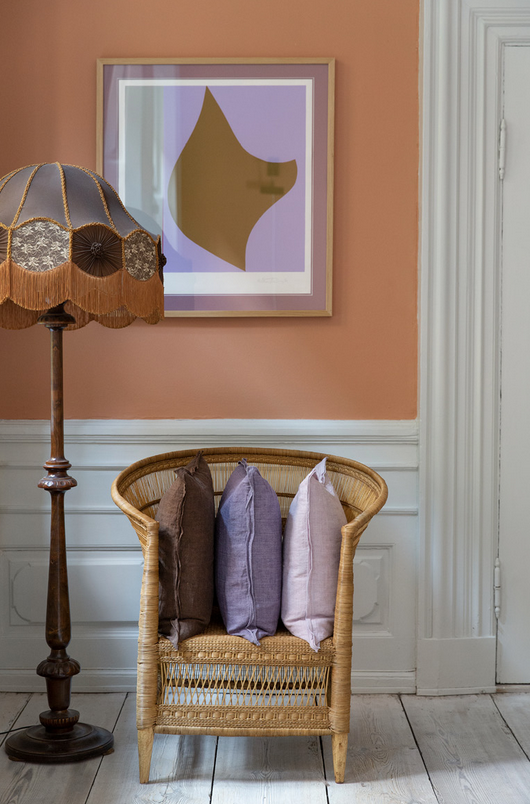 I simply must share with you 6 of the hottest decor trends for Autumn 2020 but first… The new HOLLY magazine September issue is on newsstands nationwide and you can ORDER ONLINE (FREE SHIPPING) from anywhere in the world and it will ship directly to your front door. I can't wait for you to see it because it's filled with fantastic inspirational articles, recipes, home tours, trends, and a before and after of a room in my very own office. There is a travel story for HAMBURG that I produced with my team, and lots of important, creative people that you simply must know about.
So, let's talk about another favorite thing of mine, TRENDS. I'm hoping this blog post will whet your appetite and point you in the right direction for the months ahead concerning what's hot for interiors this year (F/W 2020/21). My friends at Bungalow (not sponsored at all) released their F/W 2020/21 catalog recently and my heart did leaps. Their photos inspired me so much that I wanted to turn them into a TREND post since they really support what's happening in the market here in northern Europe at the moment.
Here are my 6 TRENDS for FALL/WINTER. Ready? 🙂
1/ LAVENDER. It's a big trend color. EVEN FOR AUTUMN. Adding lavender accents to a color scheme really lightens and freshens up the vibe. It is perfect for late summer too – when you want to blend summer-y pastels with deeper Autumnal tones. But also, who says you cannot use pastels in the winter months? Sometimes in northern climates where natural light is very limited, the last thing you want to decorate with are dark colors. You need LIGHT! So this is why lavender seems to be a good color for darker months, it brightens the mood and gives a room some energy. Forever summer!
2/PATTERN. We saw A LOT of solids over the past few years, and for larger pieces (rugs, curtains, sofas), we are still seeing A LOT of solids. This is because people are simply scared to invest right now in something they may not like in a year – a floral sofa is considered a "risk" piece. So how is pattern coming back? Through quilts, throws, art work, subtle tone on tone patterns (like the pillows on this sofa), tablecloths, pottery… Slowly but surely patterns are resurfacing so watch out for them. What patterns specifically do you spot? I am seeing a lot of floral motifs (especially block prints from India – I saw a lot of this in Paris last October 2019 and what's in Paris is in the rest of Europe within a year) and geometric prints, and stripes.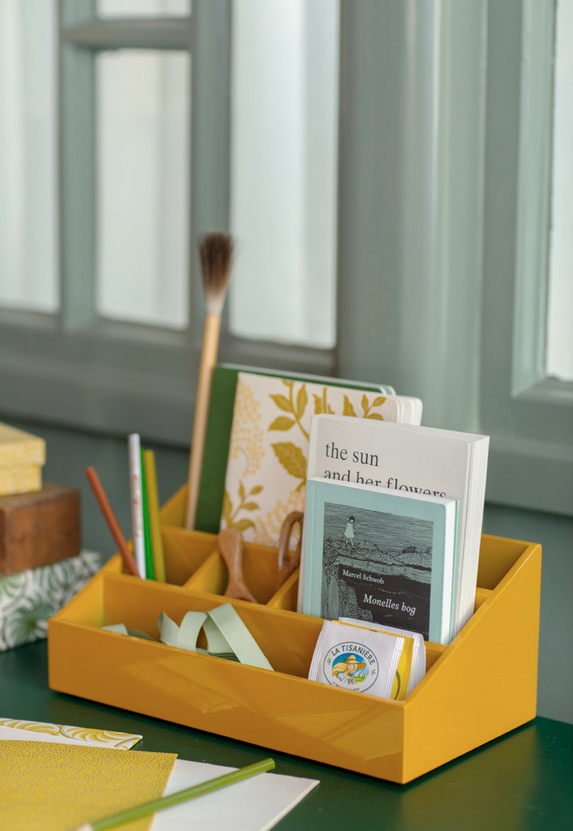 3/YELLOW/WHEAT ACCENT COLOR. I am seeing a lot of this golden yellow/somewhat wheat-ish (ha ha) color as an accent everywhere. I even painted a wall in my office this exact color back in June. It's a lovely color because it can carry from season-to-season. In the Fall/Winter, it brings in warmth and sun, in the Spring/Summer, it fits right in with the joy of warm days and dining al fresco.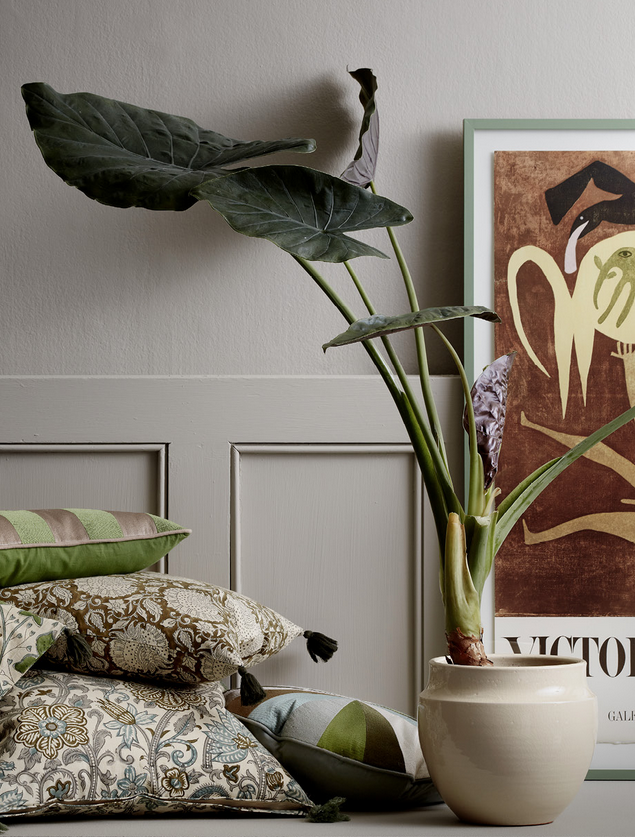 4/ 50 SHADES OF GREEN. It's really true. I am seeing all shades of green being honored and embraced at the moment. From the evergreens of Christmas to the mints of Spring, you'll find Khaki, Olive, Sage, it's just everywhere. I'm thinking it has to do with the Urban Jungle/Plant movement – and our craving for more green space and more nature. What do you think? Are you also seeing a lot of green?
5/ Artistic Flower Styling. No longer are we just buying flowers and plop! adding them as a decorative bunch to a vase. We are dismantling our store-bought arrangements and adding them throughout the house in artful ways. Sometimes mixing REAL flowers with paper, silk, metal and dried flowers… That is also a big trend that will only grow. Can you think of more "ikebana" inspired ways to arrange your flowers? Give it a try and have fun. Arranging flowers can be a very meditative act and good for the mind and body.
6/ JOYFUL DECOR. When you combine the 5 trends above what do you get? This photo. This is JOY. This individuality. This is not a catalog-home or a Instagram-copy. This reflects the spirit and personality of the home owner. Flowers, pattern, texture, color, art, warmth, LIFE. This is JOYFUL decor and this is a trend because we are all SO bored with seeing the same minimalist beige over and over and over again. Maybe we'll never cross over this far (I won't, I like my beige and hints of pastels combined with darker tones, not a lot of pattern), but this photo reminds me to ADD JOY to my home and individuality.
Which brings me to a mini rant… I wonder if you feel this too… But….
Instagram is sucking the life out of me at the moment, I can barely use it without feeling overwhelmed by the conformity, overall stress, algorithms, and commercialism of it all.
I am tired of the ads, the sales pitches, the… Just all of it really annoys me.
I am hoping the next few weeks, as Fall is embraced and people in my industry start to nest more, that I'll see again some joy and personality and not this constant wall of sameness.
Instagram went from being such an inspirational space to becoming an app I dread to open each day because I'm not finding JOY there. I'm being reminded of everything I dislike outside of my bubble that I used Insta to avoid that is prevalent in other apps (politics, sex, tiktok dances, opinions that have nothing to do with design and lifestyle, and endless conversations that make me feel so many shades of emotion and none of them positive). I just can't motivate myself on Insta at the moment.
I need JOY!!!
So…. Those are 6 trends I've spotted for the home for Fall/Winter. What have you seen? And feel free to talk to me in the comments section about Instagram because maybe you have a different point-of-view or some tips on how to like it again? 🙂
Love,
Holly
(Photography: Bungalow)