In 2006, when philanthropist and gallerist Shulamit Nazarian bought the famous Smalley House designed by A. Quincy Jones in 1973 on Holmby Hills in Los Angeles, she did not have the house redesigned, only the garden. And even that was a bold move as the garden was also a masterpiece of modernist design originally envisioned by Walter Gropius-trained landscape architect, Garret Eckbo (1910-2000).
The 7,500 square-foot (697 square-metre) house is known as the Smalley house because Jones originally designed it for his friends, the Smalley family. It is one of Jones's largest single-family residences. The split-level residence features a dramatic textured cedar wall that cuts through the house and leads to the sunken living room that is reached by a stunning staircase.
The living room ceiling soars at the height of 25 feet (7.6 metres) and the room features vast panes of glass. Sometimes Nazarian uses the magnificent living room as a gallery space and stages exhibitions and showcases art curated and managed by Shulamit Nazarian Gallery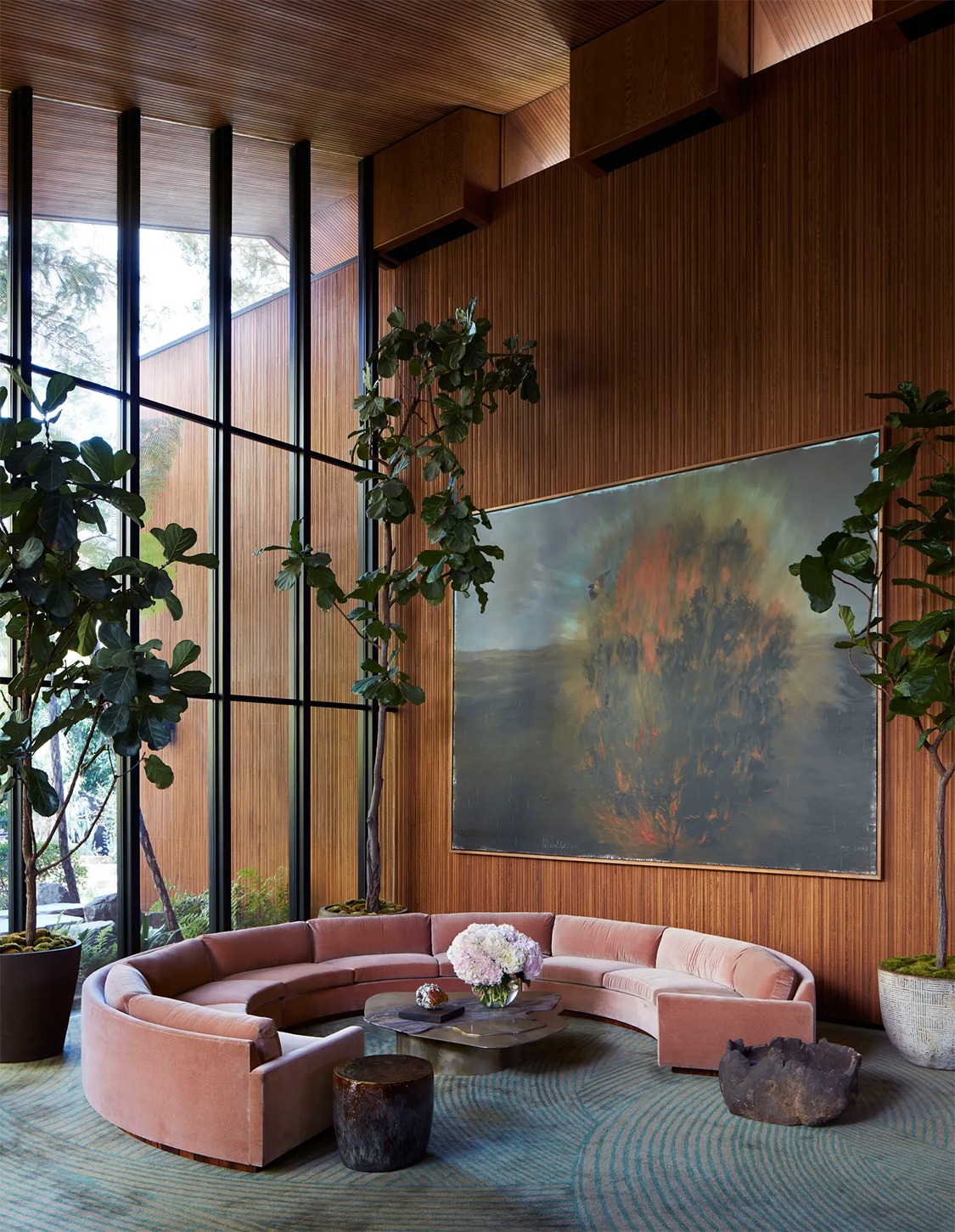 Another key feature of the house are the three interior gardens that feel as if they were as much inside the house as they are outside.
In 2006 Nazarian was quoted as saying that she wanted a home for her and her sons, not a museum of the modernist style. And while she left the house almost entirely intact, she did not furnish it with the traditional mid-century modernist Eames or Kagan pieces. Instead, she furnished it with modern Italian and other contemporary pieces, family treasures, antiques and dramatic art form her art collection.
But now, after living in the house for a long time, she worked with Los Angeles based designer Pamela Shamshiri of www.studioshamshiri.com to adjust it to fit the family's changing life situations, in particular her sons' imminent departure for college.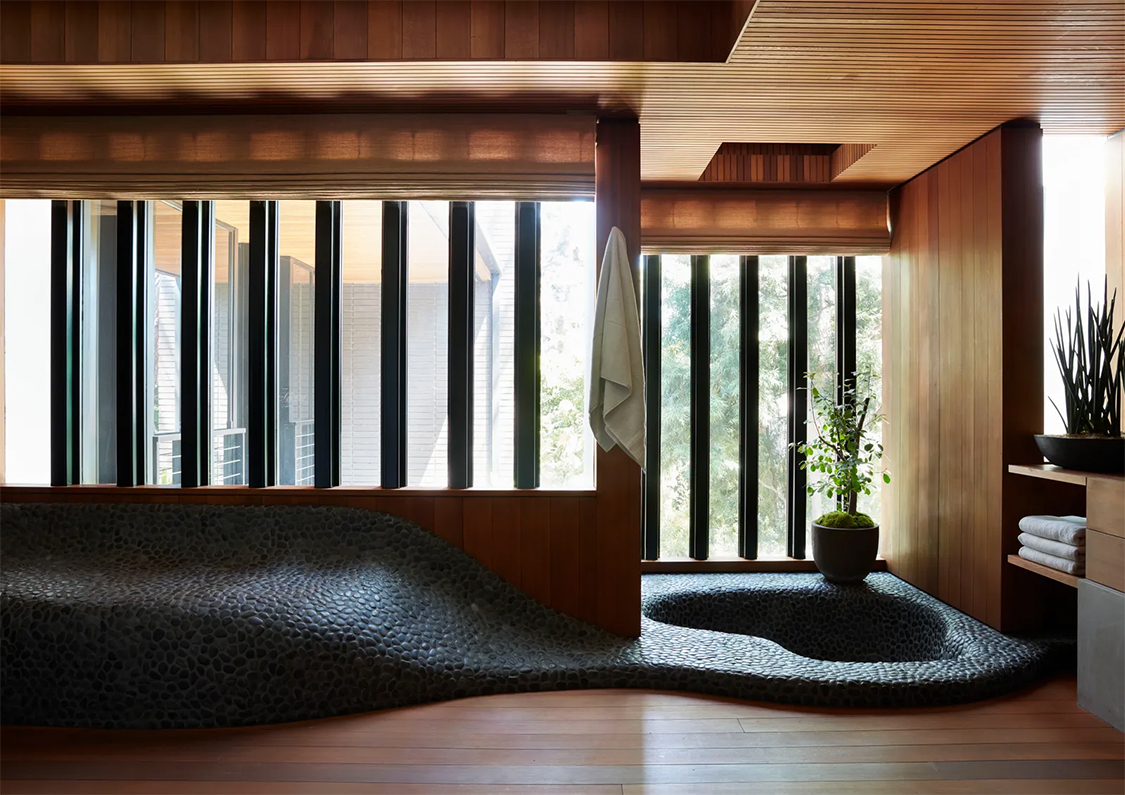 In the entire renovation, Shamshiri and Nazarian endeavoured to speak the Jones design language. In fact they aimed to further emphasize the key features of his architecture.
The  most radical change was the room rearrangement. In the original Jones floor plan, the children's bedrooms, the family area and the kitchen were on one side of the massive living room, with the master bedroom located on the other side. The new plan has relocated all bedrooms to the private side and the old master bedroom has become a generously proportioned home office and study for Nazarian.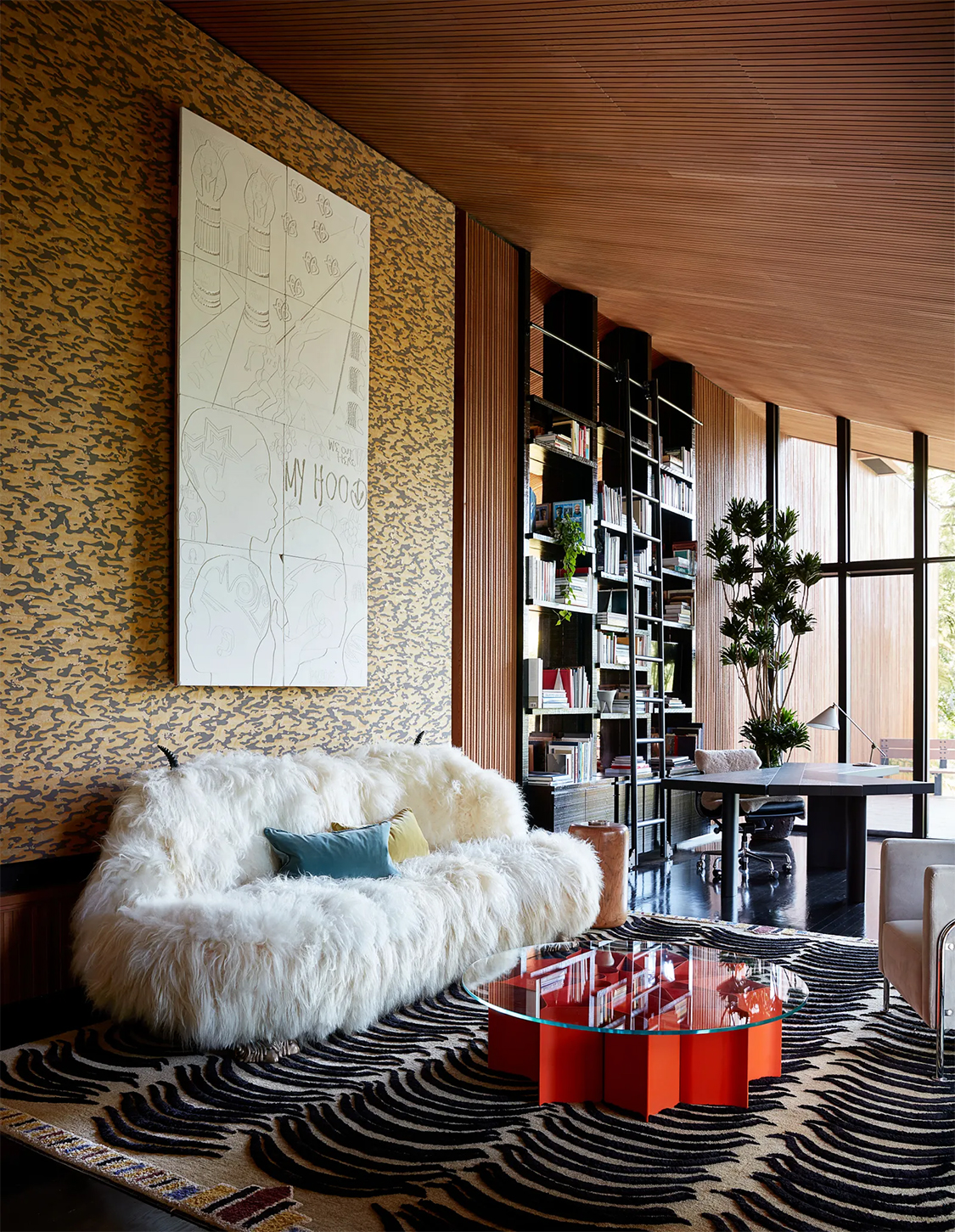 Next to the office, Shamshiri created a new luxurious home spa with a clay sauna and hot tub of black concrete inlaid with black river stones. It echoes the residence's dramatic Jones-designed floors with circular-patterned concrete hand-inlaid with pebbles.
The circular shape repeats in several locations and pieces throughout the home, most specifically in the completely reconfigured kitchen that now features American black walnut cabinetry and multihued, pale stone counter tops.
The rounded shape is also seen in the sunken living room's vintage Milo Baughman (1923-2003) sectional sofa atop a green wall-to-wall carpet. Shamshiri selected the carpet to reflect the river-patterned original one specified by the house's initial decorator, the flamboyant Steve Chase (1942-1994), known for his elegant and opulent design style and his star-studded client list that included Farrah Fawcett, Gene Hackman and Joan Kroc, the owner of McDonald's.
Archibald Quincy Jones (1913-1979) known as A. Quincy Jones, was a Los Angeles-based, Kansas City-born architect and professor, and later dean, at the University of Southern California School of Architecture. He is best known for his bold modernist style and his pioneering use of greenbelts in urban planning. Many of his best-known residences are glamorous and incorporate post-and-beam construction, an atrium, high ceilings and walls of glass. He was one of the most prolific modernist architects having been involved in well over 5,000 structures in California. He is considered one of Southern California's mid-century greats.
Members of the Hollywood elite buy up California's mid-century modernist gems. Jones's residences are no exception. Actress Jennifer Aniston, for example, bought a three-acre estate in Los Angeles in 2012 that features a seven-bedroom, 10-bathroom house designed by Jones in 1965. Actor Gary Cooper owned a 1955-designed Jones house that was sold in 2010 to art dealer Larry Gagosian for $15.5 million. Tuija Seipell
Images by Stephen Kent Johnson
The post Renovation of A. Quincy Jones's Smalley House, Holmby Hills – Los Angeles, USA appeared first on The Cool Hunter Journal.