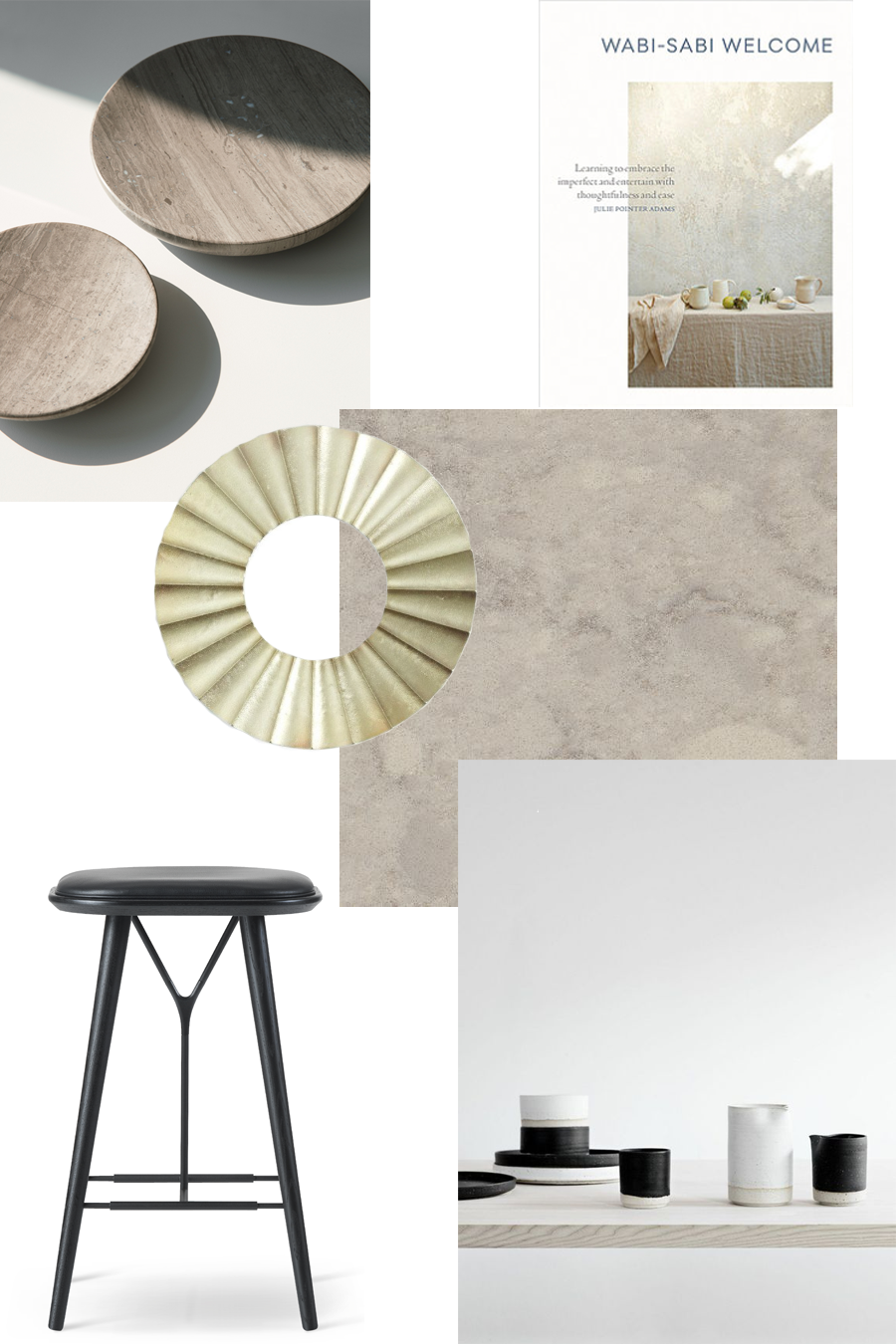 photo via Menu/New Mags/Futagami/Viatera Limestone/Fredericia/Frama-kollekted by
I never published a wish list for February, but now that I finally got time to paint the last wall in my kitchen it would be nice with some updates to accompany it. 1. The new Hover Bowls from Menu in marble was designed by Norm Architects after an fascination of heavy objects that floats or hovers in the air. I want them on my kitchen counter top for storage or simply for decoration. 2. Wabi-Sabi Welcome book by Julie Pointer Adams, new from New Mags. The book is about sharing a pot of tea with friends. It is preparing delicious food to nourish, not to show off. It's keeping a basket of cozy slippers at the door for guests. It is well-worn linens, bouquets of foraged branches, mismatched silverware, and heirloom bowls infused with the spirit of meals served with love. 3. Brass trivet from Japanese Futagami/kollekted by. Futagami was founded in 1897, the origins of Futagami were rooted in making brass artifacts in the Buddhist tradition. Today the company is a very successful homeware product brand, but has maintained its focus on producing quality, handcrafted furnishings that last generations. 4. A backsplash in limestone would be perfect to my black kitchen.. Will maintain on my wish list until I actually have bought an apartment myself though.
5. Spine Stool from Fredericia, designed by Space Copenhagen. Elegant, modern and classic. And with a comfortable seat in leather for those long kitchen conversations over morning coffee or a glass of wine in the evening.. The stool is made in Denmark and its hand-sewn upholstery is inspired by techniques that were developed at Fredericia's workshop for Børge Mogensen's exclusive 1960's leather series. 6. Frama´s AJ Otto series, handmade ceramics. Available in both black and white, and I never can decide which one I like the most and keep on collecting one by one.
Endelig har jeg tid til å male den siste veggen på kjøkkenet og siden jeg aldri postet noen ønskeliste for februar kommer det i stedet en liten ønskeliste for en oppdatering av kjøkkenet. 1. Hover Bowl i marmor fra Menu. Den elegante bollen ble designet av Norm Architects etter en faschinasjon over tunge objekter som flyter eller svever i luften. Fine på kjøkkenbenken til oppbevaring- eller kun til dekorasjon. 2. Wabi-Sabi Welcome book er ny hos New Mags og handler om det uperfekte men rause hjemmet man aller helst vil være gjest i. Skrevet av Julie Pointer Adams. 3. Gryteunderlag i messing fra japanske Futagami/kollekted by. Futagami ble grunnlagt i 1897 og er i dag en suksessfull produsent av kjøkken- og interiørprodukter, stadig med høy fokus på kvalitet. 4. Jeg ønsker meg en plate i kalksten på veggen bak benkeplaten til det sorte kjøkkenet mitt.. Den får nok stå på ønskelisten frem til jeg har kapret drømmeleiligheten. 5. Spine Stool fra Fredericia er både elegant, moderne og klassisk. Og superkomfortabel med polstret sete i skinn. ..perfekt for de lange samtalene over morgenkaffen. Spine stool er en del av en hel serie møbler designet av Space Cph for Fredericia og produseres i Danmark der det håndsydde setet blir laget etter inspirasjon fra teknikker som ble utviklet på Fredericias verksted for Børge Mogensens eksklusive lær-serie på 60-tallet. 6. Framas AJ Otto håndlagde keramikkserie. Finnes i både sort og hvitt og jeg klarer aldri å bestemme meg for hvilken jeg liker best og fortsetter å samle på én og én.
Elisabeth
Innlegget WISH LIST // KITCHEN UPDATE dukket først opp på ELISABETH HEIER.