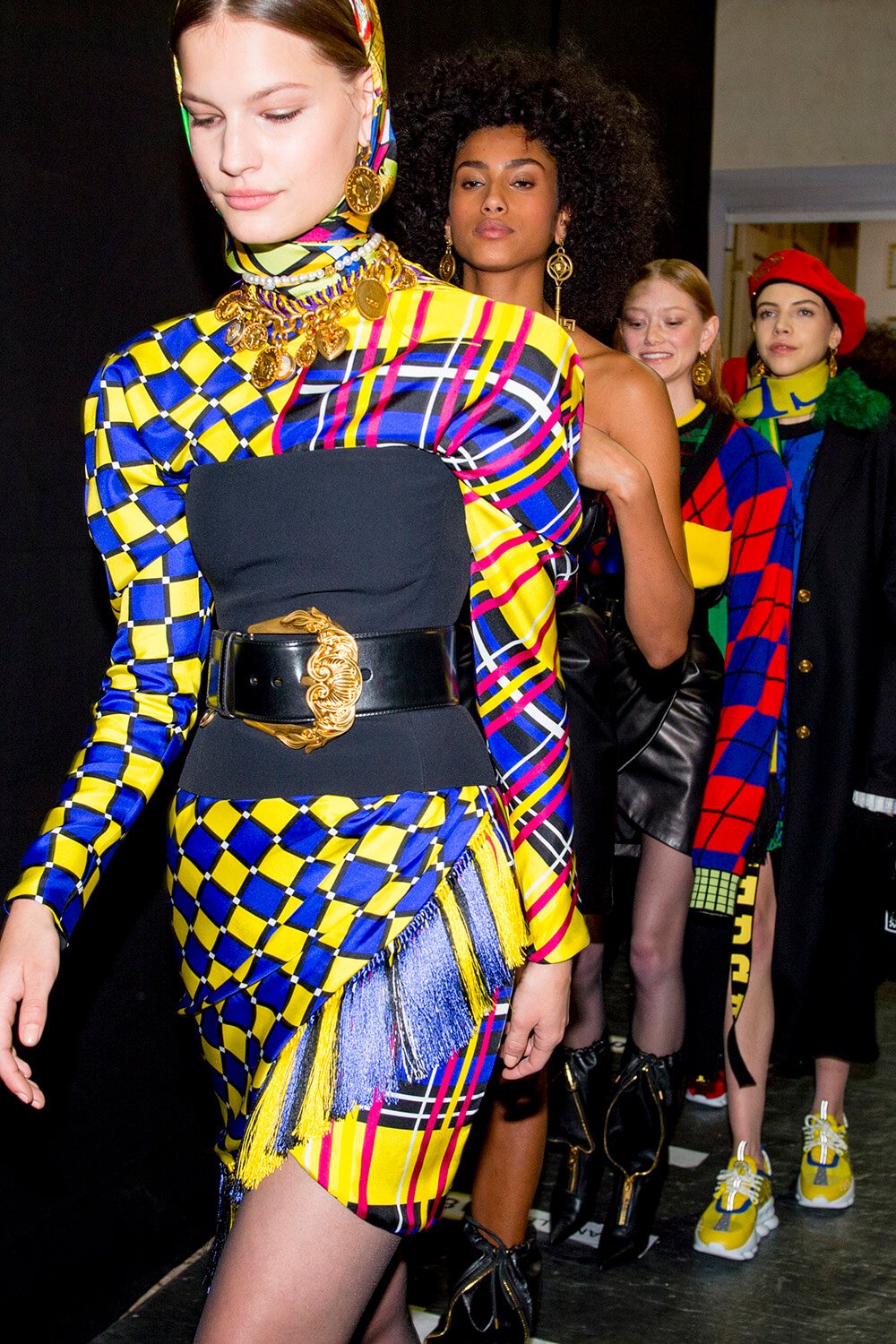 Where to go after last season's epic fashion moment? Va va voom! The Clans. Versace royalty. Oh yeah, Donatella Versace's girls were rocking the boundaries. Pale Honey's 'Golden' played loud, "I would rather be alone, I run this business on my own." Yes, independent women put together so well, always ready for action. As we were told before the show, "Always dress for an audience, it's an essential part of performance." And everyone was watching. These women were bodied in their freakum dresses with all that sly darkness simmering on the surface of their rock 'n' roll late night ventures. A regal rock 'n' roll mash up staged in the Royal Palace rolled out and lit up by Natalia Vodianova who walked that walk to the static heavy clashing strike of Moonlandingz 'Vessels'.
Glossy leather burgundy jackets began the procession and camel coloured pants and coats started to hint at the thrill and chill (2 degrees outside) of that Versace gold hardware. Vibrant tartan came down that runway in deep purple and vivid yellow, tailored tightly with matching waist bags. Cute. Mini pleated skirts sat super high waisted, flick flick, belted with thick black leather. Versace band t-shirts peeped over the top of pants. These girls obvs attend Versace High. The sweet clash of the clans…or cliques. Sneakers were for the day and chunky thick platform heels were worn best with tiny black strapless dresses. Binx Walton strutted in that slinky catsuit. Rawr. Fringing glittered and shimmied on down. Swish swish bish. Classic Versace prints swirled on jumpsuits that slicked up around the face, leaving one ear free for a glinting fabulous gold earring. Phew.
Photographs by Jason Lloyd Evans 
The post Versace: Ready-to-Wear AW18 appeared first on 10 Magazine.