Featured in films such as "Blade Runner" and "500 Days of Summer," the Bradbury Building will host the latest outpost of the coworking company NeueHouse.
Built in 1893, the five-story Bradbury Building is one of Los Angeles' most celebrated landmarks. Commissioned by gold mining baron Lewis L. Bradbury and designed by architect George Wyman, it's famous for its light-filled atriums and intricate filigree iron details.
The Italian Renaissance Revival-style brick, sandstone, and terra-cotta office building also has quite the cinematic history—it can be seen in films such as Lethal Weapon 4, 500 Days of Summer, Blade Runner, and in music videos by Janet Jackson and Earth, Wind & Fire. As of November 2019, it will host the latest branch of NeueHouse, a hospitality-forward coworking company.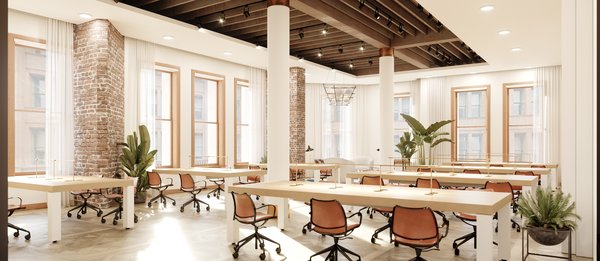 Targeted at creatives, artists, and entrepreneurs, NeueHouse is part office and part social club—the company hosts high-end private events and exclusive cultural gatherings. CEO Josh Wyatt is excited to move into the "enchanting and inspirational building." It fits right in with NeueHouse's current portfolio, which includes the original CBS headquarters in Hollywood, and an old auction house in New York City.
NeueHouse will take over the second floor—all 30,000 square feet of it—and the space will offer private offices, communal work areas, and even a wellness room. "We will also have a ground-floor entrance and arrival experience," Wyatt says. "We loved this building because it's so iconic and has its own sense of arrival."
See the full story on Dwell.com: Upscale Coworking Company NeueHouse Moves Into L.A.'s Historic Bradbury Building