A jewel-like home rises on a six-acre site in rural New York.
Just as they were wrapping up the plans for their weekend house in the Catskills, architect Jason Shannon and his wife, designer Paola Yañez, decided to add two feet to the width of the kitchen. 
This was no small tweak but a major adjustment for the couple, who were determined to make their home as compact as possible and were economizing on every square inch. They had initially envisioned a 14-foot-long galley kitchen with a single wall for cabinetry and appliances. But common sense prevailed, and they put the opposite wall into play. "Everyone always wants more than their budget, no matter what their budget is," Jason says. "It could be a million dollars and they'd want a two-million-dollar house." Still, he's glad the kitchen is bigger. 
Several years ago, he and Paola, who live in Jersey City and have a practice called J_spy (the name is a combo of their initials), set out to create, on a limited budget, the best possible retreat for themselves and their three-year-old daughter, Cora. Because they didn't want to scrimp on materials, finishes, ceiling height, or the experience of gazing through huge windows at fields and trees, this meant trading size for luxury, ultimately creating a jewel-like home that measures just a bit more than a thousand square feet.  
"Volume is important to us. Everyone asks why we don't have a second floor. It's because we want the high space." – Paola Yañez, designer and resident
In 2016, they purchased six grassy acres in White Lake, a hamlet in the town of Bethel, New York, for $33,000. Having a place in the country, they hoped, would let them breathe fresh air and see actual stars, and allow Cora and the family spaniel mix, Bosley, to run around. 
It would also be a chance to build beyond the typical comfort level of their clients. A cluster of three cubic volumes, plus a white metal box for the roof, the house has a simplicity that borders on brutalism. The walls, for instance, are concrete blocks inside and out. "I'm not a fan of sheetrock," Jason says. 
But although the house is rigorous, it's hardly austere. The concrete blocks have polished exposed faces that are voluptuously smooth. The floor-to-ceiling windows are framed in mahogany. The concrete floors are warmed with radiant heat, produced from a geothermal well, which helps limit the home's monthly electric bill to about $50.
Other energy-saving features include a tankless hot-water system, a condenser clothes dryer, and spray-foam insulation in the walls and ceilings. The building is so tightly sealed against thermal loss that the couple had to introduce a duct with a fan to bring in enough fresh air to make the living room fireplace operable. 
That fireplace was essential to Jason and Paola's living/dining room concept. They had seen enough big homes where, despite elaborate floor plans, "everyone ends up in the same room anyway," says Jason. The main room has a 14-foot-high tray ceiling covered in birch plywood inlaid with strips of fabric to absorb sound bouncing off the hard surfaces. A skylight adds illumination. 
"This was our chance to say, 'Let's design the house as modern as we think we would like to be in the rest of our work.'" – Jason Shannon, architect and resident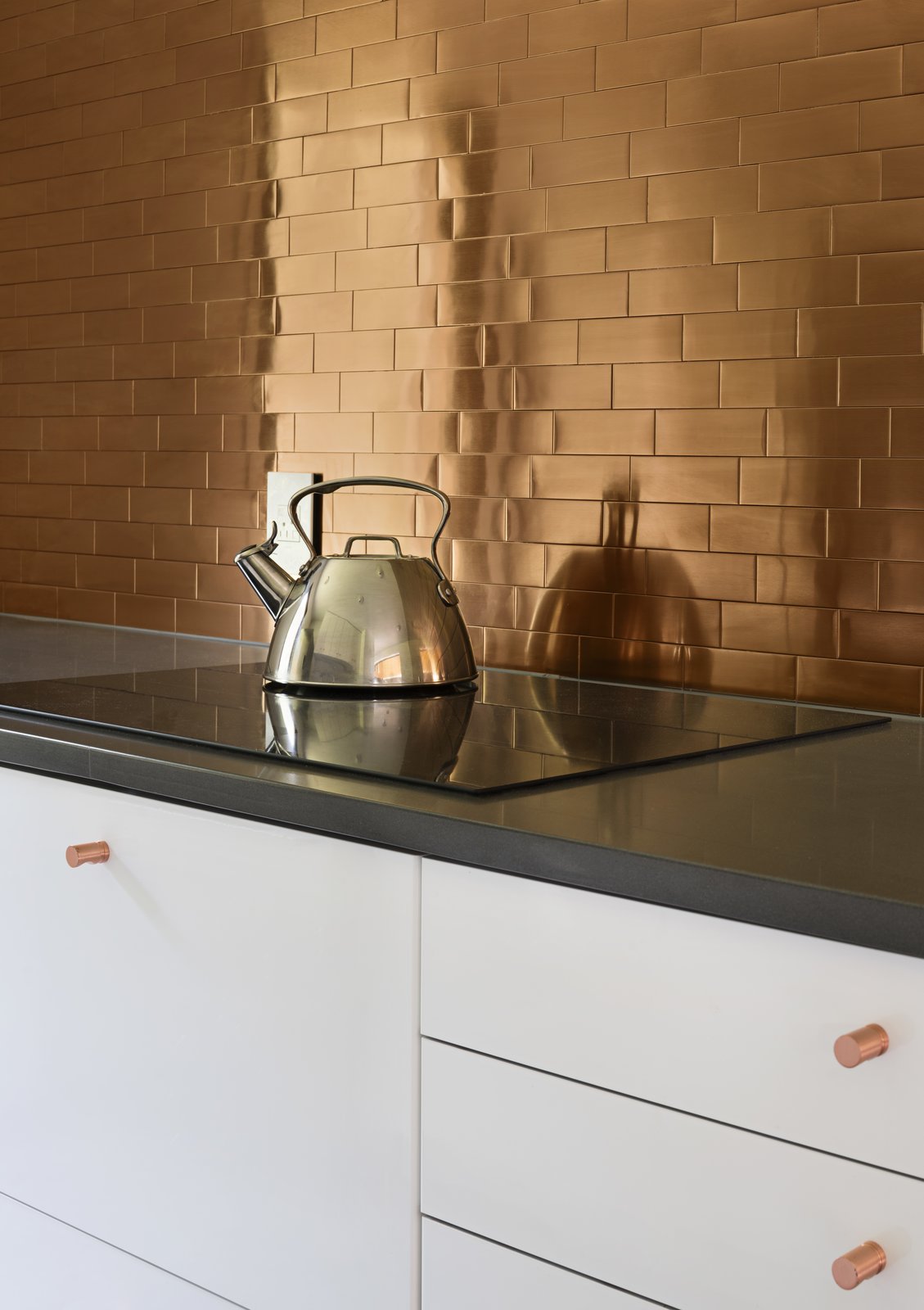 The bedrooms are as minimal as can be: The larger of the two accommodates a queen-size bed, a small closet, and a stacked washer/dryer; Cora sleeps next door on a trundle that slides out from a bunk bed. One door down is the bathroom, with a jazzy blue tile pattern that Paola designed. Next is the kitchen, with its IKEA cabinetry and gleaming copper-colored backsplash tiles, an homage to French cookware and Paola's birth country, Chile, where copper is a major export. 
Along the side of the house, Jason scraped away the rough terrain and sowed fistfuls of wildflowers. The land is abundant with blueberry bushes, pine trees, and milkweeds. Deer have already gnawed on their magnolia sapling, and a black bear was spotted pawing apples from a tree. 
Ultimately, the project cost about $285 per square foot, including fixtures and appliances. But in trimming the home's size, was there anything the owners left out? "Maybe a powder room," says Jason. "And an entrance closet," Paola chimes in. "Storage is something we definitely sacrificed," she adds. Someday there might be a garage with guest apartments, but not necessarily. "Let's make one nice room," Jason says, recalling their self-imposed brief. "How much more do we need?"