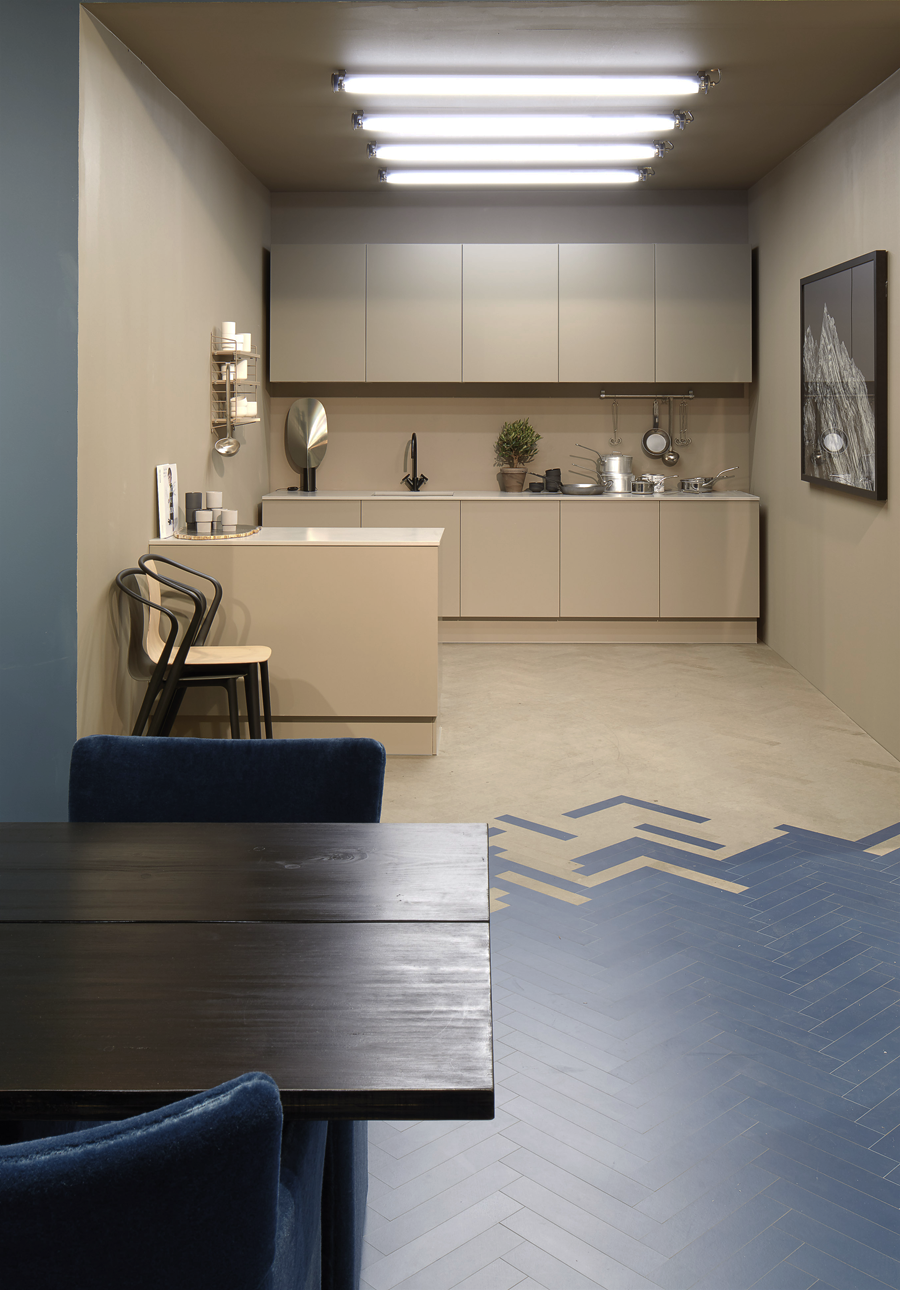 Jeg er vel tilbake etter i Oslo, og for en uke med herlig påfyll av inspirasjon det har vært i Stockholm. Spennende lanseringer og utstillinger i byen i tillegg til messen. Bildene fra trendutstillingen på SFF som i år var gjort av Lotta Agaton har allerede fått mye oppmerksomhet på bloggene rundt omkring, men ingen grunn til å ikke vise den inspirerende utstillingen her og. Lotta Agaton er en av Sveriges ledende interiørstylister og sier selv om utstillingen; «Jeg liker ikke måten vi bruker ordet trend på i dag. For meg handler trend mer om tendenser i samfunnet enn om årets farge. Jeg tror at klima, politikk og økonomi reflekteres og definerer behovene våre i innredningen. Etter år med god økonomi, trygghet og åpne, hvite interiører begynner vi å bygge rede igjen når verden blir usikker. Vi får behov for et trygt miljø og veggene blir mørkere. Nå tror jeg vi er klare for å tilføre noen positive følelser og håp i form av lekenhet og farge i rommene våre, uansett om de er lyse eller mørke. Utstillingen er min refleksjon over tiden vi lever i. Jeg ville skape rom uten regler, som inspirerer folk til å leke mer med hvordan de bruker farger, materialer og teksturer. Jeg ville skape rom der farger og materialer i kontrast til hverandre møtes på uventede måter. Hva skjer om kontoret er rosafarget, om akustiske paneler ment for åpne kontorlandskap plasseres i soverommet eller møbelklassikere kles i velur og pels i sterke farger av moteikonet RAF Simons?»
Finally back home in Oslo with lots of inspiration after Stockholm Design Week and the fair. And of course I have to show you the photos from Lotta Agatons trend exhibition at Stockholm Furniture Fair. Her thoughts about trends and how the overall world situation is affecting the way we choose to decorate our homes is very interesting – and spot on. «I don´t like the way we tend to use the word trend today. For me trends are more about tendencies in the society rather then the color of the year. I believe that the world climate, politics and economy reflects and sets our needs also in the interiors. After years with good economy and safety we have had bright white spaces, open for exposure, but when the world climate and economy gets more uncertain we immediately starts to nest. In uncertain times we want our environment to be comforting and safe and so our walls gets darker and more embracing. Now I think we are ready to bring in some positive feelings and hope in terms of color and playfulness in our rooms weather they stayed bright or got dark. This space is a reflection of our times. I wanted to create a space with no set rules and to inspire people to play more with how they use materials, colors and textures. I wanted to create a space where contrasting materials and colors met in unexpected ways and a room could behave in a new way. What happens if you make a strict office pink, place acoustic panles made for open space offices in the bedroom and dress old furniture icons in bright velvets and fur by fashion icon RAF Simons?»
Above: Kitchen/HTH, floors/Bjelin, wall color/NCS 4005-Y20R Alcro. Below: Wall color/Moules from Alcro, floors/Bjelin, dining chairs/Massproductions, dining table/Ma/u Studios, photo art/photograper Kalle Gustavsson, beige cabinet/Asplund.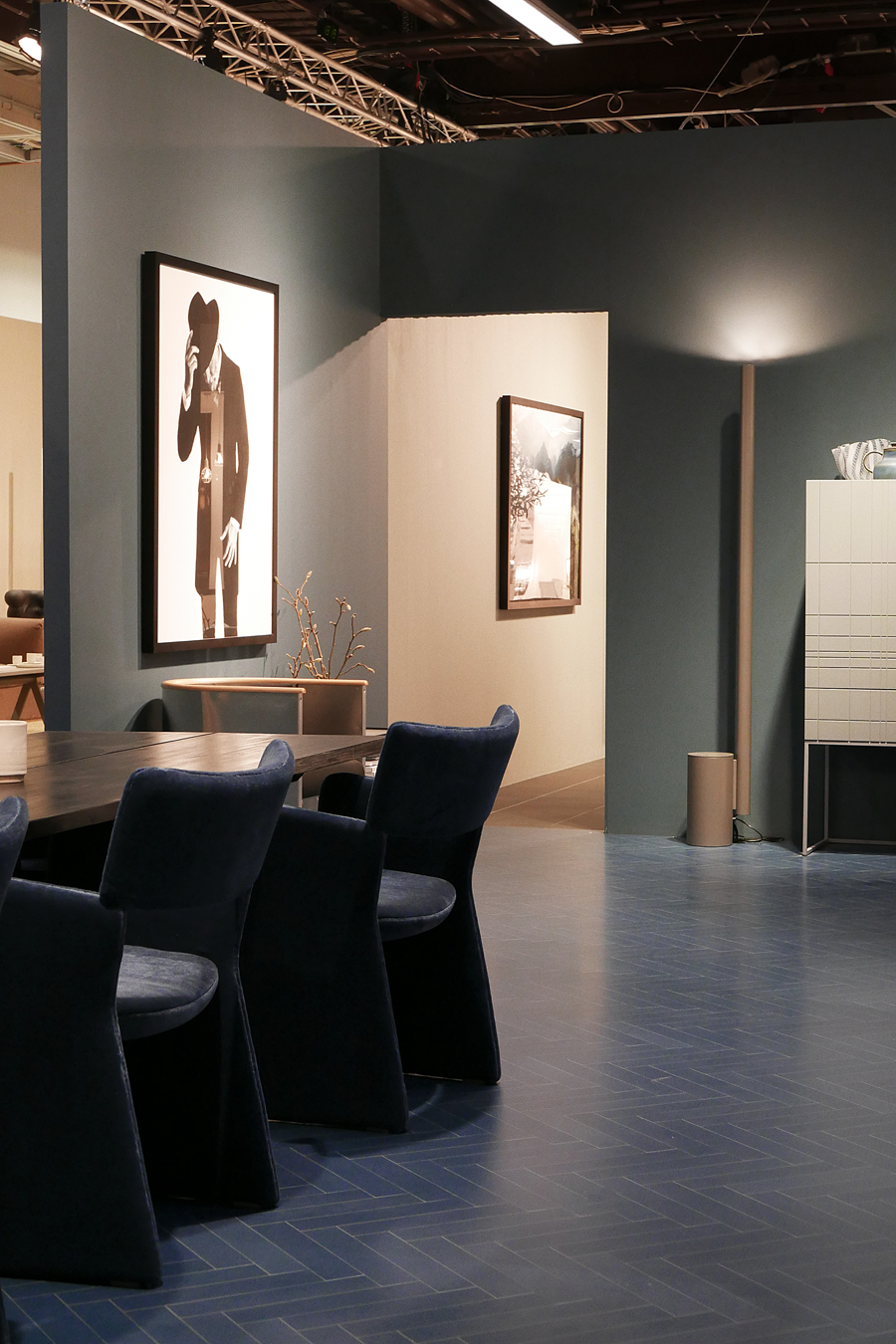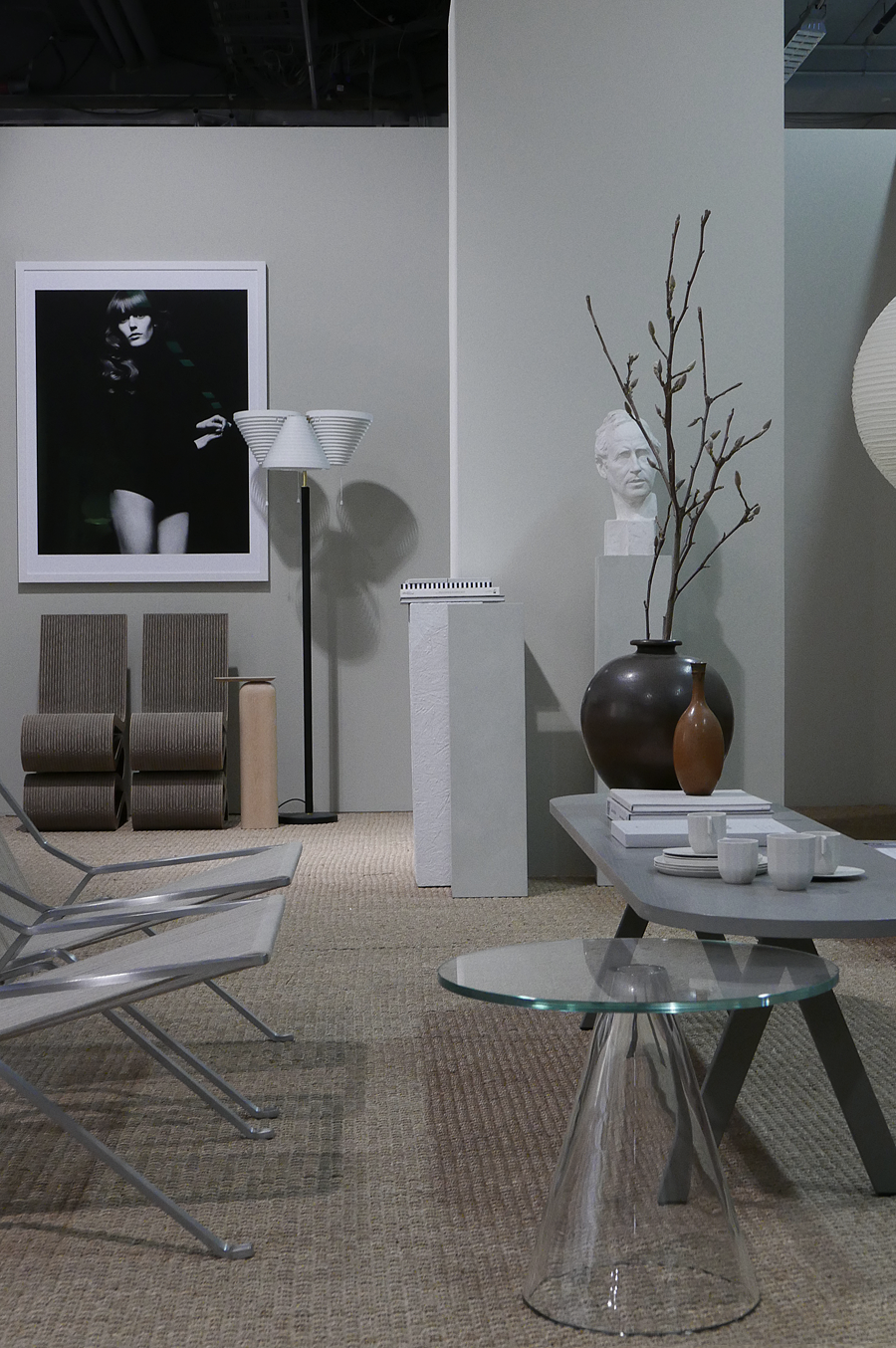 Living room details: Carpet/Dahl Agenturer, sofa/Fogia, grey sofa table/Friends & Founders, glass side table/Massproductions, armchairs/Fritz Hansen, floor lamp/Artek, ceiling lamp/Vitra, piedestals/Studio Matti Carlson, paper chairs/Vitra, wall color/Fjäder from Alcro.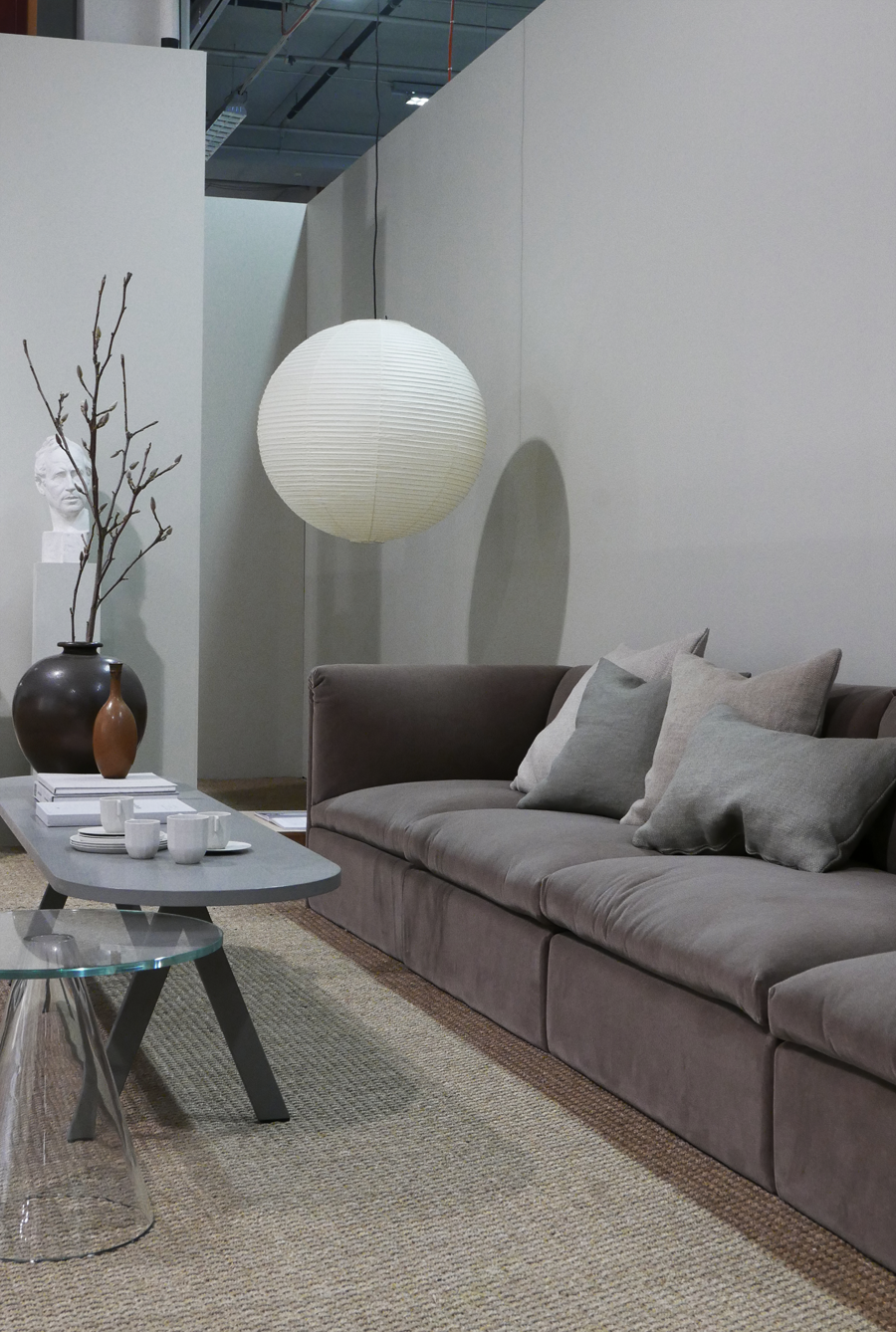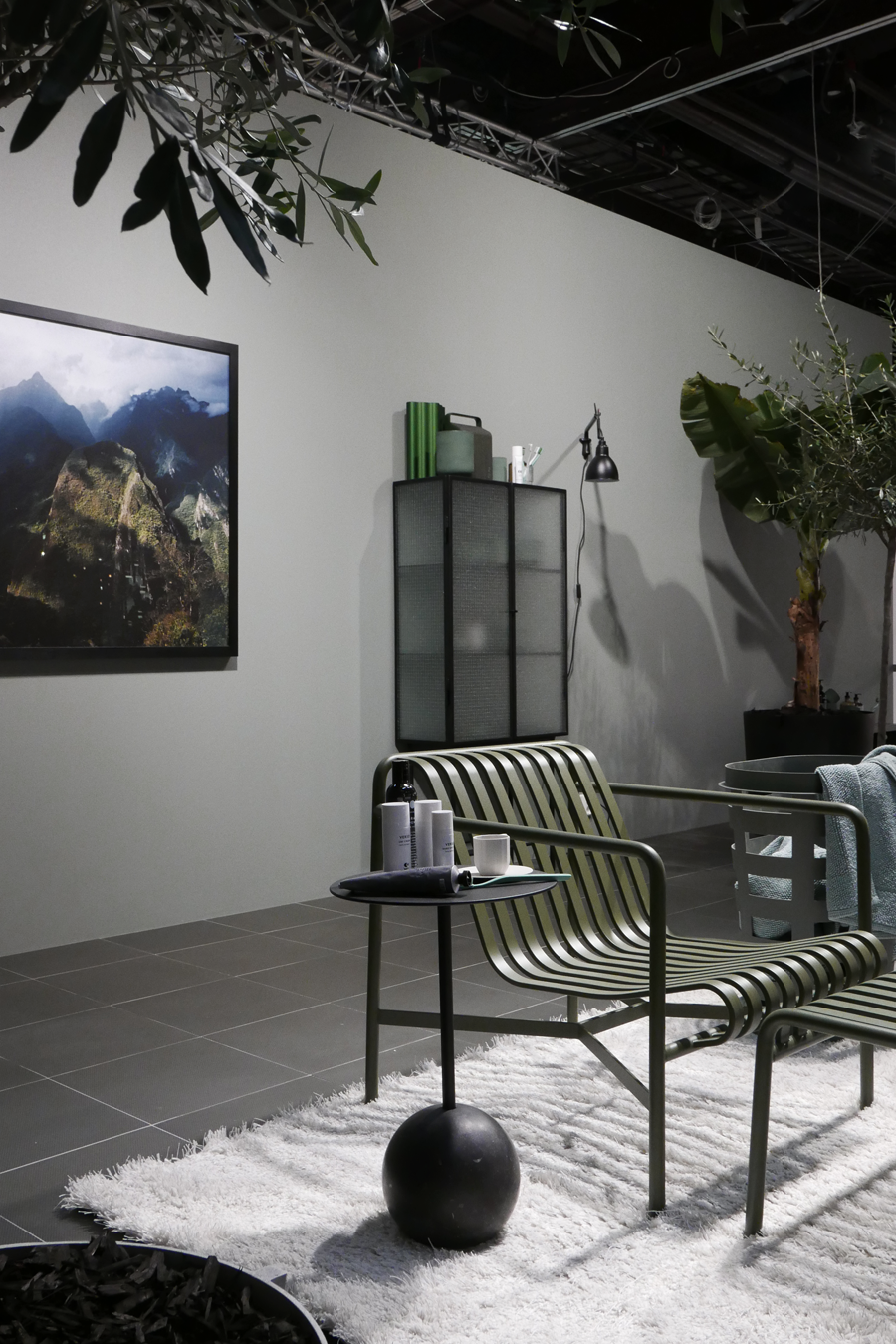 Bathroom details: Tiles/Mutina, wall color/Grön Granit from Alcro, lounge chair and ottoman/Hay, side table/Friends & Founders, white rug/Kasthall, vitrine/Ferm Living, wall lamp/Lampe Gras, photo art/Kalle Gustavsson.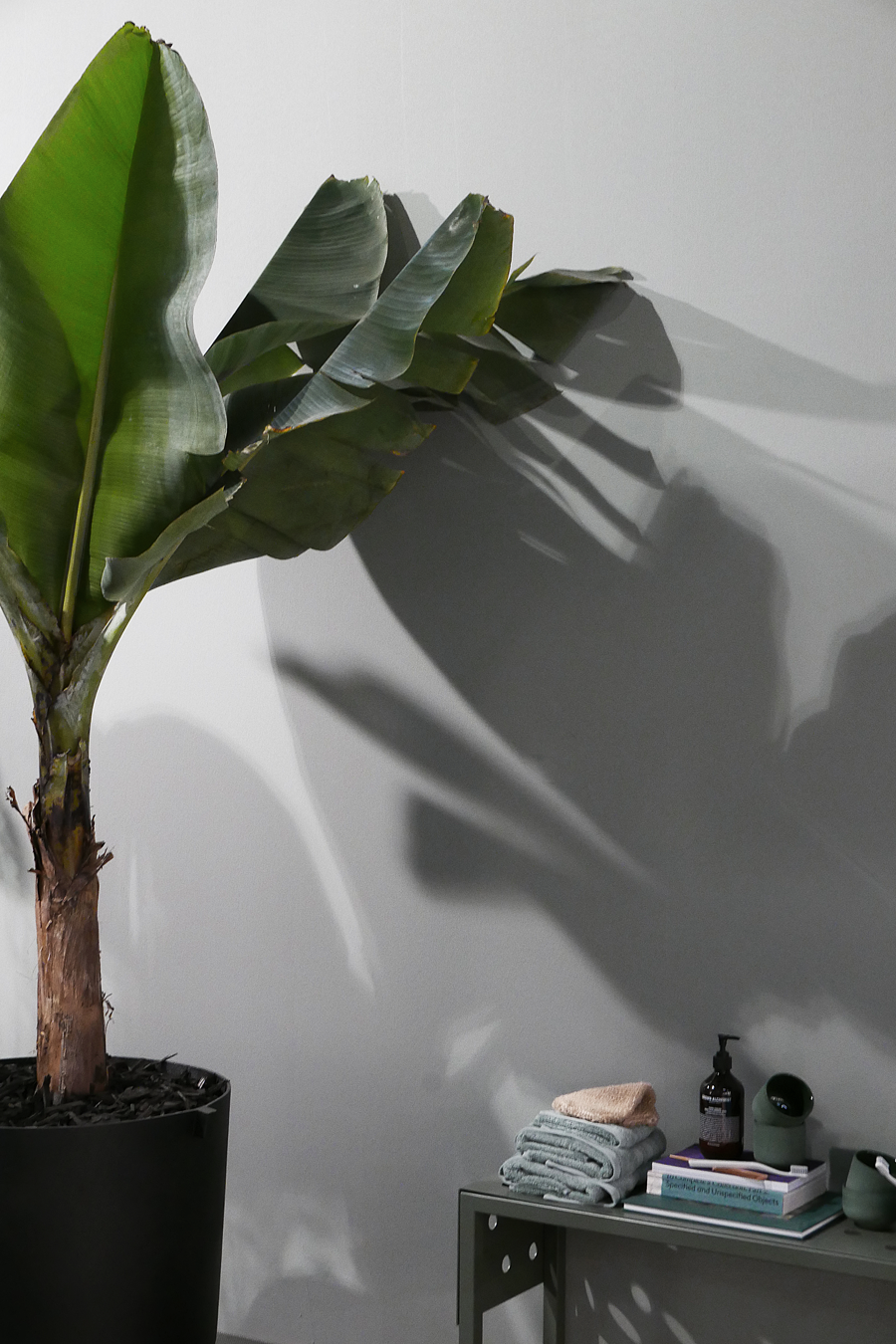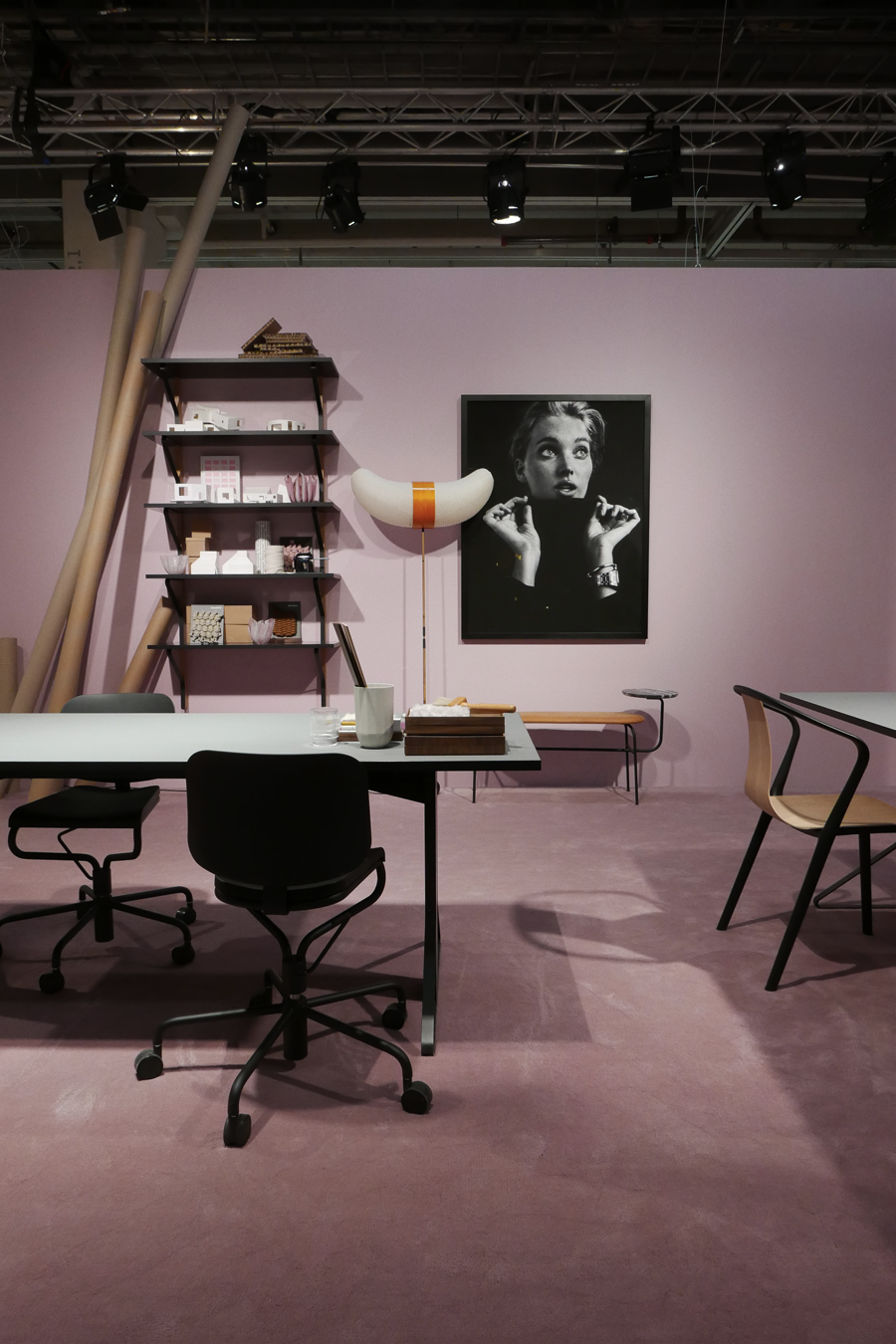 Office details: Custom made rug/Kasthall, desk and wall shelves/Artek, floor lamp from Artek/Vitra, bench/Menu, black office chairs/Lammhults, chair/Vitra, photo art/photgrapher Kalle Gustavsson, wall color/NCS 1515-R20B from Alcro.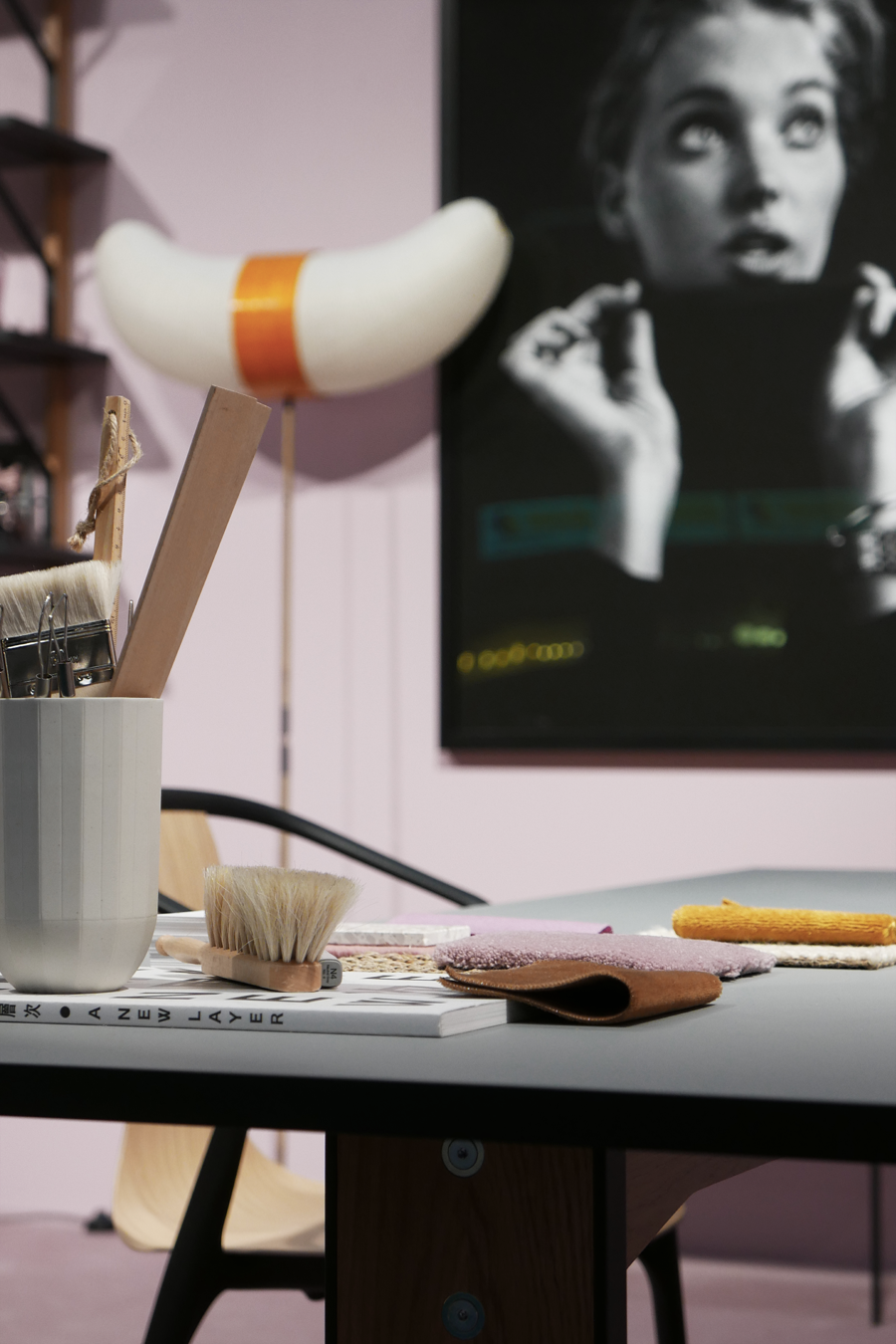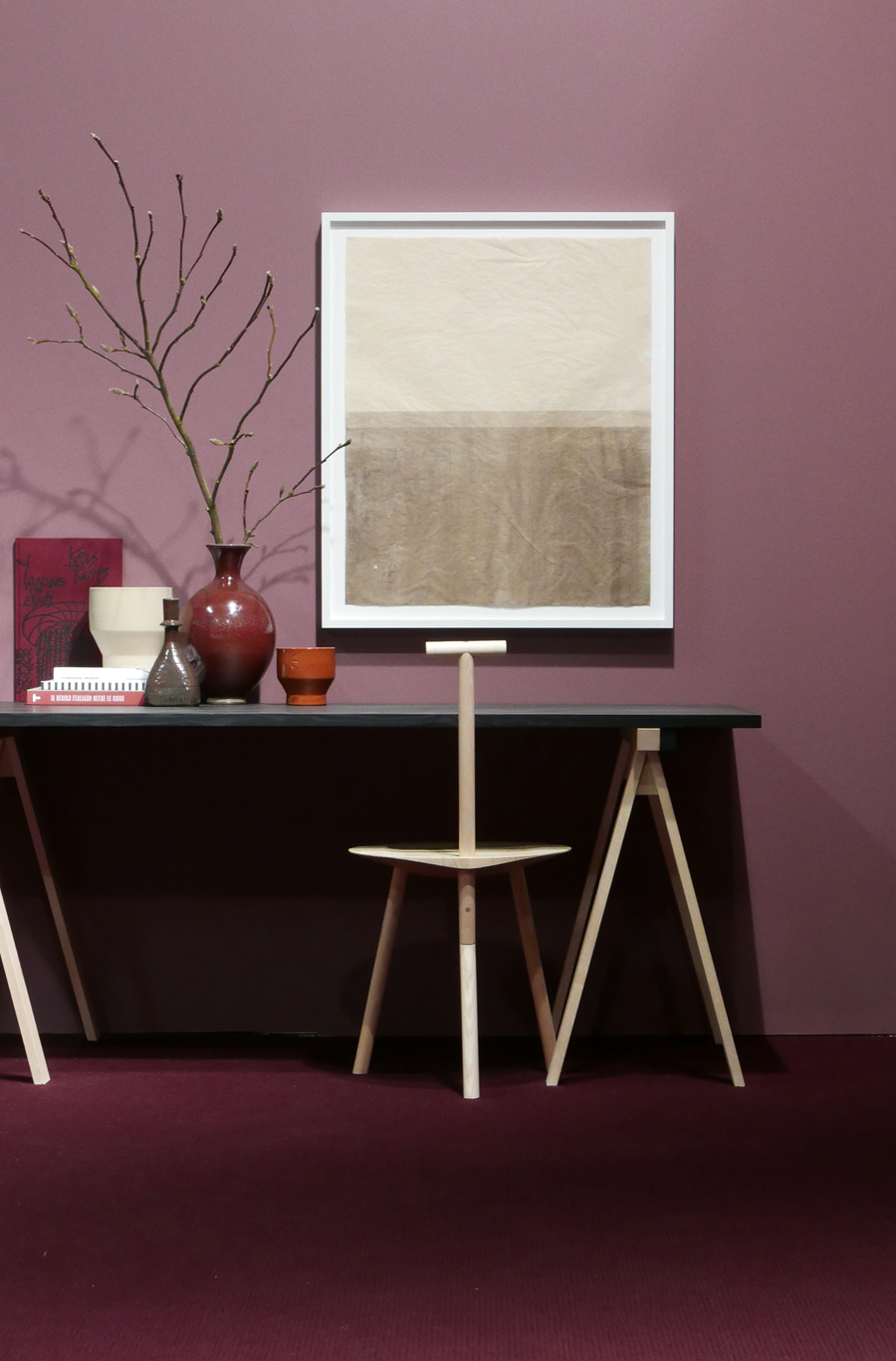 Bedroom details: Carpet/Dahl Agenturer, bed and bedlinen/Hästens, side tables by the bed/Massproductions, lamps/Flos, desk/Nikari OY, chair/Faye Toogood by Please Wait To Be Seated, art/Åsa Stenerhag, terracotta vases/Skagerak, wall color/Chianti from Alcro.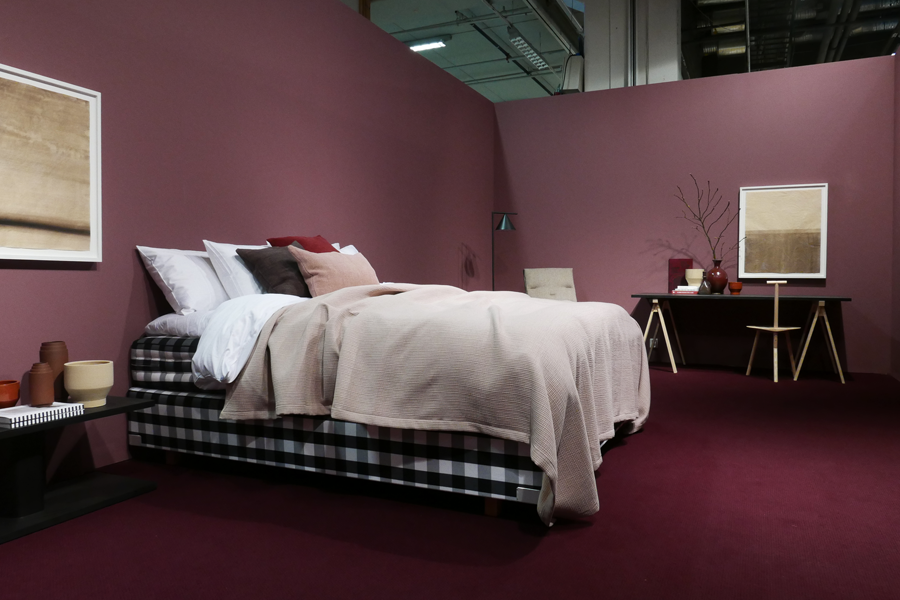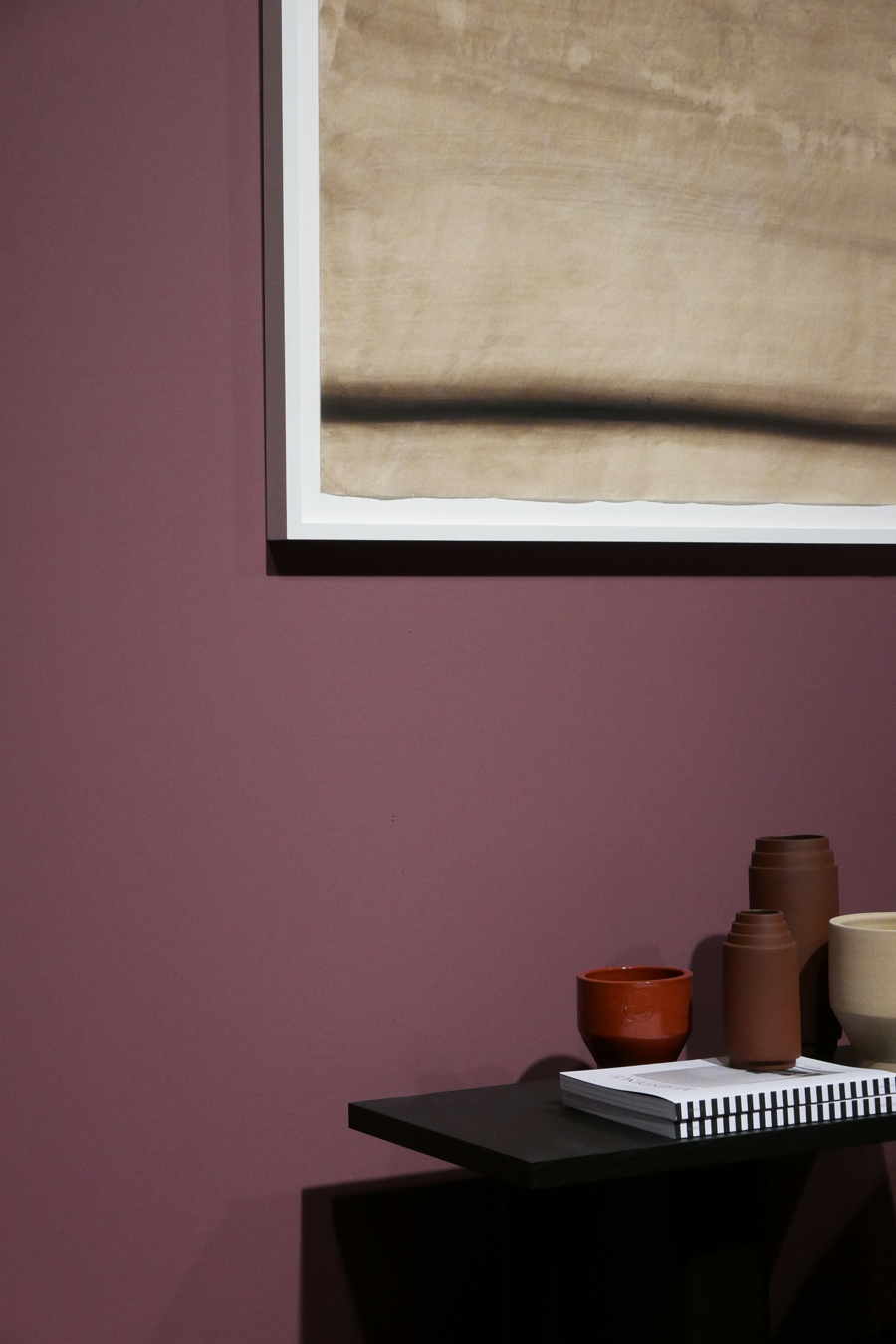 photo no 1, Stockholm Furniture Fair, all others © elisabeth heier
Vi lever i en tid i forandring, hvor vi ikke lenger har behov for butikker fordi vi kan gjøre alle innkjøp online – så butikkene må bli et sted for kunnskap og inspirasjon. Det samme gjelder kontorene våre, de fleste av oss har ikke behov for faste arbeidsplasser – eller engang et kontor hver dag. Hvordan påvirker det kontorene? Og hvis kontorene, butikkene og hotellene begynner å se ut som hjem, hvordan ønsker vi da at hjemmene våre skal se ut? Vi ser allerede mange soverom som ser ut som hotellrom og kjøkken som ser ut som et restaurantkjøkken i hjemmene våre. Tiden forandrer seg. La oss omfavne denne forandringen, snu alt på hodet og leke med interiørene våre. Jeg tror det er på tide å glemme de gamle reglene og starte på nytt. Mikse materialer, farger og bruke rommene på nye måter. Grensene er utvisket. Lotta Agaton.
We live in a time of change, where we no longer need our stores for shopping because we can do all the shopping online – so the stores need to find a new value, they need to become a place for inspiration and knowledge. The same thing goes for our offices; most of us don´t need our own desks today, or even an everyday office. How does that effect the office spaces? And if our offices, stores and hotels are starting to look like homes, what do we then want our homes to look like? Well we already see a lot of private bedrooms looking like hotel rooms and kitchens that look like restaurant bistros in our homes. Times are changing. Let´s embrace this change, turn everything upside down and play with our interiors. I believe it´s time to tear down old rules and start all over again. Mix strict materials with bold, pale colors with bright and use the rooms in new ways. The borders have been tore down. Lotta Agaton.
Elisabeth
Innlegget TREND EXHIBITION SFF BY LOTTA AGATON dukket først opp på ELISABETH HEIER.