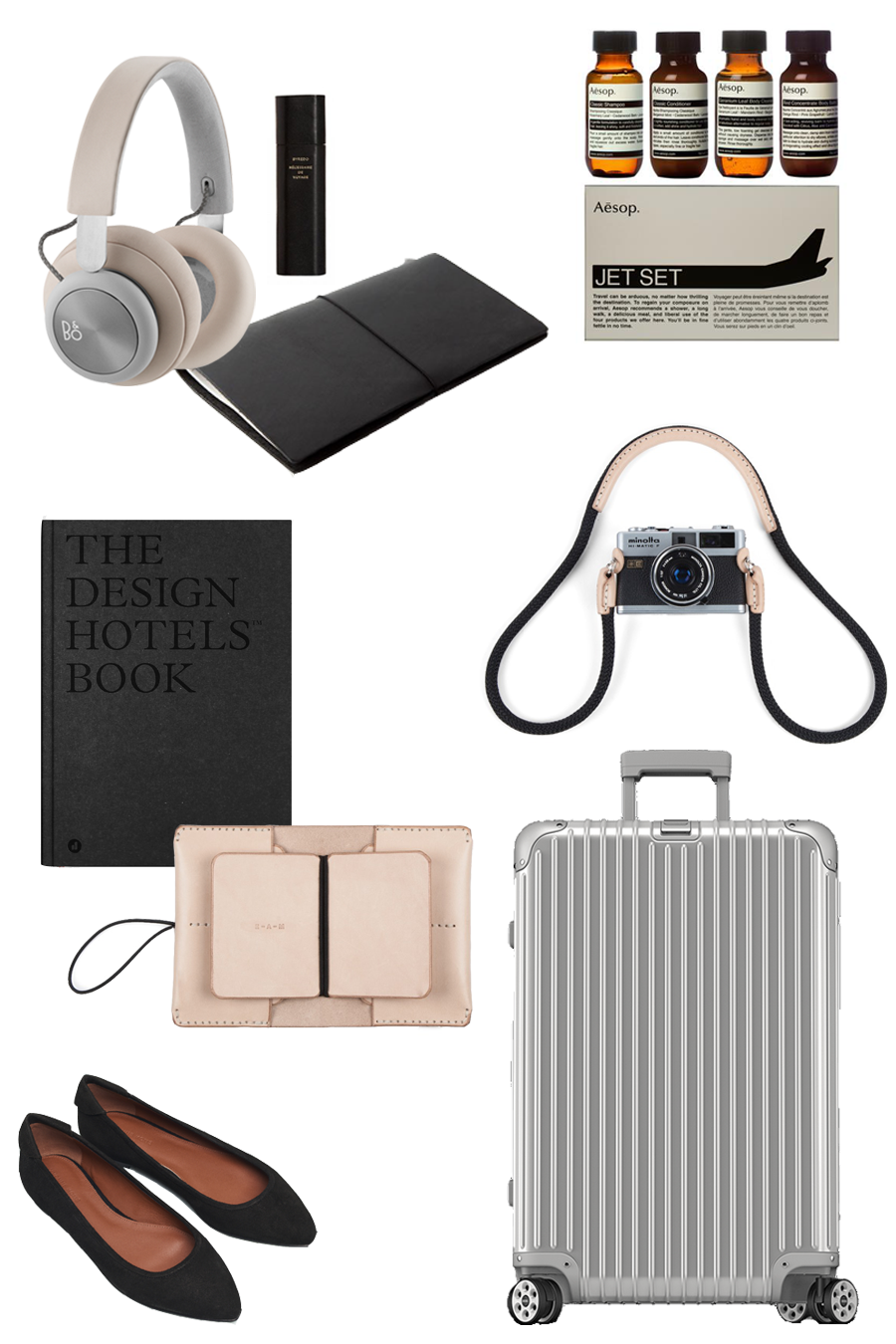 collage © elisabeth heier
When travelling, leave the map for a day and walk around and explore a neighbourhood. Eat on a restaurant recommended by a local. Keep a travel diary and collect memories.
I love to travel, and I love finding nice stuff to have with me. Things that makes the travel more comfortable, looks a little bit cooler and if I can save some space in the suitcase by choosing them too, I´m happy. Because packing light is not one of my best assets.. May starts with an exciting travel and with me I wish I could have all of this. From left above, Beoplay H4 headphones in beautiful sand grey color. It´s wireless and from my experience with other Beoplay products I´m sure the sound and comfort is very good. Byredo travel case in black leather. I already have this, and I love it. Ok, a bit luxurious but when you can buy your favorite perfume in a small travel edition and slip it into a elegant leather case.. Travelers Notebook from Misc Distribution, a nice notebook is a must have and for this one you can buy refills to put into the leather case whenever you need to. Aesop travel kit, always having a toiletry bag ready for the next travel is a must. Saves so much time. The Design Hotels Book 2017, I am not bringing this one with me but it´s amazing for inspiration. I´ve already marked some of the destionations in it on my must-travel-to-list. E-A-M camera strap, also a favorite of mine that I truly recommend if you want to change the original strap on your camera. Also from E-A-M, beautiful travel wallet in natural leather with space for cards, passport, travel documents and notes. Looking through my messy handbag when I´m travelling this one would be perfect. Ballerina shoe/Yvonne Koné, without doubt the most comfortable shoes I´ve tried. And last, a Rimowa suitcase. I tested one recently and yes please, I want my own!
Elisabeth
Innlegget TRAVEL ESSENTIALS, THE WISH LIST dukket først opp på ELISABETH HEIER.