Whether it is enjoying a barbeque during a pool party or sipping a cup of hot coffee in a breezy winter evening, outdoor seating remains the favorite for many restaurant-goers. While most of the restaurant-owners pay special attention to their indoor furniture, they often overlook the importance of outdoor furniture.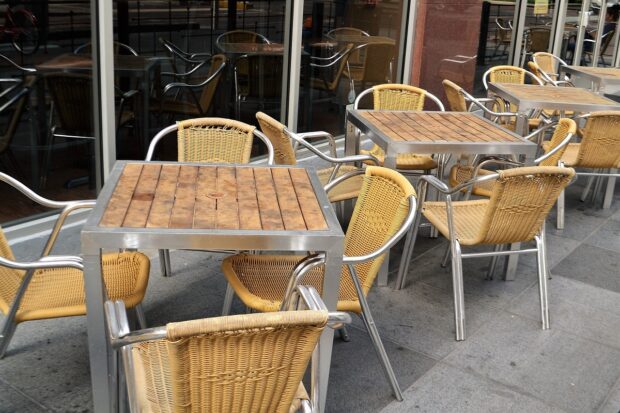 Outdoor furniture lets your guests enjoy food in a pleasant atmosphere, and you must select it wisely. Outdoor restaurant furniture must be elegant yet easy to maintain, visually appealing yet durable, able to bear extreme weather conditions yet affordable. However, buying the perfect outdoor furniture for your restaurant is seldom a simple task. With so many materials, patterns, fabrics, colors, etc. you are spoilt for choice, and finalizing particular furniture can be intimidating.
Things to Consider While Buying Outdoor Furniture
Now that you understand their importance, let's discuss different things you must consider while buying outdoor furniture for your restaurant.
1. Choose the Correct Material for the Furniture
Selecting the right material for the outdoor furniture depends on your requirements. If you require moving them around, you must consider light-weight materials like aluminum, plastic, etc. On the other hand, if you want firmness and ability to withstand winds, go for heavy and sturdy metals. Here are the most commonly used materials for outdoor furniture:
Metal: Due to its strength and ductility, wrought iron remains the oldest and most preferred choice for outdoor furniture. However, it is prone to rust and requires periodic checking and frequent maintenance. Additionally, metal furniture made from wrought-iron might get uncomfortable during summers without proper upholstery.
Aluminum: Aluminum is strong, light-weight, affordable, easy to machine, and use. No doubt, Aluminum restaurant furniture remains one of the go-to choices for most restaurateurs. Powder-coated aluminum looks attractive and offers sufficient protection against rusting. However, aluminum is not suitable for harsh windy conditions.
Wood: The natural look and favorable properties of teak wood make them ideal for outdoor furniture. It is readily available, water-repelling, easy to maintain, and long-lasting. Although, a bit expensive, wood furniture enhances the beauty and class of any set-up.
Plastic/Resin: The current trend of minimalistic design makes plastic and resins one of the most sought after materials for outdoor furniture. Due to advancements in molding technology, restaurant furniture made from plastic are available in a variety of colors, shapes, sizes, designs, finishes, etc. Plastic furniture is light in weight, inexpensive, fade and corrosion resistance.
2. Cost-effectiveness
Outdoor restaurant furniture requires a significant investment, and you must consider their cost as well as your budget. However, the total cost of owning furniture includes the upfront cost as well as the maintenance or repairing costs in the future. Therefore, before you make up your mind to buy particular furniture, take the maintenance cost into account as well.
3. Weather Resistance
Moisture and rain are the most commonly encountered agents that cause damage to the life and strength of outdoor furniture. As the outdoor restaurant furniture has to withstand extreme weather conditions, ensure that you select a material that offers sufficient protection against the following factors:
Resistance to Corrosion: When untreated metal furniture made from wrought-iron reacts with the moisture present in the atmosphere, it forms rust. Rust formation can make the furniture weaker, unattractive, and might even pose a health concern. If you opt to go for wrought-iron furniture, ensure that they are zinc plated that offers resistance to corrosion.
Resistance to UV Radiation: The outdoor furniture constructed using natural materials tends to fade and deteriorate from the harmful ultraviolet radiation from the sun. In such cases, choosing PE wicker or resin wicker and proper fabrics that do not fade might be a smart idea.
Resistance to Fungi: Tiny irregularities on the surface of the wooden furniture, when combined with dew, make a favorable condition for the fungal growth. Teak woods have excessive oil content that repels water and checks the fungal growth.
4. Size and Shapes
Apart from selecting the proper material for your outdoor restaurant furniture, ensure that you consider their utility and space constraints. The size of your outdoor furniture must allow enough room for the movement or your guests, servers, staff, etc. For a smaller patio, bistro-style set-up with two chairs and a table is a simple yet elegant option. Also it can be covered by the canvas tarps when they are not in use or in rainy weather. Similarly, if you want to create a relaxed seating arrangement for your guests along with the pool, you might want to consider lounge chairs.
Other things to include in Outdoor Furniture
In addition to the outdoor furniture sets, consider the following items in your restaurant's deck to enhance the overall dining experience of your guests.
Fiber Glass Umbrella: Available in a variety of colors and designs, the heavy-duty umbrella can withstand winds and offers an excellent choice to protect your guests from the sun.
Round Pedestal Table: Made from prime resin, with an attractive wooden look, the round pedestal table offers sufficient protection from scratch. These naturally looking tables are easy to clean and maintain.
The Chaise Cushion with Hood: These lounge chairs offer maximum comfort to your guests with soft fabrics. Being moisture resistant, they are easy to clean and require minimum maintenance.
Conclusion
To select the perfect outdoor furniture for your restaurant or hotel, you must have a clear understanding of your requirements, weather conditions, utility, and budget. Hopefully, the points mentioned in this article help you in creating the perfect atmosphere for your restaurant that offers maximum comfort to your guests for a profitable business.
The post Tips on How to Buy Outdoor Furniture for Your Restaurant or Hotel appeared first on Style Motivation.