Two of the worst hurricanes in New York history bookend the saga of a Saltaire cottage.
Michael Silber spent twenty years on Fire Island in three communities, living in many houses before he found the one that was right for him. The house that put an end to his search was a 1939 bungalow in the village of Saltaire, just 50 yards from the beach. 
With its combination of distinctive architecture, good light, and oceanfront location, it completely won the Manhattan-based management consultant's heart.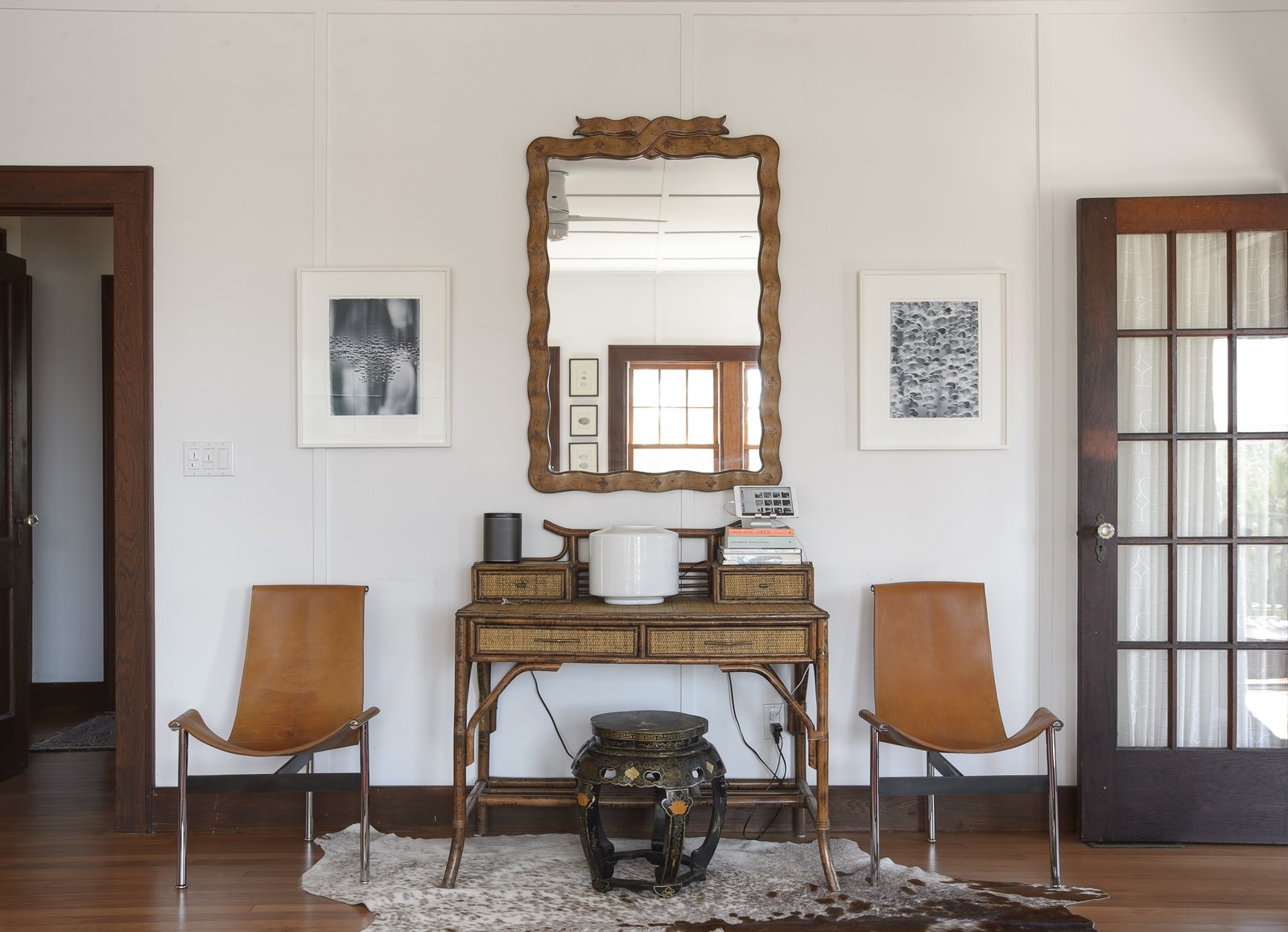 The shingle cottage is one of many that were built by master carpenter Mike Coffey after the record-shattering Great New England Hurricane of 1938 hit the area. Michael rented it for three years before buying it in 2011, at which point he decided to renovate and expand. 
Through a mutual friend, he found Eric Schiller, a Brooklyn-based architect who worked for 15 years in the office of I.M. Pei and also has a house and practice on Fire Island.
Schiller had a clear brief: "Michael wanted the house to be big enough for his sister and her family to visit, but it had to be done in the character of the Coffey house," he remembers. "It had to be light and airy but retain the original's spirit." And, set at the foot of a dune, right near the water, it had to meet the strictest FEMA requirements. 
The restrictions didn't deter either man. "Everything is planned for disaster," says Schiller, who adds that houses that were fully FEMA-compliant and were prepared following FEMA storm guidelines avoided significant damage from Hurricane Sandy, the superstorm that swept through the region in 2012, just months before Michael began construction. 
The rules require that the house be elevated eight feet above the ground. To avoid a leggy look, Schiller set it on a plinth with a base that tapers upward at an angle. A steel frame is hidden beneath the cedar shingles, which are covered with a gray-blue stain. "We wanted it to go dark, so that the white trim around the windows would pop," explains Schiller. He also thought to add the geraniums to brighten the window boxes.
"Fire Island is a critical levee for the mainland. There's a commitment to maintaining it. If you grow up here, you get the bug." Eric Schiller, architect
While the project had a happy ending, the process was bumpy—not because of Sandy, which thankfully spared Michael's home, but because he lost almost a year in a bitter zoning fight. 
He explains that in 1939 the setback had been 10 feet, but that later it was changed to 15 feet, so he actually needed a variance to build on the original footprint. (He also discovered that the existing detached garage was built one foot over the property line, so it was lifted, inched over, and attached to the house, where it now serves as a guest bedroom.) 
Michael thought getting a variance wouldn't be a problem, but anxious neighbors protested his design to the zoning board. A long approval process and hefty legal bills ensued. He finally won over the board when he presented them with a drawing of a starkly modern cube and said, "I could have built this."
Michael decided to keep the layout of the 1,330-square-foot first floor, but the second-story addition, which roughly doubles the space, took a dramatically different direction. 
"I wanted a loft-like feel," he says. The large room includes an expansive seating area where company can enjoy drinks and the view. There's also a separate nook he uses as an office, with a couch that folds out as a bed for guests. 
To top it off, Schiller created a ceiling of varying heights: The low points reduce the scale, while the high points make it soar and give the structure more strength against storm winds. No section of the ceiling is more than 16 feet wide. "It feels like origami," the architect observes. 
Michael admits it would have been cheaper to demolish the house and start from scratch. But, he says, "I wanted to keep the quality at any cost." 
Earning Its Sea Legs 
Raised to avoid floodwaters, Michael Silber's beach house begins a resilient new chapter. 
1938 The Great New England Hurricane slams the East Coast, destroying scores of homes and businesses on Fire Island. 
1939 Carpenter Mike Coffey starts rebuilding the village of Saltaire with shingle cottages. 
2011 Michael Silber buys a Coffey house 50 yards from the beach, with plans to renovate. 
2011–2012 A zoning dispute delays construction. 
2012 Hurricane Sandy washes away at least a dozen Fire Island homes and damages hundreds more. Silber's cottage is spared. 
 2013 The renovation, which includes FEMA-compliant upgrades, begins. 
2015 Construction ends. The new house is now elevated eight feet above the ground.