A budget-savvy, well-caffeinated couple get their hands dirty building a house, art gallery,
and coffee kiosk on New Zealand's North Island.
When Karen Jack, an elementary school teacher, and her artist husband, Grant, were looking for a home in Cambridge, New Zealand, they knew they wanted to replicate the walkable village lifestyle they'd enjoyed living in Britain several years before. So it felt appropriate to enlist their friend and roommate from that time, Christopher Beer, an architect who had also moved to Cambridge, to help. The Jacks spent about $600,000 on the project, including the land, saving money by building parts of the interior themselves. The result is a 1,710-square-foot three-courtyard home with an art gallery and coffee kiosk—smack in the middle of town. Shortly before the business opened, the Jacks recounted how their busy little home came to be.
Karen Jack: When we were looking at houses, we looked at a few older places to renovate. Eventually, we thought the houses we saw would cost a bit too much. And as we were looking, we realized we wanted something quite close to or in the village. Grant saw a place for sale, but it was an empty retail store. 
Grant Jack: Karen wasn't into it. 
Karen: But there was this plot of grass next to it… 
Grant: It looked like a convenient location to live, where we could easily get around. And I wanted a place where I could also sell art out of the front.
Karen: It's a commercial site, which means we could build quite differently from the way we would build a residential site. You can build right up to the edges.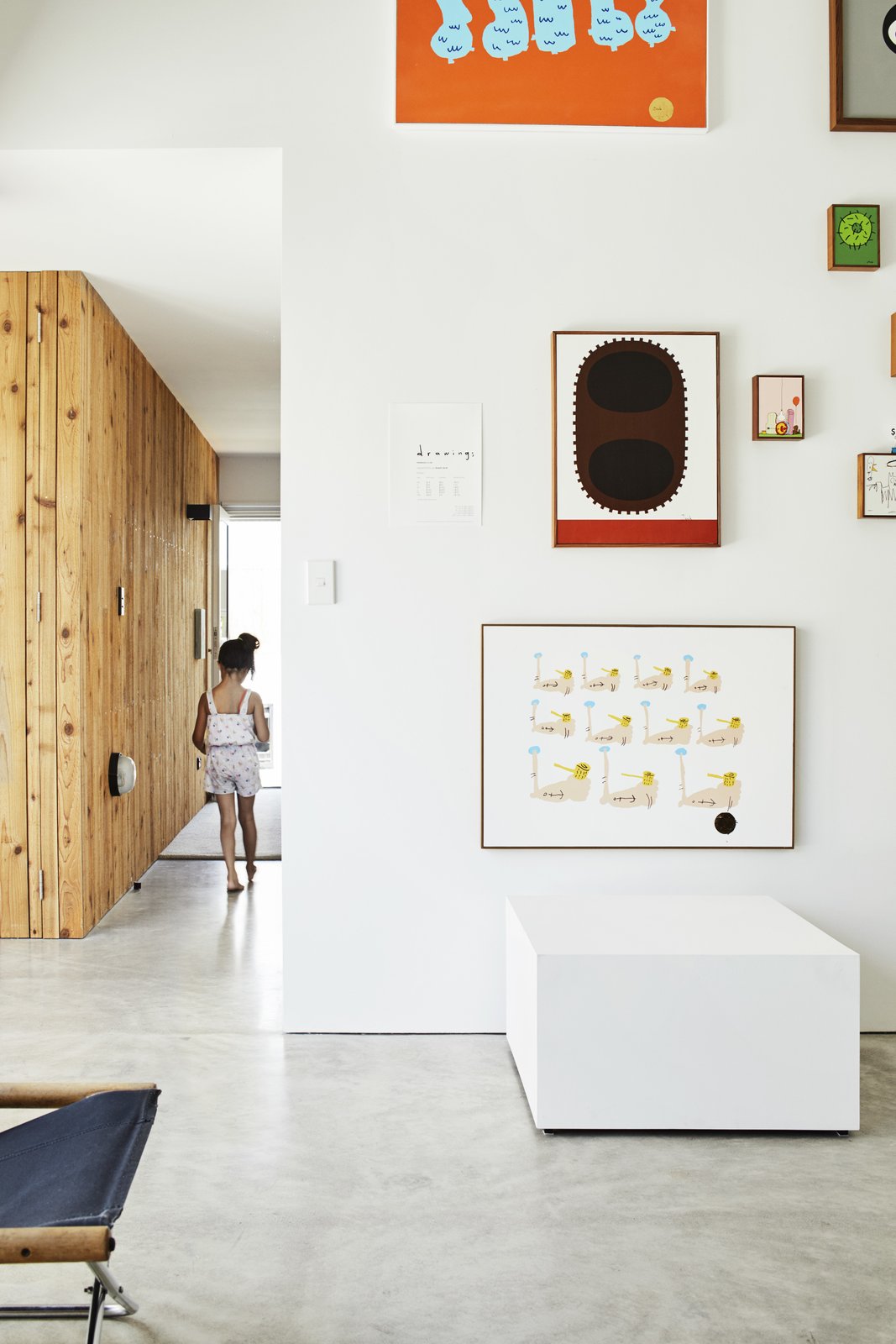 Grant: I'd seen small houses in Tokyo that are surrounded by an exterior wall but still have lots of light. And I liked the idea of not having much gardening. 
Karen: We were really willing to do something different with the design, but we had to make sure our house was compatible with the surroundings as well. It couldn't look like a normal house, because that would just look weird on a commercial street. There's a school across the road, a supermarket next door, and a cafe across the back.  
Grant: There are no other houses. 
Karen: The corrugated steel and the brick on the exterior wall help the house fit in with the rest of the buildings around it.
Grant: The bricks were rejected materials from an old folks home being built nearby. 
Karen: There's a courtyard in the front. When Grant gets his gallery up and running, that's where people will come in. 
Grant: I built a coffee kiosk that opens to the courtyard. I thought it would go well with the gallery and I just really like coffee.
"With this kind of house, you're not really looking outward toward the street and people. You're looking inward toward yourself." -Karen Jack, resident
Karen: Farther inside, there's a second courtyard with a fireplace. There are sliding walls that can tuck away to open it to the living areas. It's a great space—it's become like another room for us. We put a little mound in it. We wanted a bit of interest instead of just a flat space. Our daughter, Sadie, goes up on the hill and has picnics with her friends. With this kind of house, you're not really looking outward toward the street and people. You're looking inward toward yourself. 
Grant: The inside of the house has quite a big volume because the ceilings are quite high. It doesn't feel claustrophobic. 
Karen: Because we've got one space for the kitchen, dining area, and lounge, we needed to be able to separate things, so the lounge is sunken. 
Grant: We're both kids of the '70s, so we liked that. 
Karen: The walls are all cedar millwork. We call it a second-grade cedar here. 
Grant: It's unfinished and kind of rough. To save money, I did all the painting and the cabinetry. 
Karen: It's really cool because you actually feel like you're in a tree house with all this wood around you.
Make It Yours
The Jacks call attention to some of their more ingenious weekend projects.