Mother's Day gifts are one of the most important gifting decisions you will make in the whole year. Sure you can make a nice dinner and decorate with all the floral Mother's Day decorations you can find, but is that enough to give to the person who gave you birth? Choosing a gift for your mom requires thought and sentiment. No Mother's Day crafts with fingerprints will suffice anymore. So after you decide what kind of gift would be right down her alley, you need to decide whether you are going to buy it or make it. Thankfully there are plenty of options for both. Take a look at these 50 ideas you can buy or DIY your mom for Mother's Day.
Floral
When you've been cooking in the kitchen for such a long time, you're bound to have your secret family recipes that only you know. Gift your mom a gorgeous floral tin that will encourage her to write down her recipes so they will be forever kept in her handwriting. (via Rifle Paper Co.)
While this particular floral embroidery is for purchase, it would make a lovely and simple DIY project for Mother's Day. Create a pattern of her favorite flower in her favorite color and she'll enjoy having it hanging in her reading nook forever. (via Etsy)
There's just something about moms and candles that go together. Buy her one in a lovely floral tin that emits a wonderful spring smell and she'll be burning it from now till August. (via Anthropologie)
When a woman has a favorite handbag, she uses it until it's wearing at the seams. Find your mom a copy of her favorite purse and take it to the next level by gluing a floral patch on it. She'll be happy for a replacement and enjoy it's beauty even more. (via The Lovely Drawer)
Once you found your style, you probably realized that each woman has her favorite daily jewelry, even your mom. Give her a pretty flowery plate to keep her jewelry safe and sound while she sleeps. (via Catbird)
Jewelry
Does your handwriting look like your mom's? Or maybe it takes after your dad's. Either way, your mom probably loves it. Give her a bracelet with a message in your handwriting stamped on it so she can cherish your M's and O's and L's forever. (via Etsy)
Love the stamped bracelet idea but loathe to spend a fortune for one? Use your own stamping kit to cover a simple cuff in infinity symbols to signify your love for each other. (via One Artsy Mama)
Is your mom into all the rings? Give her a set that she will wear every day. Of course it won't work if she has more than ten children, but you can easily make two or three stackable for one finger. (via Etsy)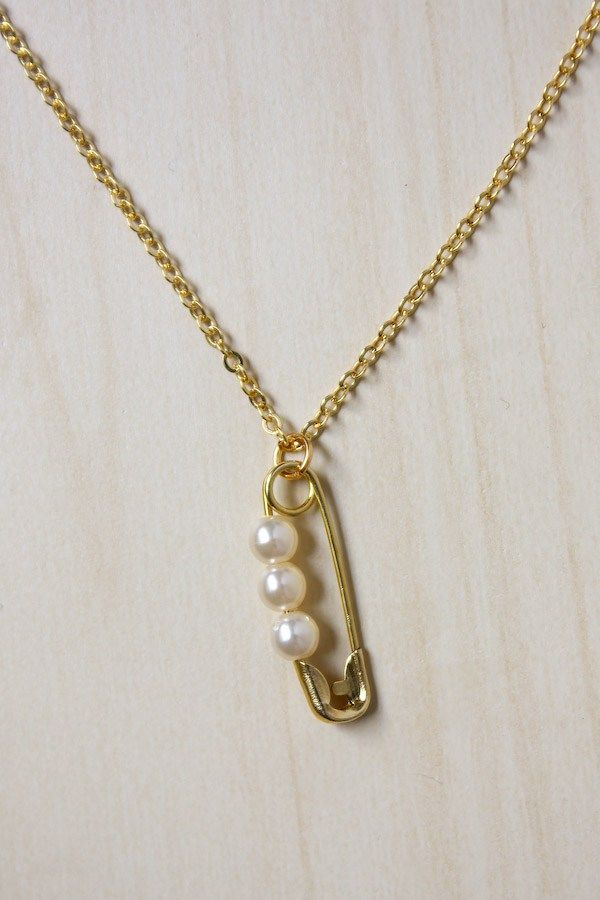 Mom's who are into quirky jewelry are the best to give gifts to. If your mom only has one to three kids, make this fun and simple safety pin necklace with as many pearls as kids. It will be the most unique jewelry out there. (via Make and Fable)
A mom who is into the simplest jewelry possible is sometimes difficult to buy for. Except this bracelet is sure to be right down her alley. Just add as many initial charms as she has kids. (via Etsy)
If your simple jewelry mom is more of a necklace wearing gal, grab your jewelry making supplies and create these lovely yet classic pieces for her. They're simple enough to wear every day but delicate enough for date nights and business meetings. (via Pottery Barn)
For the mom who still has young children to run to soccer practice and ballet and sleepovers, give her a gorgeous rose gold watch. While it's a very practical gift, it makes sense for the mom who is always watching the clock. (via Anthropologie)
Many moms have some trouble adjusting to having adult children. If that describes your mom, DIY a word necklace that describes her. The word will be meaningful while the leather will feel young and hip. (via Kingston Crafts)
Are you your mom's only child? In that case, the single name jewelry works great. Like this simple stamped necklace that she will love wearing. Or you can have her mother's name stamped in it instead of yours. (via Scoutmob)
Maybe your mom isn't into much jewelry wearing. Make her a set of these raw stone earrings for Mother's Day that she can enjoy wearing even when she's hanging out at home in her yoga pants. (via Alice and Lois)
Beauty
When you're a mom with young kids, baths seem like a luxury you will never have again. So it seems only proper that you encourage your mom to make up for missed bathtime with these English rose bath fizzies. (via The Casual Craftlete)
Making your own soap is such a fun craft to try, especially when you get it perfected. Share your soap skills by making your mom some gorgeous multicolored gemstones to make her bathroom a little more sparkly. (via A Beautiful Mess)
While making your own perfume can be a lesson in patience, it is definitely worth it to have a bottle of your favorite scent. Give your mom a bottle of roll on perfume in her favorite floral smell. (via Hotel Wilderness)
Of course, if there is not enough time to make your own perfume, you are welcome to buy a spring scent instead. Opt for this orange blossom smell and you can't fail. (via Nordstrom)
After raising young children, most moms understand the joys of multipurpose makeup. You can make this lip and cheek stain in no time and your mom will appreciate the one bottle for two purposes. (via Hello Glow)
Who doesn't love a bottle of rosewater? There are so many uses for it! Easily make your own and give it to your mom, your mother-in-law, your aunt, your boss and your best friend who just became a mom. (via Lovely Indeed)
Half of the fun of gifting sugar scrub is how gorgeous it looks. Especially in bar form like these gorgeous rosey pink bars. It will also many scrubbing easier and therefore your mom is more likely to use them. (via Hello Glow)
Bathtime will be the highlight of her day when it smells like flowers and completely relaxes her. Help achieve those highs by mixing together these floral bath salts in the prettiest container you can find. (via Married To The Earth)
If you wouldn't even know where to start purchasing all those dried flowers, go ahead and opt for store bought bath salts. As long as their pink and in a lovely bottle, she will appreciate them. (via Catbird)
One thing all women can come together and commiserate about is the problem of dry and cracking feet. Help your mom battle hers by gifting her this homemade peppermint foot soak. Pair with a good book and you'll have a major hit. (via Suburban Simplicity)
Looking for something quick and simple for a Mother's Day gift? It doesn't get simpler than a body scrub. This particular one smells like roses but you can make your smell like whatever scent your mom would prefer. (via Kittenhood)
As we women get older, we start to put more work into our facial care. Make your mom this natural oatmeal face scrub that is mild enough to use daily and smells nice and soft. (via Dabbles and Babbles)
There is something to be said for knowing exactly what you're putting on your skin. This lip balm is made entirely from natural ingredients so you can purchase in a pinch and feel good about your mom's lip balm. (via Herbivore)
Love the lip balm idea? Feel free to make it yourself! This lip balm is one ingredient but you can add essential oils for scent if you'd like to bulk it up a little bit. (via The Lovely Drawer)
Body oil feels like a luxurious young thing to have. Give your mom this lovely oil that she can use on her body and hair. It will make her feel like a floral smelling French goddess. (via Anthropologie)
Home
Do you have a mom who always wins the Hostess Of The Year award? Give her this gorgeous floral cheese plate for Mother's Day that she is definitely going to pull out again and again and again. (via Anthropologie)
And while you're at it, go ahead and put together these simple DIY cheese knives to match her floral cheese plate. They're so colorful and classic, you can bet they'll be used to their full potential. (via Sugar and Cloth)
A dog loving mom is the only kind of mom who wouldn't love this adorable kitty bud vase. The neutral colors will allow her to take it to the office or display it proudly on her kitchen counter. (via Urban Outfitters)
One of the best ways to relax is to simple light a candle. Something that smells nice and has a soothing effect on your mind. So when you're making a homemade candle for your mom, go ahead and make one for yourself. (via The Healthy Maven)
How lovely is this hobnail planter? Whether your mom is always adding new plants or just needs some new pots to replace the old dusty ones, she'll be more than happy to place this anywhere in her home. (via Terrain)
Some planters you just can't buy, like this colorblock pastel planter. It's gorgeous shades you can choose to match your mom's home and it will become her favorite planter, promise. (via Proper)
Those of us who love our gallery walls always appreciate a new art print, especially the floral ones. Make this the sweetest gift for your mom this Mother's Day, pre-framed and ready to hang wherever she chooses. (via Rifle Paper Co.)
Of course if your mom is more of a quote girl than a flower girl, make her this very unique letter board. Everyone has them, but not very many have a pink one! (via The Sassy Life)
It's okay to admit that you squealed with delight when you saw these adorable little ring holders because we did too. It's going to be the cutest thing on your mom's dresser and guarantees to make her smile every morning. (via Urban Outfitters)
These chic ring holder pyramids are almost too easy. Just pour and let dry and your mom will cover her Instagram account with them. (via The Things She Makes)
With iced tea season upon us, there's nothing like a set of new glasses to enjoy your favorite summer drink. Give your mom these fabulous glasses to remind her how fabulous you think she is. (via Lulu and Georgia)
It's a fact that any gold accent makes for an enviable set of dishes. You can add the gold rims to a set of cheap glasses and they'll look like you spent a million dollars on your mom. (via Freckle and Fair)
After all her years of tasting, your mom probably has her favorite bottle of wine. Gift her a bottle or two along with these lovely brushed bottle stoppers to make opening them on the second night even classier. (via West Elm)
There is no limit to the things you can embroider. Use your needlepoint skills to put a pretty floral pattern on a couple of tea towels that your mom can proudly display in her kitchen. (via Flax and Twine)
As the children grow older and move away, it's likely your parents invested in some nicer furniture. Help her protect that gorgeous coffee table with some bright agate coasters like these. (via Lulu and Georgia)
Coasters can be made from a lot of different materials though. Whatever you choose, make sure they're something bright and patterned that will look great sitting on her coffee table. (via Live It. Love It. Make It.)
Lots of people give their moms flowers for Mother's Day. Take your gift a step further by having some plants already in these  chic terrariums for her to enjoy. (via West Elm)
There probably isn't a person alive who doesn't love lilacs. Use fresh ones for smell or faux ones for length and create the prettiest rustic wreath your mother has ever seen. (via Jest Cafe)
Since you're probably already thinking about making your mom that simple sugar scrub for Mother's Day, why not pair it with a lovely Turkish towel? All the evidence is for them so you can't go wrong. (via Etsy)
Every mom loves photos. Make your mom this unique lucide frame with a picture of her family inside. She will adore seeing her favorite faces above any present you could give her. (via A Beautiful Mess)
The post The Ultimate Mother's Day Gift Guide appeared first on DIYs.com.