The Ocean Cleanup is headed out to sea—again—to remove plastic and debris amassing in the Pacific.
The Great Pacific Garbage Patch, a pelagic mass of plastic and debris floating between Hawaii and California, is growing at a rate that may soon rank it as the eighth wonder of the world. At three times the size of France, it weighs a whopping 80,000 tons and consists of roughly 1.8 trillion individual pieces of plastic. The concentration of plastic is estimated to be ten thousand times that of naturally occurring sea life. 
To address this looming phenomenon, The Ocean Cleanup launched a two-year study called the Mega Expedition in 2015. The nonprofit organization deployed technologically advanced vessels and aircraft to gather data to inform the design of an environmentally friendly device that would effectively capture plastics at sea.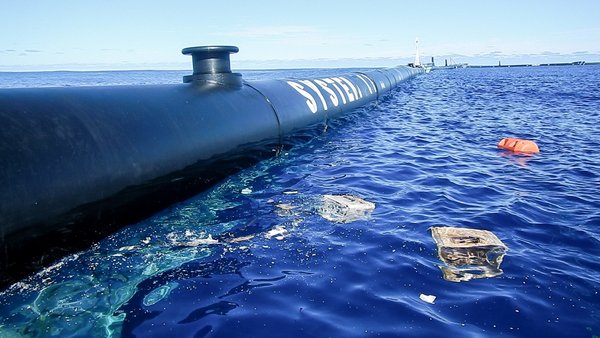 The Ocean Cleanup just launched its plastic collector since the project's maiden voyage in October of last year. Wind and waves dealt substantial damage to the initial system, breaking apart the barrier and rendering it ineffective. The improved design's parachute and buoy features are designed to withstand wind and currents, and the u-shaped boom is now modular, which makes repairs and deployment much easier in open-ocean conditions. 
While the ambitious design is certainly altruistic, the multimillion-dollar endeavor led by founder Boyan Slat has its critics. 5 Gyres, a group working to empower action against plastic pollution, states: "Unfortunately, a cleanup only cleans up the mess and doesn't prevent the mess from happening in the first place. As a society, we must use less plastic to begin with in order to tackle the waste already being created."
See the full story on Dwell.com: The Ocean Cleanup Returns to Scoop Up Plastic From the Great Pacific Garbage Patch
Related stories: