A powerful design collaboration is fresh and inspiring! Perhaps your favorite designer has teamed up with a favorite brand to create a new product, such as a chair. Or maybe the work of a beloved Etsy artisan is for sale through a favorite retailer. With the design climate changing, more and more individuals have found a way to express their creativity (and get noticed). When a well-known brand spots a talented designer, true magic can occur. Read on to discover a collection of furnishings and decor that beautifully illustrate the art of collaborative design…
Rikke Jo Tholstrup for ferm LIVING
We begin with a new collection: The Paddle People project, created by Rikke Jo Tholstrup for ferm LIVING. Tholstrup has covered a series of decorative wooden paddles with knit designs that beautifully complement a range of today's top trends, from geo art and tribal style to Memphis-Milano flair. Below we see Paddle People – 1: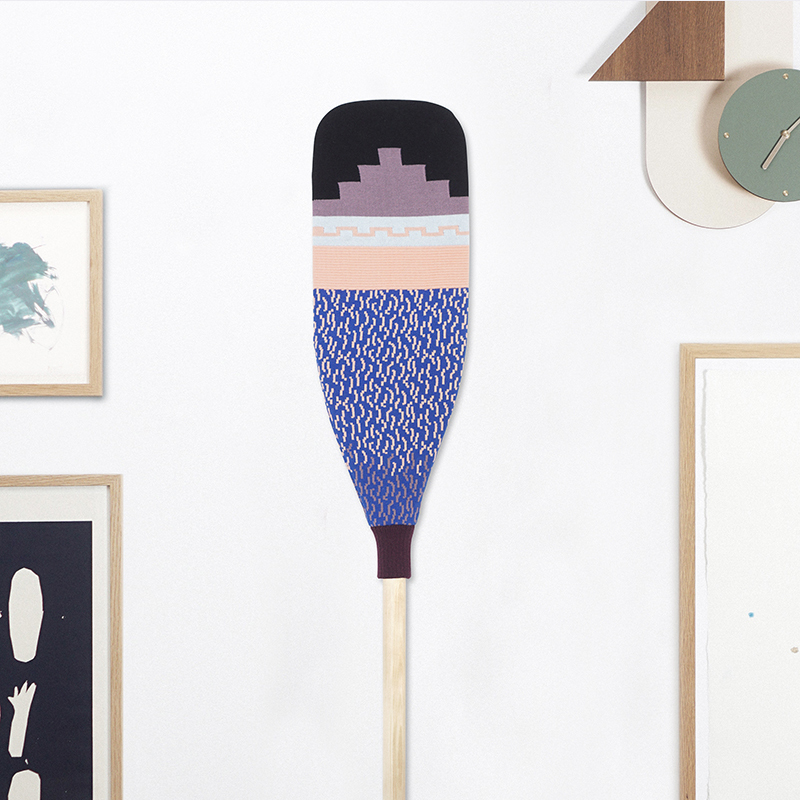 In fact, the knit patterns are inspired by patterns and sculpture from North American Indigenous art. Five different designs have been created, and only ten units of each design are available. In the next image, we see Paddle People – 3: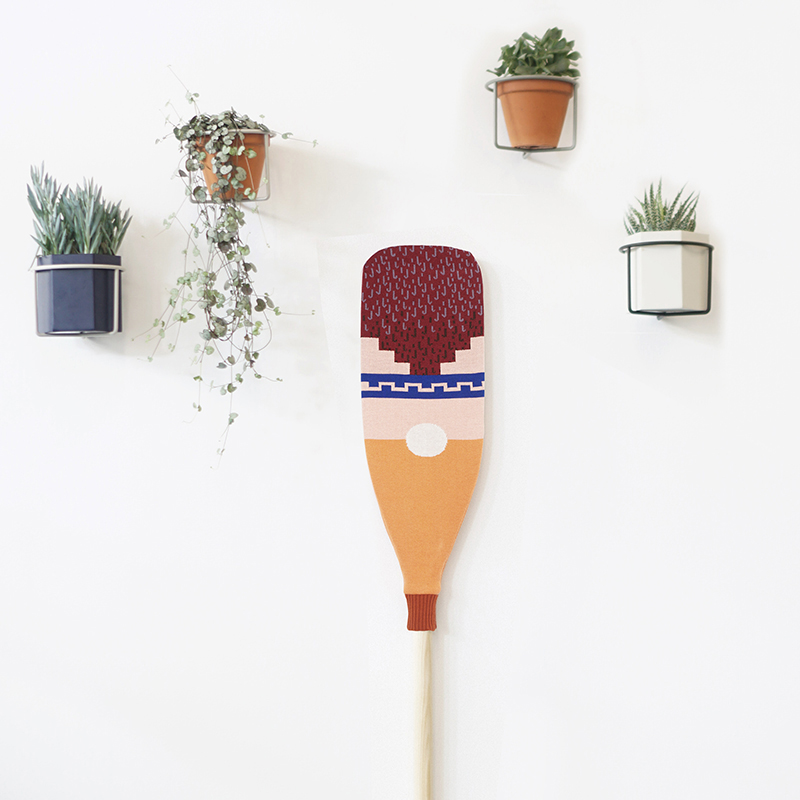 Handmade and sourced in Denmark, these knit-covered paddles are true treasures that showcase top-notch materials and boundless creativity. Paddle People – 4 and Paddle People – 5 decorate the wall below: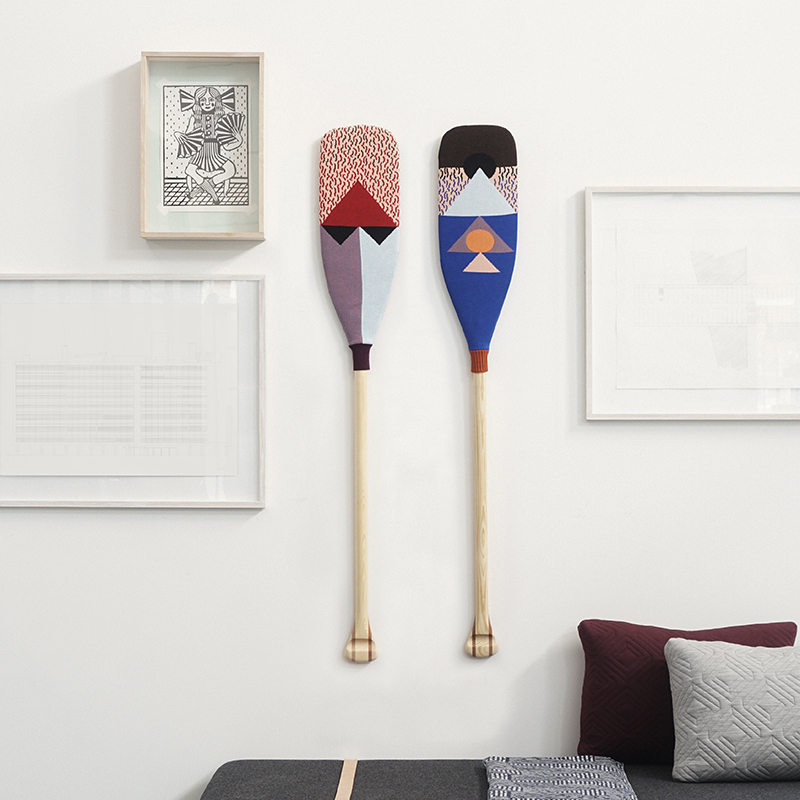 You can learn more about Paddle People at ferm LIVING…
Eric Trine for wolfum
We've been fans of Eric Trine's modern creations for awhile now, so we were excited to learn about SuperPac, a selection of 18 West Coast designers curated by Design Milk's Jaime Derringer.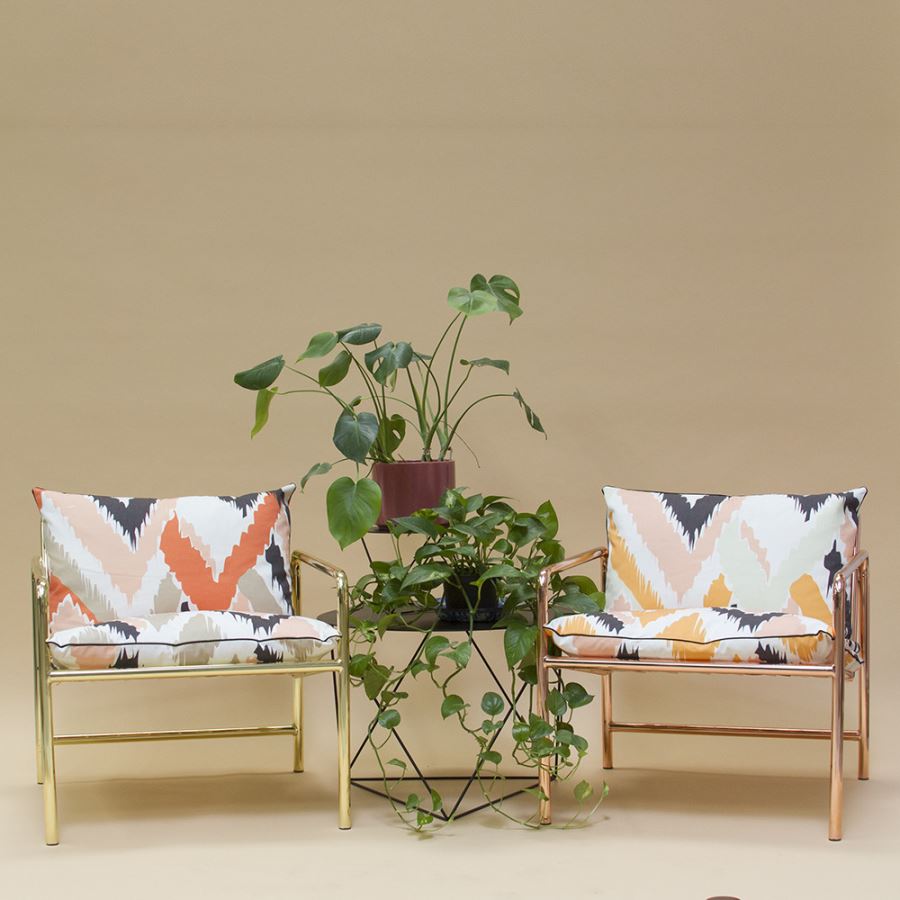 Creating a custom graphic based on "delphine" by wolfum, Eric Trine merged the eye-catching design with his Tube+Grid chair in this Eric Trine/SuperPac at West Edge Design collaboration (with wolfum), shown above and below: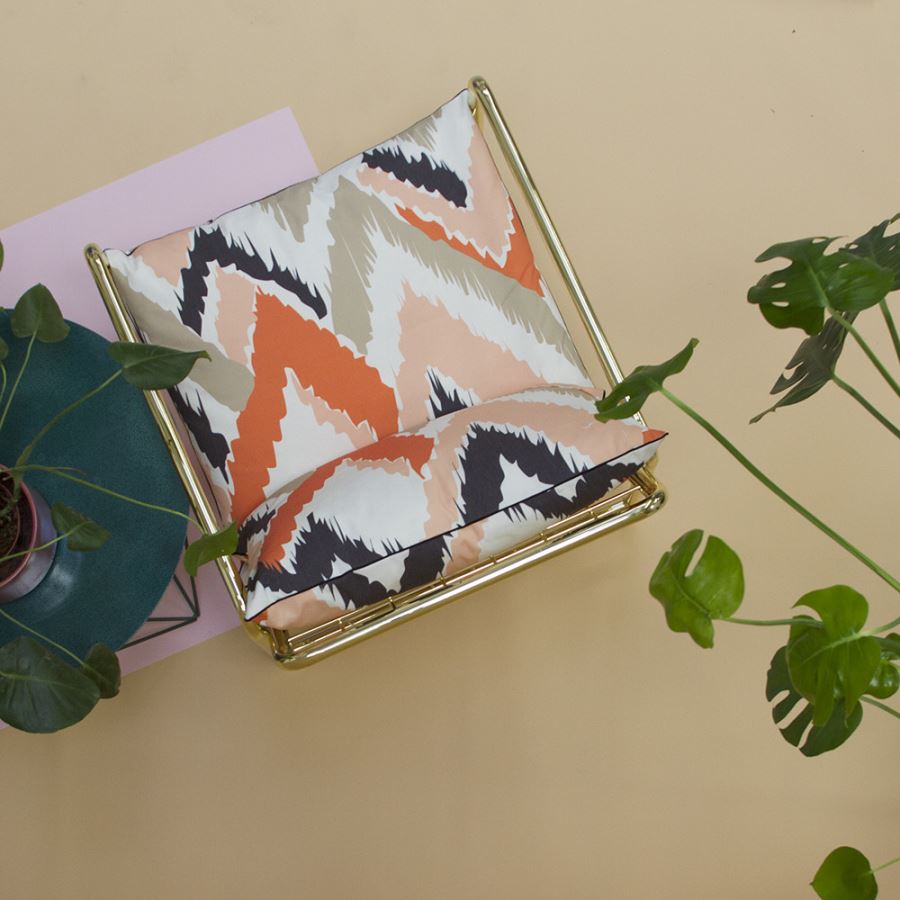 When the print is bold and eye-catching, a simple frame is all that's needed. We're loving the variety of metals used, as well as the abundance of tropical leaves in each product shot. This delicate interplay of simple and bold, metal and cloth is the true essence of creative collaboration. It's a give-and-take process that can result in pure magic: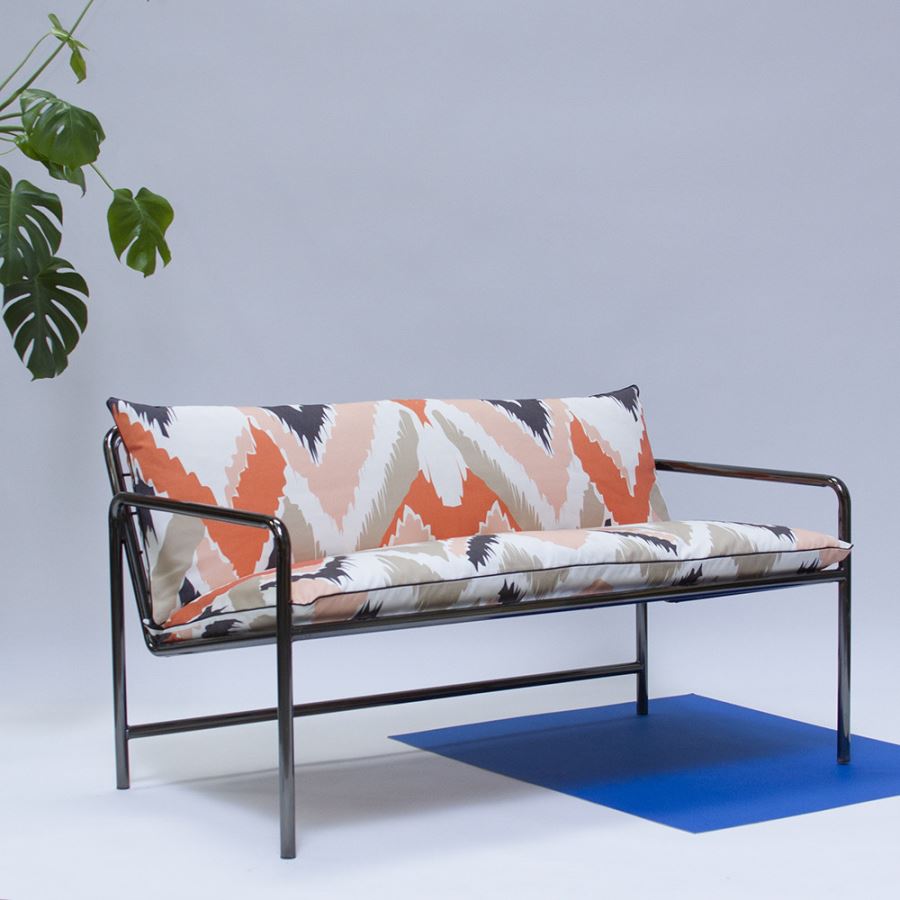 Fort Standard for 1882
Do you remember our profile on New York-based design studio Fort Standard? Clean lines and thoughtful creations reign at Fort Standard, and this next featured collaboration is no exception. Designed by Fort Standard for 1882, Standard Ware is a collection of fine bone china pieces with a geo look, thanks to a series of facets. Below we see the Large Deep Bowl [photos by Brian Ferry]: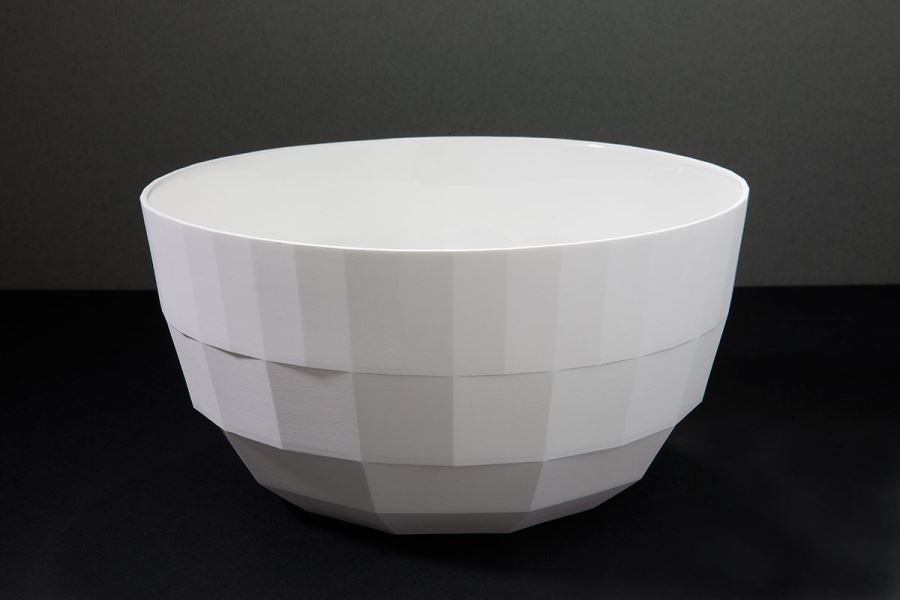 A trio of bone china treasures can be seen in the next featured image, including the Medium Cup. The juxtaposition of modern design with the classic style of bone china results in an exciting collection of products that can thrive in a range of settings: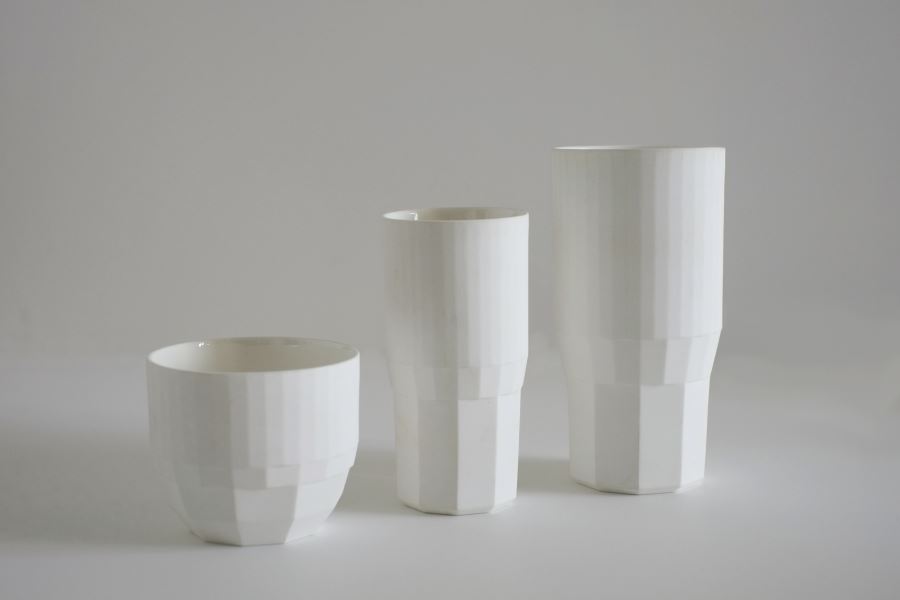 Next we see the Standard Ware Pitcher, which features large facets that command attention. Check out more of the Standard Ware collection at Fort Standard and 1882.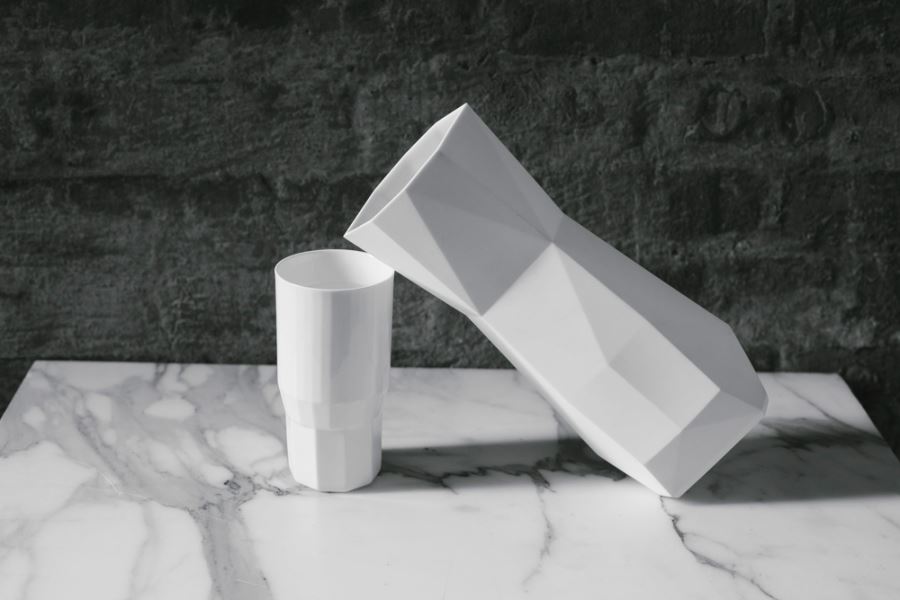 John Hogan for Ladies & Gentlemen Studio
We've had our eye on glass artist and designer John Hogan for some time, and we're loving his collaboration with Ladies & Gentlemen Studio titled "Composium". This tabletop light is sculptural, thanks to Hogan's contribution of solid hand-blown glass. [photos by Kaarem]
Here's a closer look at the piece, which features LED lighting and brass detailing: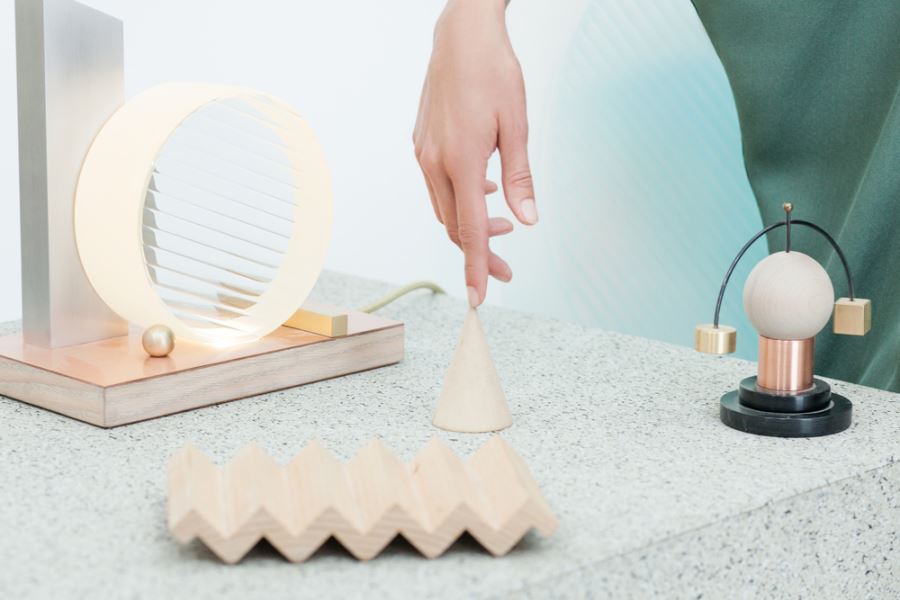 The only thing better than Ladies & Gentlemen Studio products are the product shots. Each one reads like a still life photo, reflecting the artistry and creativity that this studio contributes to the design community. Learn more about L&G Studio in this Decoist profile.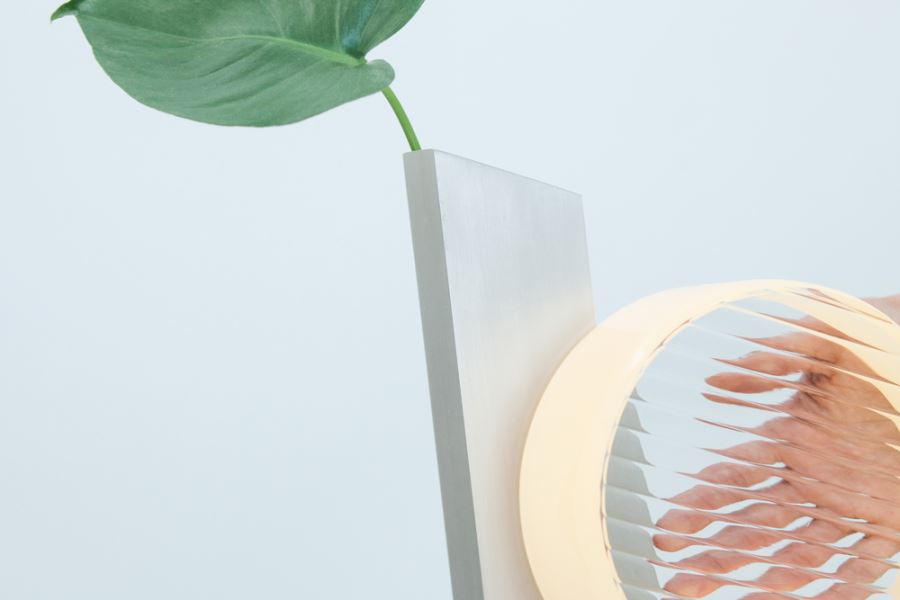 This isn't the first collaboration between John Hogan and Ladies & Gentlemen Studio. Below we see a piece from Atlas, a table light series featuring solid glass optical diffusers by Hogan and lamp bases by L&G Studio. So fabulous!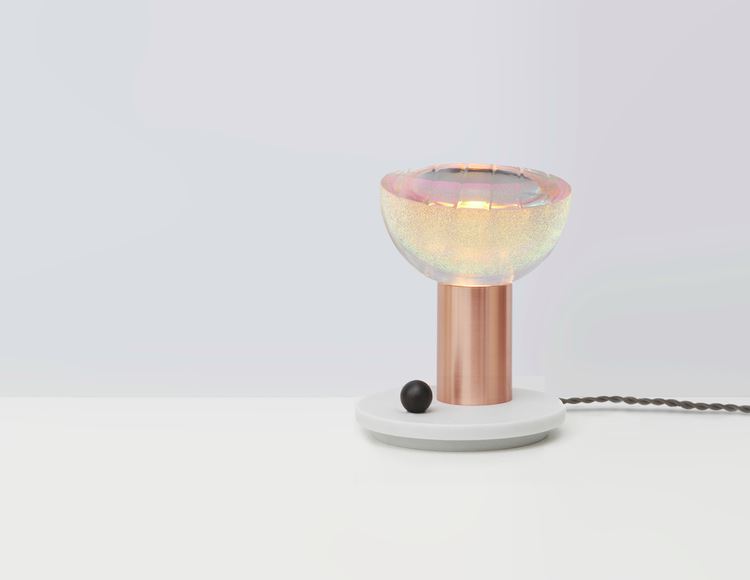 CB2 x Kravitz Design by Lenny Kravitz
When a musician/designer who has traveled extensively teams up with a top brand, you get some remarkably interesting results. Say hello to the The CB2 x Kravitz Design collection by Lenny Kravitz, which is heavy on '70s-inspired style. Materials such as leather, metal and wood take center stage in pieces such as tables, chairs and even amazing textiles. Earthy meets chic: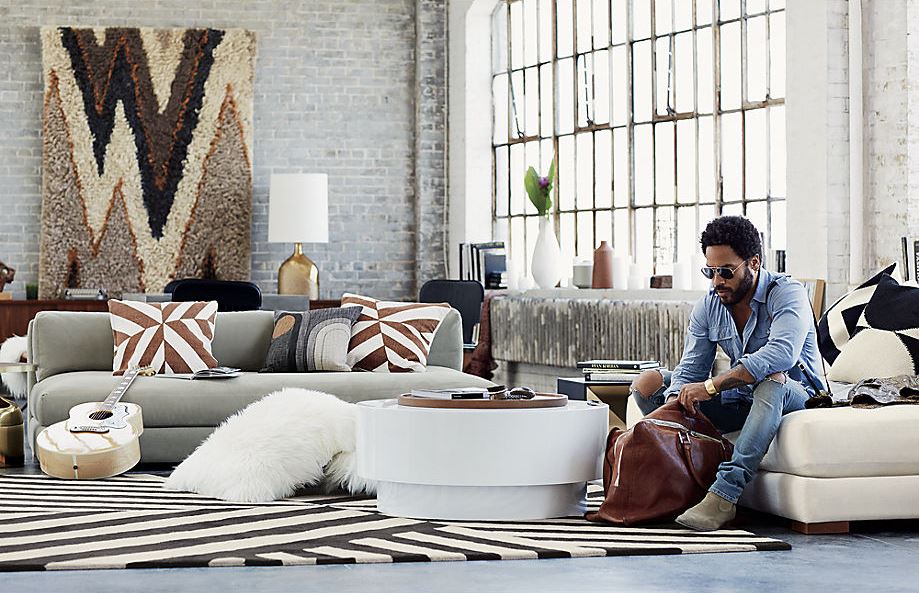 Kravitz' global lifestyle inspired items such as the Groove Wool Pillow. In fact, there are many eye-catching pillows in this collection, and they reflect a range of motifs, from '70s glam to beachy chic. As stated by Kravitz design, "each pillow is a little piece of art."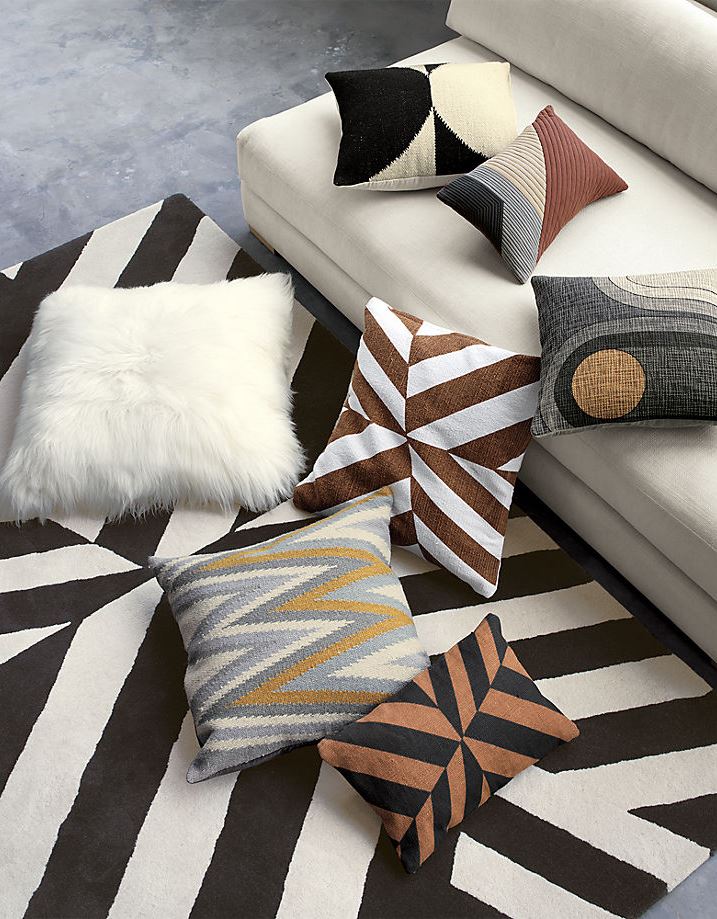 A reflective surface brings the Changes Media Console to life. Asymmetry reigns in this geo piece that celebrates clean lines and '70s op art style. The height of this console gives it the power to also work as a dining buffet: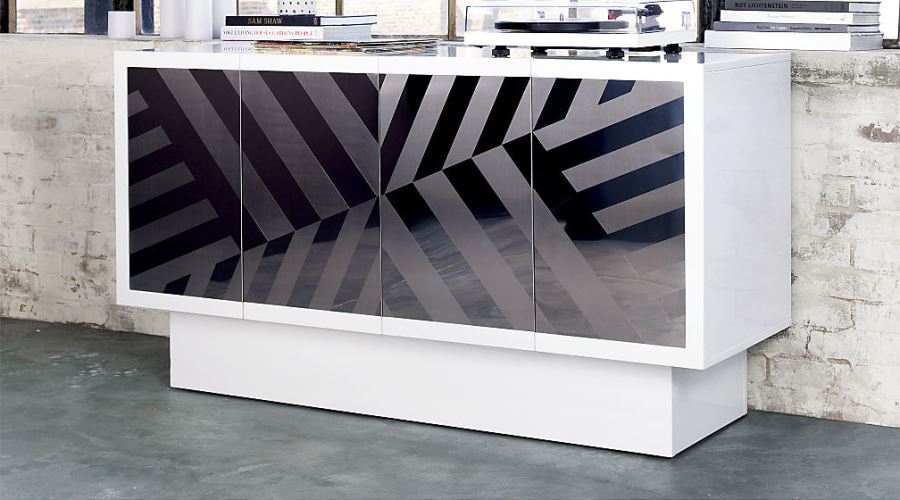 Leather and brass combine in the Rake Brass Chair, which features a cantilevered base and a black leather sling that slips on and off to create two interesting looks. Below we see the piece's sculptural beauty: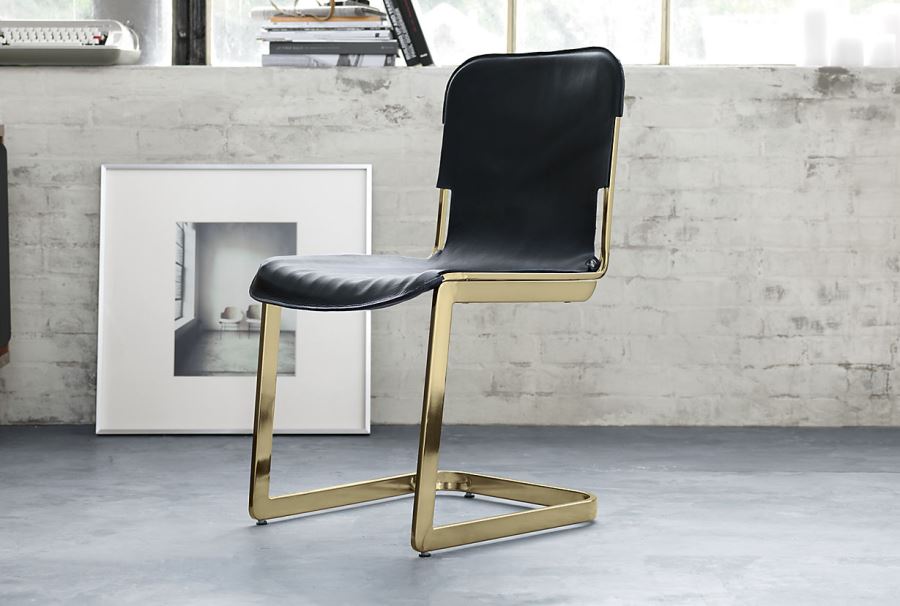 Kravitz founded his design company in 2003, and we previously featured his CB2 collection in this Decoist post.
West Elm x Roar + Rabbit
We end with one more collaboration between a design studio and a large brand! Roar + Rabbit has teamed up with West Elm to offer a large modern home collection that includes furniture, lighting, textiles and decorative objects. Learn more about the collaboration here. Below we see the Roar + Rabbit Swivel Chair, upholstered in soft velvet:
These bright pillows have a tropical look and a touch of soft visual style, thanks to the watercolor paintings that inspired them! Silk satin graces the front of each cover. rabbit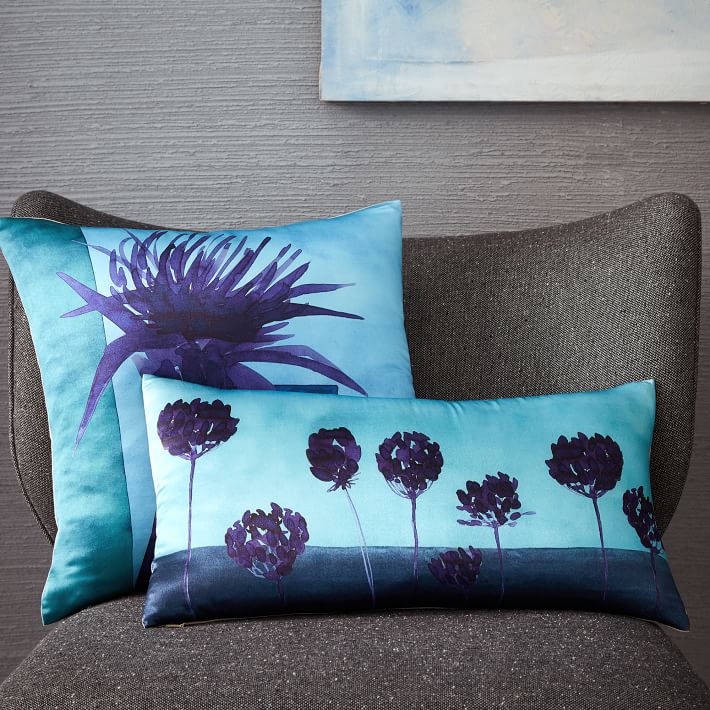 Antique brass-finished metal takes center stage in this Roar + Rabbit Brass Geo Inlay 3-Drawer Dresser, which is crafted from solid mango wood. Geo style meets luxe flair in this on-trend piece:
Which of today's featured collaborations is your favorite? Each one offers a unique look, reflecting the power of creative partnerships! Share your thoughts by leaving a comment below…
You're reading The Art of Collaborative Design, originally posted on Decoist. If you enjoyed this post, be sure to follow Decoist on Twitter, Facebook and Pinterest.