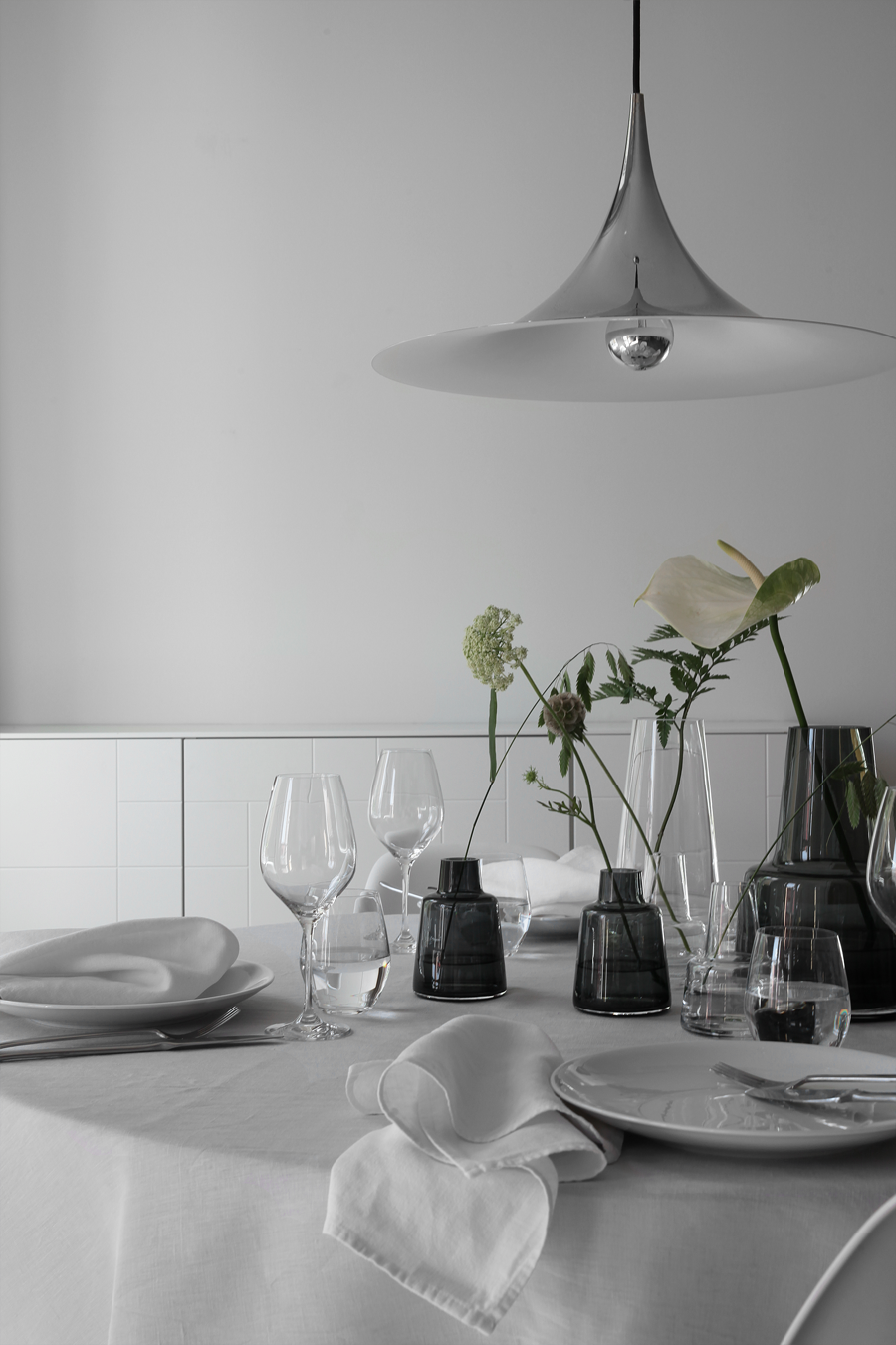 Annonse/In collaboration with Holmegaard
Noe av det fineste jeg vet når jeg dekker sommerbordet er å fylle det med blomster. De som ser ut som de håndplukket på engen rett i nærheten. Disse er selvfølgelig ikke det, men er du heldig å ha en frodig hage eller bo landlig kan du fint finne egnede blomster rett utenfor døren din. I samarbeid med Holmegaard har jeg dekket et enkelt sommerbord med vasene Flora som nettopp har kommet i nye farger, og de egner seg godt til det minimalistiske, skandinaviske uttrykket jeg liker så godt. Ved å sette sammen en gruppe med vaser i forskjellige høyder med kun en blomst i hver vase blir uttrykket enkelt men alikevel frodig. For å understreke det lette og enkle uttrykket har jeg valgt både servise, duk og linservietter i hvitt. Vin- og vannglass er fra Holmegaards serie Cabernet.
When i set the table for summer I love filling it with flowers. Preferably the handpicked ones. Luckily I have some nice flowershops in my neighbourhood, but you can find the most beautiful flowers for an arrangement like this without buing them to. For the summer tablesetting I have collaborated with Holmegaard and used their Flora vases which recently was relaunched in new colors. They are a perfect match for the minimalistic, scandinavian expression I prefer, and a group of vases with one flower in each toghether with white plates, napkins and table cloth looks beautifully simple and summery. The wine- and water glasses is from the Cabernet series from Holmegaard.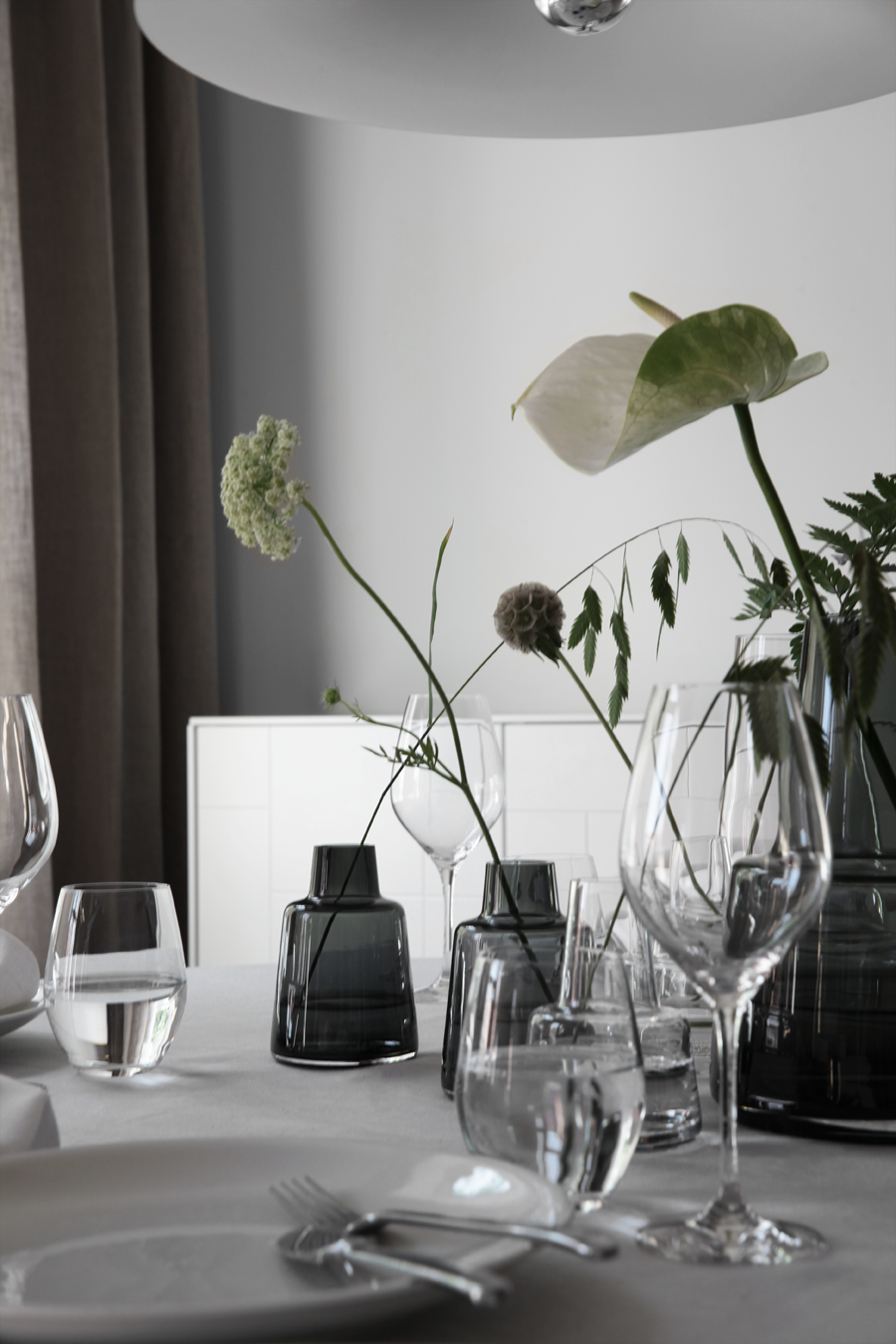 Flora fra Holmegaard ble designet av Louise Campbell i 2007 og nå ti år senere er den vakre vasen fortsatt like aktuell. Campbell har røtter fra to forskjellige designkulturer, England og Danmark, og også i to vidt forskjellige blomstertradisjoner. Den overdådige, romantiske engelske blomsterhagen og den danske forkjærligheten for enkle, naturlige blomsterarrangementer. Flora hører hjemme i den nordiske minimalismen, som også går som en rød tråd gjennom resten av Campbells formgivining. Samtidig finner hun også inspirasjon i Holmegaards omfattende designarkiv som i generasjoner har fremstilt klassiske bruksglass som apotekerglass og ølflasker. Former som går igjen i Flora, der Campbell har gitt hverdagsprodukter en ny vri. Flora har blitt en klassiker i Holmegaards sortiment og nå er den også tilgjengelig i nye farger, klar, røkfarget og midnattsblå.
The Flora vase was designed in 2007 by Louise Campbell, and the vase range was immediatly a hit. Now, ten years later its back with new colors, matching todays trends. Campbell is one of Denmarks leading, acclaimed designers, but she is also known on the international design scene for both her furniture and interior design collections. Her aesthetic designs transform everyday objects into beautiful, functional works of art. Flora vase is now available in three different colors, clear, smoke and midnight blue, and in two different heights.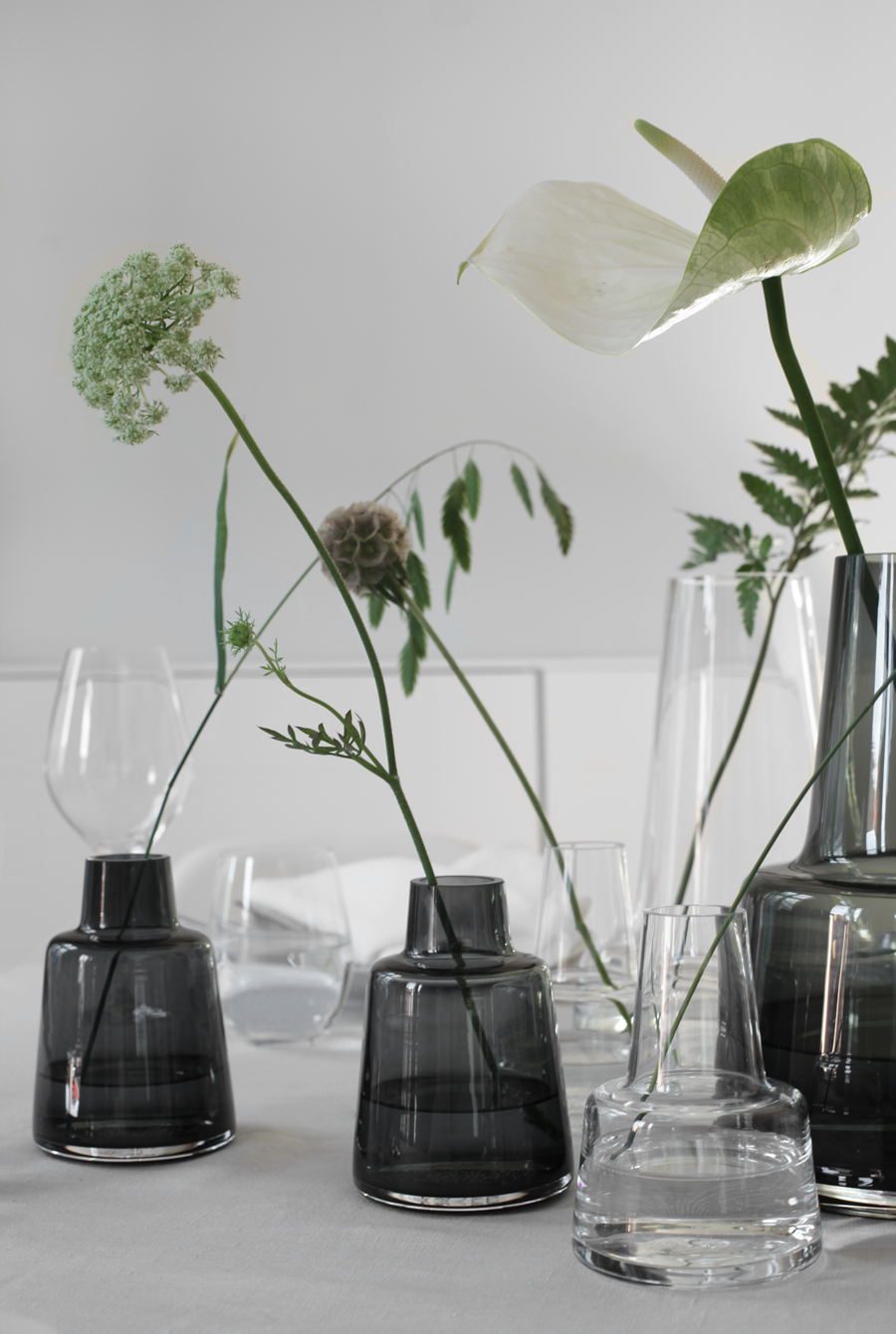 Jeg har brukt både den røkfargede og den klare vasen på mitt bord. Med variasjon i høyde, form og farge gjør det uttrykket mer spennende samtidig som de ikke tar oppmerksomheten bort fra blomstene. Flora har et karakteristisk design med bred bunn og en smal hals. Dette bringer både letthet og tyngde sammen i en annereledes og industriell form samtidig som den gir ultimate forhold for blomstene, plass til rikelig med vann og god støtte til stilkene.
Like godt som i et arrangement med flere vaser passer Floravasen alene. Jeg kan godt ha denne stående fremme også uten blomster i, den nærmest skulpturelle formen er så vakker i seg selv.

I have used the clear and the smoke colored vase for my table. The variation of form, color and height makes it more interesting, at the same time the vases doesn´t take the attention away from the flowers. Designer Louise Campbell created the Flora vase based on the idea that fresh flowers need plenty of water. The spacious bottom blends beautifully with the long, slender neck, ideal for a long-stemmed flower.
The vase looks just as nice solitaire as in a group of vases. I´ll just as well have it standing in the window sill or on a shelf even without flowers, the sculptural design is truly beautiful.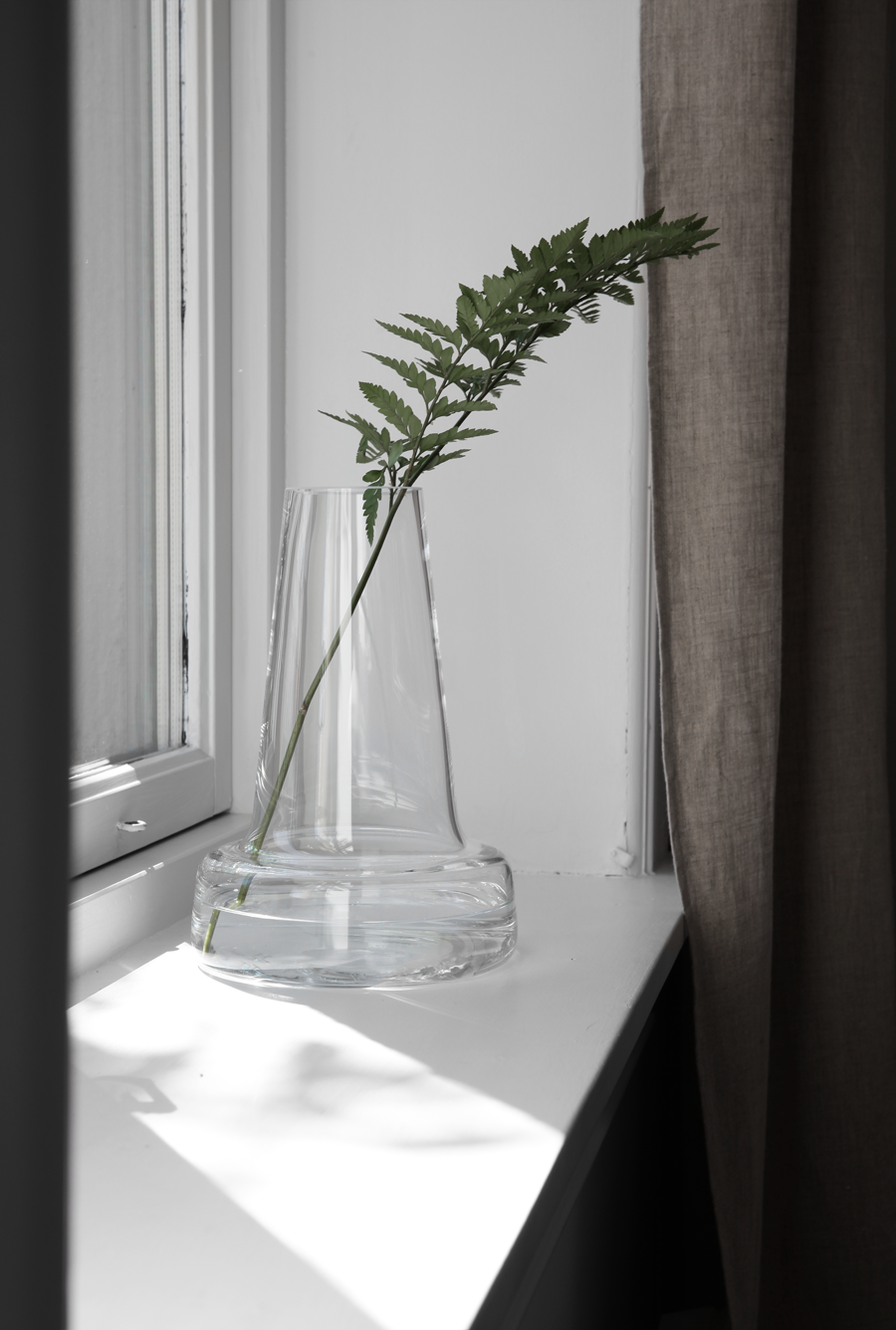 photography © elisabeth heier
Elisabeth
LagreLagre
LagreLagre
LagreLagre
LagreLagre
LagreLagre
Innlegget TABLESETTING FOR SUMMER WITH FLORA VASES dukket først opp på ELISABETH HEIER.