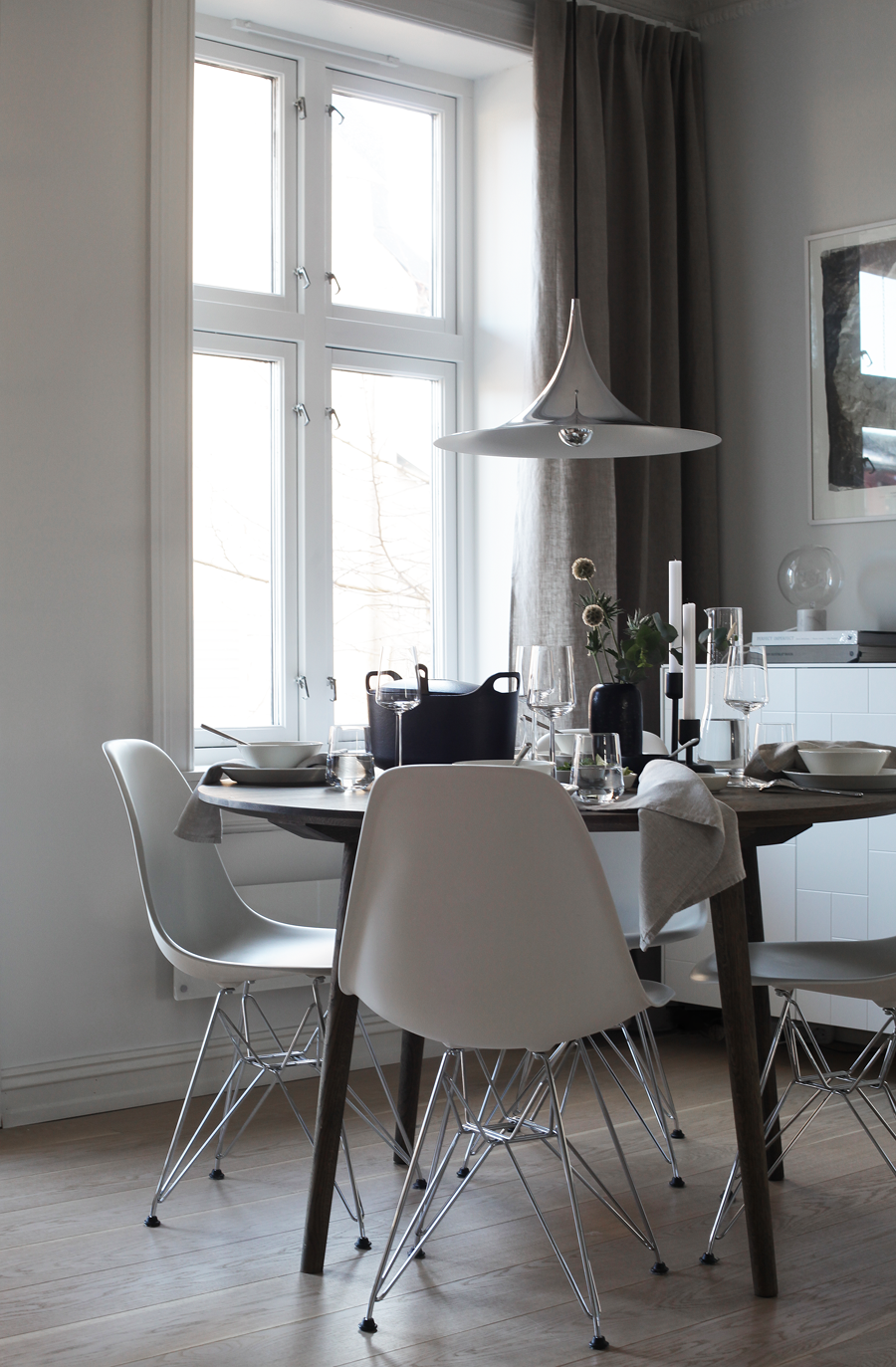 /Ad
How often do you manage to gather your friends and family for a meal, and even mid week? I really wish I did more often. The meal, the talks and the laughter you share – it´s what its all about. I enjoy setting the table with fresh flowers and everything, but it really doesn´t have to be complicated. On a everyday, with the pot on the table and porcelain that fits every occasion from the cupboard. With the atmosphere and the persons you share it with in focus. This is my interpretation of Iittalas Table Reset where they wish to inspire for new ways to set the table. It's about more than mixing and matching, it is about facilitating a new and dynamic way of life. To question our old habits and find new ways of living and eating. It is about sharing meaningful moments with others and create memories and social ties through sharing a meal and a good conversation at the table.

Noe av det aller mest hyggelige som finnes er å samle venner og familie rundt bordet, men hvor ofte gjør man det egentlig sånn i hverdagen? Det er jo gjerne den torsdag ettermiddagen man ender med å bli sittende til langt på kveld, fordi man har så mye å snakke om og det er så hyggelig når man endelig ses. Når man klarer å samle venninnegjengen etter jobb, lager mat sammen og alle bidrar. Dere som kjenner meg vet at jeg liker å dekke bord, friske blomster og alt det der – men det må ikke være så komplisert. Midt i uken, suppegryten på bordet og servise som passer til alt fra skapet. God stemning, med hverandre og måltidet i fokus. Det er min tolkning av Iittalas Table Reset der de vil inspirere til nye måter å tenke borddekking på. Det handler om mer enn å mikse og matche, det handler om å legge til rette for en ny og dynamisk måte å leve på. Å sette spørsmålstegn ved inngrodde vaner og se på nye måter å leve og spise. Det handler om å dele meningsfulle øyeblikk med andre, og skape minner og sosiale bånd gjennom det å dele et måltid og en god samtale ved bordet. 
I´ve been using the dishes 24H from Iittala for years, one of my friends and I actually found out I bought my first pieces when we visited Helsinki with our class from design school fifteen years ago. Still going strong, but for my dinner gathering I borrowed some new Iittala Teema bowls and plates toghether with beautiful glasses from Iittalas Essence series and cutlery from their Artik series. Teema was designed by one of Iittalas most iconic design heroes, Kaj Franck in the early 1950´s. Teema is a versatile collection with endless combinations of shapes, sizes and colours. Capturing the essence of Scandinavian design thinking, each Teema piece is derived from three simple forms: circle, square and rectangle. The collection makes it easy to create your personal style and they are suited for both everyday use and festive occasions. Plates, platters, cups and bowls, each and every Teema piece is oven, freezer, dishwasher and microwave safe.
Mitt eget 24H servise fra Iittala har vært i daglig bruk i femten år, for når serviset ble samtaleemne måtte venninnen min og jeg regne oss tilbake til klasseturen til Finland da jeg kjøpte mine første deler. Det holder seg fortsatt like godt men til middagen forrige uke lånte jeg nye Teema boller og tallerkener, vin- og vannglass fra Iittalas Essence serie og bestikket Artik. Teema ble designet av Kaj Fanck tidlig på 50-tallet. Kaj Franck er en av Finlands mest kjente designere og har formgitt både Teema og Kartio for Iittala. Teemaserien er fleksibel med endeløse kombinasjonsmuligheter av former, størrelser og farger. Alle delene i serviset er avledet fra tre enkle former; sirkelen,  kvadratet og rektangelet og fanger essensen av måten man tenker design på i Skandinavia. Serien gjør det enkelt å sette sitt personlige preg på bordet og den passer like godt til hverdags som til fest. Tallerkener, kopper og boller – hver eneste del av Teema serviset tåler både ovn, fryser, oppvaskmaskin og mikrobølgeovn.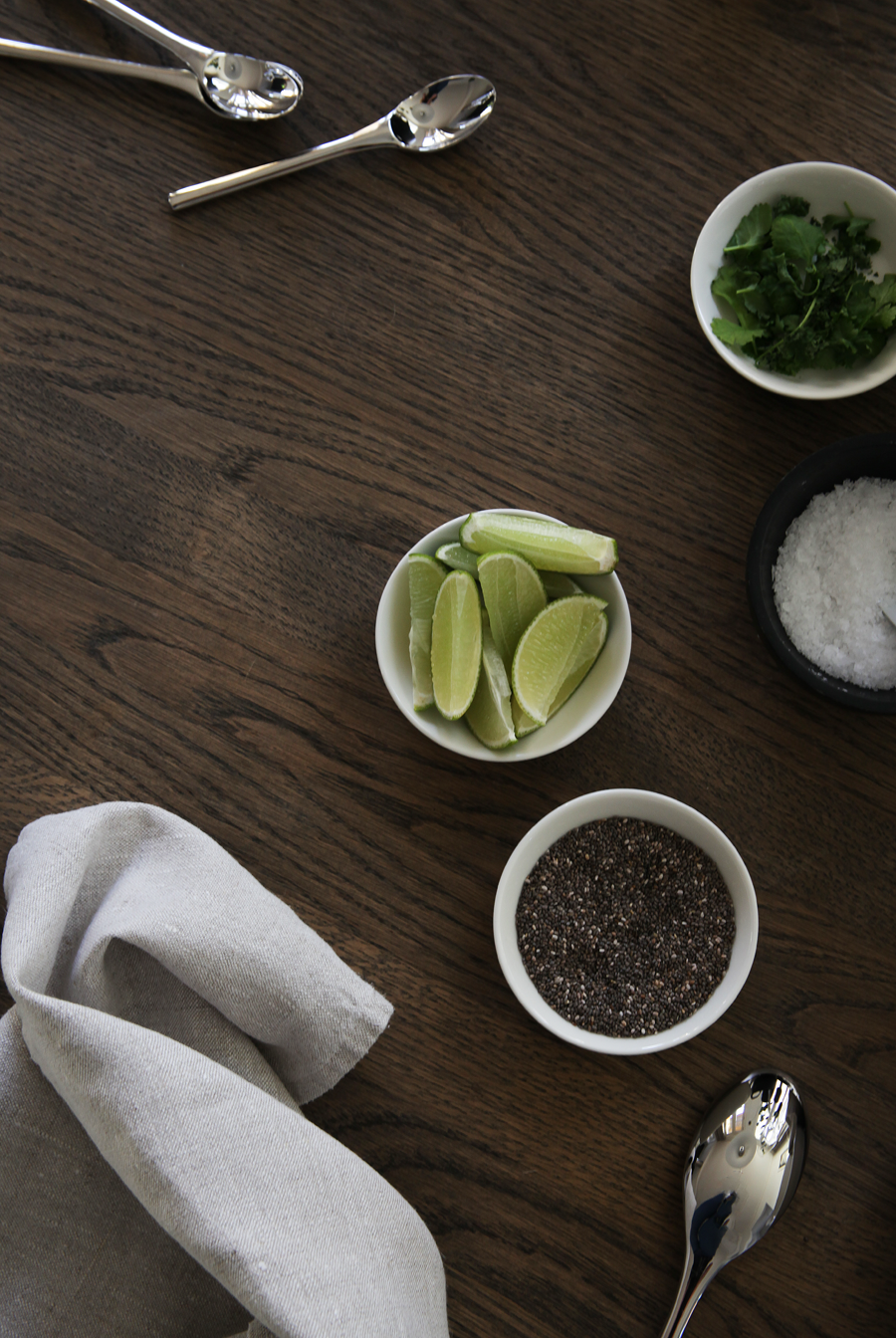 Dinner guests in the middle of the week can not mean you have to spend all day preparing the meal. Grocery shopping on the way home from meetings, flowers under the arm and friends who helps out when they arrive makes it managable. The recipe on the delicious carrot soup I served is from one of my dear friends, a very similar one is to be found here.
Middagsgjester midt i uken gjør at maten må være enkel å tilbrede. Suppen jeg serverte forrige uke kan både lages kvelden før eller tilbredes etter jobb med litt hjelp av gjestene. Bonusen er at det er så hyggelig å lage mat sammen. Oppskriften på gulrotsuppen er fra en god venninne og nesten helt lik finner du her.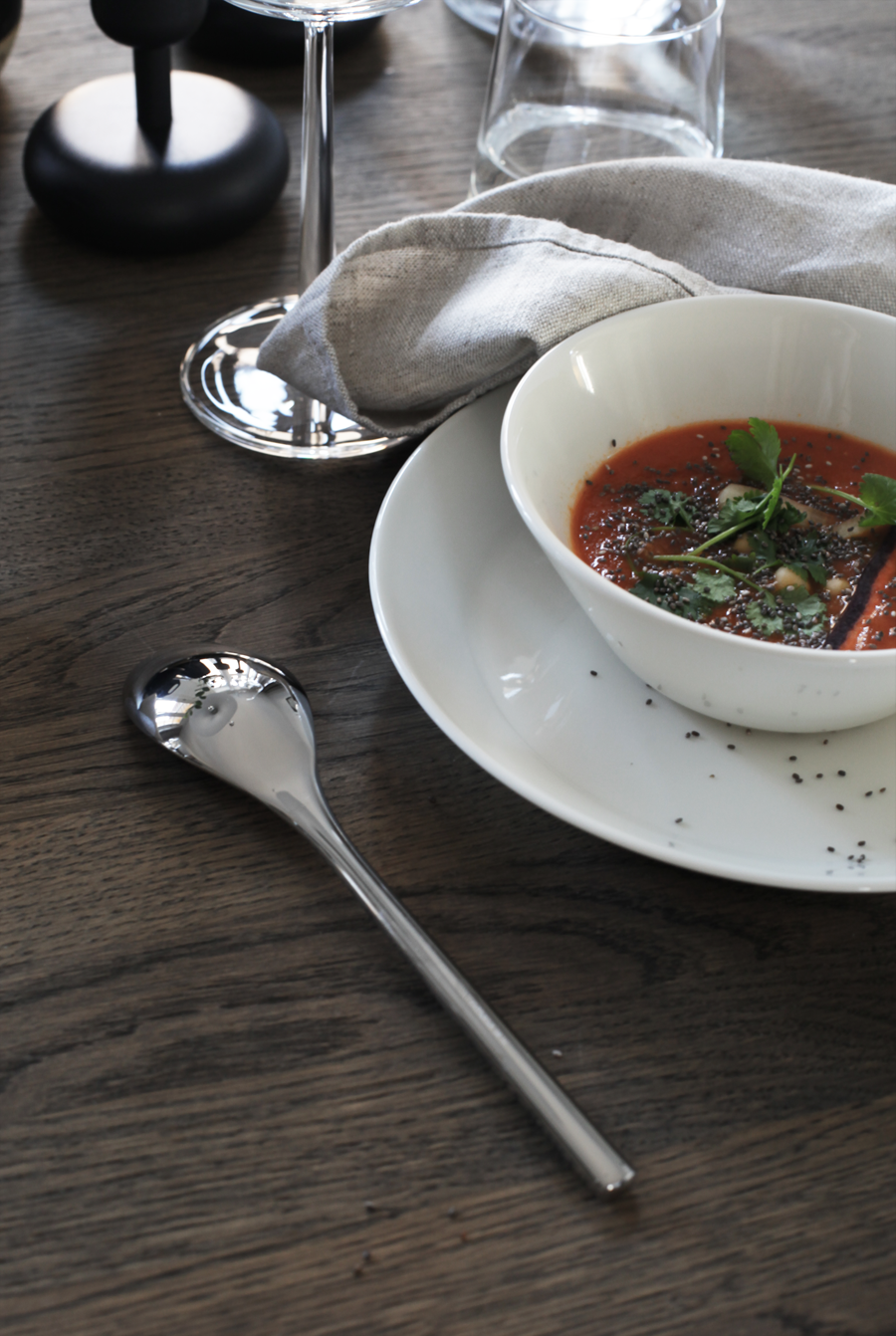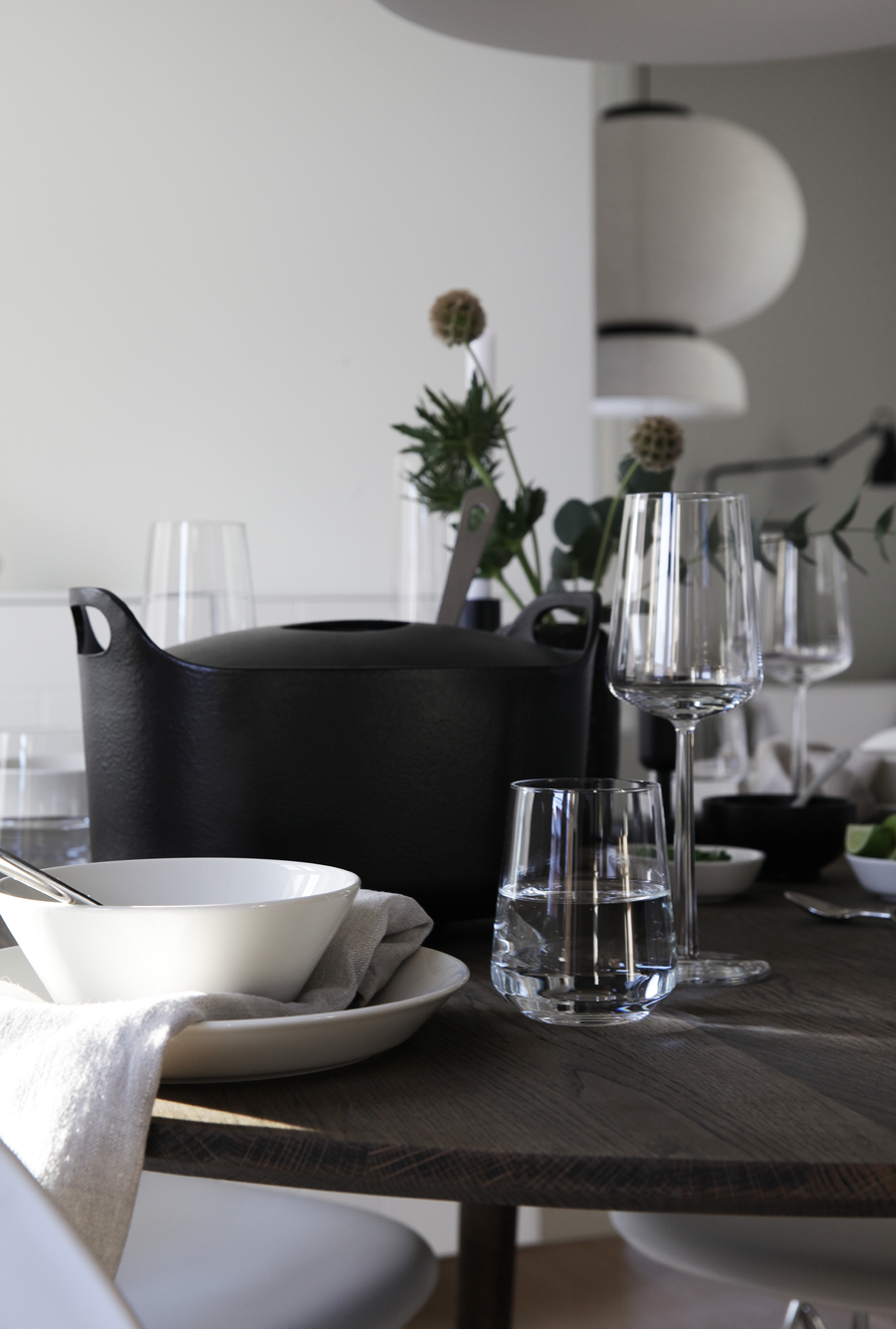 I´ve mixed Iittalas products with some of my personal favourites, a vase and some linen napkins. In addition to the Teema table vare, the Essence glasses and Artik cutlery from Iittala I´ve used Nappula candle holders in dark grey, Sarpaneva cast iron pot, and small Teema Tiimi dishes.
Jeg har mikset Iittalas produkter med noen personlige favoritter, en vase og linservietter. I tillegg til Teema serviset, Essence glassene og Artik bestikket har jeg brukt Nappula lysestaker i mørk grått, Sarpaneva støpejernsgryte og små Teema Tiimi fat.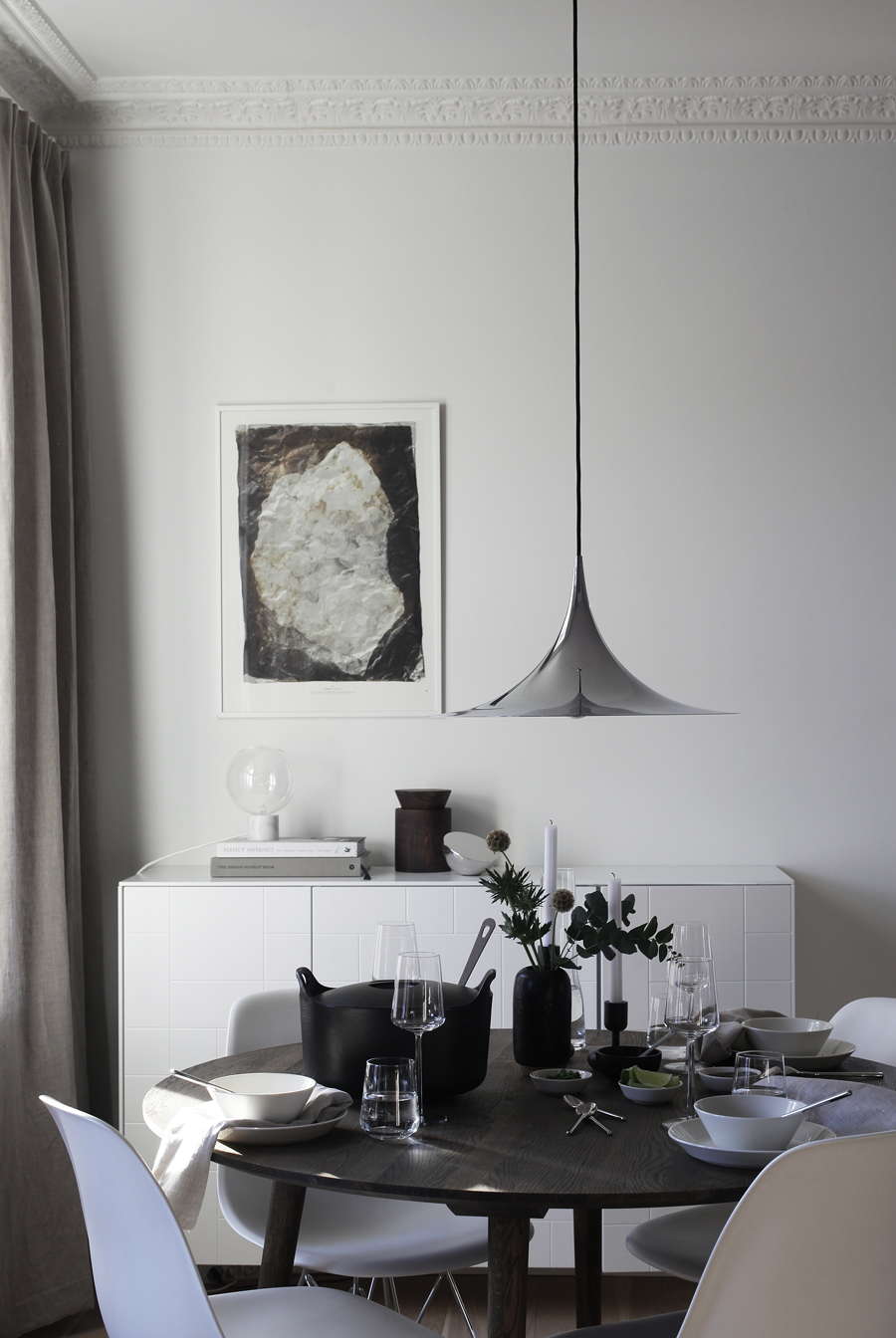 photo © elisabeth heier
Elisabeth
Innlegget TABLE RESET WITH IITTALA dukket først opp på ELISABETH HEIER.