Set in the Chihuahuan Desert, Basecamp Terlingua offers visitors a unique, off-the-grid escape.
There's nothing better than sleeping under the stars, and this West Texas hotel allows you to do exactly that—from the comfort of your very own bubble. Basecamp Terlingua invites guests to stay in inflatable, UV-resistant bubble rooms that make the most of the region's stunning views and Wild West vibes.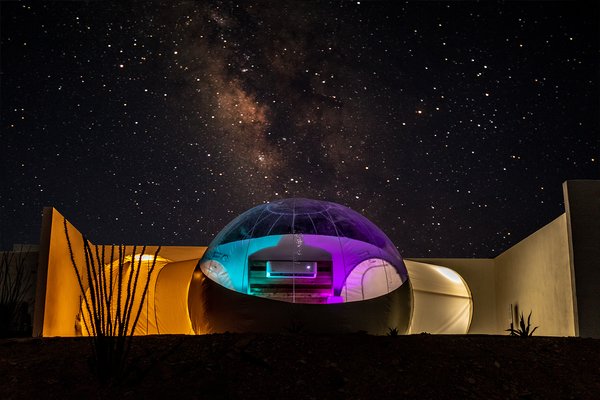 The rooms are designed by French company BubbleTree, and guests can book one of two bubble suites for a luxury camping experience with unobstructed views of the Chisos Mountains and prime stargazing. Each 250-square-foot bubble has a queen-size bed, a private bathroom with a shower, a refrigerator, a Keurig coffee maker, and an outdoor seating area with a fire pit.
"Everyone is happy staying in the bubbles," says Basecamp Terlingua operations manager Heidi Bertels. "It's such a novelty for people."
Basecamp Terlingua's in-house crew conducted all of the construction and interior design work—and they pride themselves on sourcing local materials and products.
"The art is all framed by a woman who operates out of her home in Alpine," says Bertels. "All of our mirrors are hand cut, and our beds and pillows come from this mom-and-pop shop. It's been amazing for life here and how many people's livelihoods we've affected."
See the full story on Dwell.com: Spend an Epic Night Stargazing at the Nation's First Bubble Hotel
Related stories: