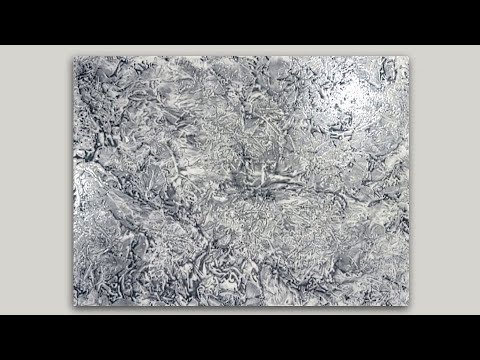 How to paint an Abstract Painting in acrylics with a plastic wrap painting technique. Easy background painting painted for any acrylic painting. The canvas was painted with black acrylic paint and dried prior to applying a layer of white acrylic paint. To create texture in the paint, crinkled plastic wrap was applied onto the wet white paint and flattened out with a roller (brayer). The plastic wrap was removed to reveal visual paint texture.
acrylic painting, how to paint, painting techniques, how to paint with acrylics, easy painting for everyone, painting inspiration, background painting, abstract painting techniques, abstract painting with acrylics, plastic wrap painting, acrylic abstract painting, canvas painting easy, abstract canvas, Easy Painting Technique, paintbrush, Abstract Painting with Acrylics, Painting Technique with Plastic Warp.
✔ ART SUPPLIES:
Canvas
paintbrush
plastic wrap
roller or brayer
black acrylic paint
white acrylic paint
paint palette
About StudioSilverCreek
Free Painting Tutorials and Demos of Acrylic Paintings, Silhouette Paintings, Abstract Paintings, Textured Art, , Mixed Media Canvases, Canvas Painting. Painting with ACRYLICS, D.I.Y painting demonstration videos.Trees and Silhouettes, Landscape, Abstract paintings and floral paintings are my favorites to paint! I also make a variety of mixed media art and crafts, such as Textured Canvas Paintings and Altered Canvases. SUBSCRIBE for more weekly art videos!
*Please LIKE, COMMENT & SUBSCRIBE!
#StudioSilverCreek #Abstract #Painting