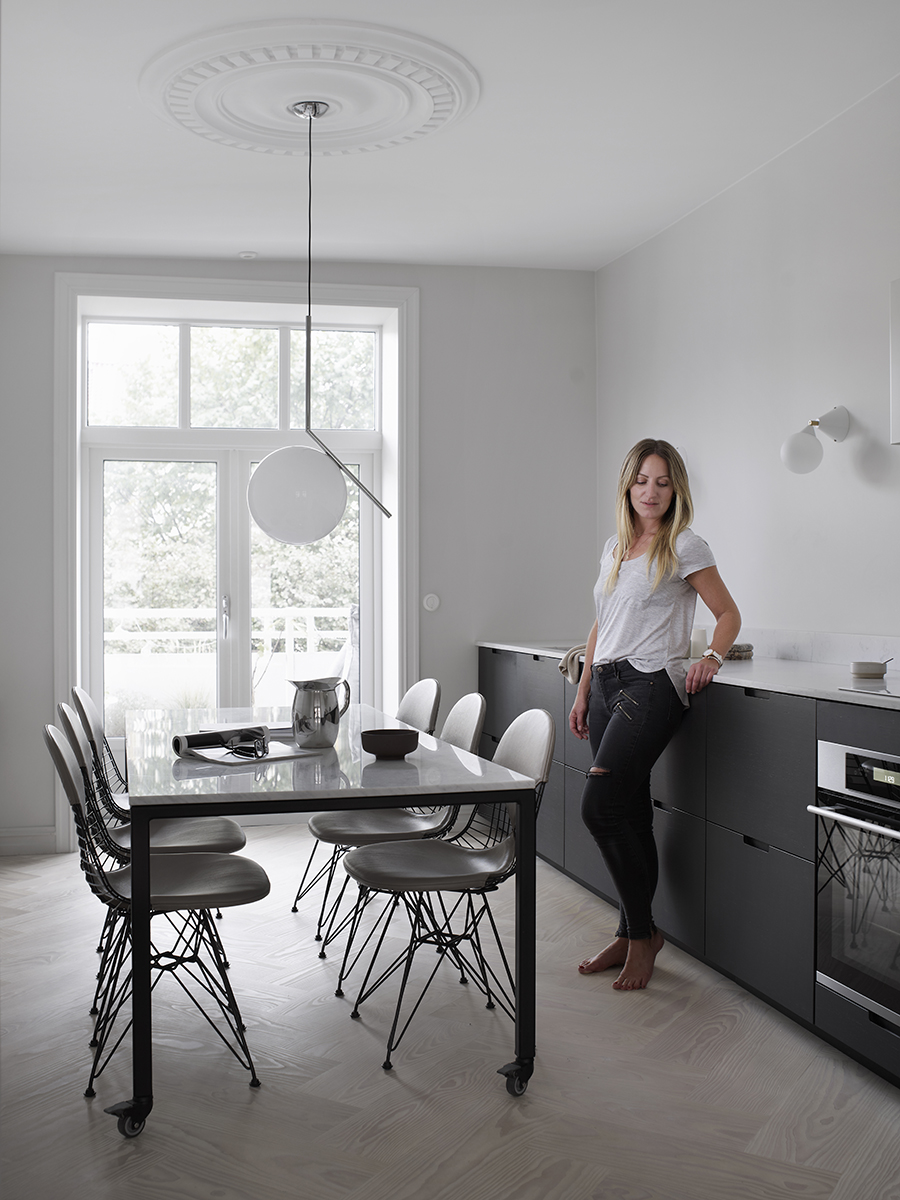 A week ago Live and Birgit from Oslo Deco were visiting to do a feature on my kitchen and get my best tip when planning and renovating it. You can read the whole story here, for everyone not reading Norwegian I´ll do a recap here in English.
1. Plan well
I had a clear idea of how I wanted my new kitchen to look like before I bought this apartment. On top of my list was a long countertop, no wall cabinets, lots of light and high ceilings. During renovations I moved the kitchen from one room to another and was free to form it like I wanted to. On the opposite side I got the fridge built in and high cabinets with lots of storage who allows me to keep the main side airy and free from clutter. Most importantly I wanted the kitchen to have a warm and nice atmosphere and room for everyday life. By connecting it to the living room and making room for my long dining table I achieved both and I appreciate so much having friends and family here – it has become a social and nice space just like I wanted it to.
2. Warm and natural with a dark kitchen
I wanted wood in the kitchen this time after many years with white kitchens in my previous homes. I ended up choosing fronts in bamboo with a dark stain from Ask og Eng to the Ikea kitchen. It has the tactility and warmth I love, and also bamboo is a sustainable and natural material – and locally manufactured.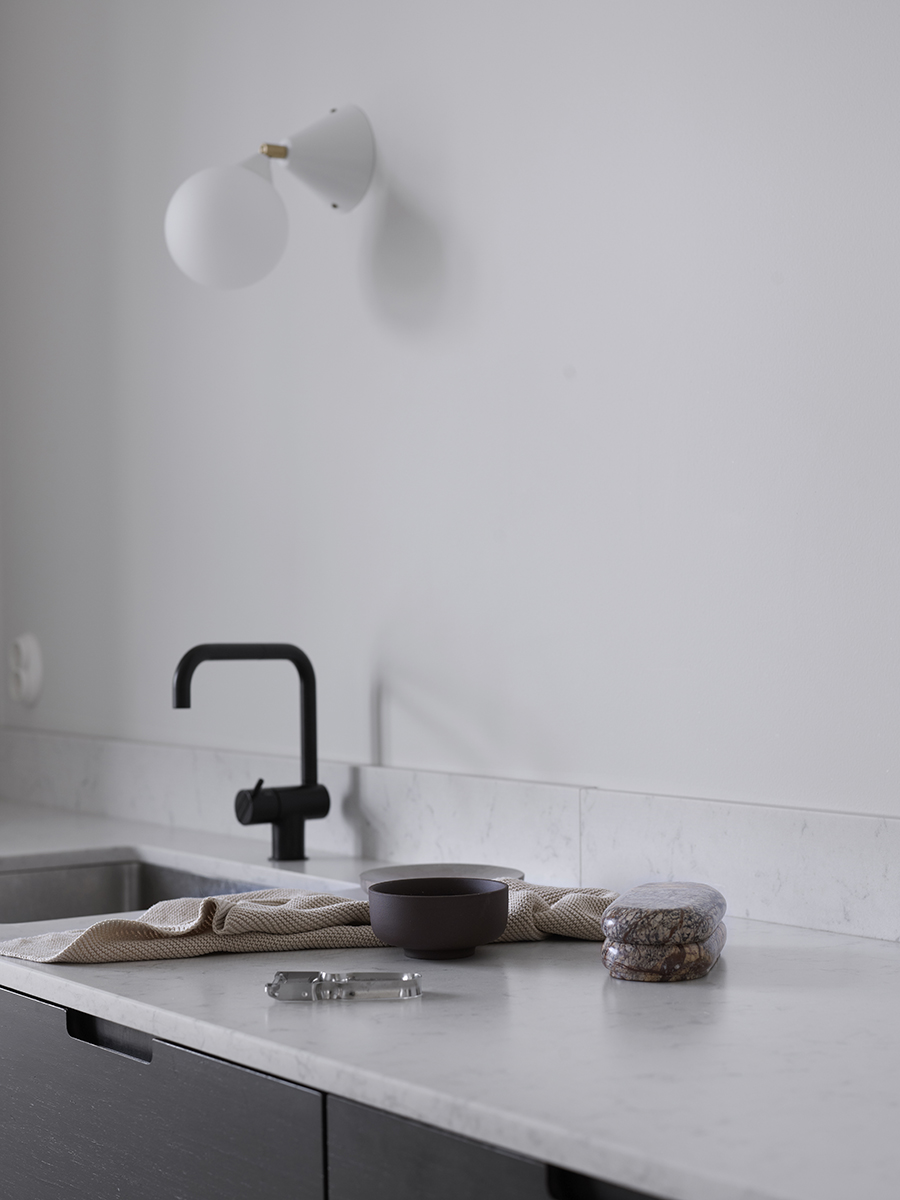 3. No wall cabinets
No problem leaving out wall cabinets when drawers can keep everything you need. It also creates an illusion of the room being bigger than it actually is.
4. Countertop material
I chose a countertop in Silestone this time. It can take everything, unlike wood, concrete and marble that I've had in previous kitchens.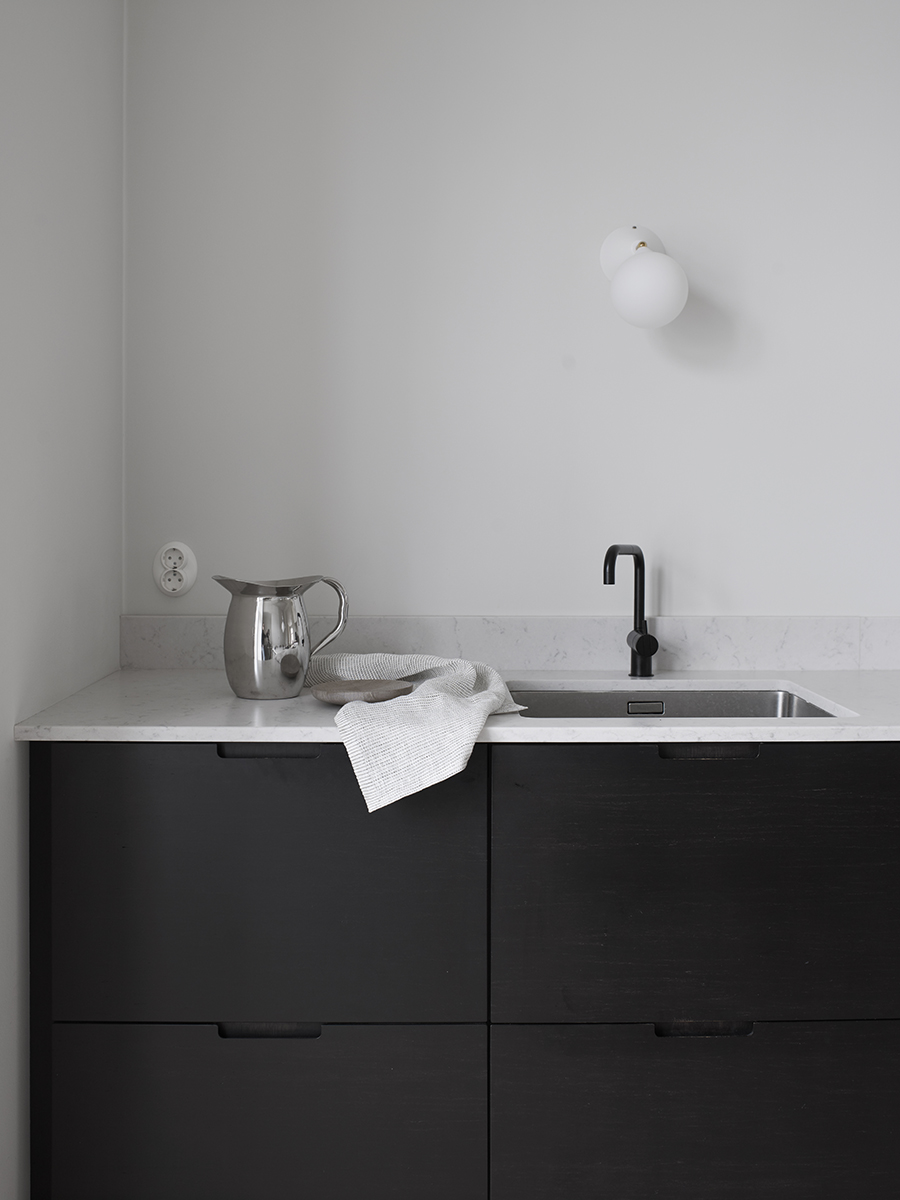 5. Lighting in the kitchen
With the dining table in the middle of the room it made sense having a pendant above it. The Flos lamp gives lots of light to the room, the wall lamps together with light from the fan functional light for the counter top. All lamps can be dimmed and thats how they usually are kept, dimmed down for a nice and warm atmosphere. The room actually doesn't need more than that.
6. Colors and materials
I try sticking to a few colors and materials when working with interiors and appreciate the qualities of different materials more and more. A new and trendy color doesn't necessary appeal to me, I prefer the calm atmosphere in rooms I find harmonic. Warm wood, the structure of stone, soft leather – materials that becomes more beautiful by use and time.
7. Lets eat!
I designed the dining table myself some years ago. After being stored for a while it was one of the things I was really looking forward to have in my new home. The chairs was chosen because I wanted some really comfortable ones and I love the design.
8. ..what I cannot live without
The peeler from Hay. I use it daily for fruits and vegetables and is one of the most functional and simple tools I have.
9. Best tips for renovating
Think function, at the same time follow your heart. If you dont want to have wall cabinets find another solution for storage and think alternative. If you want two dishwashers or ovens, make room for it. Make sure there is room for more than one person cooking, there is nothing more social and nice than preparing food together. If your budget is limited, choose a kitchen from Ikea and have fronts made from one of the suppliers offering it to have a more customized kitchen. Ikea kitchens are affordable and the quality is equally good as other kitchens. Choose a countertop that doesn't need a lot of maintenance and put a bit more money in things you won't change anytime soon as the tap, lamps and appliances.
Elisabeth
The post OSLO DECO VISITING appeared first on ELISABETH HEIER.