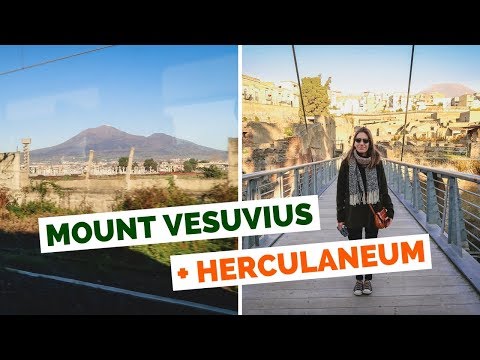 Join us as we visit Mount Vesuvius and travel to Herculaneum on a day trip from Pompei, Naples, Italy.
GEAR WE USE
Panasonic GH5: http://amzn.to/2yqTUyi
Canon G7X ii: http://amzn.to/2yqtM6B
Rode Video Micro: http://amzn.to/2wTguTM
Joby Gorilla Pod: http://amzn.to/1PgoY5F
SanDisk 16GB Extreme Pro: http://amzn.to/25KEErs
SOCIAL MEDIA & TRAVEL BLOGS
AUDREY:
blog: http://thatbackpacker.com/
instagram: https://www.instagram.com/thatbackpacker/
facebook: https://www.facebook.com/thatbackpacker
twitter: https://twitter.com/ThatBackpacker
SAMUEL:
blog: http://nomadicsamuel.com/
facebook: https://www.facebook.com/nomadicsamuel
twitter: https://twitter.com/NomadicSamuel
instagram: https://www.instagram.com/nomadicsamuel/
Mount Vesuvius and Herculaneum Day Trip in Naples, Italy Travel Guide Video Transcript:
The journey from Pompeii to Herculaneum is a scenic one with Mount Vesuvius to one side and the Bay of Naples to the other. It only took us 20 minutes to get there by train, so if you're looking for a day trip, it doesn't get much easier than this one. Just maybe don't get off in the outskirts of town like we did, but more on that later.
Vesuvio's Express is a shuttle service that runs to the top of the volcano, so if you're expecting a guided tour filled with lots of interesting facts, this isn't it.
That being said, we were perfectly happy to tour the site on our own, and we couldn't beat the price at 20 Euros per person.
The only problem we encountered was that the roads were completely iced over the further we went up the mountain, and at one point the bus just had to give up and let all the passengers off to go the rest of the way on foot.
Things got a little easier once we swapped icy paved roads for a dirt trail, though we also had snow to contend with, but we eventually reached the top. I would say one of the coolest things about hiking up to Mount Vesuvius was being able to see that it's a volcano within a volcano, and while there was no bubbling lava visible to the eye, we could see steam rising from several vents.
Our next stop after lunch were the ruins of Herculaneum, an ancient Roman town that was destroyed by Mount Vesuvius. While Pompeii was covered in ash, Herculaneum was hit by the pyroclastic flow that followed the explosion of 79 AD, which also led to its preservation.
What at first glance appears to be a moat, is Herculaneum's ancient shoreline. Here we were met with the aftermath of the explosion: a row of old boat houses, each of them filled with the skeleton remains of those who did not escape during the first day of the eruption.
This is part of our Travel in Italy video series showcasing Italian food, Italian culture and Italian cuisine.
Music via YouTube: Chicago, Golden