Hey guys, happy Friday to ya! How was your week? I was in Romania for the past four days on an influencer trip but now I'm home just relaxing and decided to blog a little because I have such a special interview to share with you today.
You know, I'm VERY inspired after seeing the beautiful Transylvanian countryside, visiting the city of Sibiu, and the number one highlight – visiting the beautiful TISCA rugs and their manufacturing facility. Have you ever been to Romania? I will talk all about my experience there and what it was like on Monday, but I really was impressed… Transylvania was such gorgeous area to explore.
So! Today I want to share corners of the beautiful home and work "house" belonging to Interior Stylist Pella Hedeby from Sweden because a little Friday interiors inspiration is always a good thing, right?!
Oh and by the way, tomorrow I'm off to Münster for 24 hours (overnight) for the Garden & Home Blog Awards 2019 where I've been on the jury now for three years (such an honor!) selecting the winning German blogger from several categories in this lovely niche of interior and garden bloggers. I can't wait to see everyone again and enjoy a night in a beautiful hotel, too. It's always such a treat to stay in beautiful places, isn't it?
So…. It's time for a home tour!
This one is located in the countryside just south of Stockholm and inside, lives Pella Hedeby – a real interiors dynamo (known for her gorgeous styling and decorating at Lotta Agaton Interiors). She shares the space with her boyfriend Andreas along her kids Leo 14, Viggo 11 and daughter Filippa 14. Together, they own a 3 bedroom 110 m2 home that Andreas drafted and built right before they met over 7 years ago.
Along with some photos, would you like to learn more intimately about Pella? I had the pleasure of meeting her personally over a year ago here in Hannover but had already been following her Instagram @pellahedeby for years. Now, you can also "meet" her since she's about to share her philosophy on home along with a few of her favorite things, including the types of plants and candles that she loves, her playlist, her one dream item to own, Instagram accounts that inspire her and more. I especially loved the two singer/songwriters that she mentioned – I'd not heard of them before and wow – really great stuff!
CORNERS OF PELLA'S HOME
Living Room
Dining Room
Kitchen
Bedroom
Bathroom
Pella, what does home mean to you?
It's my personal hideaway. The place where I can relax and just be. With a house there is also a lot of work and we always have projects underway. But I love staying at home; the garden is an ongoing favorite project and one of my greatest interests.
How would you describe your style?
I am a minimalist wannabe, but my home ends up more cluttered and cozy. A kind of soft minimalism where textiles and texture adds a natural warmth to modern clean lines.
What do you love most about your home?
The calm and peaceful location in the countryside with nature just around the corner.
What would you like to change?
For the floor plan, we really need an extra bedroom for my boys since they are getting on eachother's nerves sharing the same room lately. We do have a small studio house, but it functions as my workspace and guest house, though that would be perfect for one of the kids when they grow a bit older..
For the interiors, I wish the house wouldn't have white wooden panels on the walls indoors that my boyfriend selected for a "New England" style. I would prefer chalk painted walls and a more modern look. It really is a superficial thing though and I really enjoy the atmosphere of the house in general. (but a couple of walls I have actually recently plastered and painted with lime paint which creates a little balance in style).
THE STUDIO HOUSE
(Below) located off of the main house where Pella does her work.
Pella's Studio House
Pella's Studio House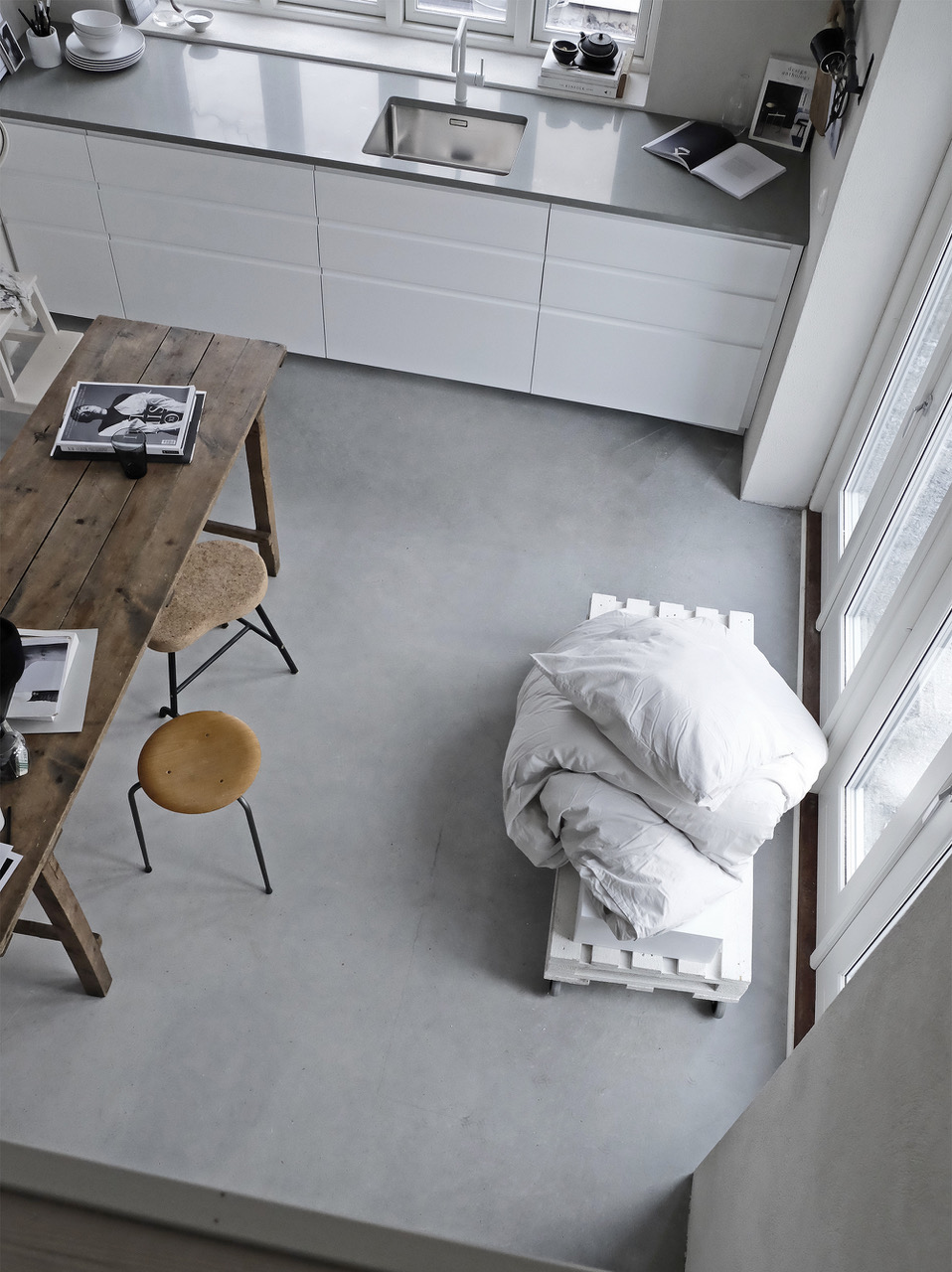 Pella's Studio House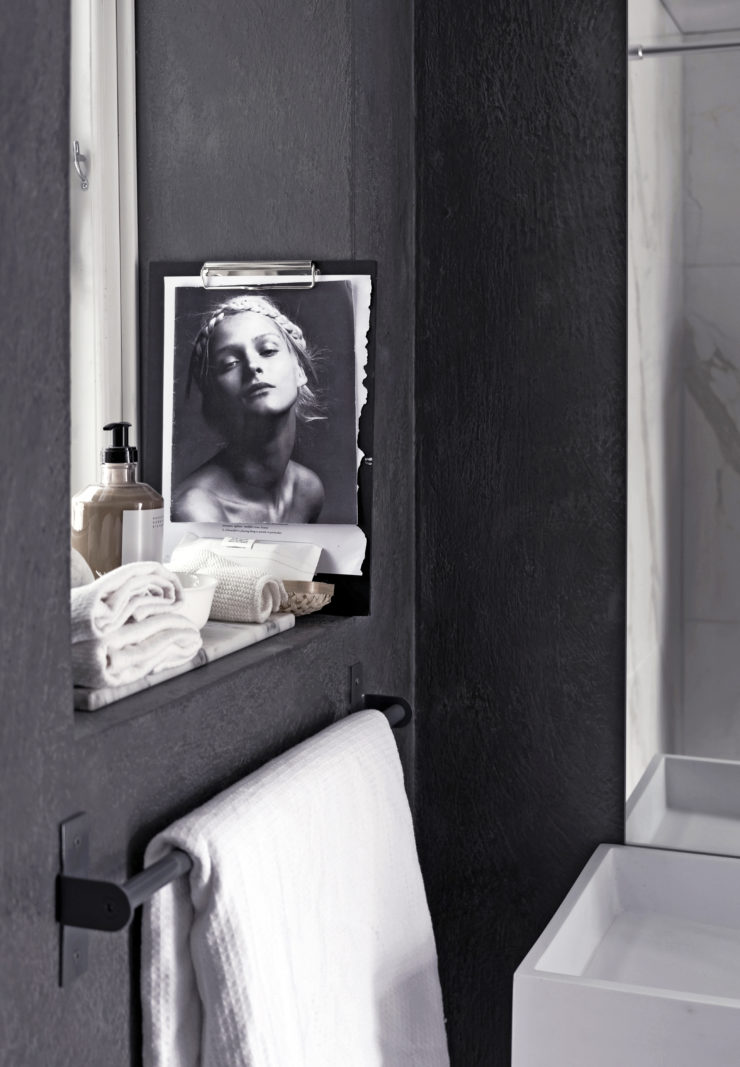 Bathroom
Pella's Studio House off of of the main house where she works
What is your favorite thing to do at home?
I love to be outside and work in the garden. I also enjoy my morning yoga on the warm patio during summer which is my absolute favorite thing.
Favorite candle and/or scent:
The Bohemia candle from BYREDO is my long time favorite but recently I discovered Quod. They are organic scented candles in beautiful ceramics jars, handmade in Sweden. The Bouquet no 1, Black wood smells so good and is currently on my wish list!
Some of Pella's favorites from her yard
What are your favorite flowers and plants?
I like to keep my interior calm and low-key. Using beautiful twigs from the garden to enhance the natural look. For the garden I prefer grayish green plants and white flowers for a toned down and serene look. Olive trees, lavendula and thyme are my all time favorites together along with sea buckthorn with its silver green leafs.
What's your favorite meal to cook and why?
I try to eat more vegetarian and love meals that feel complete with few ingredients. My favorite is pasta with homemade pesto. I can eat that everyday…
Patio where Pella loves to entertain her guests in the Summer
How do you entertain guests?
We like to invite people to watch films in our garage where we have a movie screen. Then we bring some finger food, wine and light candles. It's really cozy. But in summertime the best thing is to sit out on the patio until sunset, talking about life.
What's on your playlist?
Ooh Child with MILCK goes on repeat at the moment, and all songs by Julia Michaels.
How do you hope your guests feel when they visit your home?
I want my home to feel welcoming and undemanding. Both for us and everyone that visits.
What is important to you when you visit someone else's home?
The person that lives there. That's it!
What's your dream piece for the home?
I think that I have everything that I could ever wish for and more than I need. But one can always dream, right? Then I'll admit that I have the Roly Poly armchair from Driade by Faye Toogood on top of my dream wishlist.
Favorite city to shop?
Definitely Copenhagen.
Your favorite Instagram accounts are…
There are so many accounts that really inspires me, but here are some of them.
@silent__living Inspires with the beauty of simplicity.
@maureenme Photographer Maureen M. Evans shares her beautifully curated images.
@daniellesiggerud A Danish architect's pure and perfect sense of style inspires in every way.
@emmaeelwin The co-founder of We Make It last (@wemakeitlast) inspires with a sustainable style.
@klimatklubben.se The Swedish movement that discuss and gives tips on how to live a more environmentally friendly life.
Thank you so much Pella for this lovely chat and also for sharing your home with all of us, and to everyone else please have a wonderful weekend!
Love,
Holly
(Photography: With permission from Pella Hedby)