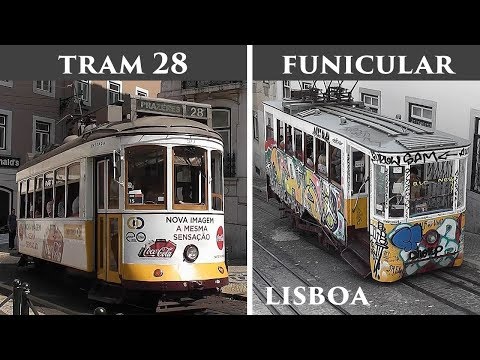 The first tramway in Lisbon entered service on 17 November 1873, as a horsecar line. On 30 August 1901, Lisbon's first electric tramway commenced operations.
The current lines, operated by Carris, are:
12 – Praça da Figueira – Miradouro de Santa Luzia circular route (clockwise only)
15 – Praça da Figueira – Algés
18 – Cais do Sodré railway station – Cemitério Ajuda
25 – R. Alfândega – Campo de Ourique
28 – Praça Martim Moniz – Chiado – Campo de Ourique
The lines only operate in the southern centre and west of the city. Apart from the relevant tourist attraction, the lines are still very important because parts of the city can only be crossed by small trams. Tram 15 also connects the entire western river front of the city to the centre and allows a better flow of passengers with the bus system towards an area that still is not served by the metro.
________________________
The Glória Funicular (Portuguese: Ascensor da Glória) is a funicular railway line in the parish of Santo António (Lisbon), operated by Carris.
It connects the Pombaline downtown (at the Restauradores Square) with the Bairro Alto district.
The tram system is situated along an axis that slopes 17.7%, that extends from the Avenida da Liberdade to the Rua de São Pedro de Alcântara, crossing a built-up area of 19th century buildings, including the Palácio Foz and the Misericórdia of Lisboa.
The funicular includes two cars that operate parallel along two axes, that descend and climb simultaneously.
June, 2017