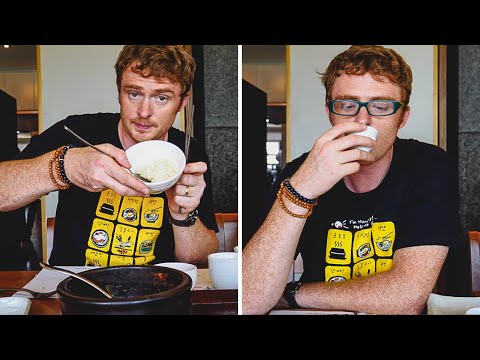 Come join us for an epic full course Korean meal in Busan, South Korea known locally as a Hanjeongsik (한정식 – 韓定食) – aka royal Korean cuisine. When it comes to Korean cuisine this is the best of the best as it a meal that never ends.
David's Channel: https://www.youtube.com/user/Davidsbeenhere
Each round of food centered around a principal dish, whether it be meat, fish or soup with a series of Korean side dishes known as banchan. Course after course is brought to your table and just when you think it might be done another round comes. Have you ever tried Korean food like this before? Let us know in the comments below.
We kick of this episode by visiting Haeundae Beach (해운대해수욕장), the most famous beach in all of Busan. Unlike the old town area of Busan this is where you'll find newly developed skyscrapers, apartments, businesses and a plethora of restaurants, cafes, and bars just off o the boardwalk. After our epic Korean meal, we also got to briefly visit Jagalchi Market 자갈치시장 – the biggest market to purchase live seafood and fish. Overall, it was a great morning and afternoon of feasting and sightseeing in Busan.
A special thanks to KTO for making this trip possible.
GEAR WE USE
Panasonic GH5: http://amzn.to/2yqTUyi
Canon G7X ii: http://amzn.to/2yqtM6B
Rode Video Micro: http://amzn.to/2wTguTM
Joby Gorilla Pod: http://amzn.to/1PgoY5F
SanDisk 16GB Extreme Pro: http://amzn.to/25KEErs
* * *
SOCIAL MEDIA & TRAVEL BLOGS
AUDREY:
blog: http://thatbackpacker.com/
instagram: https://www.instagram.com/thatbackpacker/
facebook: https://www.facebook.com/thatbackpacker
twitter: https://twitter.com/ThatBackpacker
SAMUEL:
blog: http://nomadicsamuel.com/
facebook: https://www.facebook.com/nomadicsamuel
twitter: https://twitter.com/NomadicSamuel
instagram: https://www.instagram.com/nomadicsamuel/
* * *
Korean Cuisine Hanjeongsik (한정식 – 韓定食) | Full Course Korean Meal in Busan, South Korea
Hey guys! We are Samuel and Audrey, a vlogging travel couple from Canada. In this travel channel we share our travel and food vlogs while touring the world.
Our most recent trip was to South Korea where I embarked upon a two-week adventure without Audrey. Invited as part of a YouTube vlogging trip, organized by KTO, I spent the first week traveling with other YouTubers in Seoul, Busan and Gyeongju. My second week included independent exploration of Korea with my good friend and fellow YouTuber David of DavidsBeenHere.
Having lived and traveled in South Korea, the chance to return to one of my favorite countries was one of the biggest surprises of 2019. On this particular trip, I had an opportunity to do many things I had not previously covered including a visit to the DMZ (Demilitarized Zone between South Korea and North Korea), a Buddhist Temple Stay and a Korean cooking class. It was almost as if the program designed by KTO knew exactly what I had missed out on before.
Obviously, a huge highlight from the two weeks I spent revisiting Korea was the food. I feasted on all of my favorite Korean dishes including Korean barbecue, dolsot bibimbap, haemul pajeon, tteokbokki, bulgogi, kimbap and many others. I can honestly say that Korean food is world-class and is one of my top 5 favorite cuisines in the world. Aside from trying familiar dishes, I had the opportunity to sample raw Korean seafood for the first time.
While visiting Seoul, highlights included going to Gyeongbokgung Palace, Namsan Seoul Tower, Jogyesa Temple and Hongdae. As one of the biggest cities in the world, I barely scratched the surface of things to do in Seoul.
Spending extended time in Busan was my favorite part about the trip with top highlights including a Korean temple stay, fresh fish markets and a Korean baseball game. It was from Busan that we ended up taking a day-trip to Daegu where we enjoyed a traditional Korean market and tried Galbi-Jjim for the first time.
If you want to see more videos from Korea in the future, let us know in the comments what places you'd like us to travel to and what food experiences you'd like to see on this travel channel.
Have you traveled to South Korea before? What was your experience like? Please share your Korea travel tips, advice and experiences in the comments below.
Thanks again for watching our Korea travel and food series! Until next time!
* * *
If you're new to our channel or this Korea series please check out the following playlists to get caught up on all of our videos:
All of our Korea travel + food videos: https://www.youtube.com/playlist?list=PL-NQ0KYodq5Otdk6epiTqGIoK42-oIgAf
***
This is part of our Travel in South Korea video series showcasing Korean food, Korean culture and Korean cuisine.
* * *
Music We Use: http://bit.ly/SamAudreyMusic