With a growing fleet of converted vans, a network of community clubhouses, and a vision of tech-enabled "ephemeral cities," Kibbo believes the new normal is nomadic.
COVID-19 has precipitated a sea change in the way we live and work. The rise of telecommuting has us questioning the traditional office; in an April Gallup poll, 59% of American workers said they'd like to work remotely even after restrictions are lifted. After all, why commute to an office when you can work from anywhere? And if you can work from anywhere, why not live anywhere?   
Enter Kibbo, the latest start-up to join a number of van-share companies and co-living spaces reframing urban living. Delivering the ability to "shelter any place," Kibbo combines the two trends, giving van-lifers access to its network of clubhouses—community hubs where members can meet up to work on their vehicles, work on fast Wi-Fi, prepare meals, do laundry, and enjoy other amenities you don't usually find on the road. For those without wheels, Kibbo rents converted Mercedes-Benz Sprinters starting at $1,500 a month.
Whether you rent a van through Kibbo or bring your own, each clubhouse is a place to recharge, get inspired, and meet other travelers. In September, the company launched its initial clubhouses in the West: Big Sur, Ojai, and Black Rock Desert.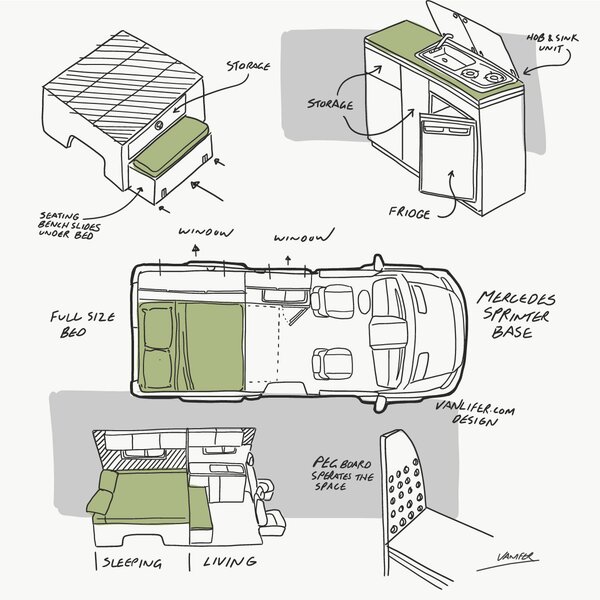 Access to Kibbo's network of clubhouses is a welcome resource for existing van-lifers as shelter-in-place orders pose additional challenges. Michela Fitten, a Bay Area–based tech marketer and entrepreneur, has spent nearly two years in her own converted "adventuremobile." 
"With COVID hitting and no bathroom in my van, living #vanlife wasn't that appealing, nor safe," says Fitten. "My whole life design was thwarted: co-working spots closed down, public restrooms did too, and [it became] hard to meet new people when the pandemic forced everyone into quarantine and isolation." As restrictions ease up, Fitten sees Kibbo as a great way to enjoy traveling safely again, and to build community with others who appreciate the beauty of van life. 
See the full story on Dwell.com: Just in Time for a New Age of Remote Work, Kibbo Combines Van Life and Co-Living