We're in the office of our Foothill Drive Project, and we're giving the dark built-ins a refresh! (The color is Cheating Heart by Benjamin Moore) Learn more about the thought process behind styling a dark built-in with our newest webisode! 
Shop the Look: Ellsworth Rug, Locals Only artwork, Ziyi Chandelier, Logan Desk
how to style a dark built-in:
Hover to shop the look!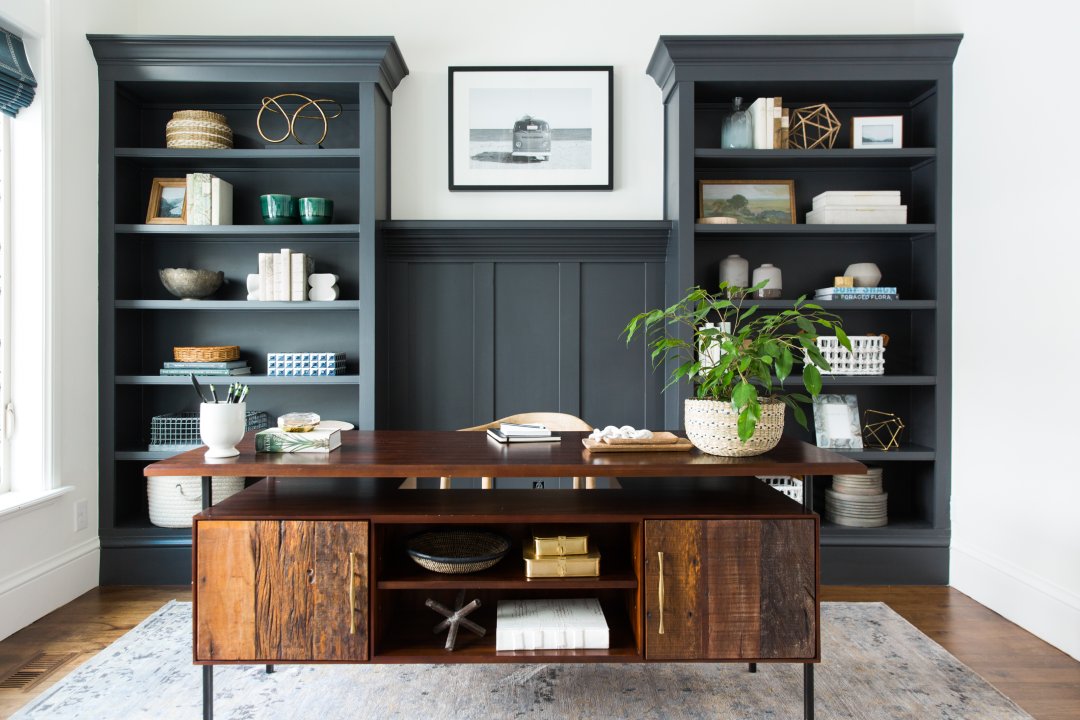 A lot of the same rules apply when you're styling a light built-in versus a dark one! Tips like grouping and layering apply when you're styling almost anything, but we have some extra tips for making sure your accessories stand out in a dark setting, without blending in.
First, create contrast with color. We did that here with white and green tones. We faced the bookends different ways to show off the unique shape.
But you don't want everything to stand out, and we love a moody element. Pairing a couple different dark colors together allows your eyes to rest while will still creating contrast and depth. Our love for tone-on-tone applies when the tones are dark, too!
Using items with a dark texture makes even more of a difference! Wood tones and woven materials are a great medium color with textures that open up the shelving as they compliment metallics like silver and brass. When you have a cool tone as your paint color, using brass accessories is a great way to bring warmth! 
Using decorative sculptural objects as bookends is a great way to shake things up! We used a cast octagon vase here, and we love how it brings out the gold details in the decorative books. This trick applies if you're using other decorative pieces, vases, etc.
Frames make the space feel personal. Whether they're displaying a photograph or a piece of art, they really bring your space to life. Our tip is to make sure you stagger them in the shelving so it's not overwhelming! 
You don't want a built-in to be full of tiny objects. We like to use boxes and baskets that are substantial enough to fill the space and provide a secret place of storage. It's a great way to incorporate both form and function!
These tips apply to both new and old items, but you can shop this look at McGee & Co. Make sure to tag us in your photos on instagram if you style our product in your built-ins!