This post is all about ideas for kitchen storage.
It can be so exciting when you first move into your apartment and it's an empty blank slate. But once you've lived there for a few years, suddenly your cabinets are overflowing with stuff! If you love cooking, odds are that you've collected lots of kitchen tools like the air fryer and no, you don't need to get rid of anything.
You need these ten ideas for kitchen storage to help you to use your kitchen more efficiently and stop wasting space!
SHELVES
You can buy small freestanding shelves to DOUBLE the space in your cupboards. Use shelves on top of plates, mugs and glassware to add a second level of kitchenware while keeping everything neat and tidy. I found beautiful shelves at Ikea and I've seen them at the dollar store too. 
INTERIOR CABINET DOORS
I love this trick and have seen many tiny home tours where they do this. Attach command hooks on the inside of your cabinet doors to hang your cutting boards, oven mitts or whatever. It keeps things looking organized and out of sight and you don't have to drill any holes.
*If you have Ikea cabinets where the door sits flush against the interior shelf, this won't work.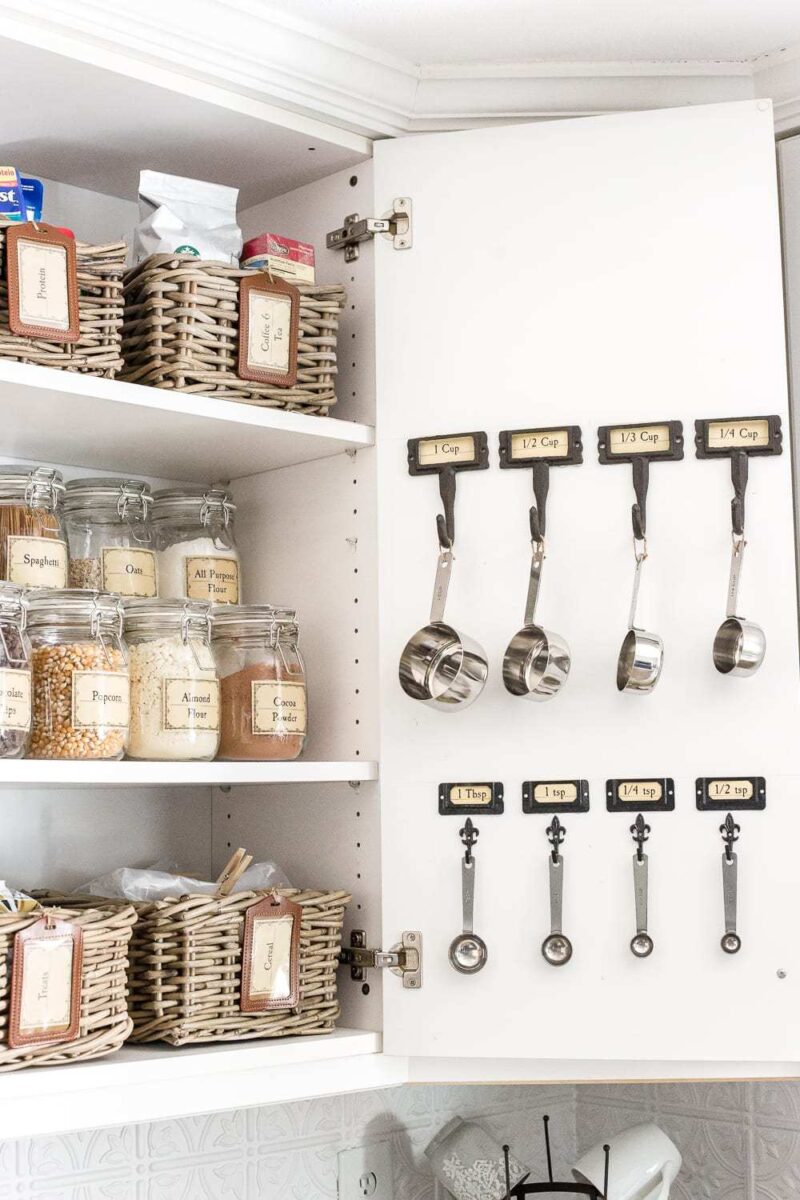 AWKWARD SPACES
In a small kitchen, every bit of square footage helps. Small rolling carts are perfect for awkward spaces. You can even build toe kicks at the bottom of your cabinet or build a custom kitchen shelf like we did. It may add a huge amount of space but it can be the perfect spot for your wine bottles or baking pans!
WALL SPACE
I love when spice jars are neatly arranged on floating shelves or a wooden magnetic knife strip that is mounted on the wall. It's like wall art using kitchen items. But also, it's just a smart use of space for an apartment.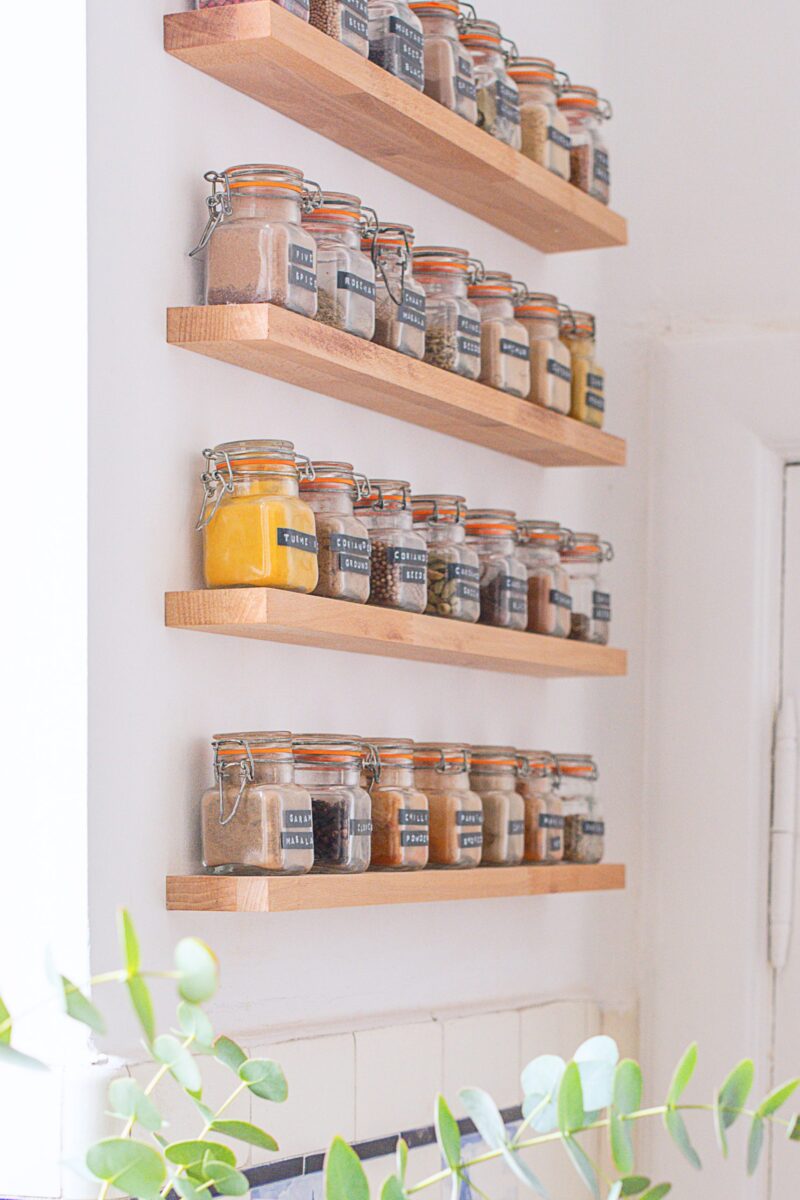 FOLDING DISH RACK
I used to have a dish rack that would take up literally half of our kitchen counter space! It wasn't even huge, our kitchen was just that small. I wish I knew then that folding dish racks exist which you can neatly store in a drawer when you don't need it. GENIUS!
GLASS JARS
Decanting everything into a glass jar is not the most realistic for everyone and everything… but you can choose to do it for staple items like cereal, pasta and rice. Not only will you get rid of bulky packaging in your pantry but you can see everything you have, so you don't buy the same thing twice.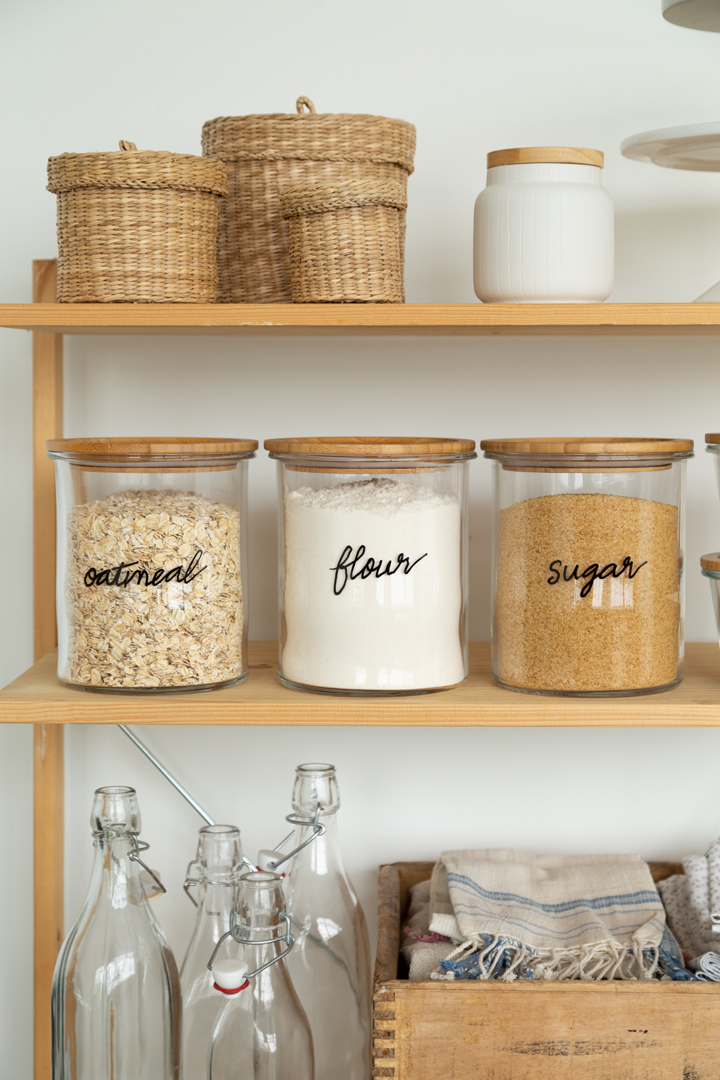 NEST IT, FOLD IT, STACK IT
For every bulky kitchen thing in your cupboard, there is definitely a new *space saving* version like mixing bowls that nest in each other, a folding colander to wash fruits and stackable food containers. There is no substitution for a huge air fryer though, sorry.
TOWEL RODS AND S-HOOKS
You can hang everything from tea towels to kitchen utensils on a towel rod. It sounds weird but it's actually a pretty way to display your favorite pieces.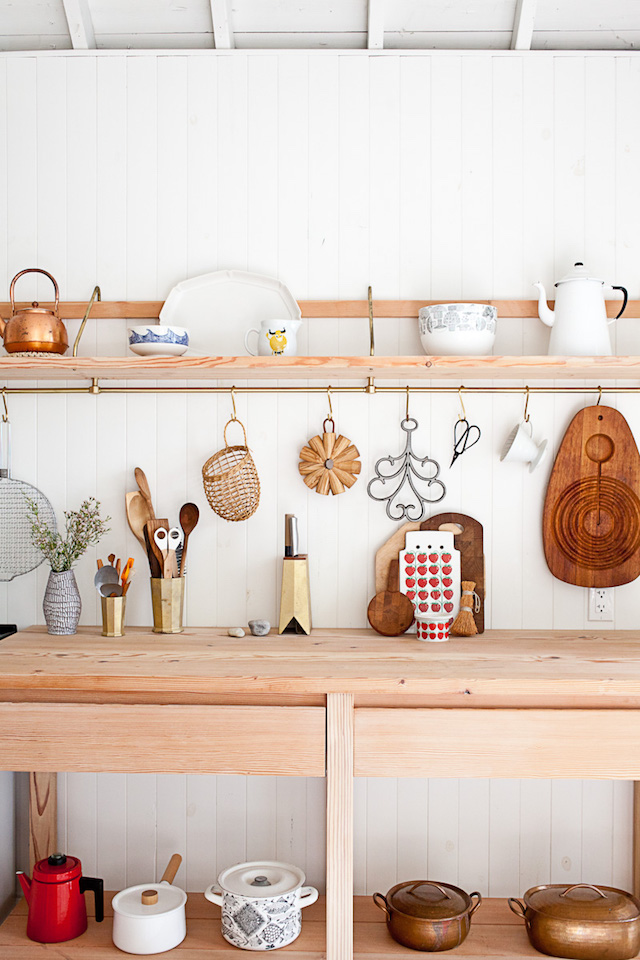 TURNTABLES
Turntables or lazy Susan's are a great way to keep your cabinets organized without cramming things in. No more reaching into a messy bottomless pit of a cabinet to find something. 
SWAP OUT
There's no rule that ALL of your kitchen items have to be kept in the kitchen. If you're really tight on space, you can move appliances that you don't use regularly into a different area like a storage closet, if you have one. Even things like cookbooks or your tea collection can sit on a bar cart or bookshelf.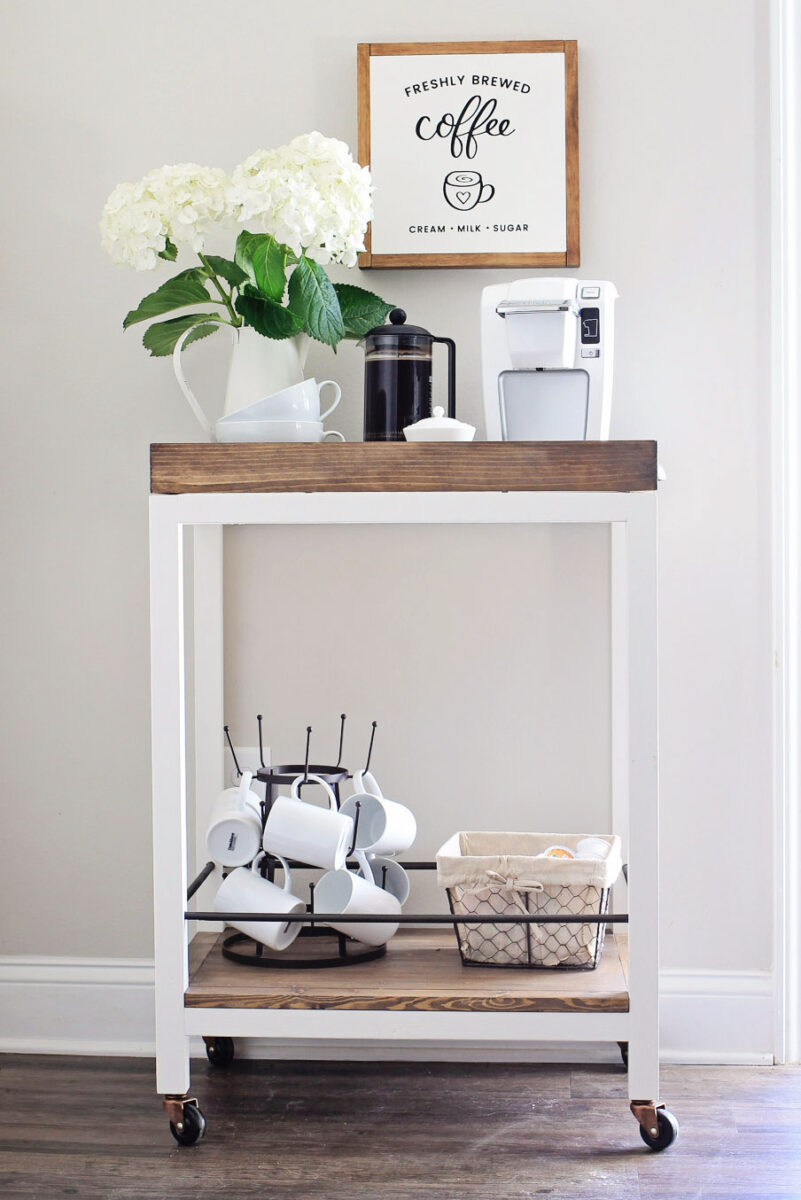 I hope that made you rethink how to organize your kitchen to double the storage and make it more functional for you. This post was all about ideas for kitchen storage. 
The post How to Double Your Space with 10 Ideas for Kitchen Storage appeared first on Fish & Bull.