How often don't we see an interior or stilleben where we would love to have everything in it or create similar? I do all the time. Like this beautiful wall that was part of the exhibit styled by Kråkvik & D´Orazio at the Jotun Lady color card launch a couple of weeks ago. One thing easily achievable is to make shelves like this yourself;
– Two mdf-boards laid on top of each other to create thicker shelves
– A thin list attached to the wall in the back to carry the weight of the shelves
– Both wall and shelves painted in the same color, here used LADY 12074 Peachy from the new Jotun Lady color card
In order to decorate the shelves I've searched my favorite webshops for beautiful objects – here are my pics.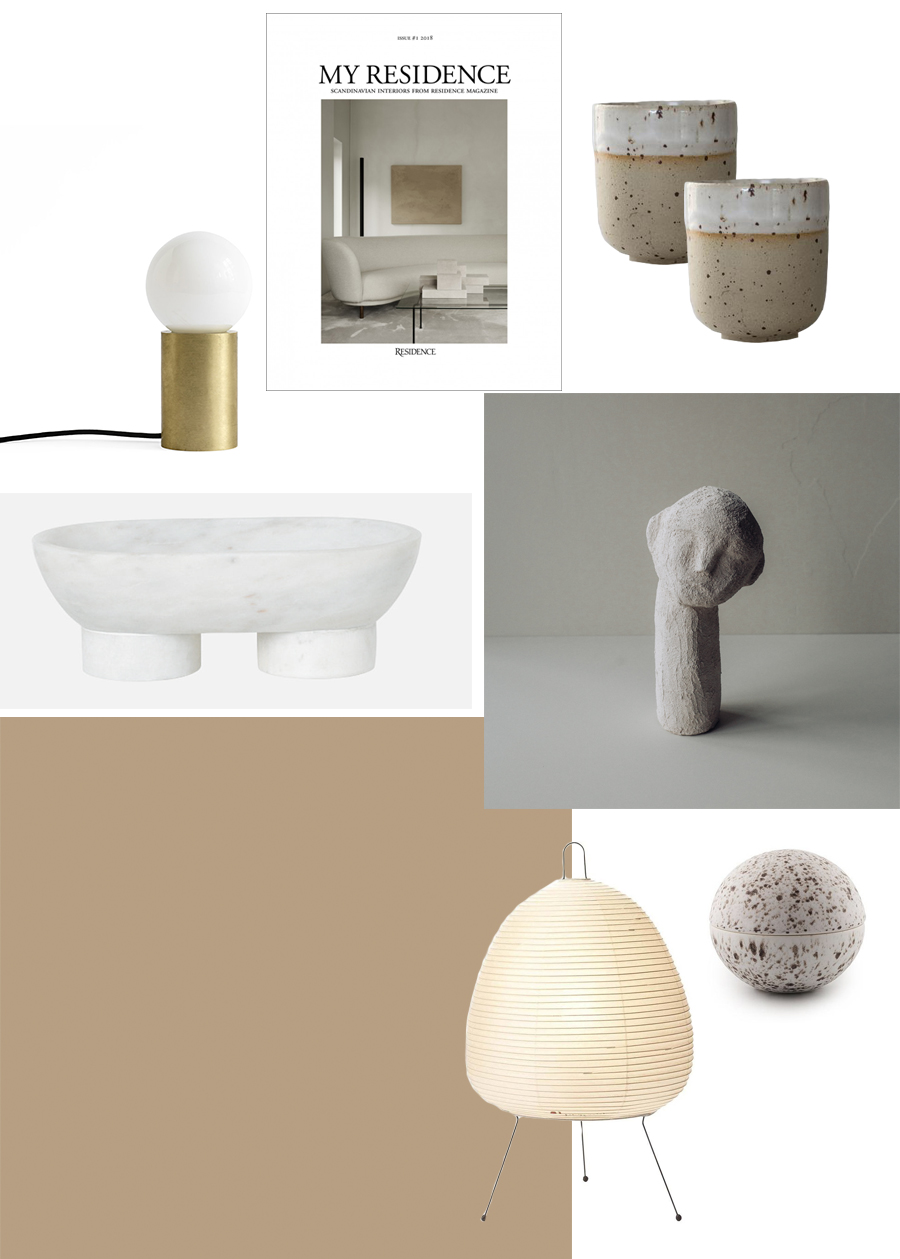 1. Socket Occasional lamp/Menu at Oslo Deco, perfect for shelves, windowsills or wherever you need extra light.
2. My Residence at Kollekted By, Swedish bookazine published once a year with the best from the magazine Residence. Although this one is read a long time ago the cover makes beautiful deco on the shelf.
3. Odd Standard cups at Norway Designs, handmade at the Odd Standard mikro factory in Stavanger.
4. Alza marble bowl/Ferm Living at Oslo Deco, both for decoration and storage, love the sculptural proportions on this one that reminds a bit of the design by Faye Toogood.
5. Sculpture/Kristiina at Houz Oslo, Kristiina Hatajaa makes the most beautiful handmade sculptures in her studio right outside Stockholm and selected ones can be bought at Houz.
6. LADY 12074 Peachy from the new Jotun Lady color card, a muted peach color that appears both soft and fresh at the same time.
7. Akari lamp/Vitra at Kollekted By, small table lamp designed by Noguchi as a part of his Akari series. Akari means light in Japanese and the series consists of both table, floor and pendant lamps.
8. Bonbonniere/Uh La La at Bolina. Danish artist Julie Bonde behind the brand Uh la la makes the most beautiful bonbonniers, storage and decoration – yes please!
Elisabeth
The post GET THE LOOK // PEACHY SHELF YOU CAN MAKE YOURSELF appeared first on ELISABETH HEIER.