While it might not be an essential piece of furniture for the bedroom, a luxurious make-up vanity will immediately bring the room from plain to push with little effort. These pieces are typically the size of a small desk and come with a mirror and a seat or bench of some kind. Historically related to the lowboy, a vanity was traditionally used as a dressing table where women put on jewelry or make-up. The classic vanity style has a central drawer and two or more drawers on each side and often sported cabriole legs.
Today make-up vanities are available in a wide range of styles and for a full spectrum of budgets. From basic models to over-the-top opulent versions, any of them will put a little luxury into your daily routine. Having a stylish spot to get ready for the day is sure to make going to work more pleasant. We've rounded up a dozen luxe vanities to inspire your bedroom decor goals.
Outrageously Glamorous
Plenty of gold paired with sophisticated and shiny black lacquer distinguishes this "Symphony" make-up vanity from Maison Valentina. The original design features a polished brass base is comprised of many tubes of varying sizes. The graduated lengths create a curtain-like drape across the front of the vanity. The top is made of wood that has been lacquered black, creating a dramatic contrast. On the surface, there are five small drawers to store precious jewelry or other essentials. the entire piece is capped off by a gold-trimmed mirror. The tapered gold legs on the bench lend an air of delicacy to the velvet-covered seat.
Modern and Minimal
A minimalist style make-up vanity can still be luxurious as this one from Atelier. The simple piece features an offer top and just single drawer that spins the width of the main section. Slim tapered legs add to the elegance of this piece, which is topped with a simple oval mirror with beveled edges.
Traditional But Understated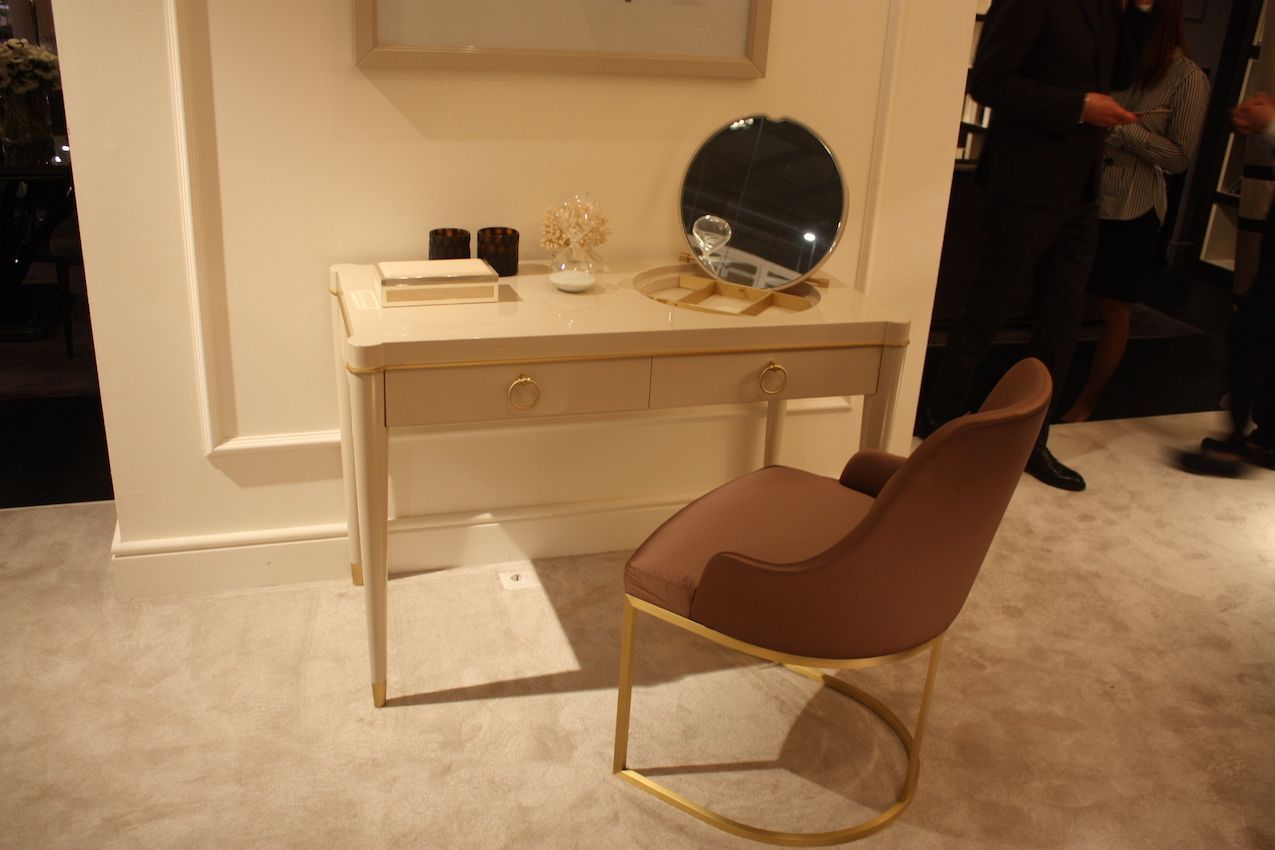 Minimal but definitely not modern, Galimberto Nino's vanity table has a lacquered top and a unique mirror that pops up out of the top. When closed, it has a low-profile and resembles a simple desk. The wooden makeup vanity has simple but elegant hardware that comes with a brass or bronze finish and leg ferrules. The bottom of the drawer is lined with a synthetic leather alternative. Rather than a stool or tuffet, an understate chair accompanies the vanity, featuring a matte metal frame and a comfortable seat design. The Adele chair is designed as a dining chair, but is versatile enough to be used in any room. Altogether, it is a pairing that whispers its elegance rather than shouts.
A Little Art Deco
Bruno Zampa's version of a make-up vanity is a touch of Art Deco for the bedroom. The rounded lines are curvy and glamorous, evocative of a Hollywood starlet's dressing table. Trimmed with gold, the rich, off-white color is calming and sophisticated. The addition of a tuffet-like stool is just the right amount of restrained femininity for the set while the simply mounted oval mirror completes the look. While the vanity does not include a central drawer, storage space is plentiful with the side drawers.
Restrained Opulence
With a conservative, more traditional silhouette, this vanity from Epoca of Spain is elegant without being too girly. The gold-trimmed frame of the table encloses the two sets of drawers and features an inset center section, which is extra functional. A distinctive stool with a sloped, lush velvet seat is an ideal pairing for the luxe vanity table.
High-Gloss Gracefulness
Perfect for a luxurious contemporary bedroom, this make-up vanity from the Giorgio Collection is a piece of high-gloss perfection. Its beige lacquer frame encloses one set of drawers and is topped with two showcase drawer units. The stack of storage drawers have an opulent facing of natural nubuck leather, and the inside bottom is lined in velvet. Black nickel steel handles are linear and modern. The stool base is made of the same lacquer and is topped with a deliciously textural nubuck suede. The materials and design come together in a vanity table that is gender-neutral and very stylish.
Feminine Luxury
Unabashedly feminine, this make-up vanity from Longhi is melange of luxurious materials: marble, suite and brass. The curved shape is reminiscent of baroque pieces and the brass leg pieces are traditionally elegant. Two center drawers and side cabinets provide plenty of storage. Covered in elegant suede, the textural contrast adds to the appeal of the piece. While this could easily be paired with a very ornate seat, instead it is features with a modern, glossy stool. The mauve lacquer base has a bold geometric hourglass shape and is topped with a complementary suede-upholstered cushion.  In the case of the vanity as well as the stool, the suede is a soft counterpoint to the marble table. The mirror with built-in lighting adds a touch of modern technology.
Softly Sumptuous
Ludovica Mascheroni's Capri vanity table is a great example of quiet luxury. While it is a vanity table, the neutral colors prevent it from standout out as a totally feminine piece and it blends well in a luxury environment. The entire piece is covered in leather, highlight by legs and handles in bronze-plated brass. Naturally, the luxury carries through to the interior of the drawers, which are lined in nubuck suede. The mirror, which has built-in lighting, is also trimmed with leather. A matching stool is upholstered in both suede and leather. High on glamour and low on glitz, it is a truly opulent piece thanks to the modern design and premiere materials.
Desk-like Design
Smania's design for this man-up vanity is truly a desk-style, and could easily do double duty. The mirror is a separate piece and the minimal silhouette makes it very versatile. The upholstery finish softens the feel of the dark wood top and keeps the vibe light.  It's paired with the Afef pouf stool that is upholstered with a unique tufted design on the back. The pair is stylish and could have a life beyond the category of a makeup vanity.
Spacious and Functional
Ulivi Salotti's vanity table has gorgeous form but its function also takes top billing. The wooden top hides a wealth go storage that is easily accessible with the opening of the mirrored compartment. It's basic concept rendered in a luxurious form with hand-crafting and an exceptional design of crossed legs that support the table. A luxurious two-tone chair is super comfortable and a textural contrast to the wooden vanity. The pairing is versatile and would be a stylish addition to a range of bedroom interiors.
Pretty in Pink
Among the opulent and feminine designs that Versace is known for, this Jardin vanity might seem a bit restrained, but it still offers elegant design details that set it apart. A collection of premiere materials — all in a wonderful shade of pink — is used for this delicate make-up vanity. The table has a wooden top that is covered in pink leather, which sits atop curved metal legs that are coated in a matte pink. The mirror pops up from the inside, which is lined with a microfiber textile. It's a very pretty piece whose femininity can be amped up by putting in alongside a more ornate seat. Here, it's paired with a darker neutral upholstered seat that tones down the busy wallpaper and the pink color of the table.
Global Glamour
Global style is very hot right now, so this vanity table from VG is an opulent choice that is really on-trend. Called the Secret 3, this elegant vanity desk is part of Original Sin collection that was designed by Giorgio Ragazzini for VG. The ebony wood table is finished with a high gloss and features a matt lacquered interior. The part that opens has a built-in mirror and LED light. While many vanity desks feature a brass finish on the metal sections, this base is done in a shiny 24-karat gold finish. The side sections each have a drawer for storage.
From simple to more ornate, you can see that many styles of make-up vanities are available. Rather than an afterthought, these can be an integral part of your bedroom decor and provide an elegant place to prepare for the day.
The post Get Ready in Style with a Luxe Make-up Vanity for Your Bedroom appeared first on Home Decorating Trends – Homedit.