We visit Ludwig Mies van der Rohe's famed residence to learn how we can help save a major piece of Modernist architectural history.
It's one of the most suspenseful, yet serene, walks you'll ever take. ­Some 60 miles outside of Chicago in Plano, Illinois, you're a world away in the woods, anticipating one of the best-designed homes in the world: Ludwig Mies van der Rohe's Farnsworth House.
To learn more about the Miesian masterpiece, long endangered by the Fox River, we toured the home and caught up with the team behind the National Trust for Historic Preservation, which owns and manages the steel-and-glass sanctuary. Read on to learn about its storied inception, acquisition, and—without intervention—its potentially perilous fate. 
The year was 1945 when German architect Ludwig Mies van der Rohe, widely known as Mies, began to design the weekend retreat for Edith Farnsworth, a Chicago nephrologist. Yet long before it was built, the home already began to gain acclaim after a model appeared at the Museum of Modern Art in 1947. "The house was causing a stir," says Scott Mehaffey, executive director of the Farnsworth House. "There were knockoffs, but many were inspired. It was very early. For what constituted modern architecture at that time, you would see how strikingly different the design was."
That design was one of three selected by Farnsworth, whom Mehaffey describes as a researcher—thorough, linear, and heavily involved in the design and construction early on. She selected the scheme with the smallest footprint, as it least disrupted the surrounding nature, which was once home to a vegetable garden. The secluded, quiet setting throws into relief the International-style home that looks as though it belongs anywhere else but here. 
Heavy glass seals behind you as you step into the home, muffling all sound. It's disorienting, yet enchanting, to stand in a glass box and stare into the silent woods. The birds chirping, leaves crunching, and river faintly running continue to play in your head, but in here, pure quietude. It's no wonder Farnsworth made this her place of respite each weekend for some 20 years. But to achieve that serenity required precision that could never compete with, but would rather complement, Mother Nature. In this, Mies was a master.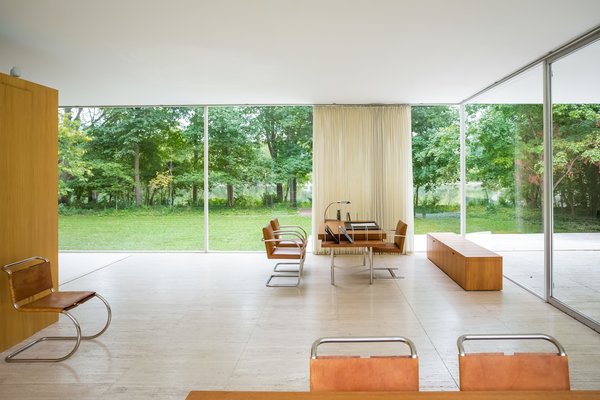 See the full story on Dwell.com: Floods Threaten the Farnsworth House Every Year—Now, a Plan to Save It