Guatemala's pre-Columbian heritage forms the basis for the newest collection by Agnes Studio, led by designers Estefanía de Ros & Gustavo Quintana.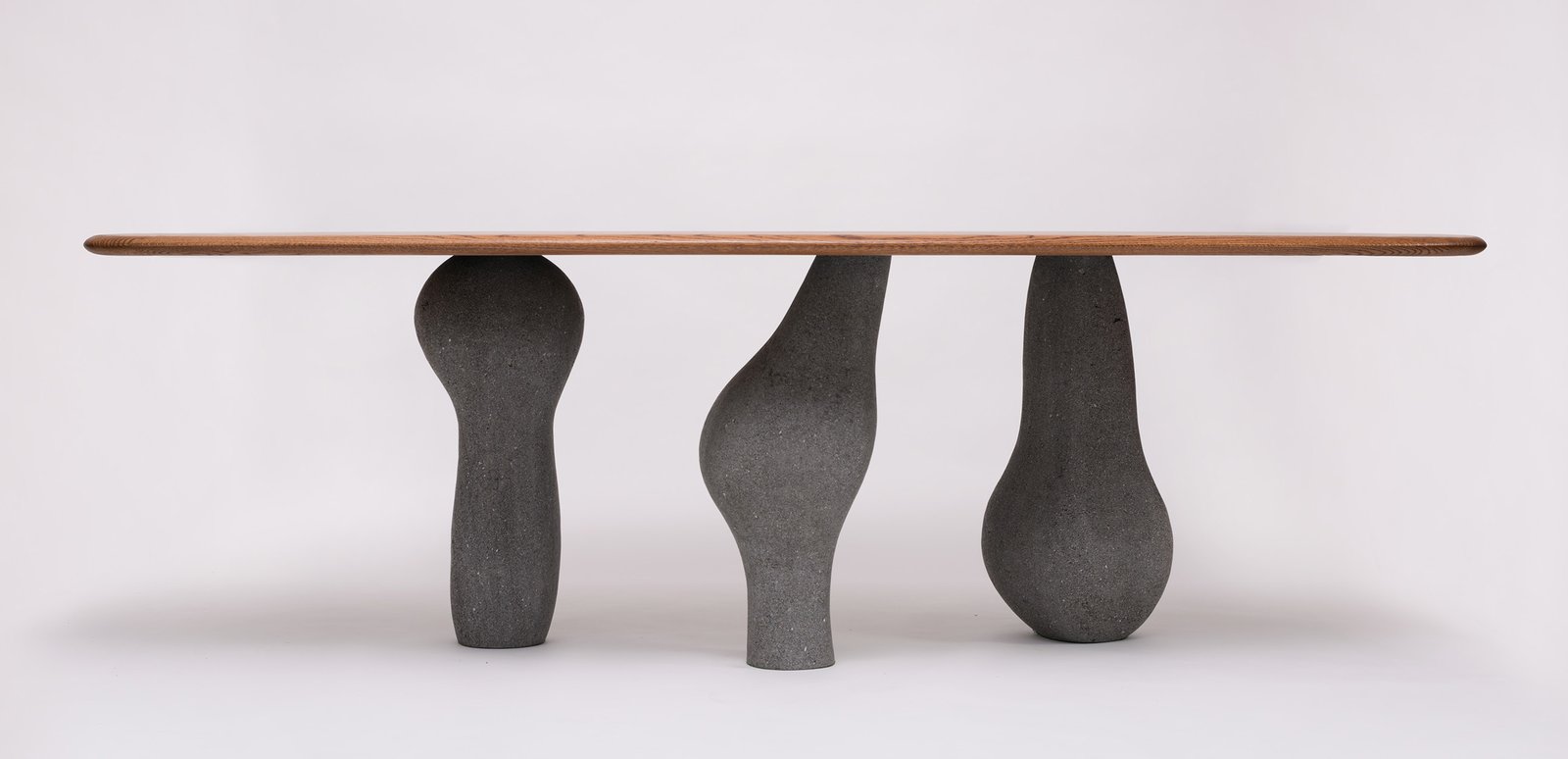 Looking at Mayan culture through a contemporary' or even prophetic' lens' Ros' 29' and Quintana' 36, came up with an interesting premise. Quintana recalls: "We began playing with the idea—what would happen if that pre-Columbian design had evolved into a hypothetical utopian future?"
The result is furniture brimming with bold shapes and textural materials' such as the circular Lana chair with its raw wool seat and the sculptural Altar dining table composed of lava rock and elephant ear wood. While the pair's reference points might be rooted in the past' the designs undoubtedly resonate with the here and now.
Learn which of Ros and Quintana's first prototypes they treasure most, and read more of their responses to our Q&A, below.
Hometown: Guatemala City, Guatemala
Describe what you make in 140 characters. We design and manufacture collectible design objects that live in the grey space between design an art.
What's the last thing you designed? A marble table
Do you have a daily creative ritual? Yes, it's an important part of our process, helping us to focus and be more productive.
How do you procrastinate? Sometimes, we over extend the creative or research process to the point we force ourselves to move forward.
What everyday object would you like to redesign? Why? Chairs, because they are a design object that can speak emotionally humans. We'd like to explore how a chair can make someone think about the ideal moments in life. Chairs are also interesting objects as they are constrained by a very defined archetype. How we could play around with that archetype as designers: that's what would make the process unique.
Who are your heroes (in design, in life, or in both)? We have so many, including: Joseph Hoffman, Adolf Loos, Marcel Breuer, Oscar Niemeyer, Lina Bo Bardi, Ettore Sottsass, Superstudio, Finn Juhl, Isamu Noguchi, Carlos Merida, and Efrain Recinos.
What skill would you most like to learn? To make pottery
What is your most treasured possession? Any of our first prototypes, but specifically, the Lana Chair.
What's your earliest memory of an encounter with design? Gustavo: a lamp that my grandfather designed in the 20s; Estefania: visiting my aunt and mother's textile factory.
See the full story on Dwell.com: Dwell 24: Agnes Studio
Related stories: